Lemon Berry Muffins
This post may contain affiliate links, meaning that I may receive a commission at no cost to you if you use a link provided. All opinions shared are my own. You can review my full disclosure policy here.
These soft and fluffy Lemon Berry Muffins whip up in less than a half hour and are perfect for brunch.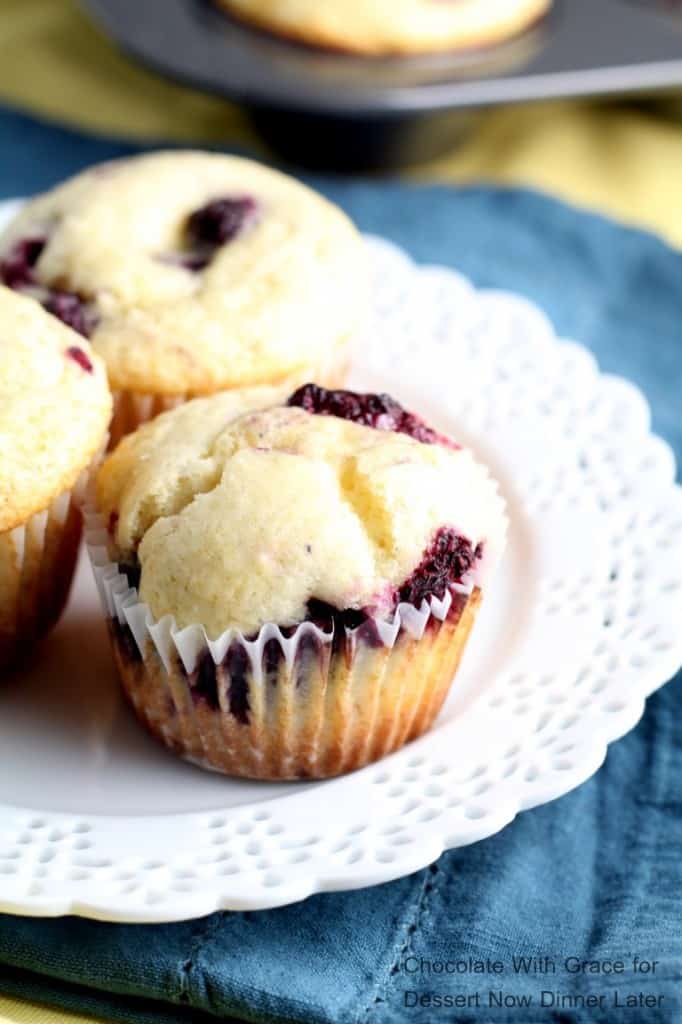 Hi everyone! It's Mallory from Chocolate With Grace again, and today I'm going to share a recipe that is sure to brighten up your winter. These Lemon Berry Muffins are bright, cheery comfort food at its finest. There is just something about citrus, lemon in particular for me, that makes winter not seem quite so long.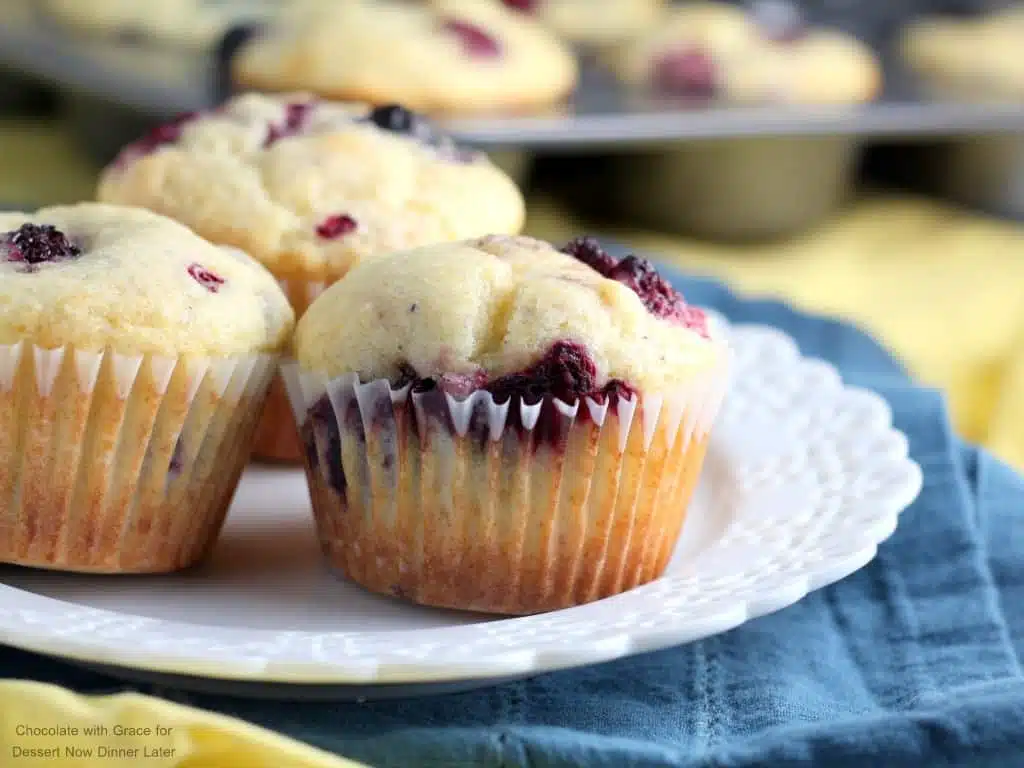 In my area, there has been a notable absence of snow. My theory is, "If it's going to be cold, it might as well snow!" And it's been cold, but there has been barely any snow, so all I see is brown trees, and brown grass, and some days the sky seems dull and brown too! This week the weatherman had our hopes up for a big blizzard predicting 6-12 inches one night. Everyone was was rushing to the grocery store and cancelling appointments. We went to bed dreaming of a white landscape and in the morning we woke up to about a millimeter of snow. Pathetic.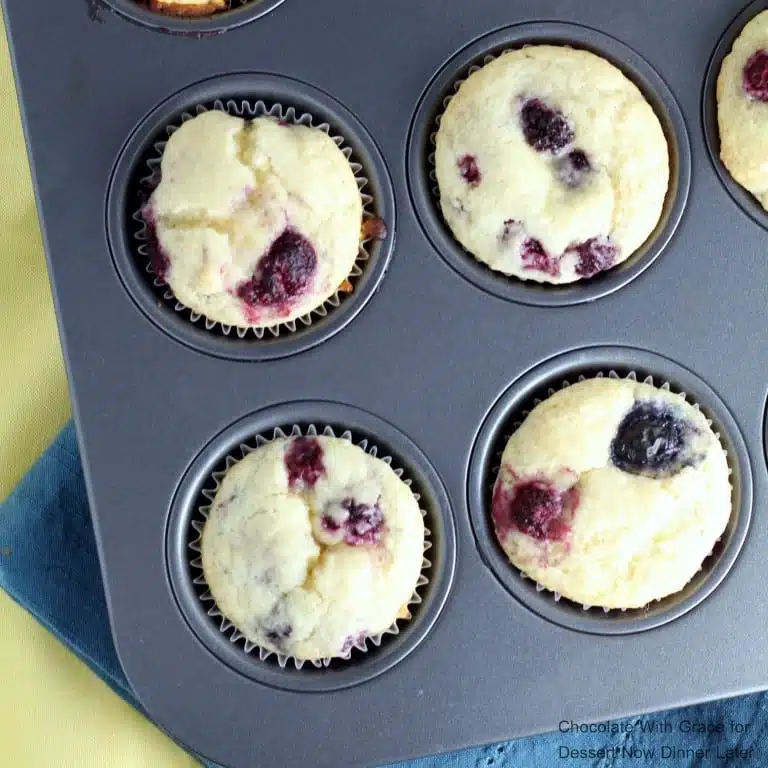 Anyway, my favorite thing to do on cold days (snow or no snow) is to bake. These lemon blueberry muffins whip up fast. You can be enjoying hot-from-the-oven muffins in less than 30 minutes. And with a simple ingredient list you won't even have to run to the grocery store for ingredients. I used a frozen mixture of raspberries, blueberries and blackberries, but any type of berry will do and you could even use fresh. Happy Baking!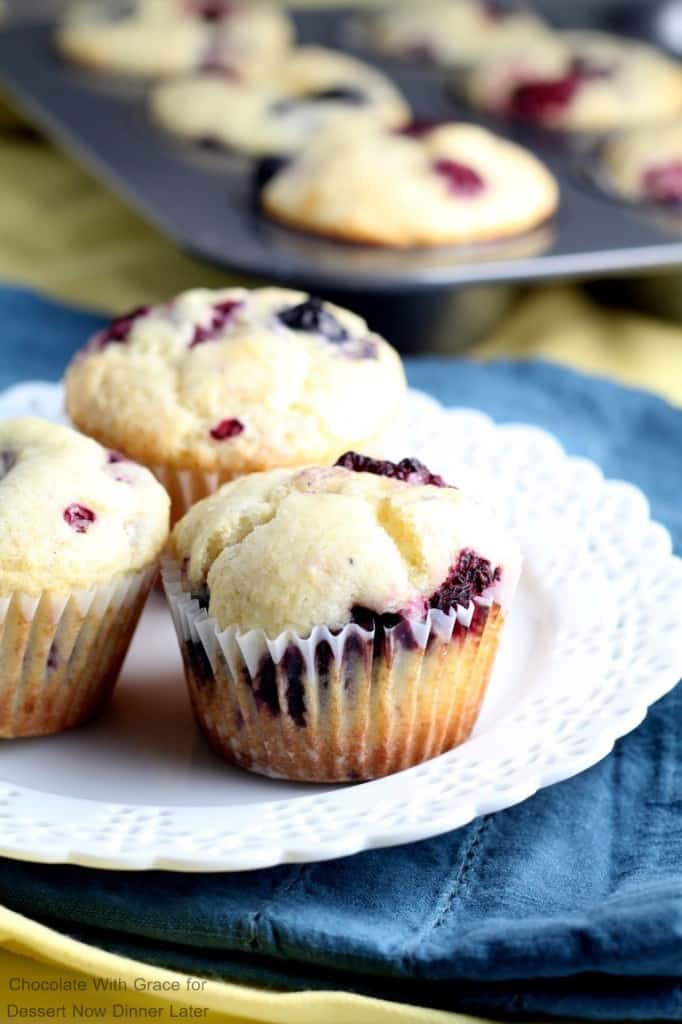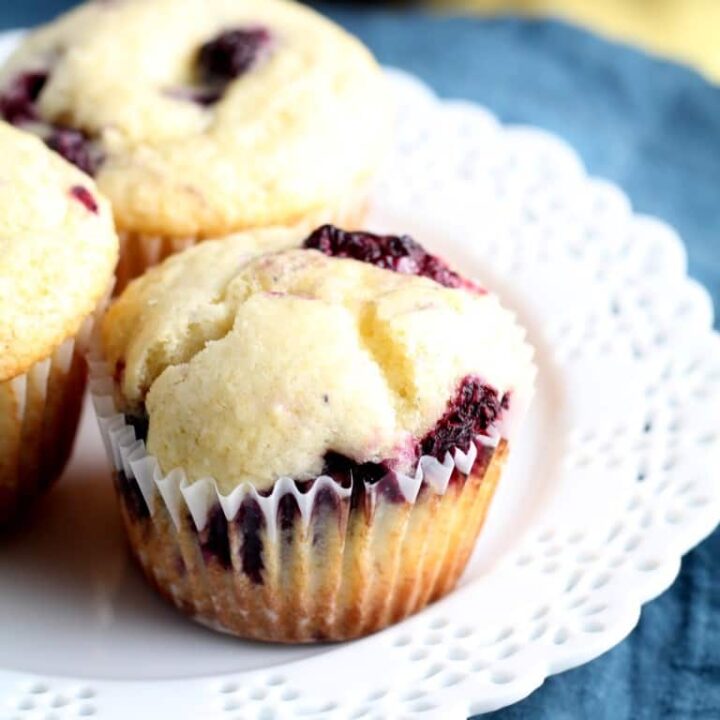 Lemon Berry Muffins
Ingredients
1 and 3/4 cup all purpose flour
1/2 cup white sugar
2 and 1/2 teaspoons baking powder
1 teaspoon salt
1 beaten egg
1/2 cup + 2 Tablespoons milk
2 Tablespoons lemon juice
1 Tablespoon lemon zest
1/3 cup canola oil
1 cup berries, fresh or frozen (I used a frozen mix of raspberries, blackberries and blueberries)
Instructions
Preheat oven to 400 degrees Fahrenheit. In a large bowl, stir together the flour, sugar, baking powder and salt. In a medium bowl, whisk together the egg, milk, lemon juice, lemon zest, and oil.
Gently stir the wet ingredients into the dry ingredients and then fold in the berries. Do not overmix. Spoon into lined muffin tins, filling them ⅔ full.
Bake in a preheated oven for 12 to 14 minutes or until a toothpick inserted comes out clean. Cool on wire racks.
Nutrition Information:
Yield: 12
Amount Per Serving:
Unsaturated Fat: 0g