Blueberry Cream Cheese Pie + Video
This post may contain affiliate links, meaning that I may receive a commission at no cost to you if you use a link provided. All opinions shared are my own. You can review my full disclosure policy here.
Blueberry Cream Cheese Pie combines a fresh blueberry lemon fruit topping and creamy no-bake cheesecake filling inside of a flaky pastry crust. It's a light and fruity summer dessert.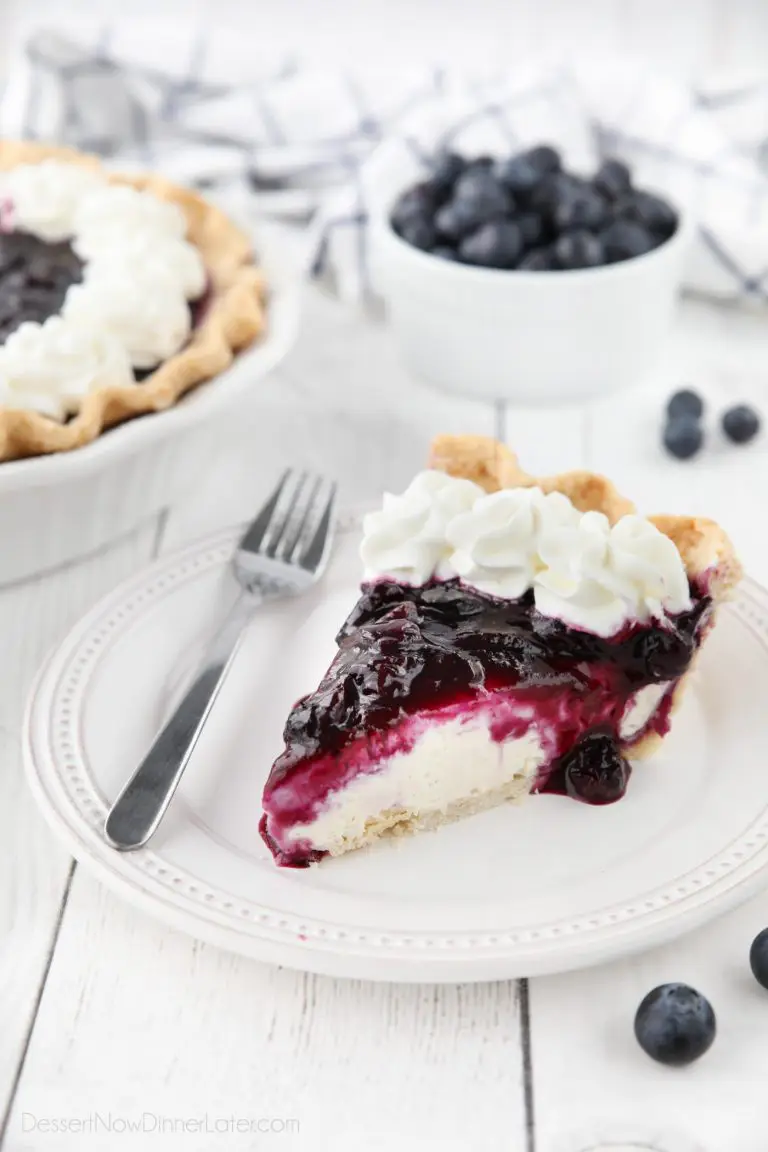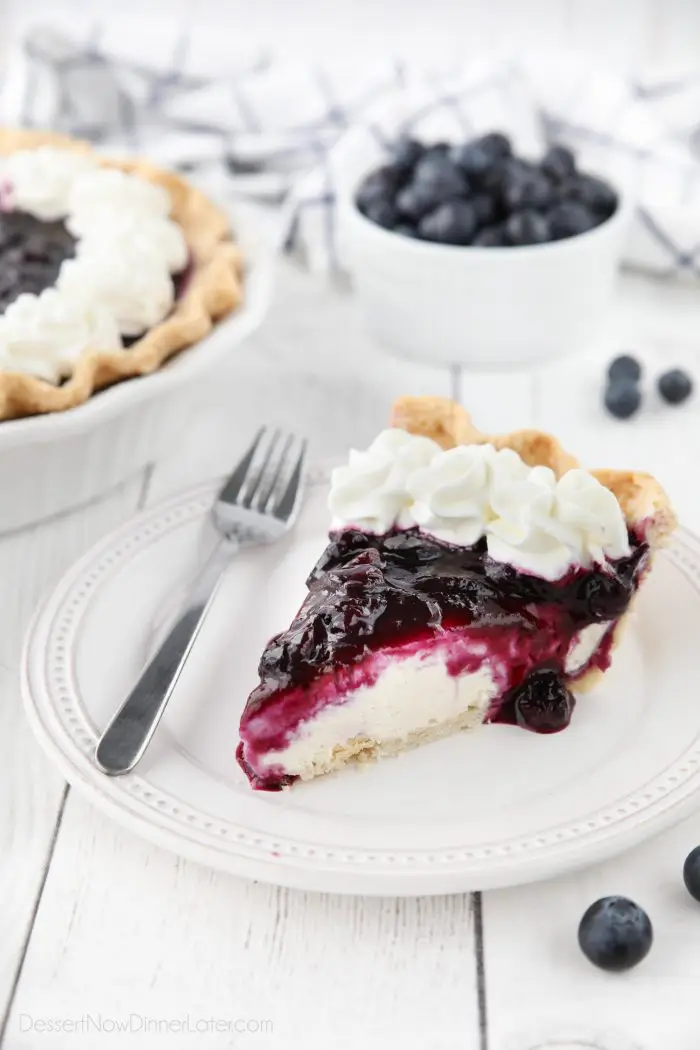 Summer blueberries are great to use for baking and other desserts. We love to make this Blueberry Cream Pie with Streusel Topping. We thought a lighter, almost no-bake version would be delicious as well, and we were right!
Flaky pie crust is filled with no-bake cheesecake and topped with a blueberry lemon fruit filling. Extra whipped cream on top is optional, but oh so delicious!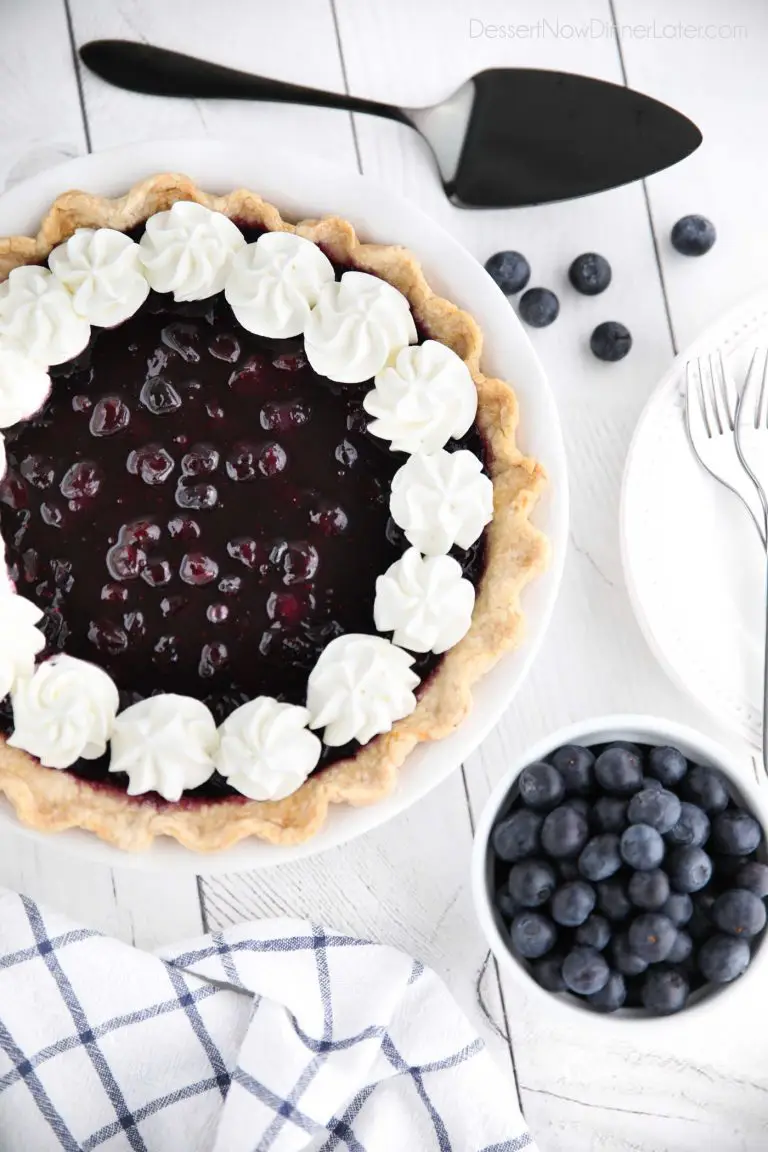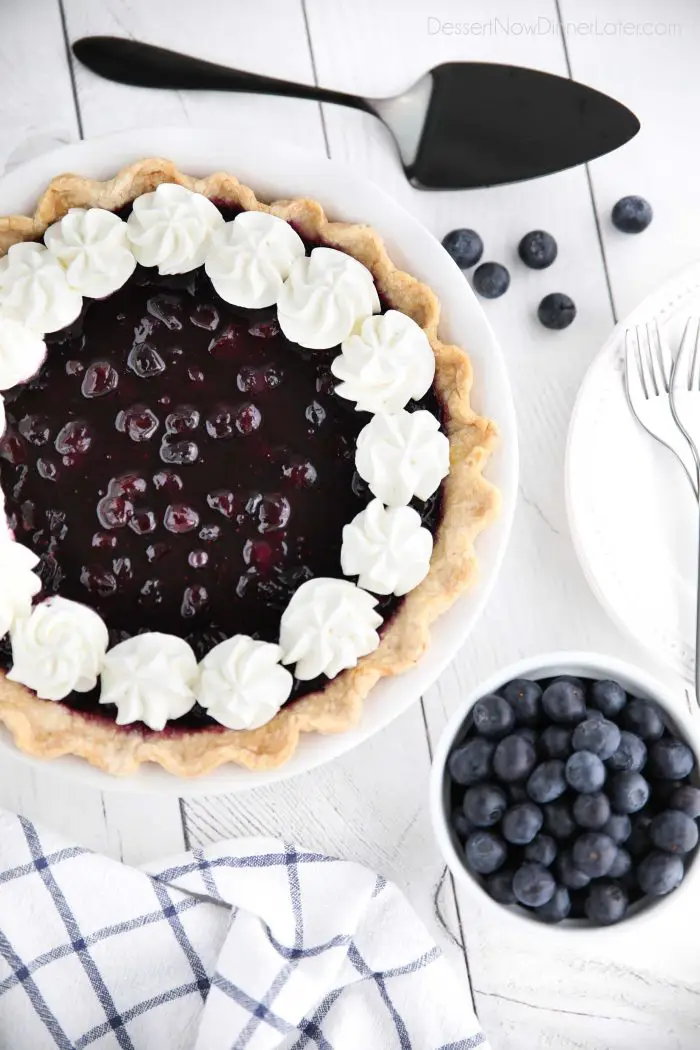 This Blueberry Cream Cheese Pie is fashioned after my other fruit variations. I've made Raspberry Cream Pie, Lemon Cream Cheese Pie, and Strawberry Cream Pie.
All of these fruit and cream pies have a crust (pastry, vanilla wafer, graham cracker, etc.), a layer of no-bake cheesecake filling, and a fruit topping. I just can't get enough of that fruit and cream cheese combo!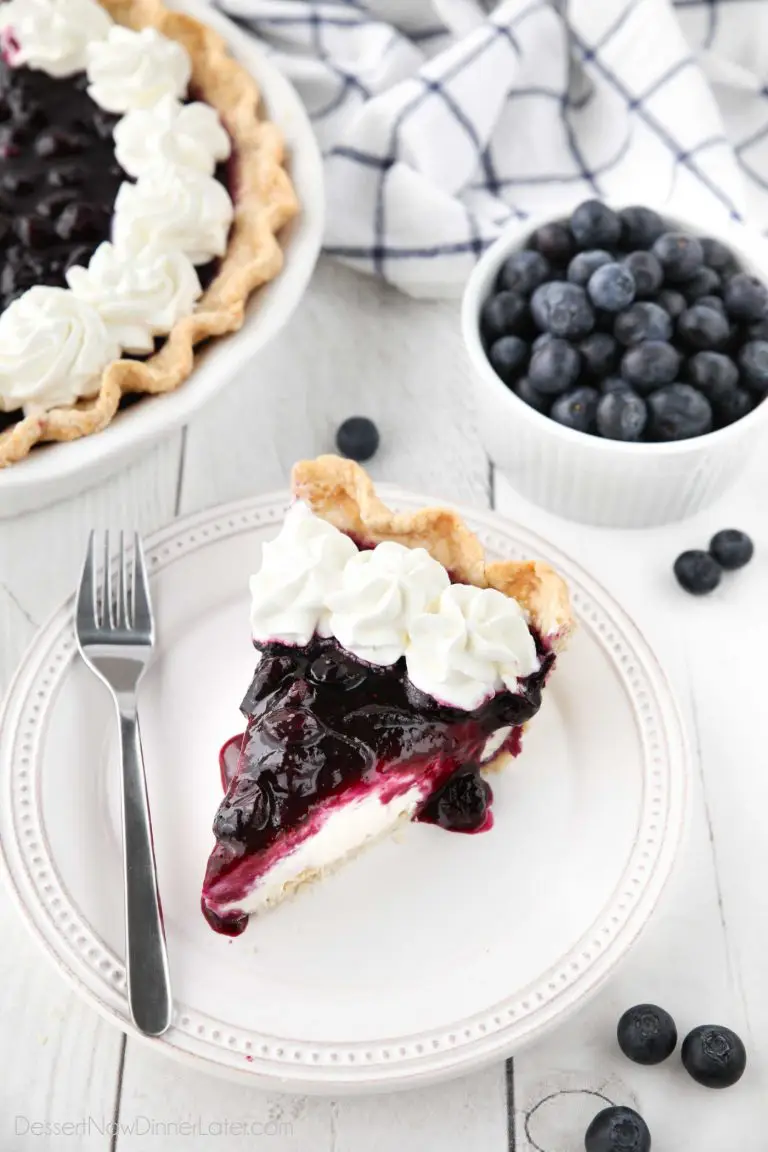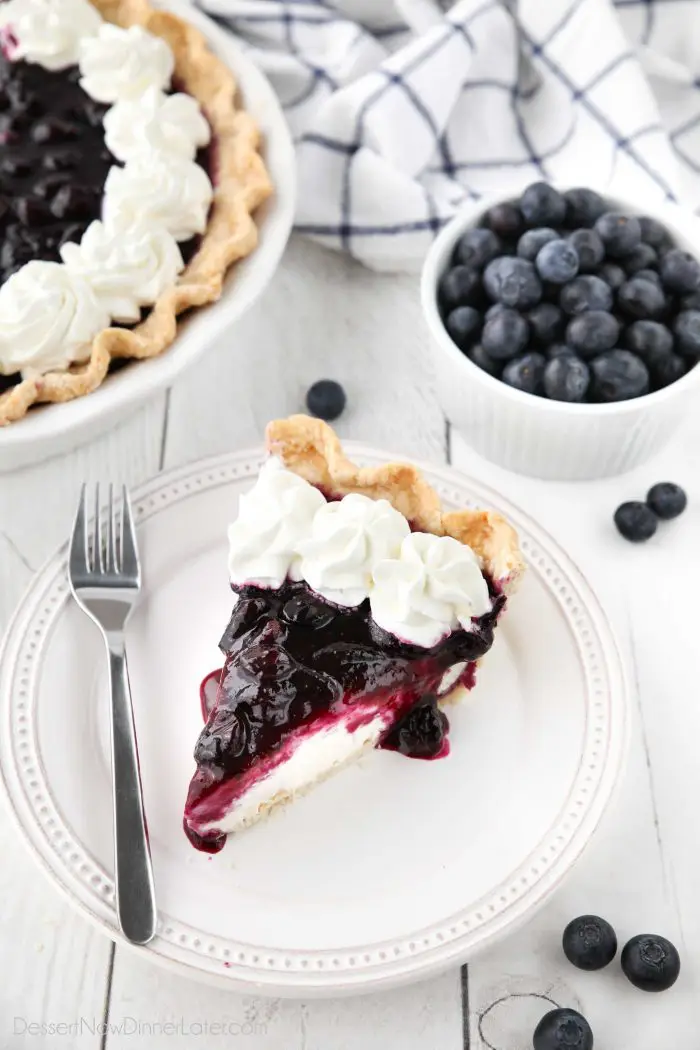 Blueberry Cream Cheese Pie
If you've ever made Blueberry Delight, a layered blueberry no-bake cheesecake dessert with a graham cracker and pecan crust, then you'll love this blueberry cream cheese pie as well.
The only difference between the two desserts is the crust (graham cracker vs pastry) and the blueberry pie filling (homemade vs canned). The lemon juice really adds to the flavor of the homemade blueberry pie filling for this dessert.
Blueberry Delight is slightly easier to make because it uses more pre-made ingredients than this blueberry cream cheese pie, but both desserts require time in the refrigerator to set up.
Popeye's and McDonald's (Malaysia) actually came out with blueberry cream cheese hand pies this year. This is the bigger, better version to make at home.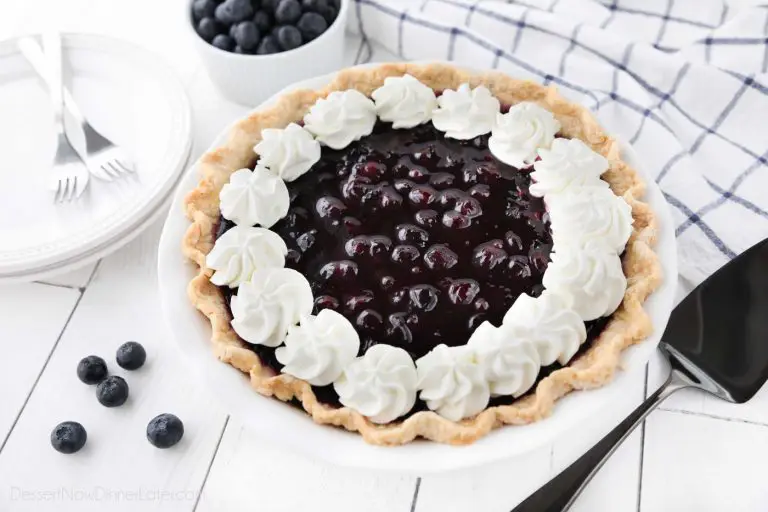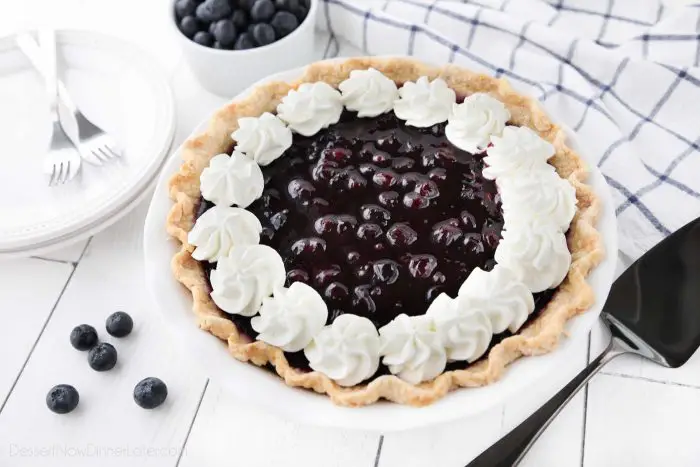 How to Make it No-Bake
For a completely no-bake pie, simply make or purchase a graham cracker pie crust. You can freeze a homemade graham cracker crust for 30 minutes, or chill it in the refrigerator for 1 hour before filling it.
I do love the traditional flaky pie crust though. You can use my homemade pie crust recipe, or you can buy a frozen or refrigerated crust to save time.
If buying a pie crust, just follow the instructions on the package for (blind) baking an empty crust. My homemade pie crust recipe and instructions for blind baking are in the recipe card below. Enjoy!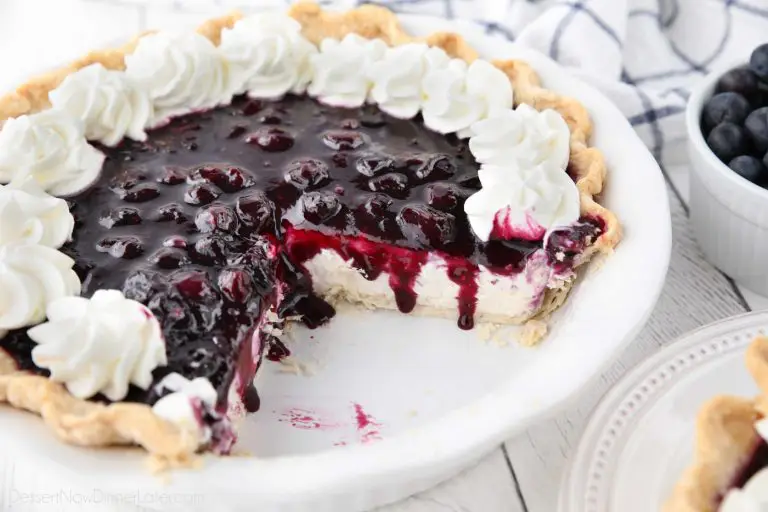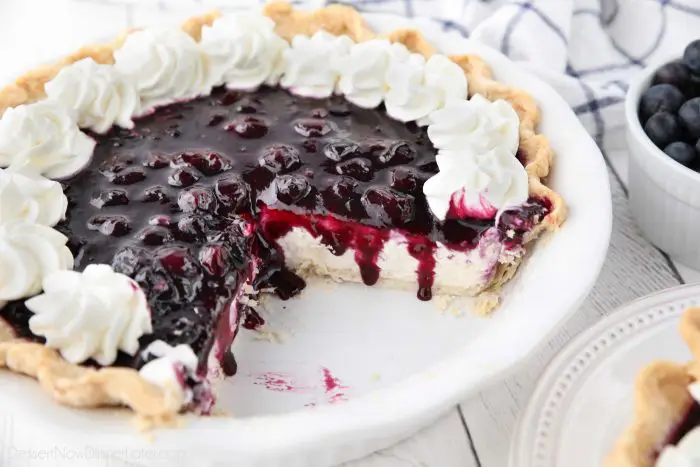 More Fresh Blueberry Desserts
If you like this recipe, you might also like these:
Blueberry Crumb Bars – A fresh and fruity blueberry filling is sandwiched between a buttery crust and crumble topping in these dessert bars.
Lemon Blueberry Rolls – are so soft, sweet, and tangy. They're super easy to make with store-bought bread dough, a lemony sweet roll filling, plump fresh blueberries, and a tangy lemon cream cheese frosting.
Creamy Lemon and Blueberry Pie – Just like key lime pie, this creamy lemon and blueberry pie has a buttery graham cracker crust and a zesty citrus cream filling, with the added bonus of plump blueberries. Top it with fresh whipped cream and you've got a delicious fruity dessert!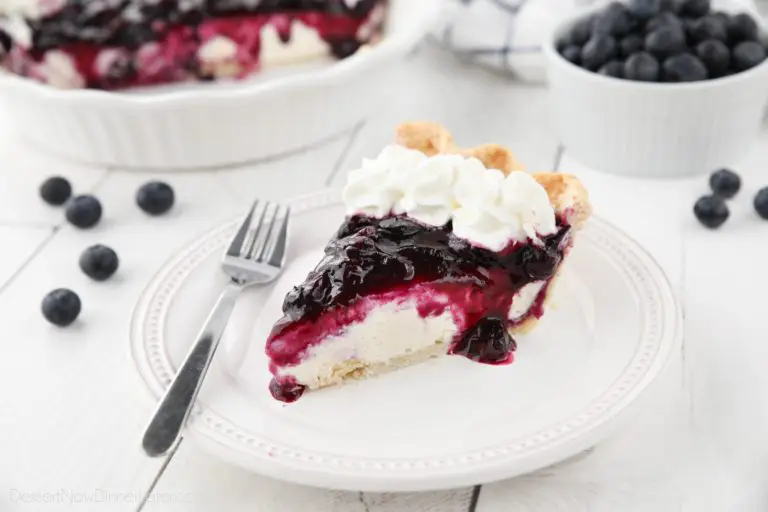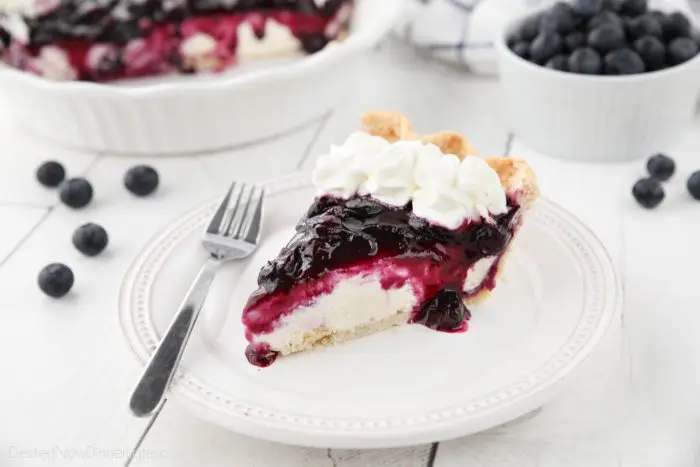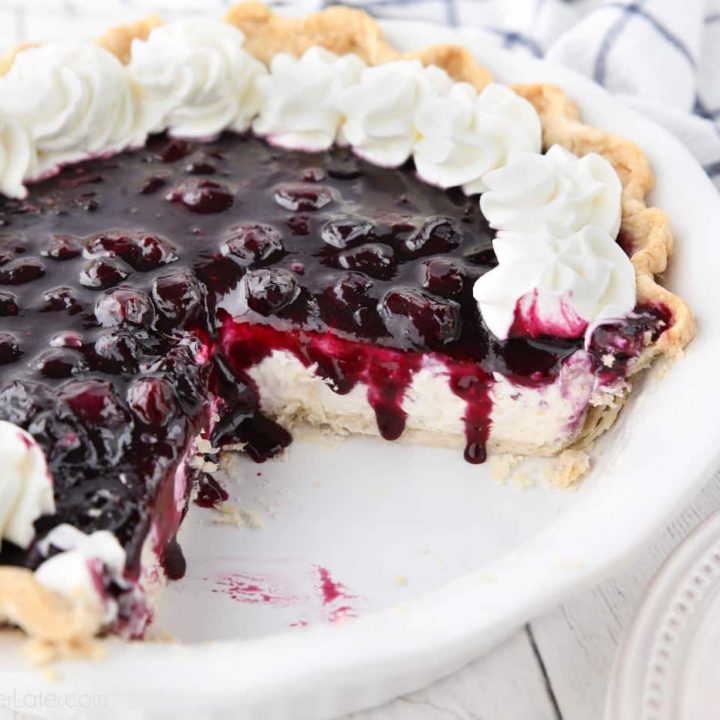 Blueberry Cream Cheese Pie
Prep Time: 20 minutes
Cook Time: 35 minutes
Chill Time: 4 hours
Total Time: 4 hours 55 minutes
Yield: 8 servings
Blueberry Cream Cheese Pie combines a fresh blueberry lemon fruit topping and creamy no-bake cheesecake filling inside of a flaky pastry crust.
Ingredients
1 pie crust, homemade or store-bought
Filling:
12 oz Neufchatel cream cheese, room temperature
3/4 cup powdered sugar, divided
1 tsp vanilla extract
1 cup heavy whipping cream
Topping:
1 cup granulated sugar
3 Tbsp cornstarch
2 Tbsp lemon juice
12 oz fresh blueberries (2 1/2 cups)
Instructions
Preheat oven to 350 degrees Fahrenheit.
CRUST: Roll pie crust into a large circle, place it into a 9-inch pie dish, cut off excess, and crimp edges. Dock the bottom and sides of the raw pie crust with a fork to make holes for ventilation. Place dry beans on top of parchment paper to cover the bottom of the crust so it won't shrink while baking.
Blind bake homemade pie crust at 350˚F for 20 minutes. Remove parchment paper with beans and finish cooking for 12-15 minutes or until golden brown. Cool completely. NOTE: Store-bought refrigerated crusts, may bake quicker. Bake for 8-10 minutes, first, remove beans, and bake 4-5 minutes more. If preparing a frozen purchased crust, bake according to directions on package.
FILLING: In a large bowl with an electric hand mixer, beat the cream cheese, 1/2 cup powdered sugar, and vanilla until light and fluffy. In the bowl of a stand mixer with the whisk attachment, whip the heavy cream and 1/4 cup powdered sugar until stiff peaks form. Fold into cream cheese mixture. Refrigerate to keep chilled.
TOPPING: In a medium saucepan, whisk the sugar and cornstarch together. Add the lemon juice and blueberries. Stir over medium heat. Bring to a boil; cook and stir until THICK, about 3-5 minutes. Remove from heat. Refrigerate until chilled.
ASSEMBLE the pie as soon as the ingredients are cold enough. Spread the cream cheese filling evenly inside of the cooled pie crust. Dollop the blueberry pie filling on top of the cream cheese layer. Smooth with a spatula. Cover lightly with plastic wrap and CHILL for 4 hours up to overnight. (Texture is best when adequately chilled.) Serve with additional whipped cream if desired.
Notes
To use frozen blueberries, first rinse blueberries in a strainer/colander until thawed and water runs (mostly) clear. Then use as directed.
See step-by-step photos of a how to blind bake a crust HERE.
Recommended Products
As an Amazon Associate and member of other affiliate programs, I earn from qualifying purchases.
Nutrition Information:
Yield: 8
Serving Size: 1
Amount Per Serving:
Calories: 481
Total Fat: 26g
Saturated Fat: 14g
Trans Fat: 0g
Unsaturated Fat: 9g
Cholesterol: 65mg
Sodium: 242mg
Carbohydrates: 58g
Fiber: 2g
Sugar: 42g
Protein: 6g
This data was provided and calculated by Nutritionix, and is an estimation only.