Strawberry Cream Pie
This post may contain affiliate links, meaning that I may receive a commission at no cost to you if you use a link provided. All opinions shared are my own. You can review my full disclosure policy here.
Strawberry Cream Pie is light, fruity, and delicious. With layers of pie crust, no-bake cheesecake, and slices of fresh strawberries smothered in a sweet glaze.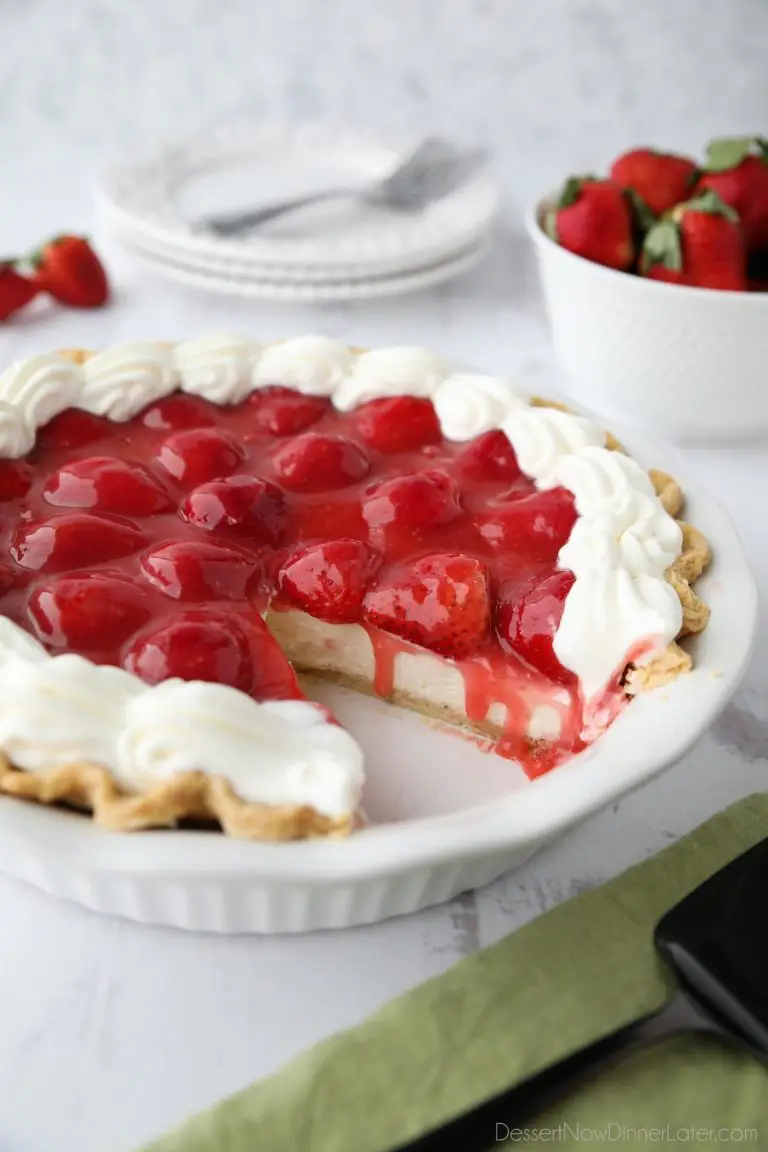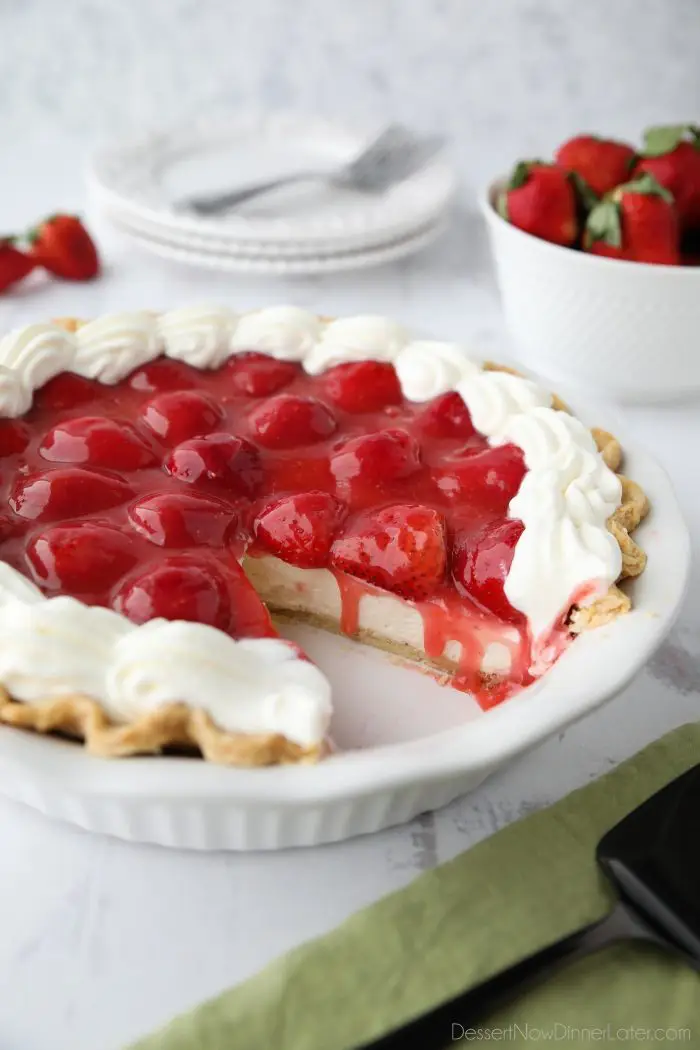 I first published this recipe for strawberry cream pie in 2012. Since I've been craving it, I thought it would be a great time to update the pictures and recipe.
Back then I used cool whip in everything, but now I like to use real sweetened whipped cream.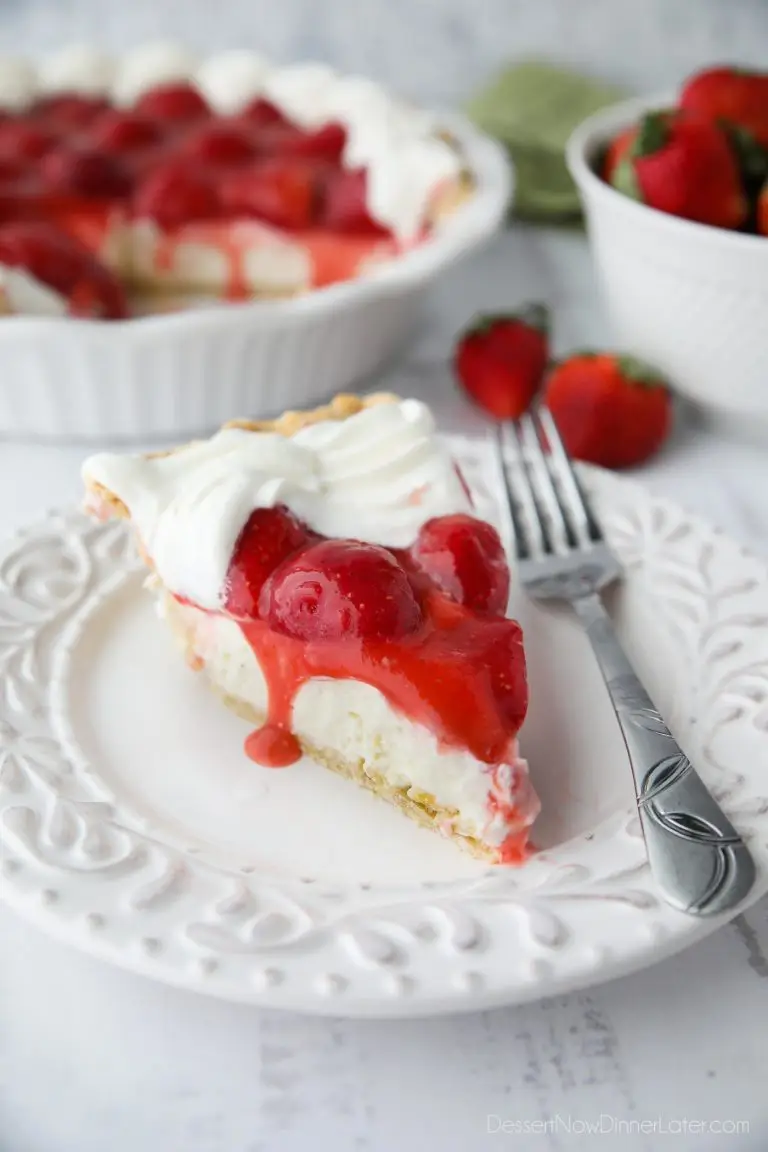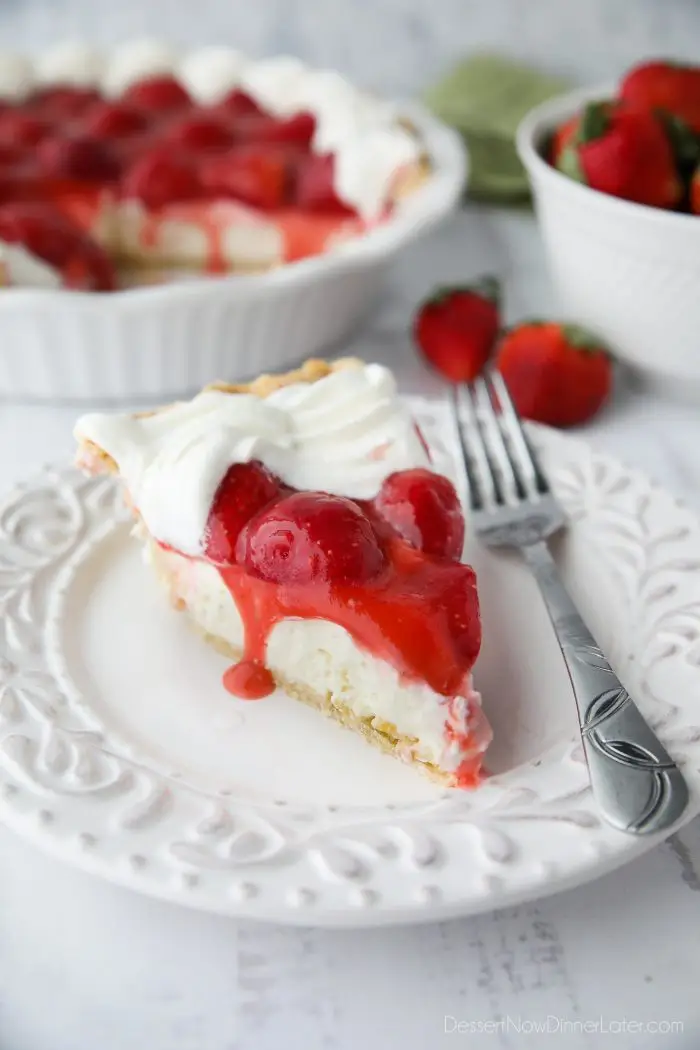 If there is one more thing I would change after re-making this recipe, it would be to not just half the strawberries, but to quarter or thinly slice them.
The strawberries look really pretty halved, but you'd get more strawberries in each bite if they are cut smaller. It's definitely less work to only half them though.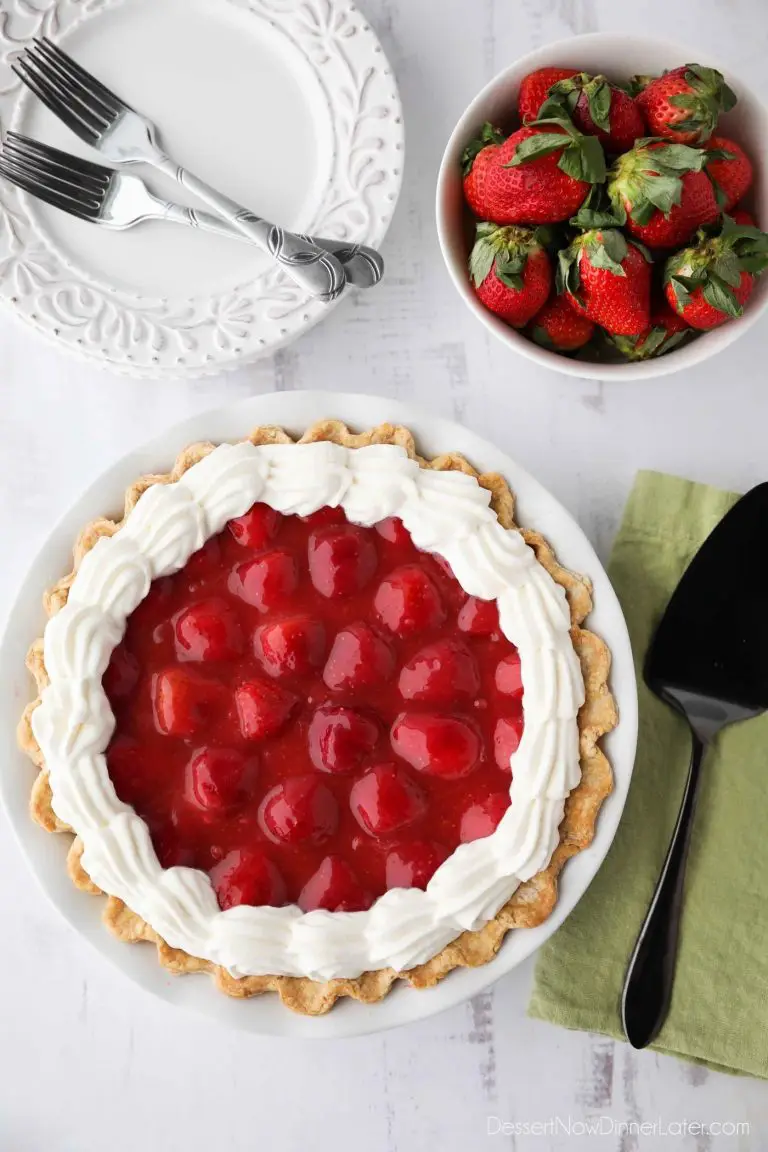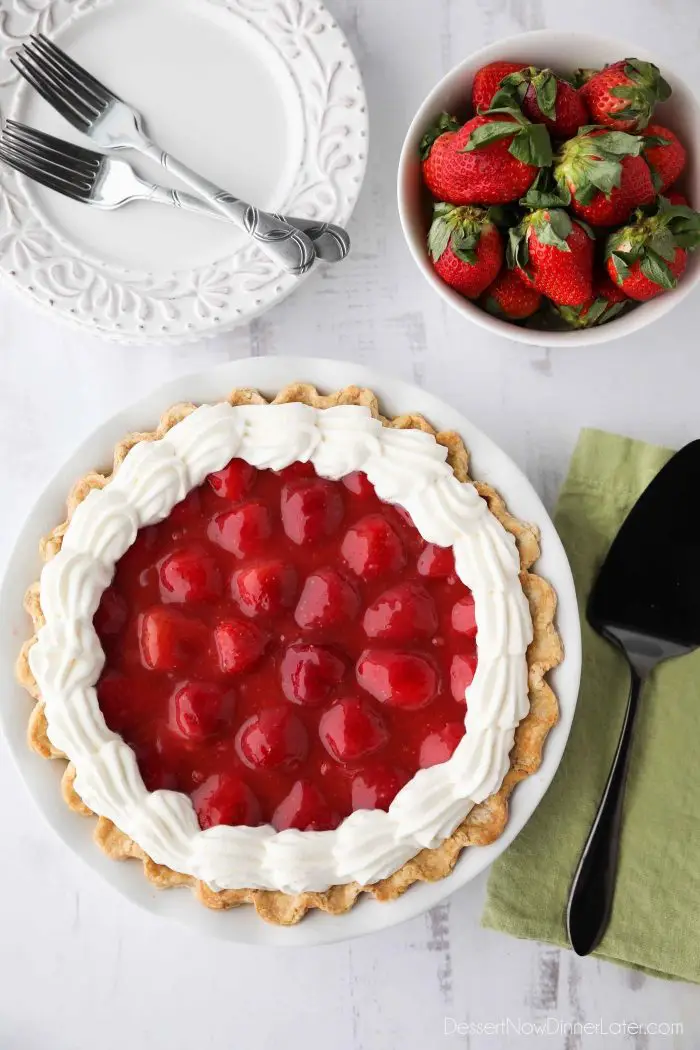 Strawberry Cream Pie
This beautiful strawberry cream pie is delicious anytime you can get your hands on fresh strawberries.
There are three simple layers to make this pie.
Crust: I prefer using a classic pie crust for this recipe. It can be homemade or store-bought dough. You will blind bake it, and allow it to cool completely before filling it. You can also use a store-bought graham cracker crust to make this into a no-bake dessert.
Filling: The filling is basically a no-bake cheesecake. The cream cheese layer is light, fluffy, and simply sweetened. You can use regular or light cream cheese. I almost always use Neufchatel cream cheese.
Topping: Fresh strawberries are sliced and stacked on top as well as pureed for the glaze.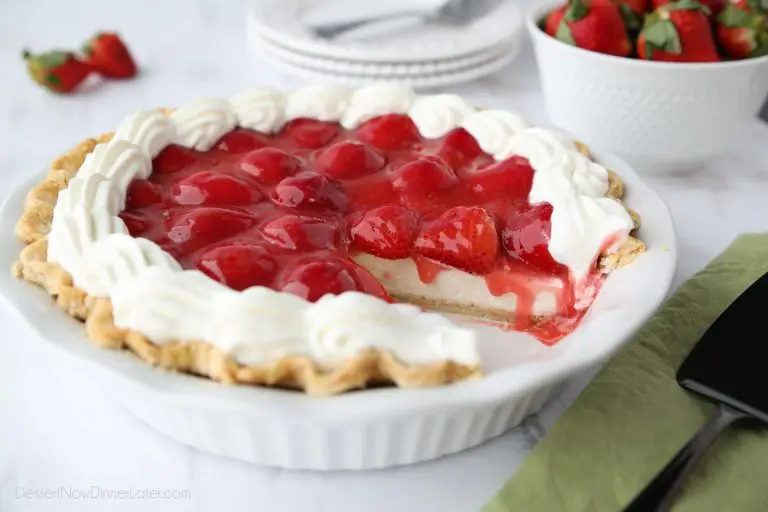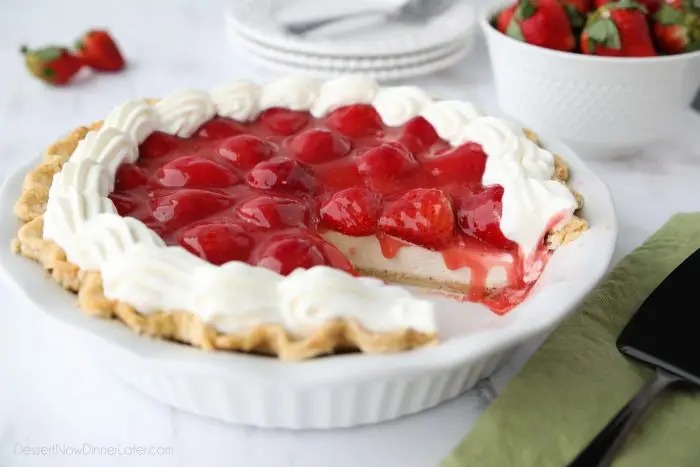 The glaze on the strawberries is saucy like a coulis, but you can make it more set like this Peaches and Cream Dessert.
You would simply add 1/2 packet of unflavored gelatin to the sugar and cornstarch portion of the glaze. You can use the other half of the packet to stabilize the whipped cream. (Those notes will be included in the recipe card.)
I personally love the saucy texture, but it is slightly messier to dish up.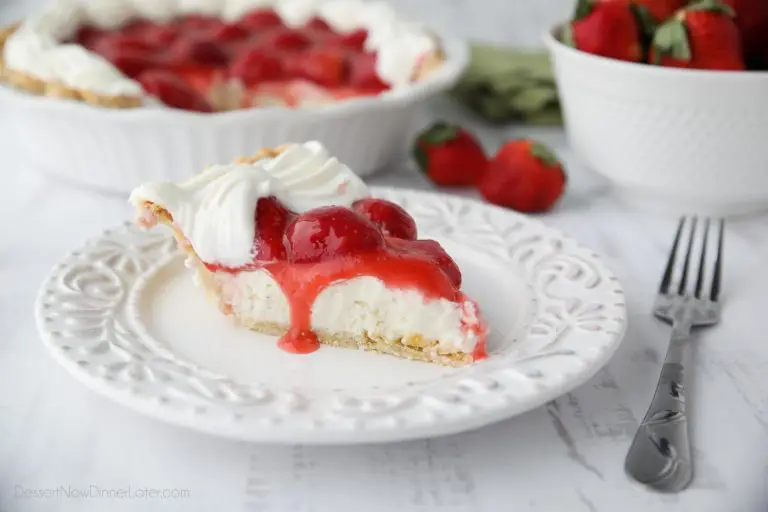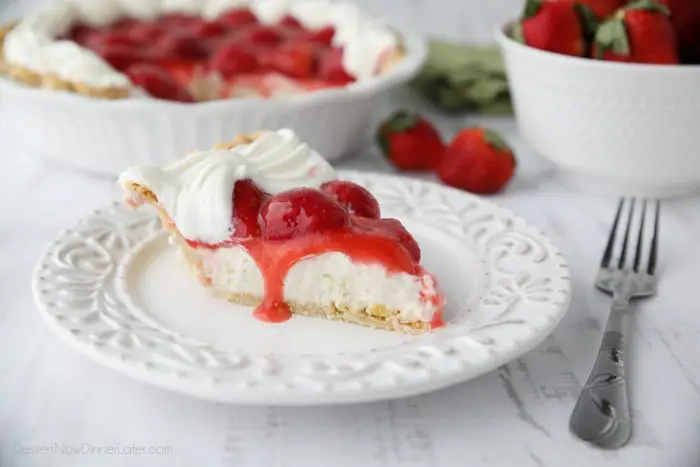 Can I Use Frozen Strawberries?
You can use frozen strawberries for this strawberry cream pie, but you will need to thaw them in advance to account for the extra liquid.
To do this, strain the juice from the thawed strawberries. You can use this liquid in place of the water for the glaze.
You may also want to slice or chop the strawberries, depending on how they look after being thawed.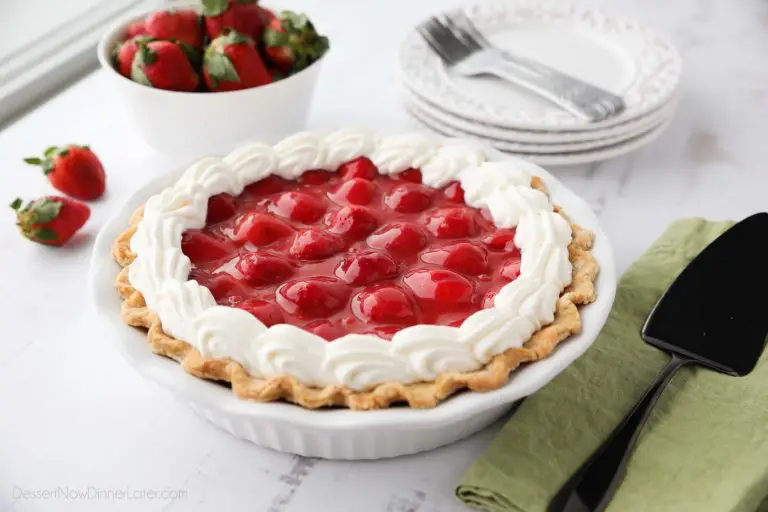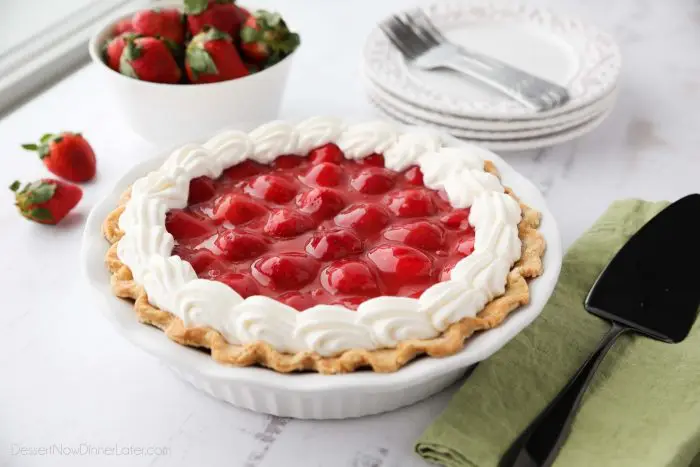 I can't think of a more perfect combination than strawberries and cream cheese. This strawberry cream pie is perfect for Valentine's Day, Easter, or summer potlucks.
Want more desserts like this? Try these: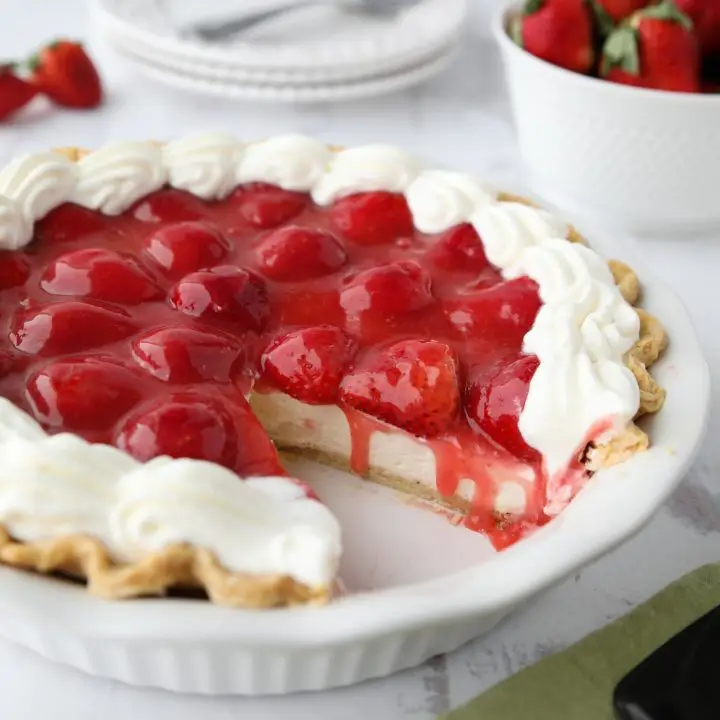 Strawberry Cream Pie
Prep Time: 30 minutes
Cook Time: 20 minutes
Chill Time: 1 hour
Total Time: 1 hour 50 minutes
Yield: 8 servings
Strawberry Cream Pie is light, fruity, and delicious. With layers of pie crust, no-bake cheesecake, and slices of fresh strawberries smothered in a sweet glaze.
Ingredients
Pie Crust, homemade or store-bought
dry beans or pie weights + parchment paper, for baking crust
Glaze & Topping:
3 cups strawberries, (about 1-1.5lbs) rinsed and hulled
1/3 cup water
1 tsp lemon juice
3/4 cup granulated sugar
2 1/2 Tbsp cornstarch
Whipped Cream: (to be divided)
2 cups heavy cream
1/2 cup powdered sugar
Filling:
8oz cream cheese
1/2 cup powdered sugar
1/2 tsp vanilla extract
Instructions
Preheat oven to 350 degrees Fahrenheit.
CRUST: Roll pie crust into a large circle, place it into a 9-inch deep pie dish, cut off excess, and crimp edges. Dock the bottom and sides of the raw pie crust with a fork to make holes for ventilation. Place dry beans on top of parchment paper to cover the bottom of the crust so it won't shrink while baking.
Blind bake homemade pie crust at 350˚F for 13-15 minutes. Remove parchment paper with beans and finish cooking for 7-8 minutes or until golden brown. Cool completely. NOTE: Store-bought refrigerated crusts, may bake quicker. Bake for 8-10 minutes, first, remove beans, and bake 4-5 minutes more. If preparing a frozen purchased crust, bake according to directions on package.
GLAZE & TOPPING: Puree 1 cup of whole strawberries in a food processor or blender with the water and lemon juice. Halve, slice, or chop the other 2 cups of strawberries and set aside.
In a saucepan, whisk together the granulated sugar and cornstarch. Slowly whisk in the pureed strawberry mixture. Turn on the heat to medium and bring sauce to a boil, whisking constantly. Once it reaches a boil, stir and cook for 3 minutes as it thickens. Remove from heat and cool completely.
WHIPPED CREAM: Using a stand mixer, whip the heavy cream with powdered sugar until stiff peaks form. Set aside.
FILLING: Use an electric mixer and the paddle attachment to beat the cream cheese until fluffy and smooth. Add the powdered sugar and vanilla. Mix well. Fold in half of the whipped cream, about 2 1/2 cups. Save the other half for serving.
TO ASSEMBLE: Spread the cream cheese filling into the bottom of the cooled pie crust, then spread half of the strawberry glaze, Next layer the fresh strawberries. Finish by topping with the remaining glaze. REFRIGERATE for a minimum of 1 hour. Serve with the leftover whipped cream, by piping or dolloping on top.
Notes
Check out this tutorial for step-by-step photo instructions on how to blind bake a pie crust.
For stiffer layers you may use 1 packet (equal to 1 Tbsp) of unflavored gelatin, divided as follows:
For the strawberry layer, simply whisk 1 1/2 tsp (half the packet) of unflavored gelatin with the sugar and cornstarch portion of the glaze, and follow the rest of the recipe as written.
Use the other half of the packet for the whipped cream: Place 2 Tbsp of water in a microwave save bowl. Sprinkle 1 1/2 tsp unflavored gelatin over the water. Wait for it to solidify. Then microwave for 5-10 seconds until just melted. Stir and cool slightly. Prepare whipped cream until soft peaks form, turn speed to low, and slowly pour in the gelatin mixture. Increase speed to medium and beat until stiff peaks form. Then continue with recipe as written.
Recommended Products
As an Amazon Associate and member of other affiliate programs, I earn from qualifying purchases.