Candy Corn Sugar Cookie Bars
This post may contain affiliate links, meaning that I may receive a commission at no cost to you if you use a link provided. All opinions shared are my own. You can review my full disclosure policy here.
These Candy Corn Sugar Cookie Bars are simple and stunning for your Halloween Party!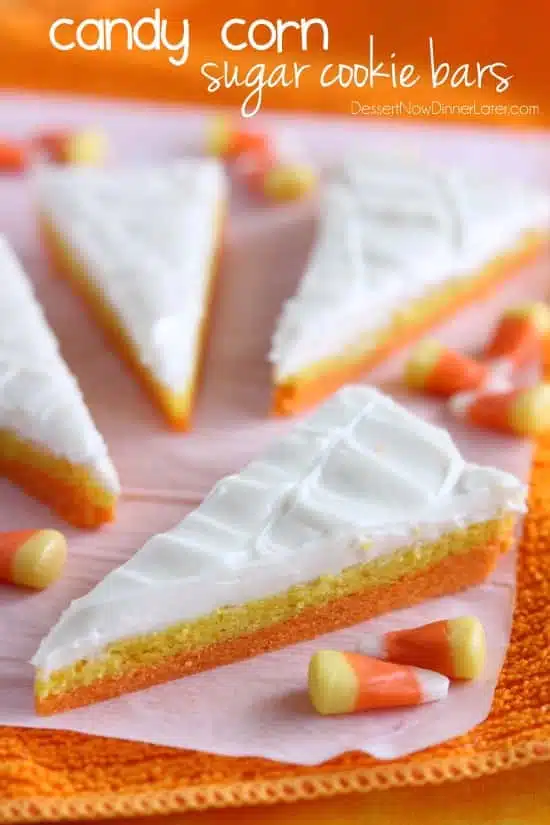 Today I am excited to take part in a Halloween series hosted by my friend Allison from Cupcake Diaries! It's 30 days of Halloween recipes, party food, and printables! I'm day 23, so you can only imagine all the good stuff already shared this month! There is a full list at the bottom of this post, so be sure to check out what the other bloggers have to share and make your Halloween party a fun one!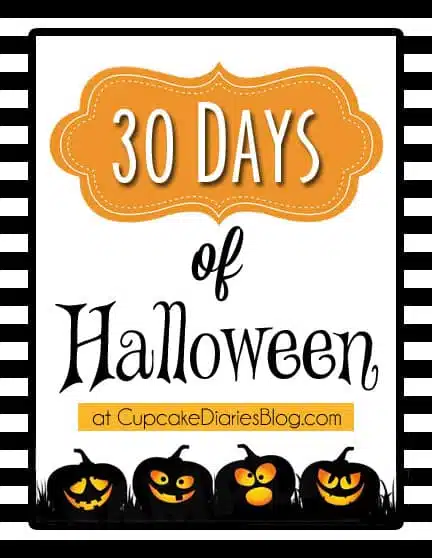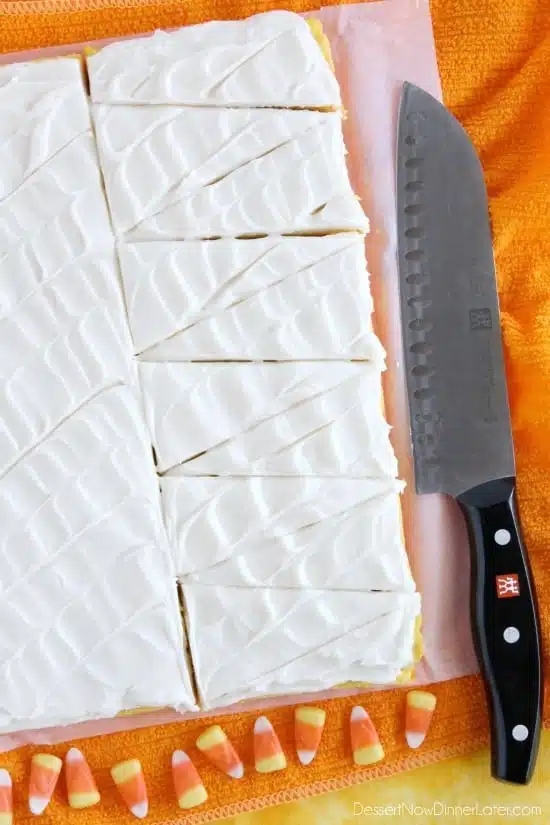 For this series, I thought it would be festive to share this recipe for Candy Corn Sugar Cookie Bars! How fun are these?! Sugar cookie dough, colored and layered in a dish, baked, then covered in my favorite Cream Cheese Frosting recipe! I had to share the picture above to show you how easy it is to cut them into triangles. If you use parchment paper in the pan and leave the ends hanging out, you can pull the whole slab of cookie out of the pan after it's baked, frost it, cut it in half lengthwise, and then cut your triangles. Easy peasy!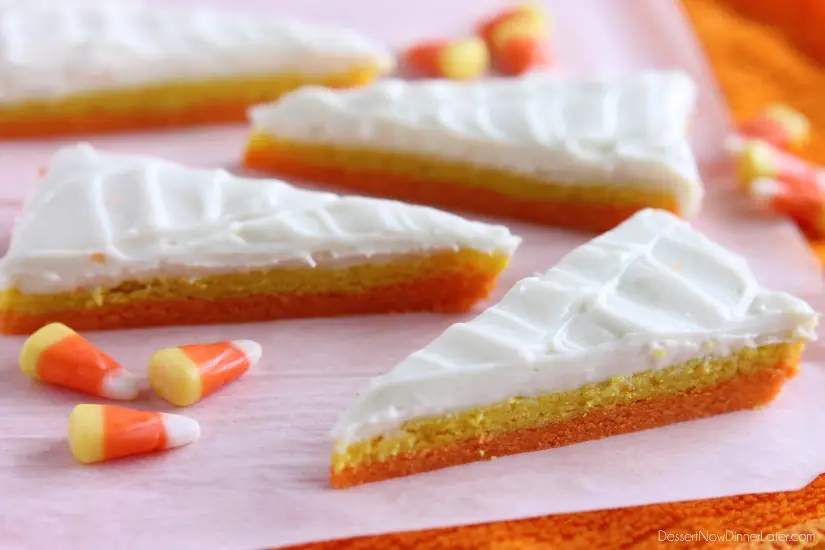 If you have a good eye, you have already realized that I did the colors in the wrong order…haha! I like the ombre progression I guess, but if most of your guests are children, they won't care if you screw it up like I did! These are fun to eat nonetheless and taste great! For your OCD pleasure, I have written the directions correctly so you can have the proper candy corn color order. (Say that 5x fast!)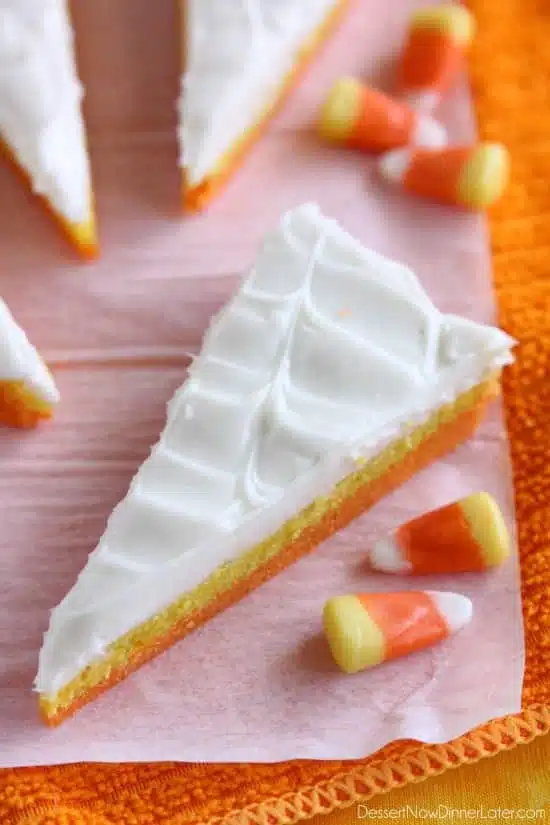 I hope you make these Candy Corn Sugar Cookie Bars for your Halloween party this year! Don't forget to check out the other Halloween recipes, party food, and printables linked below my Candy Corn Sugar Cookie Bars recipe!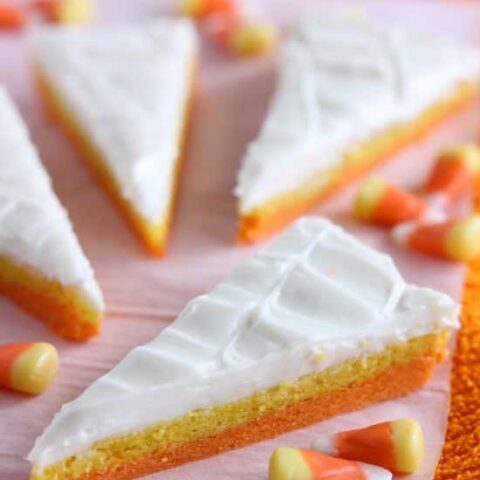 Candy Corn Sugar Cookie Bars
Ingredients
1/2 cup butter, room temperature
1 cup granulated sugar
1 egg
1 1/2 Tbsp milk
1 tsp vanilla
2 1/2 cups all-purpose flour
1/2 tsp baking powder
1/2 tsp salt
orange and yellow food coloring (I used Wilton's food coloring gels)
1 recipe The BEST Cream Cheese Frosting (link in instructions below)
Instructions
Preheat oven to 375 degrees Fahrenheit. Lay parchment inside a 9x13-inch baking dish with the ends hanging out the 13-inch sides (so you can lift out the cookie after it's baked) and spray the 9-inch edges with pan spray since they aren't covered with parchment.
In a large bowl, cream together the butter and sugar. Add egg, milk and vanilla. Mix well.
In a separate bowl, combine the flour, baking powder and salt. Add dry ingredients to wet ingredients until combined.
Split dough in half and color one half orange and one half yellow.
Press the yellow cookie dough onto the bottom of the baking dish; I used a mini rolling pin to roll mine evenly across the bottom of the pan.
Press orange cookie dough onto the yellow cookie dough layer. I found it easiest to roll the orange cookie dough onto a lightly floured counter about the size of the dish, cut the orange dough into large squares and then assemble the squares on top of the yellow layer, smoothing over the cracks.
Bake for 17 to 20 minutes or until edges are lightly golden. Cool completely.
Pulling on both sides of the parchment paper, lift the cookie dough out of pan. Trim the crisp edges with a knife, if desired.
Prepare The BEST Cream Cheese Frosting and spread it evenly over cooled cookie bars. Cut the large slab of cookie in half lengthwise, and then cut into triangles. Enjoy!
Notes
Cookies can be kept at room temperature OR refrigerated if you are worried about the cream cheese frosting.
Nutrition Information:
Yield: 20
Amount Per Serving:
Unsaturated Fat: 0g