Pumpkin White Chocolate Chip Blondies
This post may contain affiliate links, meaning that I may receive a commission at no cost to you if you use a link provided. All opinions shared are my own. You can review my full disclosure policy here.
These Pumpkin White Chocolate Chip Blondies are moist, fudgy, and chewy, with pumpkin spices and decadent white chocolate chips, for a fabulous bar dessert!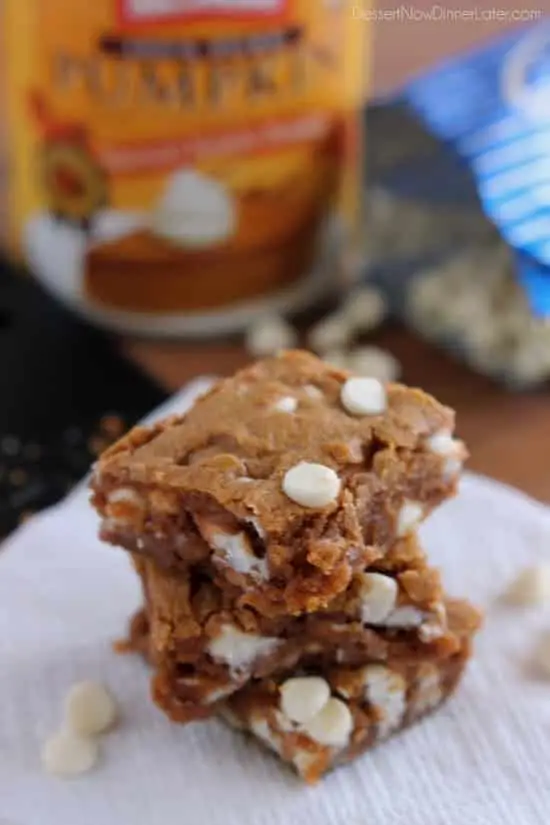 Okay, now that we've given apple it's turn for fall flavors, it's time to bring out the pumpkin recipes and I am starting with a good one! If you like white chocolate chips, and cookies, and pumpkin, but with the ease and convenience of a bar dessert, then look no further! These Pumpkin White Chocolate Chip Blondies are flipping amazing! Like soft, chewy, decadent AMAZING!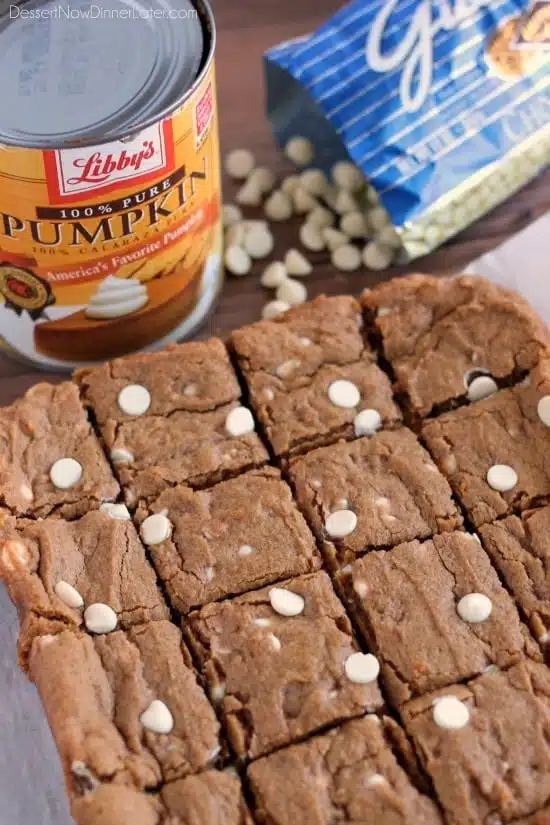 I hope I'm not scaring you with all my exclamation points (!!!), but it just goes to show how excited I am to share this recipe!!! It's one of those that you will want to share with friends so you don't eat the whole pan; ya know what I'm sayin'?!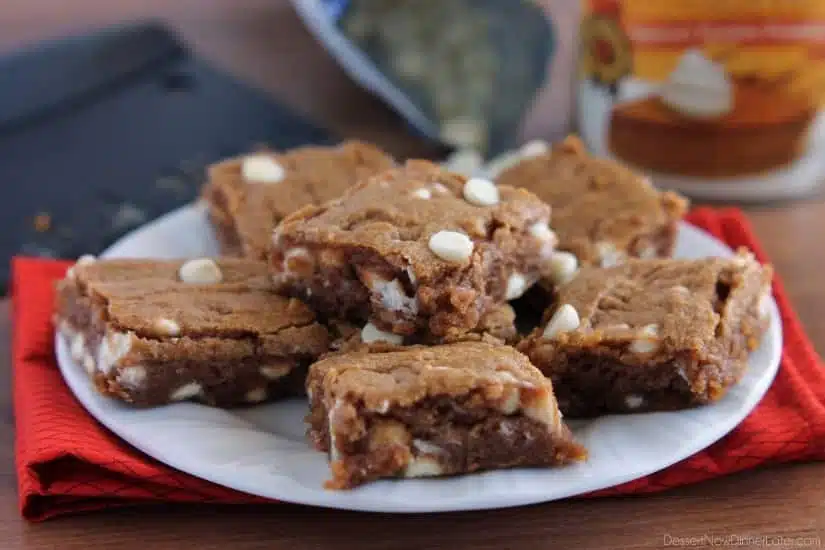 You probably couldn't eat the whole pan anyway though because these are almost fudgy they are so moist and I may have gone a little overboard on the white chocolate chips, but why not?!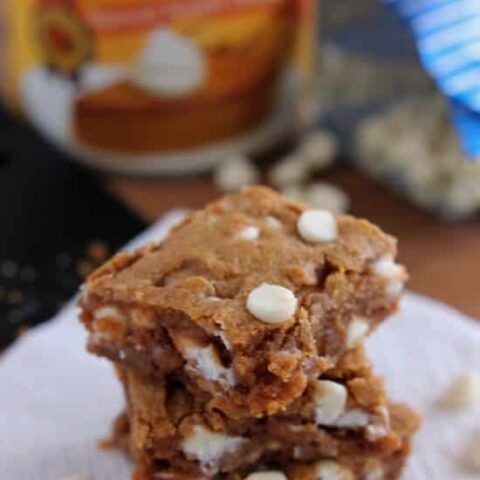 Pumpkin White Chocolate Chip Blondies
Ingredients
1 cup (2 sticks) unsalted butter, room temperature
1/2 cup brown sugar
1 cup granulated sugar
2 tsp vanilla extract
3/4 cup pumpkin puree
3 cups all-purpose flour
1/2 tsp salt
1/2 tsp baking powder
1/2 tsp baking soda
1 Tbsp ground cinnamon
1 Tbsp pumpkin pie spice
1 1/2 cups white chocolate chips
Instructions
In a stand mixer, cream the butter with both sugars. Add vanilla and pumpkin puree. Mix until just combined.
In a separate bowl, combine the flour, salt, baking powder, baking soda, cinnamon, and pumpkin pie spice. Add to wet mixture and mix until just combined.
Remove bowl from mixer and fold in the white chocolate chips.
Line a 13x9 inch pan with parchment paper, or grease the dish with pan spray. Press cookie dough evenly into the baking dish.
Bake at 350 degrees Fahrenheit for 25 to 30 minutes or until edges are brown and it's baked in the center.
Allow the dish to cool. If you used parchment paper, lift the cookie bar out of the dish and cut it into 24 squares. If you just greased the pan, go ahead and cut squares inside the dish. Keep extra bars covered; store up to 1 week.
Nutrition Information:
Yield: 24
Amount Per Serving:
Unsaturated Fat: 0g