Pumpkin Spice Cheesecake Donuts
This post may contain affiliate links, meaning that I may receive a commission at no cost to you if you use a link provided. All opinions shared are my own. You can review my full disclosure policy here.
Pumpkin Spice Cheesecake Donuts – Pumpkin, cheesecake, and plenty of fall spices come together in these super-soft baked donuts—you won't be able to have just one!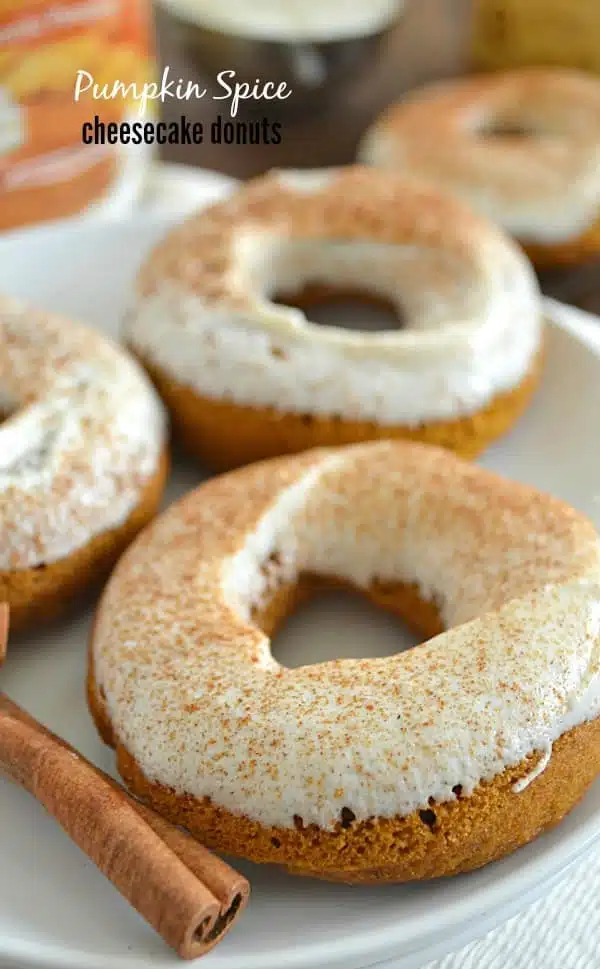 Hi! I'm Sarah from over at Whole and Heavenly Oven where I share mainly healthy, but ALWAYS indulgent recipes to satisfy my huge-ish sweet tooth. I'm SUPER pumped to be guest-posting for Amber as a contributor today on her awesome blog!
So do y'all love pumpkin spice cheesecake as much as I do? I'm kind of embarrassed to admit that pretty much the main reason I look forward to fall is just so that I can get my hands on some of that wicked-good cheesecake.
Cheesecake = Life.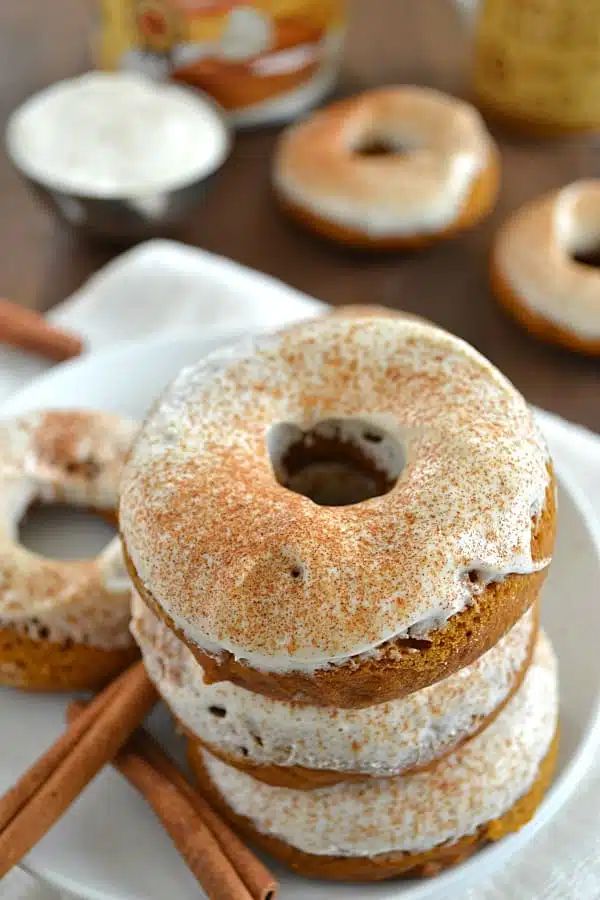 But ya know, sometimes you just want cheesecake for breakfast. But then you would have to deal with all that guilt, yada, yada, etc.
So I came up with an easy fix….
If cheesecake + pumpkin spice = dessert, then…
Cheesecake + pumpkin spice + DONUT = breakfast.
Makes sense right? Isn't math fun when it involves cheesecake and donuts? 😀 Why can't Algebra be that interesting?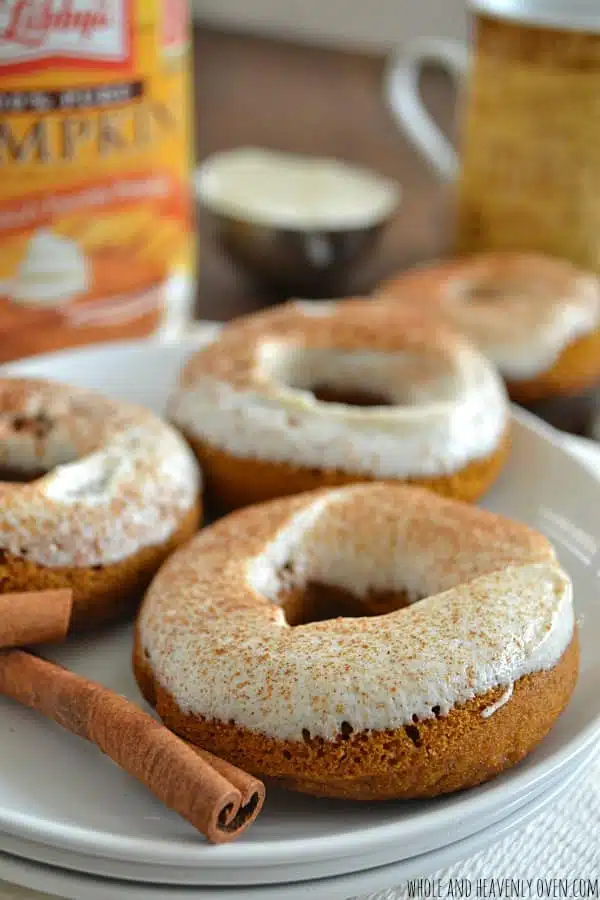 These donuts combine pretty much everything you love about fall. We've got "decadent" and comfort-food" all covered and they're basically simplicity-CITY.
Because breakfast-time is usually I'm STARVING-time, so that calls for easy-peasy donuts that whip up in 30 or less.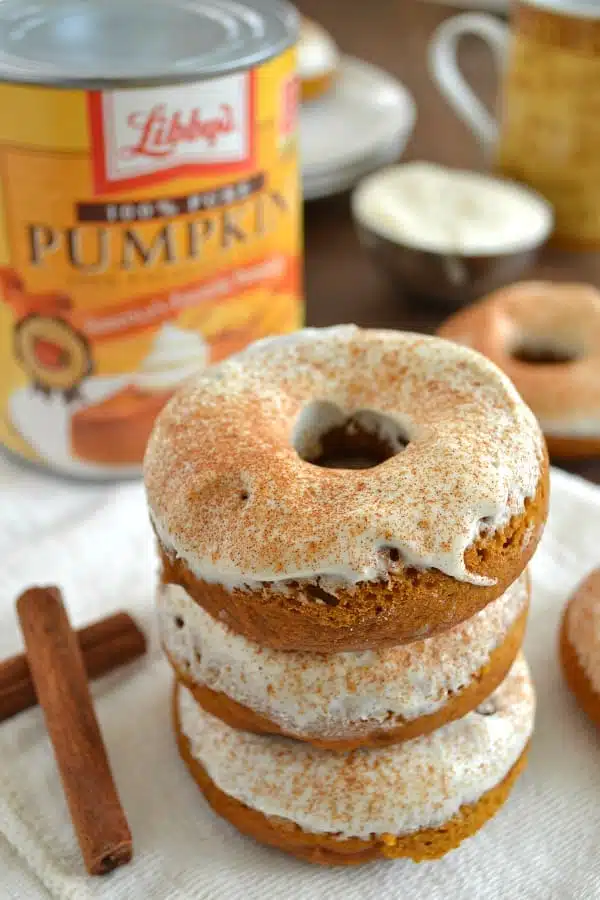 And everyone knows that your morning coffee requires donuts along with it. And homemade Pumpkin Spice Cheesecake Donuts put Dunkin' Donuts to shame, for sure.
Mainly because they're baked, not fried. And taste even better than fried.
What can I say? I'm a donut-snob, so to speak.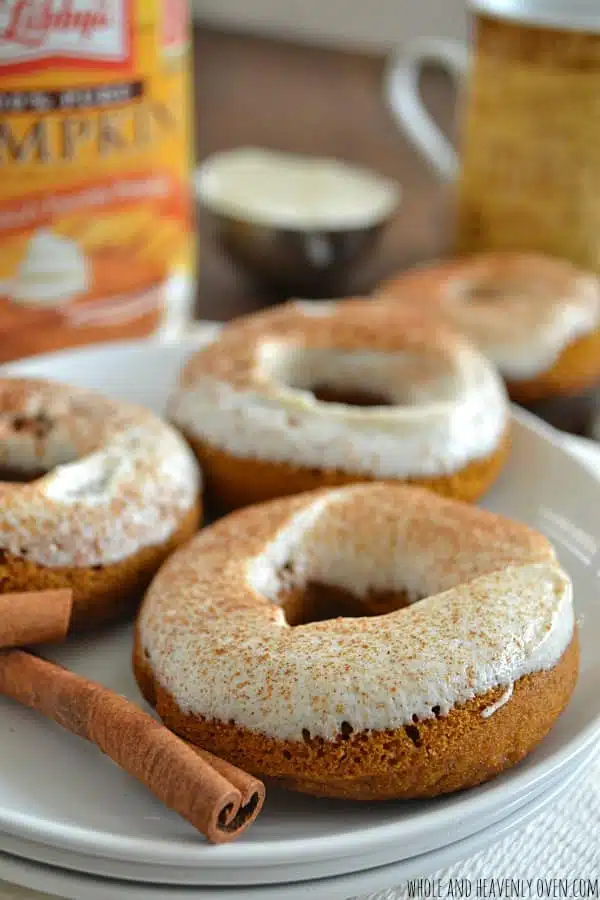 These donuts are worth every single measly calorie, just because they're so downright DREAMY. The pumpkin donut, itself is super-moist and perfectly spiced. And the cheesecake glaze? You might just want to grab a spoon and the bowl when you think no one's looking.
Save a LITTLE bit of glaze for the donuts though, because the two are a match made in pumpkin donut HEAVEN.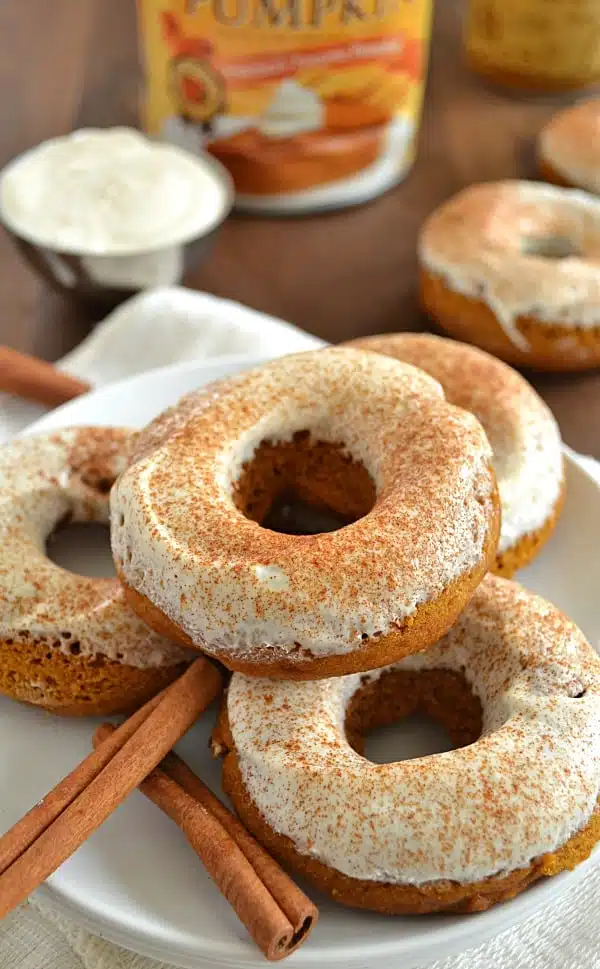 Technically fall doesn't start until Tuesday, but pumpkin spice cheesecake donuts wait for no one.
Your weekend NEEDS them! 😀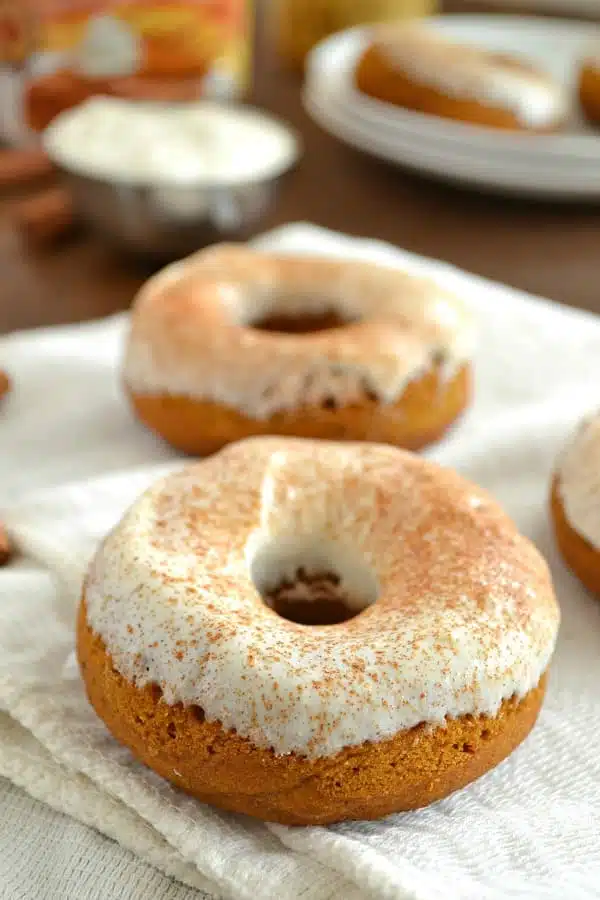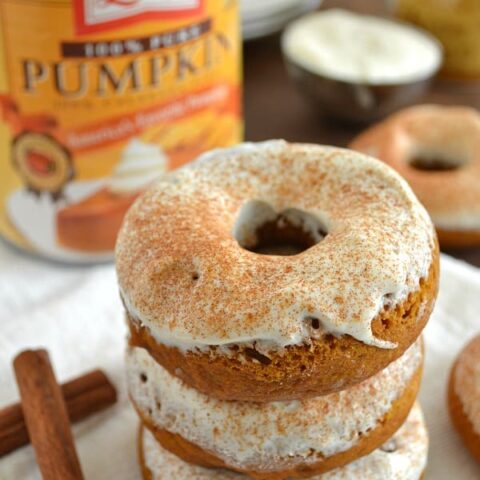 Pumpkin Spice Cheesecake Donuts
Ingredients
DONUTS
1/2 cup pumpkin puree
1/2 cup coconut sugar or brown sugar
1/4 cup vegetable oil
1/4 cup milk
1 large egg
1 teaspoon vanilla extract
1 cup white whole wheat flour
1 teaspoon baking powder
1 teaspoon ground cinnamon
1/4 teaspoon salt
CHEESECAKE GLAZE
4 oz cream cheese, softened
1/2 cup sugar
1/2 teaspoon vanilla extract
2 to 3 Tablespoons milk
Cinnamon for sprinkling, optional
Instructions
Prepare the donuts: Preheat oven to 350 degrees Fahrenheit. Lightly grease a donut-pan. Set aside.
In a large bowl, whisk pumpkin, sugar, oil, milk, egg, and vanilla until smooth. In a separate bowl, combine flour, baking powder, cinnamon, and salt. Gently fold flour mixture into liquid mixture until just combined.
Place batter in a resealable plastic bag and snip off a corner. Pipe batter into prepared donut pan.
Bake donuts for 10 to 11 minutes, or until a toothpick tests done. Cool donuts in pan 5 minutes, then remove to a wire cooling rack.
Make the cheesecake glaze: Place softened cream cheese in a medium bowl. With an electric mixer, beat on medium speed until creamy. Beat in sugar, vanilla and enough milk to achieve a thick glaze-consistency.
Dip cooled donuts into cheesecake glaze and sprinkle with cinnamon if desired.
Nutrition Information:
Yield: 9
Amount Per Serving:
Unsaturated Fat: 0g