Spiced Pumpkin 'n' Cream Cheese Streusel Topped Muffins
This post may contain affiliate links, meaning that I may receive a commission at no cost to you if you use a link provided. All opinions shared are my own. You can review my full disclosure policy here.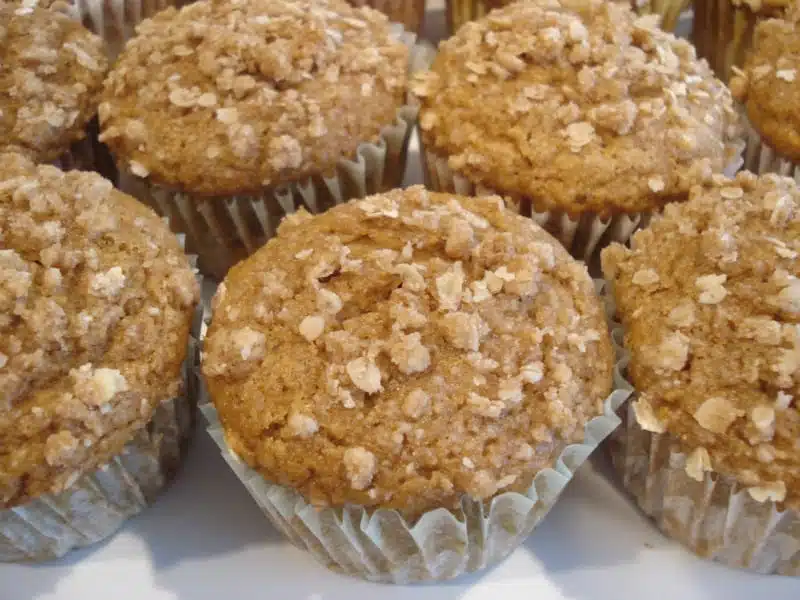 I've thought long and hard about the perfect recipe to start this blog with. Better start on a good note right? I want this recipe to bring you back for all the other recipes to come, & I am pretty sure I did a good job; just don't let the long name scare you away. Since we are so close to Thanksgiving I can't help but crave pumpkin & even though Thanksgiving is only less than a week away, I had to make my pre-appetizer pumpkin muffin snack to get me ready for the big day.
Fresh from the oven, one bite into this muffin gives you a nice, crusty top, soft, fluffy muffin, & ooey gooey center. The aroma from the spices fills your house. You definitely won't be needing to use a scented candle the day that you bake these. More good news is, this muffin is only 145 calories, so you calorie counters out there (aka me & My Fitness Pal friends) won't completely wreck your diet eating one of these. You can further "healthify" these muffins using splenda or whatnot (I personally don't go that far…some things [sugar] I can't give up), but I used unsweetened applesauce to replace the oil, & they are perfectly moist still. Enjoy!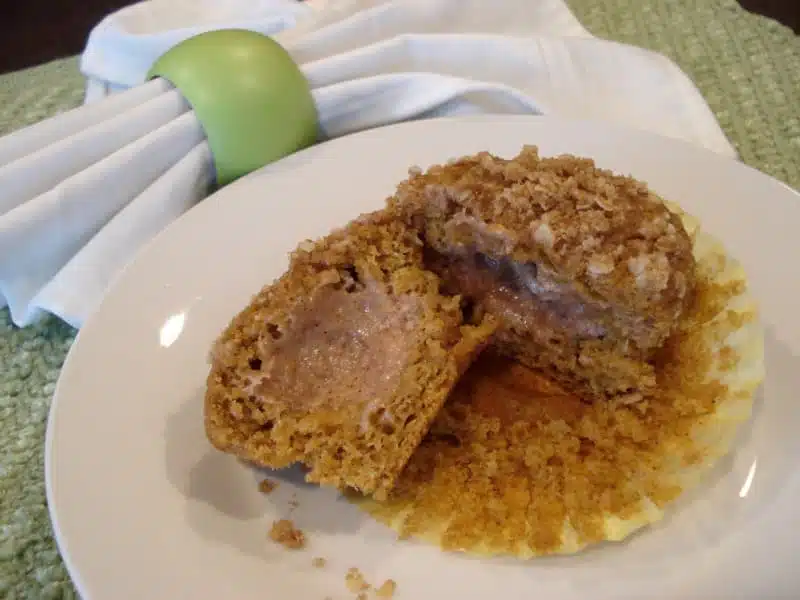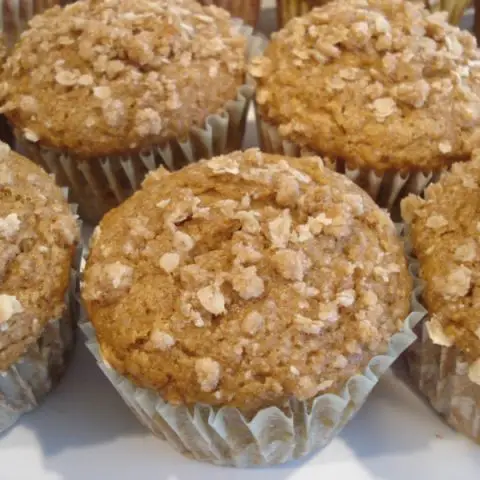 Spiced Pumpkin 'n' Cream Cheese Streusel Topped Muffins
Ingredients
Cream Cheese Filing:
4 oz Neufchatel Cheese 1/3 less fat cream cheese COLD (straight from fridge)
1/3 cup sugar
3/4 tsp cinnamon
Streusel Topping:
1 Tbsp room temp/softened (not melted butter)
2 Tbsp dark brown sugar
2 Tbsp rolled oats
2 Tbsp all purpose flour
Muffin Batter:
1/2 cup sugar
1/4 cup dark brown sugar
2 large eggs
3/4 cup unsweetened applesauce
1 cup pumpkin puree (not pumpkin pie filling)
1 1/2 cup all purpose flour
3/4 tsp baking powder
1/2 tsp baking soda
1 1/4 tsp cinnamon
1/2 tsp nutmeg
3/4 tsp ginger
1/2 tsp salt
Instructions
CREAM CHEESE FILLING: Using a hand blender, cream these 3 ingredients until well blended (no lumps). Put in the refrigerator to keep cold.
STREUSEL TOPPING: Put all ingredients into a bowl. Mix with a fork or pastry blender until crumbs come together. I usually rub the mixture between my hands to make it pretty fine.
MUFFIN BATTER: In a mixer, cream your sugars & eggs. Add applesauce & pumpkin, then blend. In a bowl combine all your dry ingredients (flour, baking powder & soda, cinnamon, nutmeg, ginger, & salt) & gradually add to wet mixture. You might have some small lumps, but that is ok. Once everything is incorporated it's time to assemble your muffin.
ASSEMBLE MUFFINS: Fill muffin tins with paper cups. Using a #50 scoop (or you can eyeball it) spoon one scoop pumpkin muffin batter into every cup (should be about ¼ full).
Put ½ Tbsp of cream cheese mixture on the top-center of the pumpkin batter.
Spoon two more scoops of pumpkin batter over the cream cheese mixture (should be ¾ full with everything in there).
Sprinkle all the tops with streusel & bake at 375*F for 20-25 min. Your muffin should spring back when touched. Remove from oven & enjoy warm. Be careful though, the cream cheese center might be hot.