Apple Crumb Bars
This post may contain affiliate links, meaning that I may receive a commission at no cost to you if you use a link provided. All opinions shared are my own. You can review my full disclosure policy here.
Apple Crumb Bars are better than pie with a buttery shortbread crust and crumble topping, and a fresh homemade apple pie filling in the center.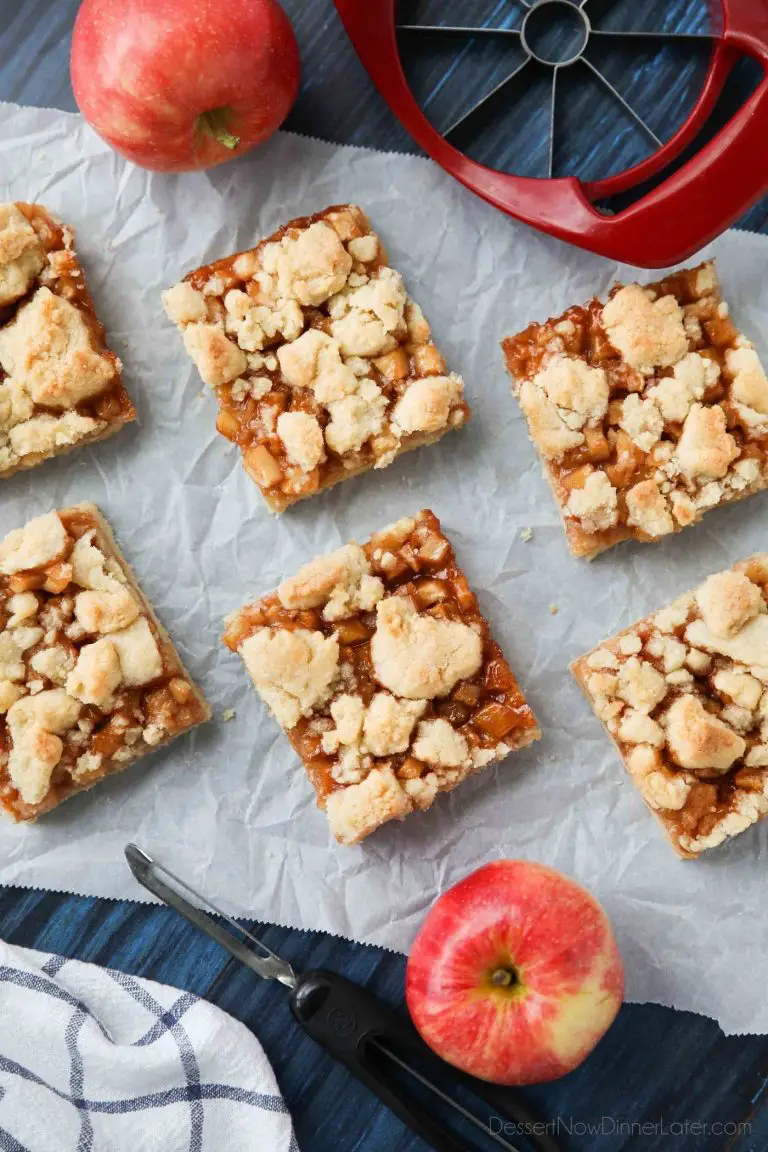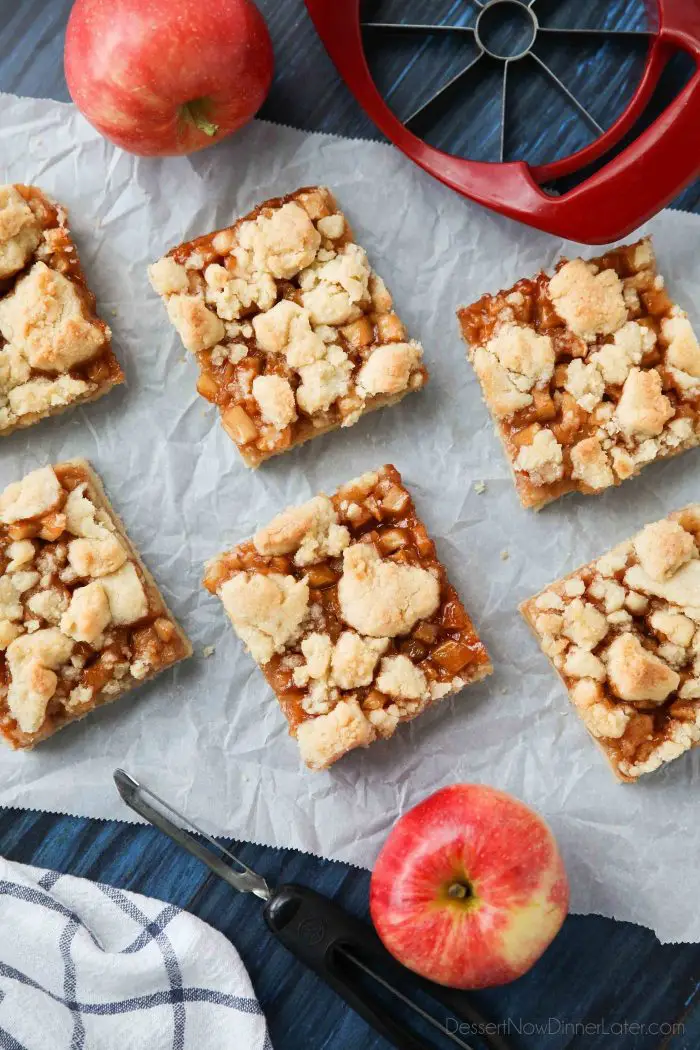 If there's one dessert I make over and over again, it's crumb bars! That buttery crust and crumble topping makes a great base for all kinds of flavors.
I've made Blueberry, Strawberries & Cream, Peach, Lemon, and Cherry Chocolate crumb bars, to name a few. Today's recipe is a more classic variation of my Chocolate Caramel Apple Crumb Bars.
The crust and crumb topping is made from the same shortbread dough. The filling is the only difference. This time I went with a classic homemade apple pie filling that is saucy and perfectly spiced.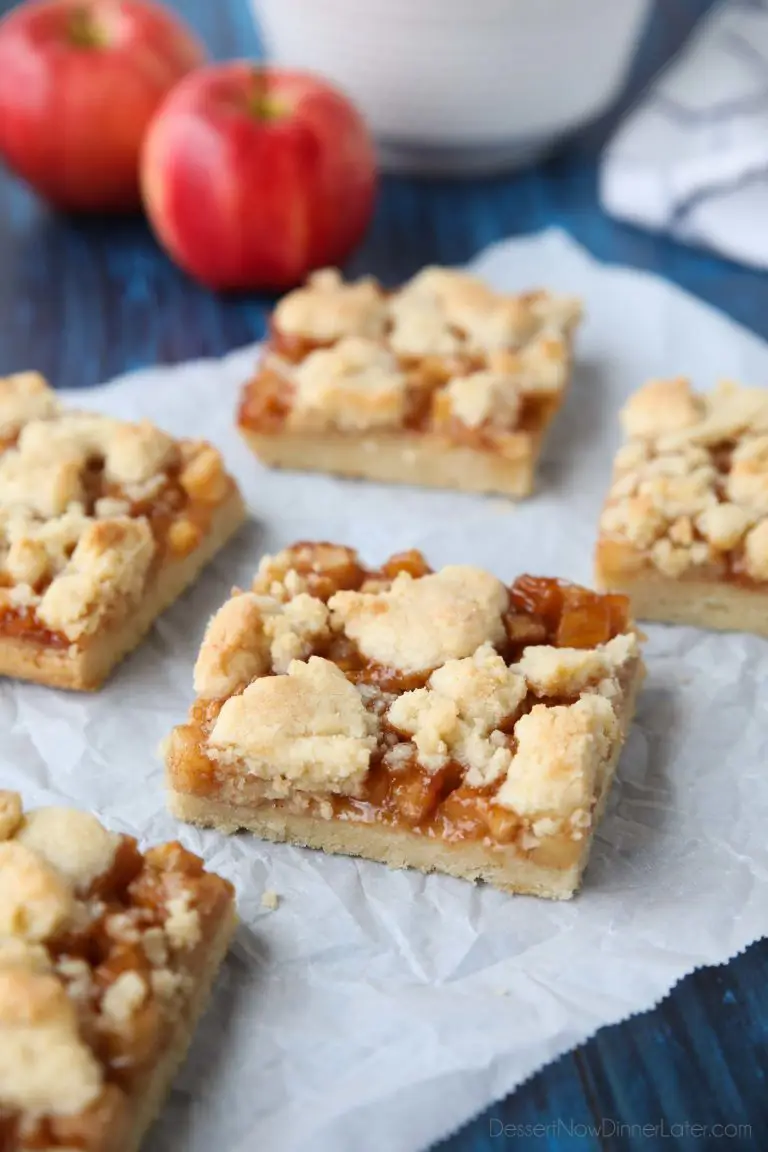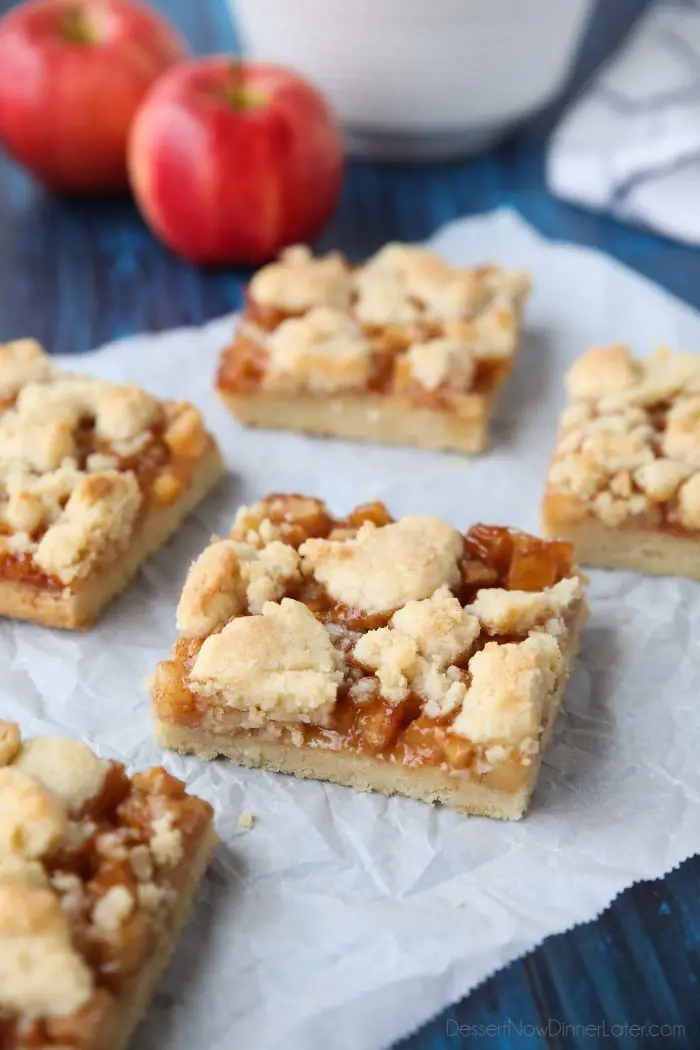 Apple Crumb Bars
These apple crumb bars are a great alternative to apple pie. Especially if pie crust makes you nervous. They're so easy to make and serve 12 to 15 people.
The crust and crumb topping is just lightly sweet. The filling is made with fresh apples and a good amount of cinnamon. You could even get away with adding a light apple juice glaze on top these bars without making them too sweet.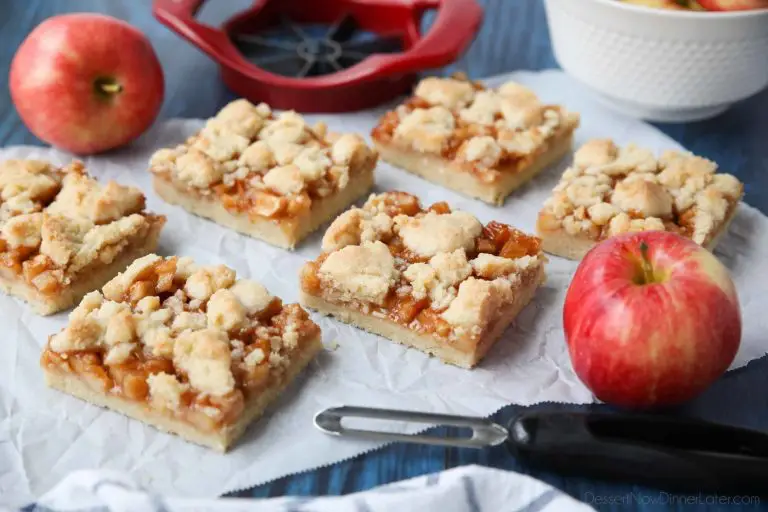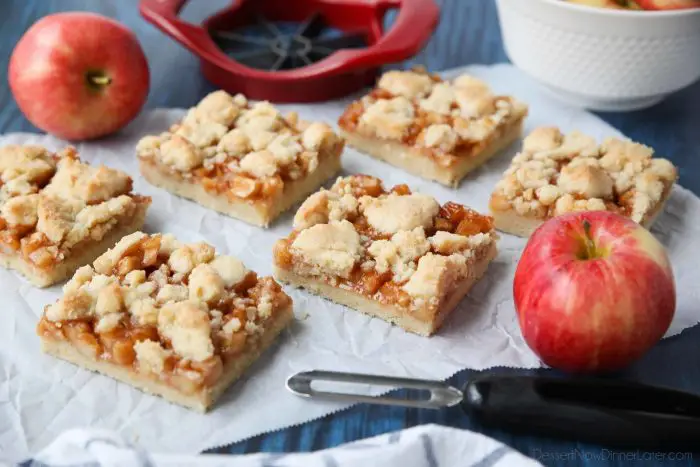 If Dutch Apple Pie is your favorite, you can switch out the shortbread for the oatmeal streusel crust and topping in these Lemon Raspberry Crumb Bars. No matter how you make it, apple crumb bars will loved all around.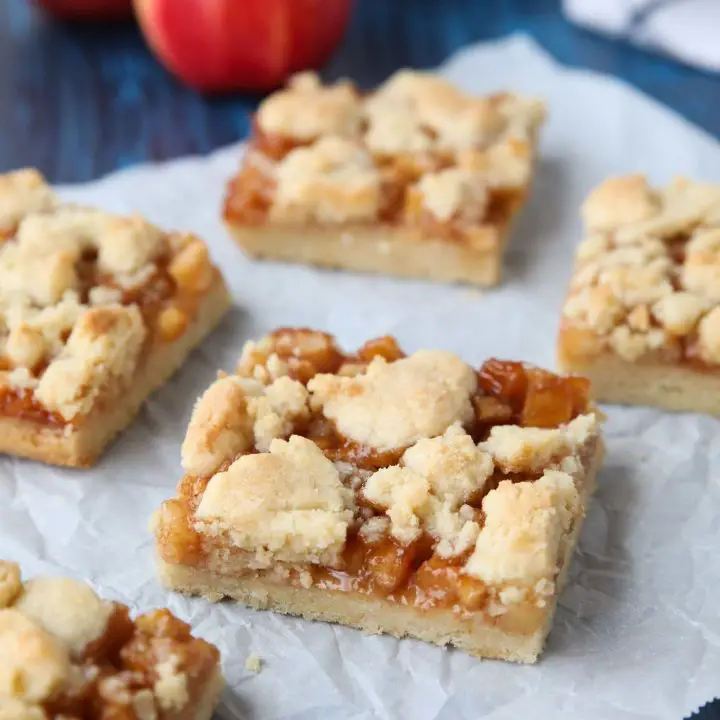 Apple Crumb Bars
Prep Time: 20 minutes
Cook Time: 25 minutes
Total Time: 45 minutes
Yield: 12-15 servings
Apple Crumb Bars are better than pie with a buttery shortbread crust and crumble topping, and a fresh homemade apple pie filling in the center.
Ingredients
Apple Filling:
4 cups apples, peeled, cored, and diced (Fuji, Gala, other)
1/2 cup brown sugar, packed
1 Tbsp cornstarch
1 tsp ground cinnamon
3 Tbsp lemon juice
6 Tbsp butter
Crust and Crumb Topping:
3 cups all-purpose flour (stir, spoon, & level)
1 cup granulated sugar
1 tsp baking powder
1/2 tsp salt
1 cup (2 sticks) butter, cold + cut into Tablespoons
1 large egg
Instructions
Preheat oven to 375 degrees Fahrenheit. Line a 13x9-inch baking dish with parchment paper that hangs over the edges.
For the apples: In a large bowl, toss the diced apples with the brown sugar, cornstarch, cinnamon, and lemon juice. Let macerate (release juices) for 5 minutes.
Melt 6 Tbsp of butter in a large sauté pan. Add the apples with their juices, and cook for 10 minutes or until fork tender. Allow apples to cool slightly.
For the crust/topping: Using the paddle attachment fitted on a stand mixer, stir flour, sugar, baking powder, and salt together.
Add cold butter one Tablespoon at a time, while the mixer is running, until the mixture resembles fine crumbs. Add egg and mix until the dough comes together, in large crumbs.
Press ⅔ of the mixture evenly onto the bottom of the prepared 13x9-inch baking dish for the crust. Spread the cooked apples evenly on top, then crumble the remaining crust/topping over the apples.
Bake at 375˚F for 25-35 minutes until the top is lightly brown and the filling is slightly bubbling in the center. Allow to cool completely. Use parchment paper to pull bars out of pan for cutting and serving. Cover and store at room temperature.