Lemon Crumb Bars
This post may contain affiliate links, meaning that I may receive a commission at no cost to you if you use a link provided. All opinions shared are my own. You can review my full disclosure policy here.
Lemon Crumb Bars have a lightly sweet and buttery cookie base that doubles as the crumb topping, and an easy creamy lemon filling in the center. A delicious bar dessert that is a great substitute for pie.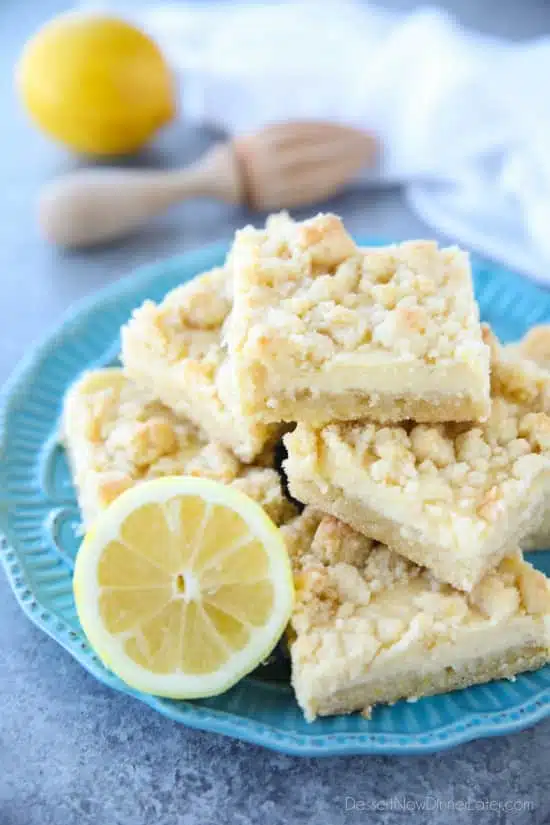 For the streusel fanatic, crumb bars are heaven sent! I love them so much I have multiple variations including Blueberry, Strawberries & Cream, and Peach, to name a few. The base that doubles as the topping is all the same. The only difference is the fruit centers.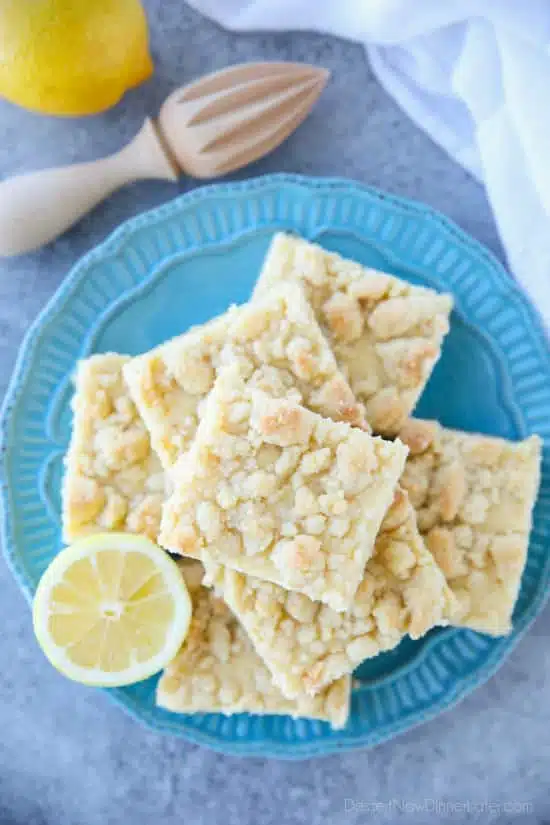 Lemon Crumb Bars
I made a variation of these lemon crumb bars with a brown sugar and oat crust/topping back in 2012 and loved them. It is a great base/streusel. I've done a similar one in these Lemon Raspberry Crumb Bars.
I still really love a simple blonde streusel, which is what I chose for these particular Lemon Crumb Bars. The flavor is so buttery and just lightly sweet, so it doesn't overpower the lemon.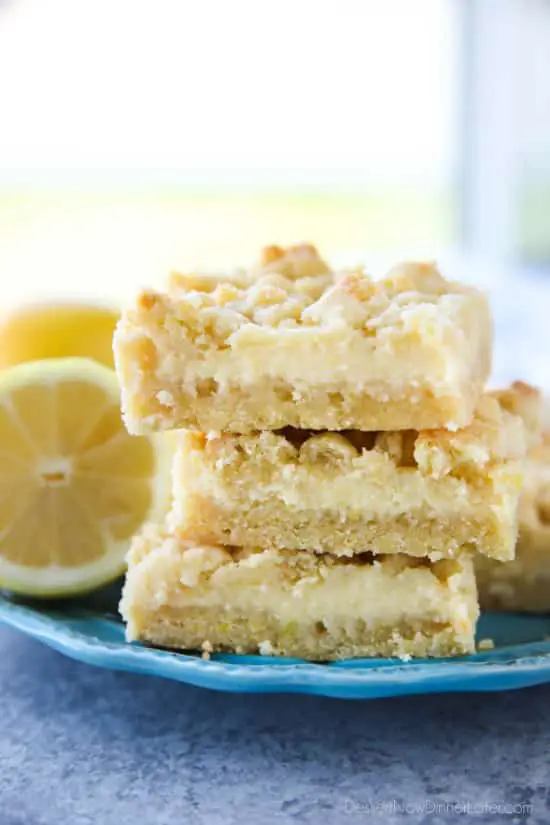 The lemon filling is similar to that of key lime pie. It's creamy with a slight tang from the lemon zest and juice.
If you like your citrus desserts super tangy, I suggest making a glaze to drizzle on top with powdered sugar and lemon juice, similar to the glaze on these Peach Crumb Bars.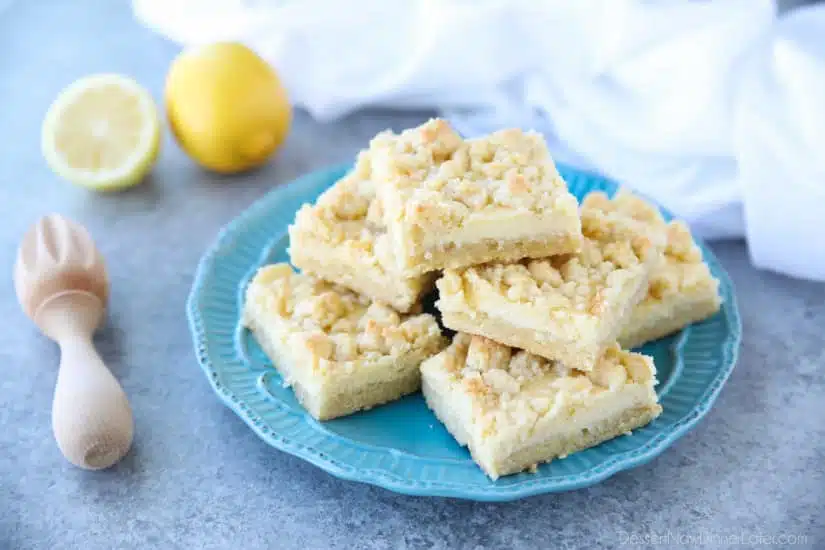 These Lemon Crumb Bars are stored and eaten cold. They're nice and thick, crunchy on top, creamy in the middle, and soft on the bottom. They make a nice substitute for pie and serve a crowd (12-24 pieces depending on how you cut them). A great dessert for potlucks and parties. Everyone loves them!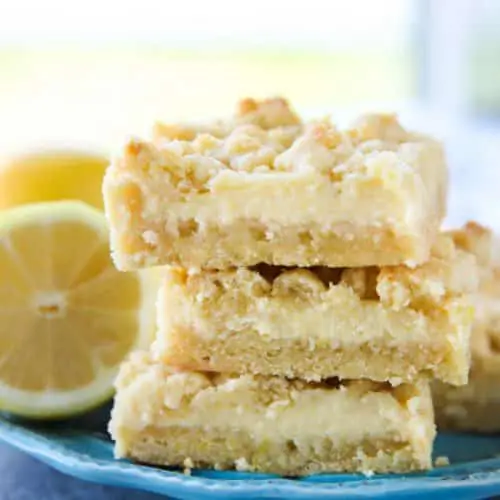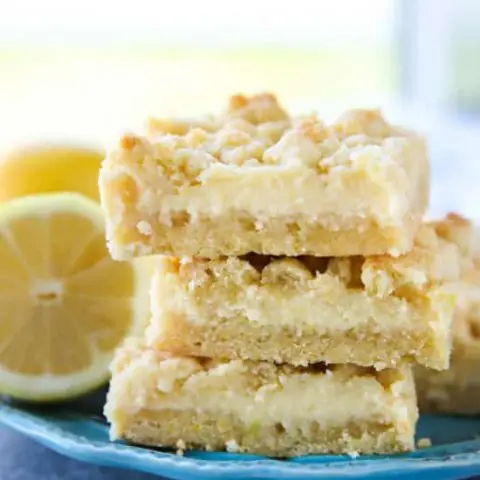 Lemon Crumb Bars
Prep Time: 15 minutes
Cook Time: 30 minutes
Additional Time: 2 hours
Total Time: 2 hours 45 minutes
Yield: 12 -24 bars
Lemon Crumb Bars have a lightly sweet and buttery cookie base that doubles as the crumb topping, and an easy creamy lemon filling in the center. 
Ingredients
Crust & Topping:
3 cups all-purpose flour (stir, spoon, & level)
1 cup granulated sugar
1 tsp baking powder
1/2 tsp salt
1 cup (2 sticks) butter, room temperature (salted or unsalted)
1 large egg
Lemon Filling:
14 oz can sweetened condensed milk
1-2 Tbsp lemon zest (zest of 2 lemons)
1/2 cup fresh lemon juice (about 4-5 lemons)
2 large egg yolks
Instructions
Preheat oven to 375 degrees Fahrenheit. Line a 13x9-inch baking dish with parchment paper (for lifting the bars out) or grease with cooking spray.
In the bowl of a stand mixer, stir together the flour, sugar, baking powder, and salt. Add the butter one Tablespoon at a time and mix with the paddle attachment until the ingredients resemble fine crumbs. Add the egg and mix until incorporated.
Press 2/3 of the mixture onto the bottom of the prepared baking dish. Bake at 375˚F for 10-12 minutes or until the crust is matte (not shiny/wet) and starting to lightly brown.
While crust is baking, mix together the sweetened condensed milk, lemon zest, lemon juice, and egg yolks. Gently pour over the semi-cooked crust while still warm. Spread evenly with a spatula.
Crumble the remaining crust evenly over the top of the lemon filling. (Squeeze crumbs together in hands for bigger chunks.) Bake at 375˚F for an additional 20-25 minutes until the top is lightly brown and the filling is set in the center.
Cool on a rack to room temperature. Then CHILL in the refrigerator for 2 hours or until cold. Lift bars out of the pan with the parchment paper. Cut and serve. Store leftovers in an airtight container in the refrigerator.
Notes
*Would be good with a glaze! Mix 1 cup powdered sugar with 1-2 Tbsp lemon juice, to desired consistency. Drizzle over cool bars.