Campfire Cinnamon Rolls are cooked on a stick over a fire or grill. As easy as a can of biscuits, but with real yeast dough instead! The best cinnamon rolls you will ever have while camping!
*This post is brought to you by Rhodes Bake-N-Serv. Thanks for supporting the brands that make Dessert Now Dinner Later possible.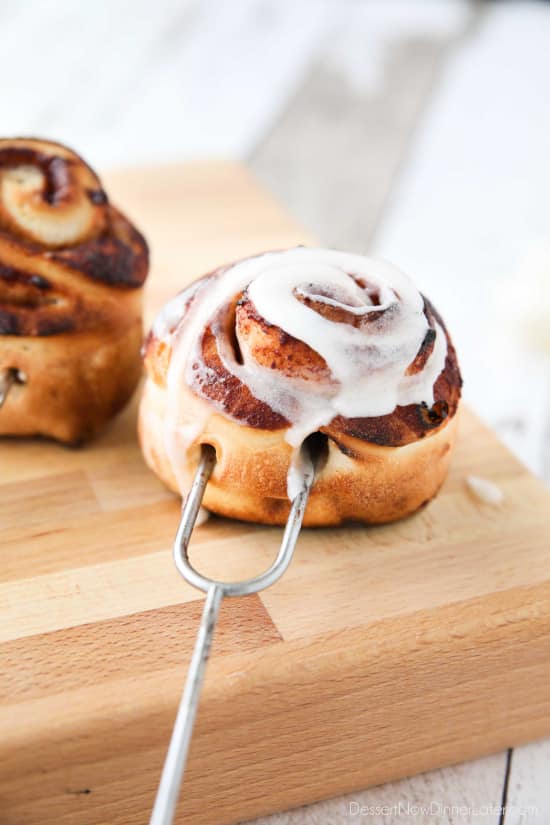 Campfire food should be easy to pack, easy to cook, and delicious to eat. These campfire cinnamon rolls are all three.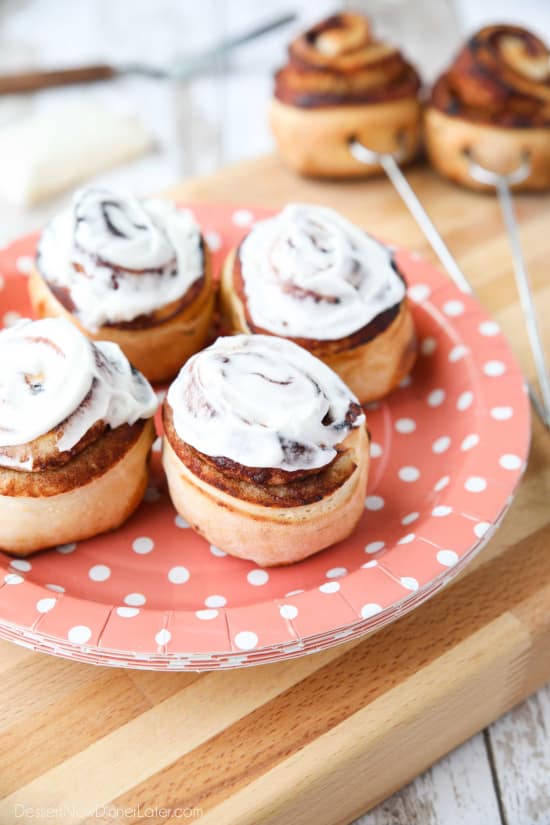 CAMPFIRE CINNAMON ROLLS
These Campfire Cinnamon Rolls are pre-made for a quick and easy breakfast you can cook over a grill or campfire. They only take 15-20 minutes to toast on a stick.
The best part is that you get the taste of homemade yeast rolls, without actually having to make them. I used Rhodes AnyTime!® Cinnamon Rolls and some roasting sticks to cook them.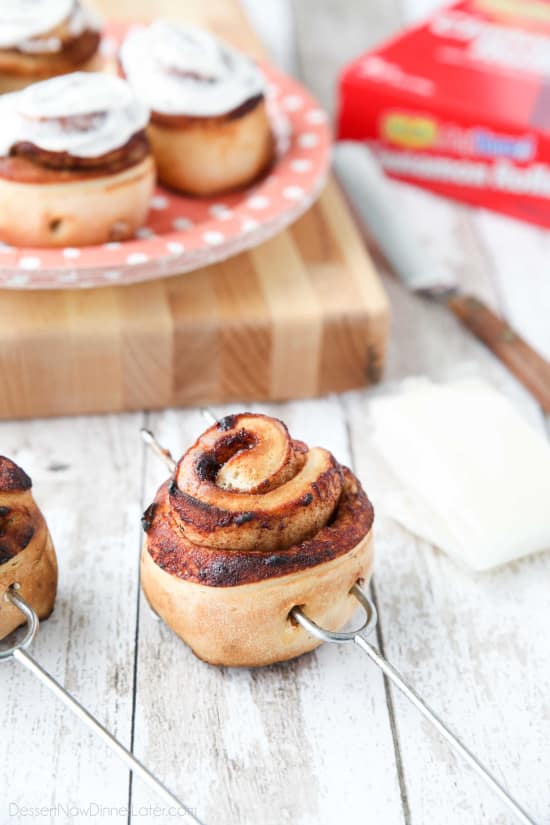 To Take Camping: Place the box of Rhodes AnyTime!® Cinnamon Rolls inside of a gallon size zip-top bag before storing in a cooler with ice, so the box doesn't get wet.
You can alternately remove the cream cheese frosting packet and rolls into a zip-top bag to save space. Be sure to place parchment paper between each roll and keep it near the top of the cooler so they aren't crushed.
Use cinnamon rolls that are thawed but still cold. This shouldn't be a problem if they have been in a cooler. If making at home, thaw rolls at room temperature for 1 hour or in the refrigerator overnight.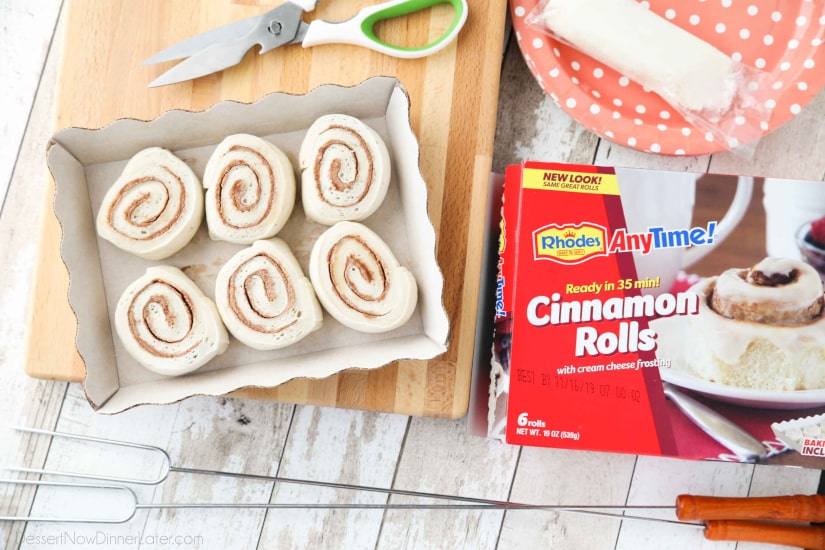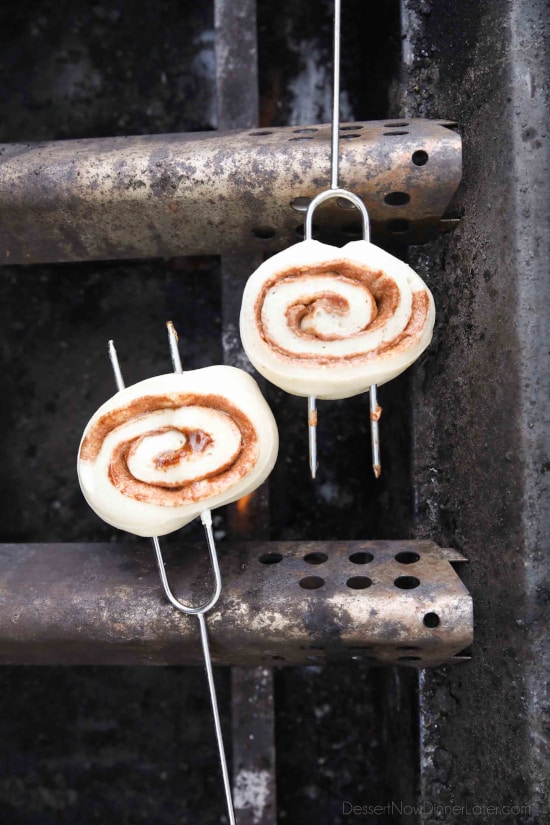 HOW TO COOK CAMPFIRE CINNAMON ROLLS ON A STICK
Skewer a thawed cinnamon roll onto a roasting stick with an inch or two of space on the end. This way it won't slide off as it cooks. (I like to skewer into the end piece of the roll, so it doesn't come unraveled as well.)
Roast cinnamon rolls over a campfire or grill (set to 350 degrees Fahrenheit) for 5 minutes on bottom, 5 minutes on top, and 5-10 minutes for the sides, rotating the stick as needed to prevent burning.
The rolls will rise during the second 5 minutes of cooking. (The top part of the roll.) This will help you see that the dough is cooking through to the center properly, but is also when the sugary filling starts to drip and can burn easily. Keep a close eye on how close you hover the flames/coals.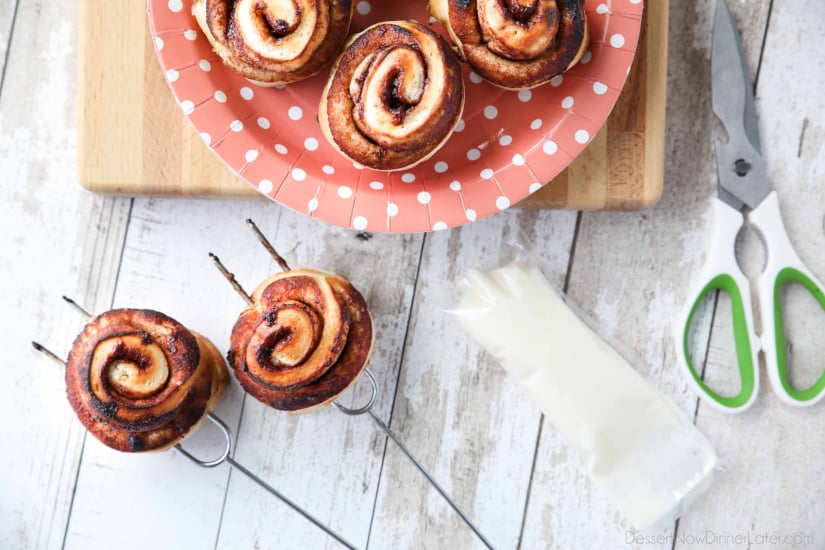 EXTRA TIP! I will pull the cinnamon roll off, rotate it 180 degrees and stick it back on the roasting stick to brown the edge that faced the handle for most of the cooking time. This ensures even browning on all sides. Just be CAREFUL, it will be hot to touch!
Knead the packet of cream cheese frosting with your hands. Cut off the tip and squeeze frosting onto the roll while it's warm. Eat the cinnamon roll on the stick or transfer it to a paper plate. Enjoy!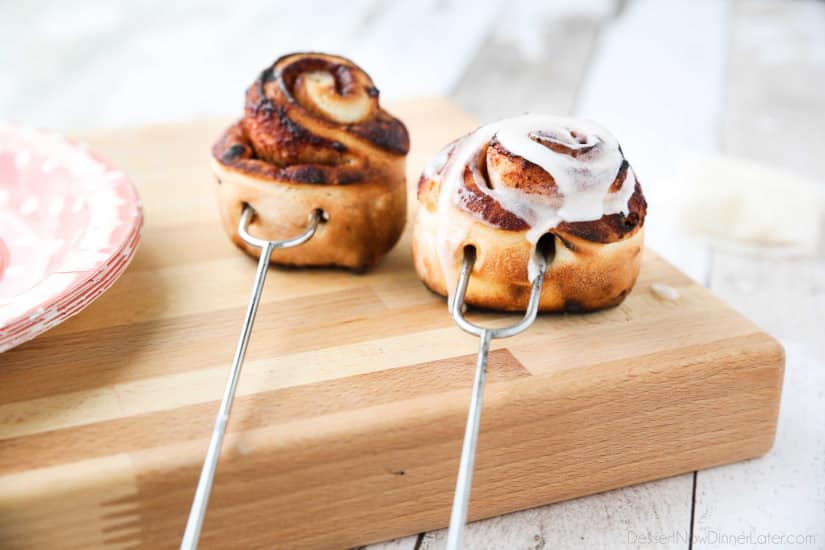 MORE WAYS TO COOK CAMPFIRE CINNAMON ROLLS
All at Once in a Pie Tin or Foil:
Place cinnamon rolls in a lightly greased pie tin. OR — Use heavy duty foil to wrap around the bottom and edges of the cardboard baking tray that comes with the Rhodes Anytime!® Cinnamon Rolls, leaving the top exposed. (Be sure to remove the cream cheese frosting packet.) Optional: Create a sling with foil for easy lifting.
Place over a campfire (preferably with a rack) or on a grill heated to 350˚F.
Cook for 20-30 minutes rotating the pan 180 degrees halfway through, or as needed. Cook until golden brown on top.
Remove from campfire or grill and top with icing.
In an Orange Peel, Dutch Oven, or Pie Iron:
– If you want to cook campfire cinnamon rolls wrapped in foil directly over a fire or coals, the best way to do that is to cook them inside of an orange peel. This helps protect the rolls from burning on the bottom and adds an essence of fruit flavor.
– You can also cook campfire cinnamon rolls in a dutch oven or pie iron. Placing canning rings inside of a dutch oven helps prevent the bottom of a pie tin full of cinnamon rolls from burning. Using a pie iron is another fun individual way to cook cinnamon rolls. This flattens the rolls slightly and creates a crispy exterior.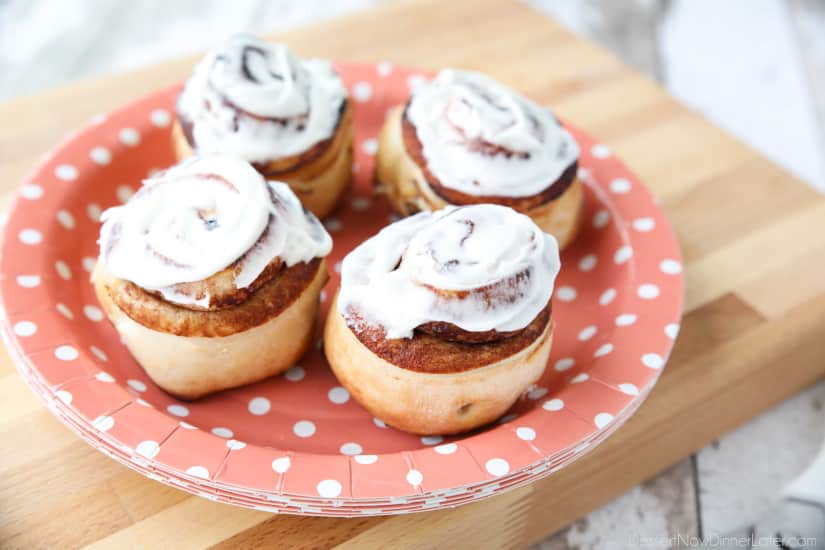 MORE CAMPING RECIPES