Southwestern Chicken Packets + Video
This post may contain affiliate links, meaning that I may receive a commission at no cost to you if you use a link provided. All opinions shared are my own. You can review my full disclosure policy here.
These Southwestern Chicken Packets are an easy and delicious tin-foil dinner recipe you can cook with a fire (while camping), on a grill, or in an oven.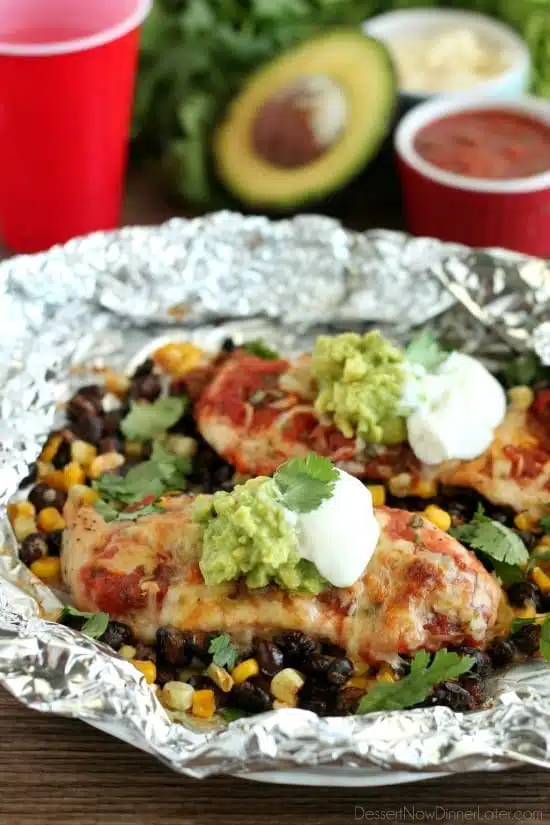 I'm way excited to share this Southwestern Chicken Packets recipe with you today! Not only is it flipping delicious, but I get to tell you all about my friend Jesseca's new cookbook FOILED! that's completely devoted to camping recipes. Plus, I've teamed up with some bloggers to give away some wicked awesome summer swag!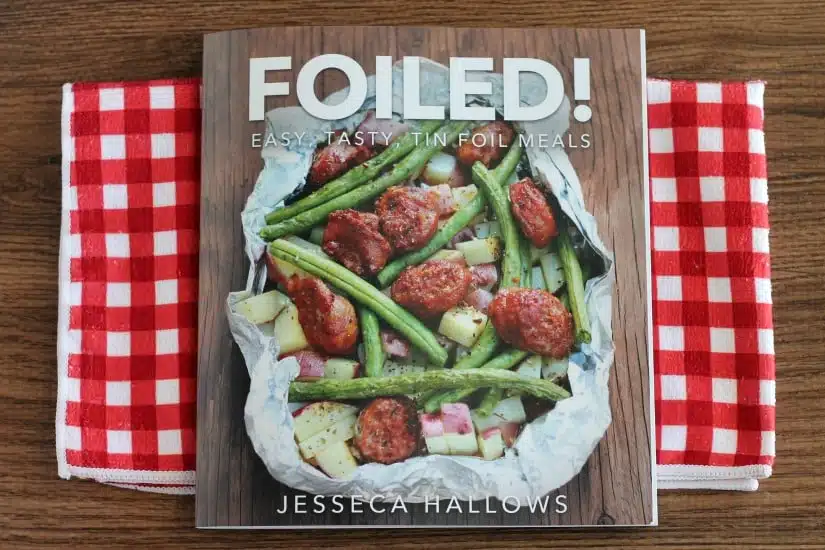 My friend Jesseca blogs at One Sweet Appetite and if it wasn't for her, my photography would be nowhere near where it is today. One day a couple of years ago, Jesseca offered to let me come to her house and watch her work. I hardly knew her at the time. We had chatted a little bit online and briefly met once in person at that point in time, but I went anyway because I loved her photography and wanted to learn. I'm so glad I did!
Jesseca is the NICEST person you will ever meet, and even though she doesn't think she helped me very much that day, I have been improving leaps and bounds from how I used to photograph things with my point-and-shoot camera back in the day. I'm so grateful for her!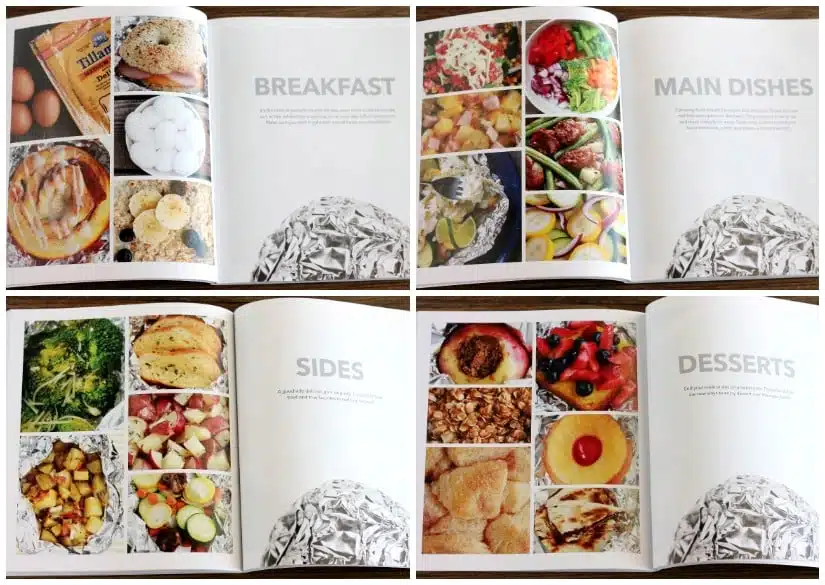 Photographing food is one thing, but photographing tin-foil meals, is another! It's hard guys! This post was tricky for me. Jesseca makes it look so easy in her book FOILED! : Easy, Tasty Tin Foil Meals. She has four mouthwatering categories of recipes to choose from: Breakfast, Main Dish, Sides, and Desserts. Just browsing the categories gets you hungry with her stellar photography.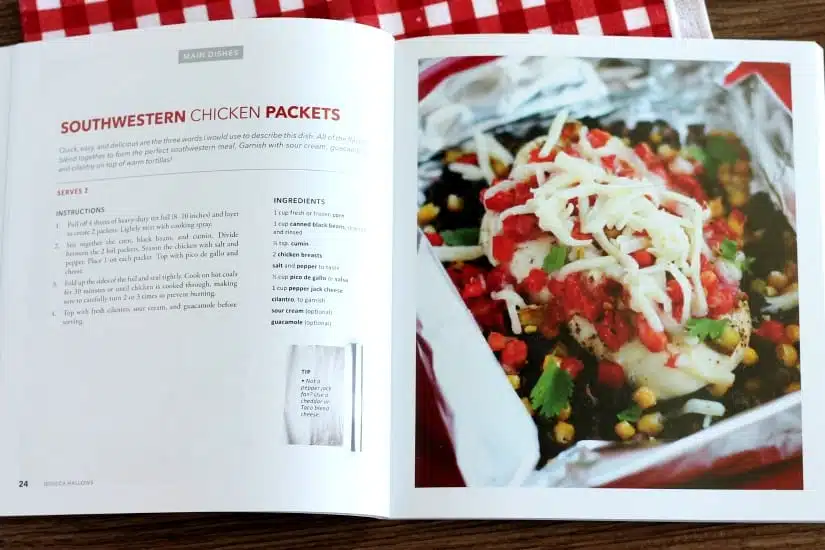 As I was flipping through FOILED!, there was one recipe, that I just had to try right away. The Southwestern Chicken Packets had my name all over them, but I didn't have plans to go camping anytime soon. Lucky for us, Jesseca shares ways to make all of the recipes in her book with coals (briquettes or campfire), a gas grill, or a conventional oven, so I made these southwestern chicken packets in the oven and they were perfection!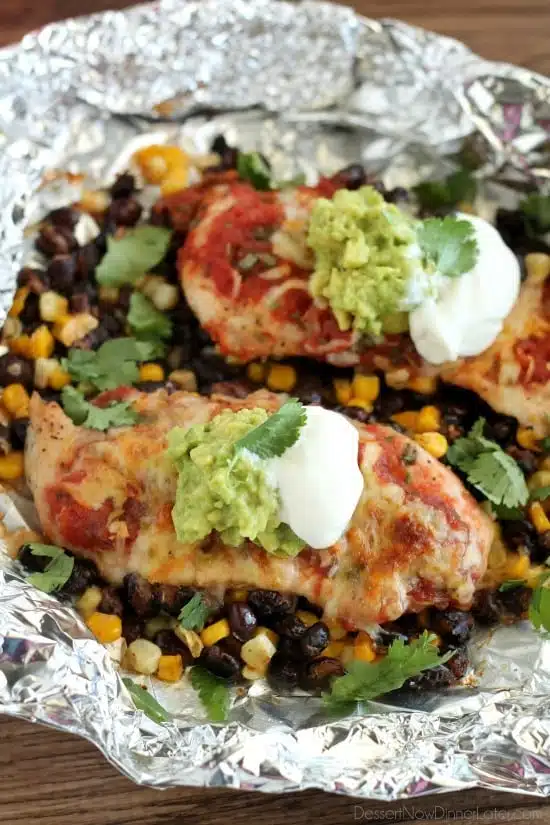 First things first, Jesseca's recipes are easy! You literally toss it together, cook, and eat! I love a good no-fuss meal! This one reminds me of chicken parmesan, but Mexican style, so I just slightly altered her recipe and used taco seasoning instead of just cumin in the beans and corn. So yummy!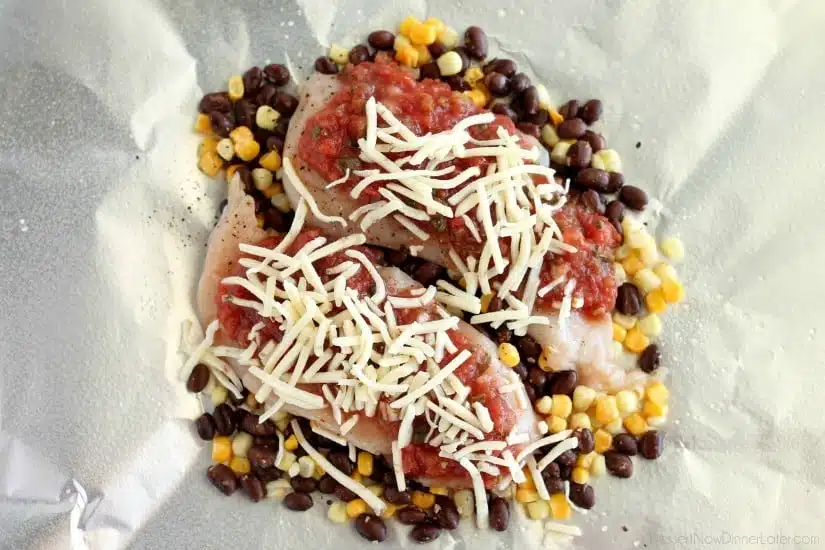 I didn't have to turn my packets in the oven since the heat is 360 degrees, and I opened the foil the last 10 minutes to brown the cheese. We are so ready to make these again, like tomorrow! These are going on the regular menu! So whether you camp or not, you have to try this recipe! It's amazing!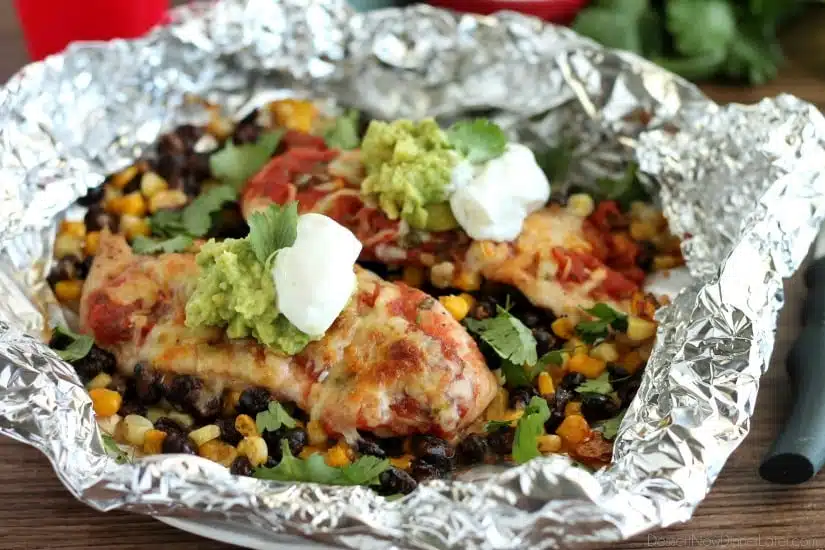 Pick up a copy of your own FOILED! Cookbook on Amazon today!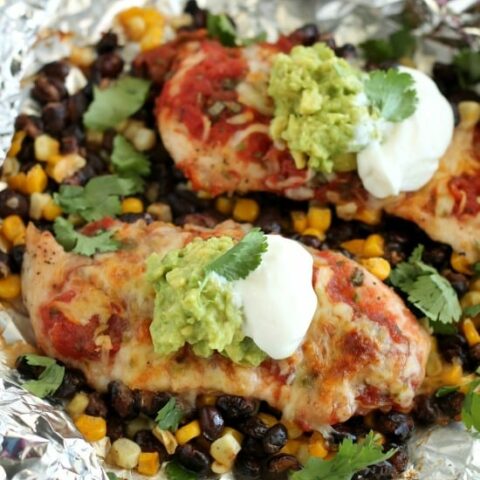 Southwestern Chicken Packets
Prep Time: 10 minutes
Cook Time: 30 minutes
Total Time: 40 minutes
Yield: 2 servings
These Southwestern Chicken Packets are an easy and delicious no-fuss dinner recipe you can cook with a fire (while camping), on a grill, or in an oven.
Ingredients
1 cup frozen corn
1 (15oz) can black beans, drained and rinsed
1 tsp taco seasoning
2 chicken breasts or 4 chicken tenders
salt and pepper to taste
1/2 cup salsa or pico de gallo
1 cup shredded pepper jack cheese
cilantro, to garnish
sour cream, optional
avocado, mashed, optional
Instructions
Pull off 4 sheets of heavy-duty tin foil (8-10 inches) and layer to create 2 packets. Lightly mist with cooking spray.
Stir together the corn, black beans, and taco seasoning. Divide between the 2 foil packets. Season the chicken with salt and pepper. Place 1 chicken breast or 2 chicken tenders in each packet. Top the chicken with salsa and shredded cheese.
Bring the two longer edges of the foil together above the food. Fold the edges down twice, creating the top seal. Press the side edges together and fold, creating a secure packet.
Cook on hot coals, a gas grill, or in a 375 degree oven for 30 to 45 minutes until chicken is cooked through. (*See notes for cooking with coals or a grill.)
Top with fresh cilantro, sour cream, and avocado before serving.
Notes
*If cooking on COALS make sure to carefully turn the packet 2 or 3 times to prevent burning.
**If cooking on a GRILL make sure to carefully turn the packet once, about halfway through the cook time to ensure even cooking.
Nutrition Information:
Yield: 2
Serving Size: 1 packet
Amount Per Serving:
Calories: 1050
Total Fat: 52g
Saturated Fat: 18g
Trans Fat: 0g
Unsaturated Fat: 30g
Cholesterol: 194mg
Sodium: 1888mg
Carbohydrates: 70g
Fiber: 19g
Sugar: 8g
Protein: 80g
This data was provided and calculated by Nutritionix, and is an estimation only.
*Video added 7/12/18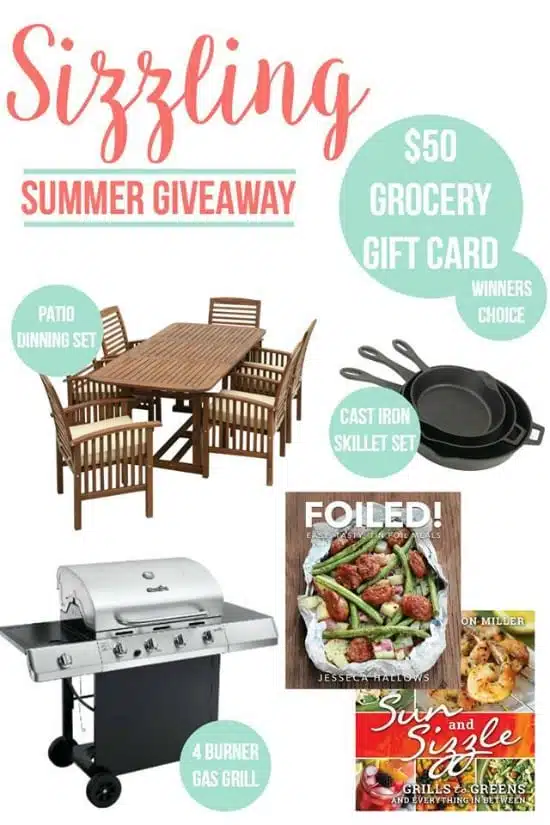 Now, for the giveaway! One lucky winner will get this amazing summer prize pack!
> 7 piece walker Edison patio dinning set
> 1 Char-Broil Classic 4 Burner Gas Grill
> $50 gift card to the grocery store of winners choice
> Bayou 3 piece cast iron skillet set
> 1 copy of Foiled! Easy, Tasty, Tin Foil Meals
> 1 Copy of Sun And Sizzle
Enter through the rafflecopter. Good luck! a Rafflecopter giveaway Bloggers Participating in this Giveaway: One Sweet Appetite // Housewife Eclectic // The Baking Fairy // Like Mother Like Daughter // Life's Ambrosia // Color Me Meg // Cupcake Diaries // Dessert Now Dinner Later // Among The Young // The Adventure Bite // Just Between Friends // My Fabuless Life // Rae Gun Ramblings // Tried and Tasty // Bombshell Bling // Creations by Kara // Clark's Condensed // Our Thrifty Ideas // Cooking With Ruthie // The Creative Mom // A Bountiful Kitchen // A Dash Of Sanity // The Happy Scraps