Blackened Chicken & Cilantro Lime Quinoa
This post may contain affiliate links, meaning that I may receive a commission at no cost to you if you use a link provided. All opinions shared are my own. You can review my full disclosure policy here.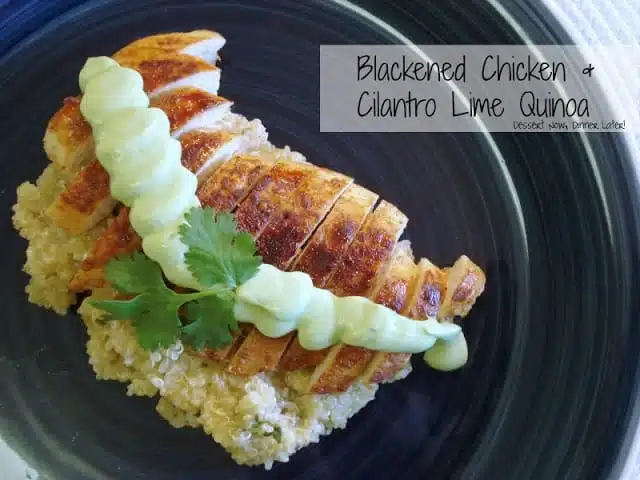 Sometimes I like to have a lighter but filling meal for dinner, & this is just that. It is packed with protein so it keeps you full & it's full of flavor!
The avocado cream is a great touch & is so cool & refreshing paired with the spicy chicken! I gobbled my dinner up pretty fast & I am not a huge fan of quinoa, but I like it fixed this way. Yum! Plus this was a quick meal to put together as well, so that is always great!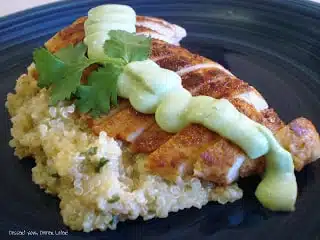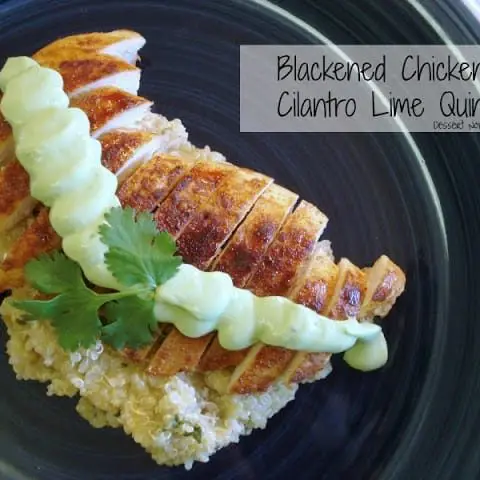 Blackened Chicken & Cilantro Lime Quinoa
Ingredients
2 Boneless Skinless Chicken Breasts
1/2 tsp Paprika
1/4 tsp Salt
1/4 tsp Pepper
1/4 tsp Cayenne Pepper
1/4 tsp Onion Powder
1/4 tsp Cumin
1 tsp Olive Oil
2 Cups Low Sodium Chicken Stock
1 Cup Quinoa
Juice and Zest from One Lime (reserve 1 tsp of lime juice to use separately)
Salt and Pepper
2 Tablespoons Cilantro, chopped
Flesh of 1 avocado
2 Tbsp sour cream
Instructions
Combine all the dry seasonings in a small bowl. Mix them together and then season both sides of each chicken breast. (I cut my chicken breasts in half width wise [like you are butterflying it] and made four servings.)
Add the teaspoon of olive oil to a large pan or skillet. Heat the olive oil for a minute over medium/high heat. Add the chicken breasts to the pan. Cook for seven minutes on each side with the lid on.
Add the chicken stock and quinoa to a medium sauce pan. Bring to a simmer over medium/low heat. Reduce the heat to low and simmer for ten to fifteen minutes with the lid on, until all the stock has been absorbed.
After the chicken breasts have cooked all the way through, remove them from the pan and let them rest for several minutes before slicing them.
To the quinoa: Toss in the lime zest, lime juice, salt and pepper to taste, and chopped cilantro. Mix to combine. (I would add the lime juice/zest mixture a little at a time & taste it because 1 whole lime was too much citrus for my liking.)
To make an avocado cream sauce: Just place the flesh from an avocado along with two tablespoons of sour cream (or greek yogurt) & 1 tsp of reserved lime juice in a food processor and puree until smooth. Season with salt & pepper & thin with water, if needed/desired.
Serve the sliced chicken breast on top of the quinoa & add a dollop of avocado cream sauce. Enjoy!