Teriyaki Chicken Wraps with Asian Slaw
This post may contain affiliate links, meaning that I may receive a commission at no cost to you if you use a link provided. All opinions shared are my own. You can review my full disclosure policy here.
Whip up these Teriyaki Chicken Lettuce Wraps with Asian Slaw in no time for an easy family dinner with insanely tasty flavors!
*This is a sponsored conversation written by me on behalf of Kroger (@Krogerco). The opinions and text are all mine.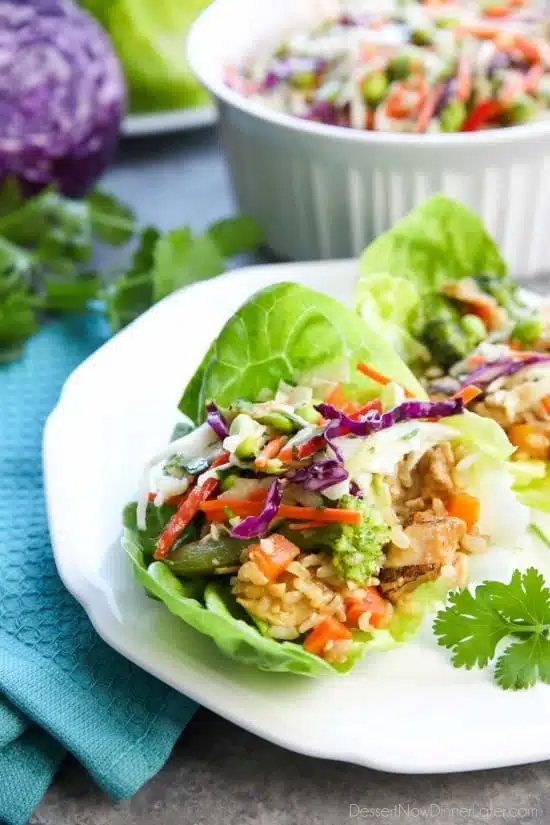 Dinner time is usually during what I call the "witching hour" because I've just brought the older kids home from school, I'm trying to help them get their homework done, keep the toddler happy, and get dinner started, all while waiting on Dad to get home from work. It's slightly chaotic, to say the least.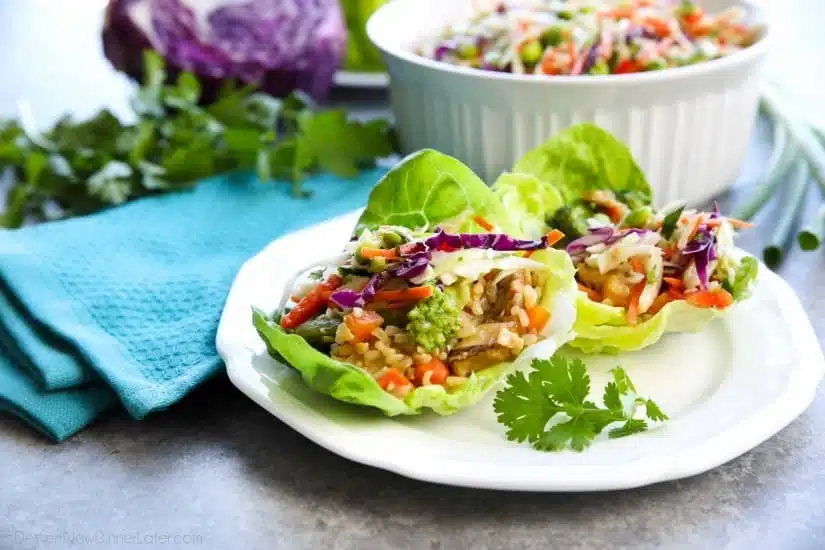 Sometimes it's nice to have a little dinner help with some pre-made frozen meals and ingredients. For these Teriyaki Chicken Wraps with Asian slaw, I bought a couple of these Evol Teriyaki Chicken meals that have brown rice, red & green bell peppers, broccoli, carrots and snap peas, slathered in a tasty teriyaki sauce. Having the main portion of the meal done already, puts me two steps ahead during "witching hour."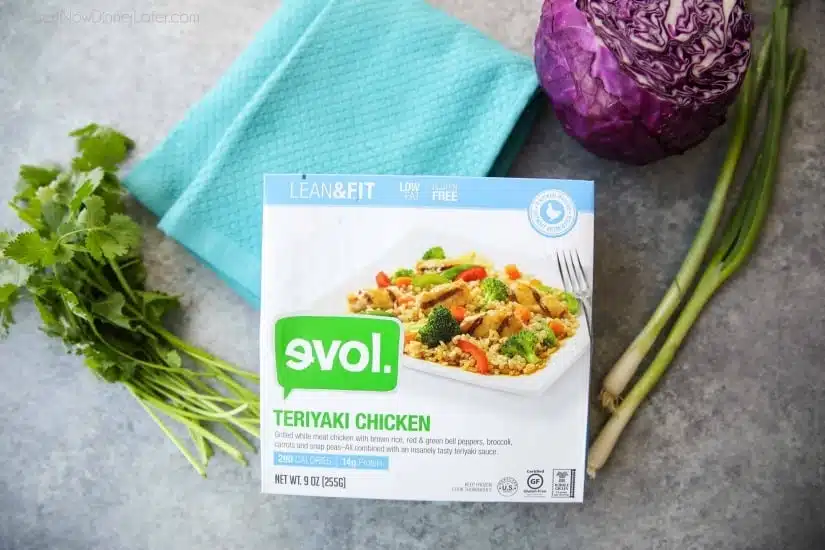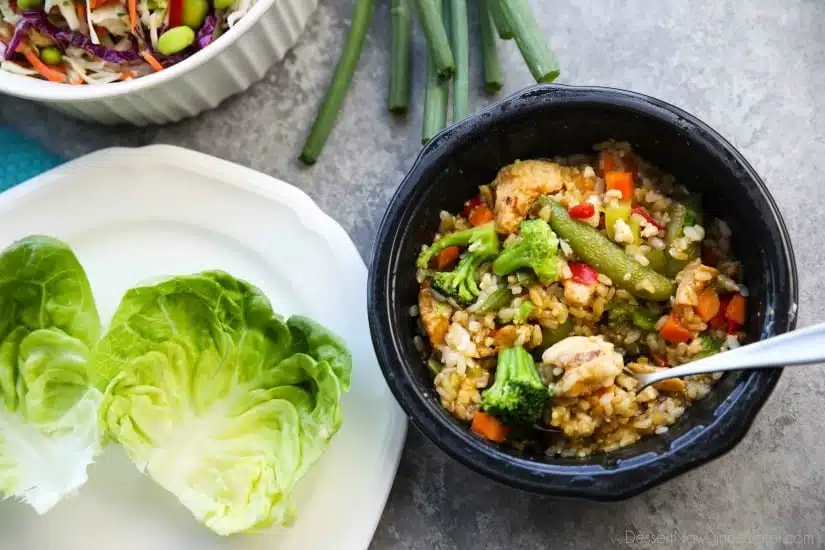 All I had to do was heat up the teriyaki chicken meal in the microwave and throw it on some lettuce cups. To freshen it further, I whipped up a quick Asian slaw using some produce items, and some steamable shelled edamame from the freezer section.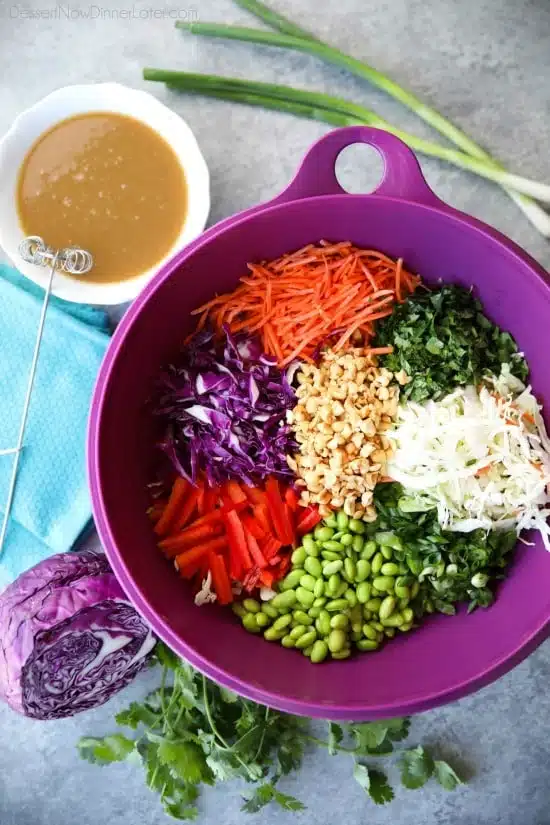 The ginger-peanut dressing for the slaw melds really well with the teriyaki sauce from the chicken and rice dish. These Teriyaki Chicken Wraps with Asian Slaw came together quick and were something I was proud to serve my family.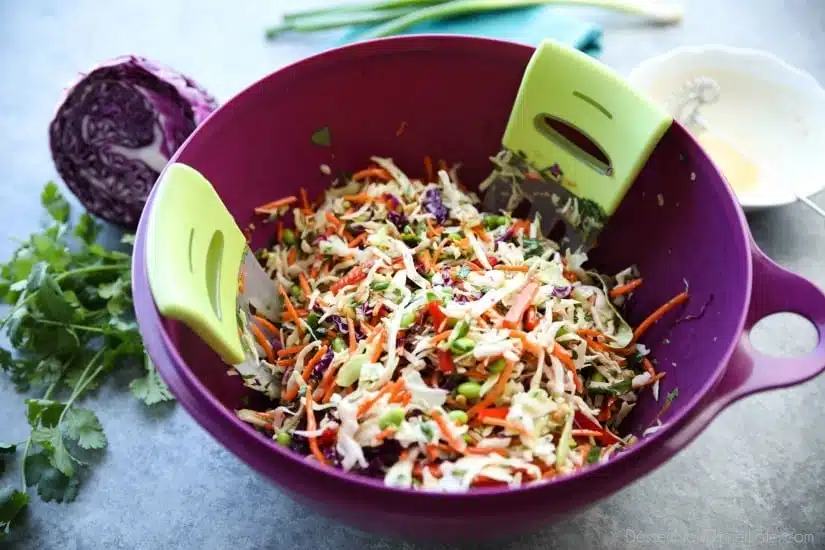 Next time you're down the frozen aisle, don't just pass by those boxed dinners — grab one, or two. Meal planning is a cinch when half the work is done for you. You can even create something new and delicious that your family will love like these Teriyaki Chicken Wraps!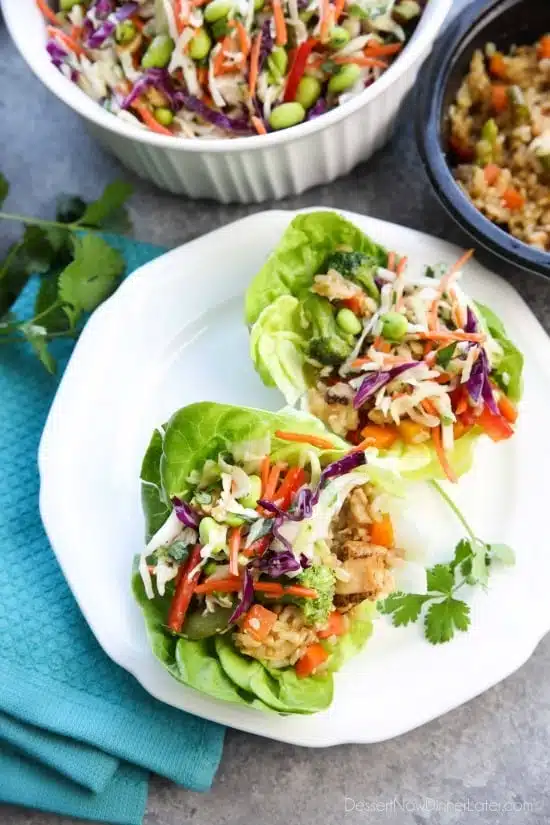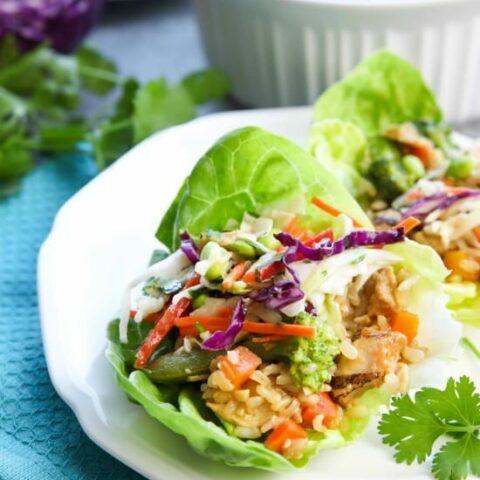 Teriyaki Chicken Wraps with Asian Slaw
Prep Time: 15 minutes
Cook Time: 7 minutes
Total Time: 22 minutes
Yield: 8 lettuce wraps
Ingredients
Dressing:
1/4 cup honey
1/4 cup vegetable oil
1/4 cup rice vinegar
1 Tbsp low-sodium soy sauce or tamari
1 tsp sesame oil
1 Tbsp creamy peanut butter
1/2 tsp salt
1/2 tsp sriracha (Thai hot sauce - optional)
1 Tbsp minced ginger
1/2 tsp minced garlic
Slaw:
1 (16oz) bag prepared shredded coleslaw (about 7 1/2 cups)
1 cup shredded red cabbage (if not included with coleslaw mix)
2 cups prepared shredded/matchstick carrots
1 red bell pepper, sliced thin
1 cup cooked and shelled edamame (I used a steamable frozen bag - microwave cooked it, then cooled it in an ice water bath)
2 green onions, sliced thin
1/2 cup salted peanuts, chopped
1/2 cup loosely packed cilantro, chopped
Other Ingredients
2 single serve Evol Teriyaki Chicken Frozen Meals
butter/boston lettuce -- separate leaves, rinse, and dry with a paper towel or salad spinner
Instructions
Whisk dressing ingredients in a large bowl until combined. Set aside.
Combine slaw ingredients into a very large bowl. Toss with dressing until evenly coated. Let sit for 10 minutes to soak up dressing. Taste and adjust seasoning if needed (i.e. more salt).
Microwave teriyaki chicken meals individually according to package directions.
Spoon teriyaki chicken mixture onto lettuce leaves. Top with slaw. Enjoy!
Nutrition Information:
Yield: 8
Amount Per Serving:
Unsaturated Fat: 0g
This is a sponsored conversation written by me on behalf of Kroger. The opinions and text are all mine.