Spicy Hawaiian Teriyaki Chicken Rice Bowl (Rumbi Copycat)
This post may contain affiliate links, meaning that I may receive a commission at no cost to you if you use a link provided. All opinions shared are my own. You can review my full disclosure policy here.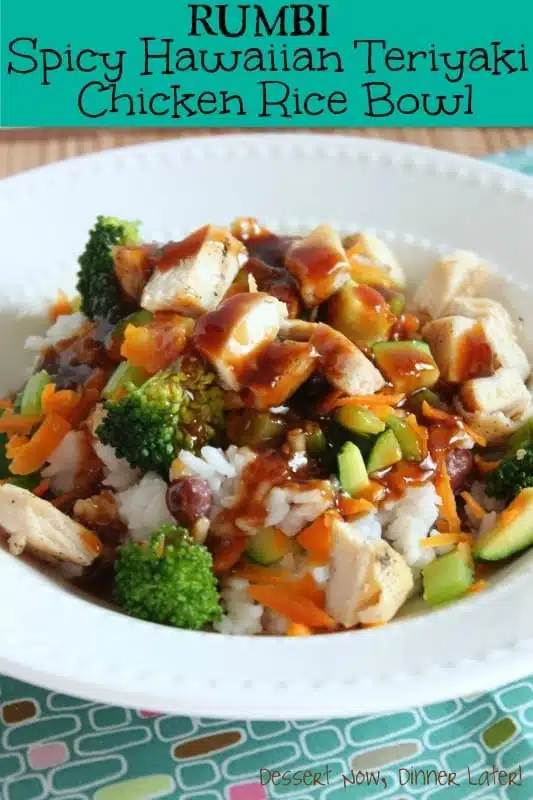 My kids & I like to get together with some other moms & kids in the neighborhood once a week. We meet up for "play group," eat lunch, & chat. It's typically held at our church (when it's bad weather) or the neighborhood park (when it's good weather.) It's a great time had by all; the moms get to chat with each other, & the kids get to run around like crazy & get all their energy out.
I usually feed my kids before we go just because my kids are not good social eaters. They can't have any distractions or they are slower than molasses! My 3 year old son, in particular, has a really hard time eating on a time limit. I try to give him plenty of time before we have to go anywhere, because as soon as he hears, "hurry" he panics.
Anyway, so back to the point of the story…one day at play group, another mom was eating her lunch & it looked really good. She said she made this Rumbi copycat recipe & it was darn near the real deal. I haven't had Rumbi in forever! Not because we don't like it or anything, we actually quite enjoy it, but we usually only go there if we have a coupon. Yes, I am a crazy coupon lady. Or at least I used to be. We don't get the newspaper anymore, & I am kind of relieved not having to clip mounds of coupons, but we do like to use coupons from the ads in the mail when we go out to eat. Rumbi coupons aren't in abundance, so we rarely go. We really don't eat out that much anyway, so when we do, we usually go somewhere we absolutely love, like Costa Vida (is my favorite) or a burger joint for the hubs.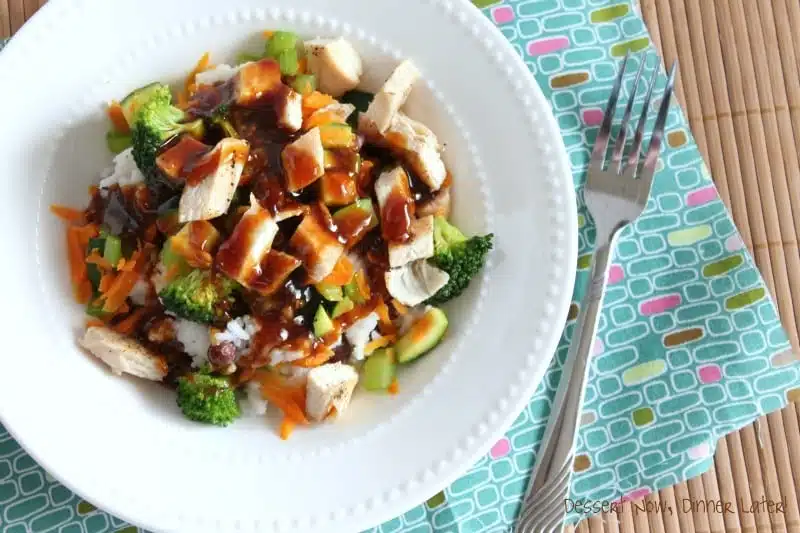 It has been a while since I have had a Rumbi rice bowl, but it was a flavorful & delicious at-home dinner–period! You will like this even if you have never tried Rumbi before. One fair warning: this makes a TON of rice! The proportion of rice to vegetables is almost 2:1 so you might want to double the vegetables, unless you absolutely love more starch than the healthy part. I really liked everything this meal had to offer. I loved the crisp vegetables, juicy chicken & bold teriyaki sauce. The coconut red bean rice (aka Rumbi rice) was the perfect combination with the sauce & veggies. It wasn't super flavorful on it's own, but the spicy teriyaki sauce helped bring out the coconut flavor in my opinion. This is a great recipe! I think it will be a summer favorite of ours. We love to grill meat & eat fresh vegetables!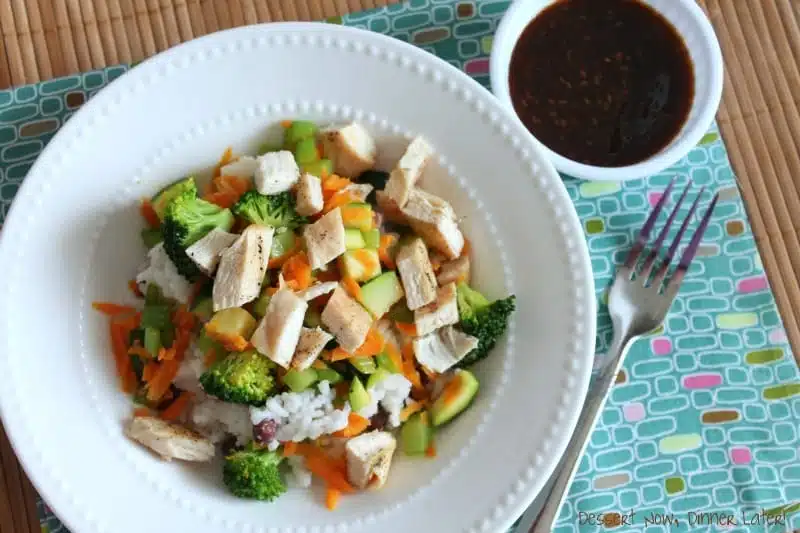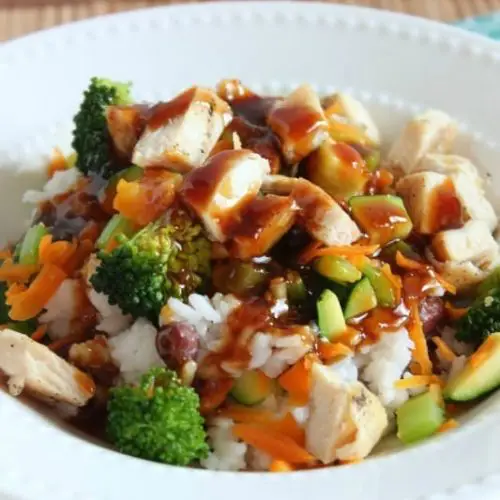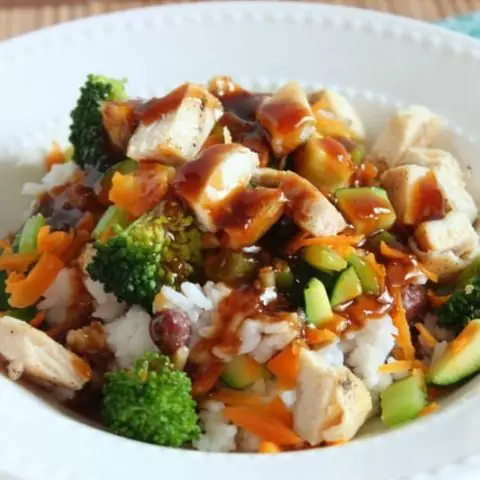 Spicy Hawaiian Teriyaki Chicken Rice Bowl (Rumbi Copycat)
Ingredients
Rumbi Rice:
2 1/2 cups water
1 (14oz) can coconut milk (about 1 1/2 cups; I used light coconut milk)
1/2 Tbsp sugar
2 cups long grain white rice
1 (15oz) can red beans, drained and rinsed
Spicy Hawaiian Teriyaki Sauce:
3/4 cups Mr. Yoshida's teriyaki sauce
1 tsp soy sauce
2 tsp chili garlic sauce (in the Asian section of the grocery store)
1 tsp fresh ginger
pinch of salt
1 Tbsp of brown sugar
1 Tbsp cornstarch, if needed
1 Tbsp COLD water, if needed
Vegetables and Chicken:
2 chicken breasts (about 2 cups, cubed)
Salt & Pepper
1 Tbsp canola oil
4 carrots, peeled and grated (approximately 1 1/2 cups)
3 celery stalks, washed and sliced (approximately 1 1/2 cups)
1 zucchini, chopped into small cubes (approximately 1 1/2 cups)
1 1/2 cups chopped broccoli florets, approximately 1/2-3/4 large head of broccoli
Instructions
FOR THE RICE: Combine all ingredients in a rice cooker. Gently stir it all together so the beans are all mixed. Place the lid on and start the rice cooker. Fluff rice with a fork before serving. [If you don't have a rice cooker: Combine water, coconut milk, and sugar in a saucepan. Stir in rice and beans. Bring to a boil over medium heat. Cover, reduce heat, and simmer 18 to 20 minutes, until rice is tender.]
FOR THE TERIYAKI SAUCE: Combine teriyaki sauce, soy sauce, chili garlic sauce, ginger, salt, and brown sugar in a small saucepan. Bring to a boil and then reduce to a simmer. If needed for thickening, combine cornstarch and water and SLOWLY add to sauce. You want it to be slightly thicker than the jarred teriyaki sauce. Allow to simmer for about a minute. Cool to room temperature and serve with your rice bowls. (If you find that the sauce is too thick when it cools, just add a little more teriyaki sauce to it. I actually could have gone without thickening mine. Just heating it up would have been perfect.)
FOR THE VEGETABLES & CHICKEN: Season chicken with salt & pepper & grill for 4 minutes on each side, or until cooked through. Allow chicken to rest before cutting into cubes; you can let the chicken rest while you cook the vegetables (it will help keep the juices inside.) Heat canola oil in a large skillet over medium-high heat. Add carrots, celery, zucchini, and broccoli (about equal amounts.) Saute ONLY until vegetables are crisp tender. About 1-2 minutes tops. Serve over Rumbi rice and top with chicken. Serve with Spicy Hawaiian Teriyaki Sauce on the side (about 3 Tbsp per bowl.)
Nutrition Information:
Yield: 6
Amount Per Serving:
Unsaturated Fat: 0g
Recipe slightly altered from Favorite Family Recipes & re-written in my own words.