Thai Chicken Enchiladas
This post may contain affiliate links, meaning that I may receive a commission at no cost to you if you use a link provided. All opinions shared are my own. You can review my full disclosure policy here.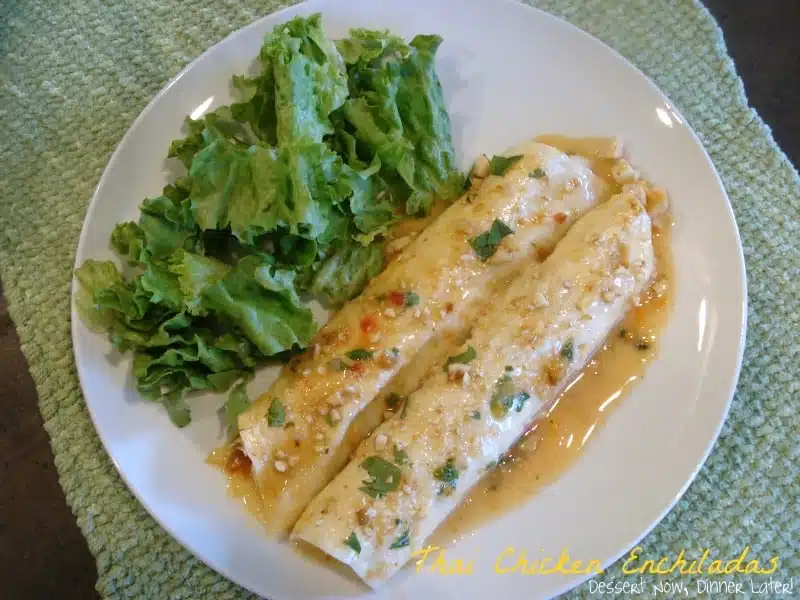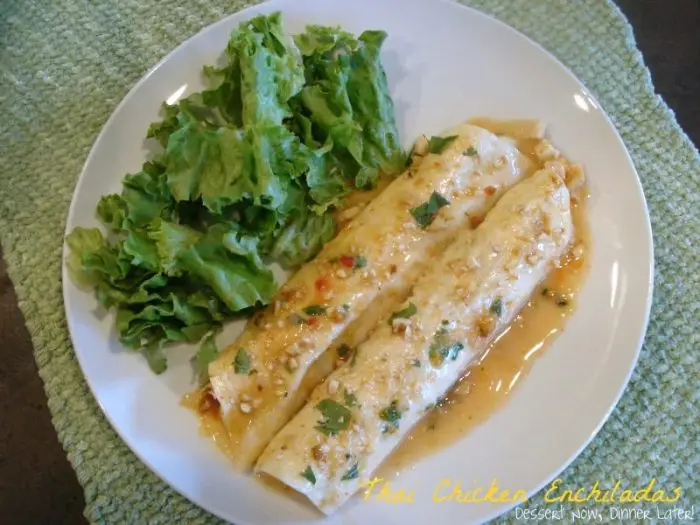 This has to be the most unique & delicious dinner I have tried! The flavors are outstanding! Spicy & sweet is my favorite combination.
I was in heaven with each & every bite. The recipe is a little time consuming to prepare everything, but it is extremely worth it. This is going to be my dinner I request for special occasions.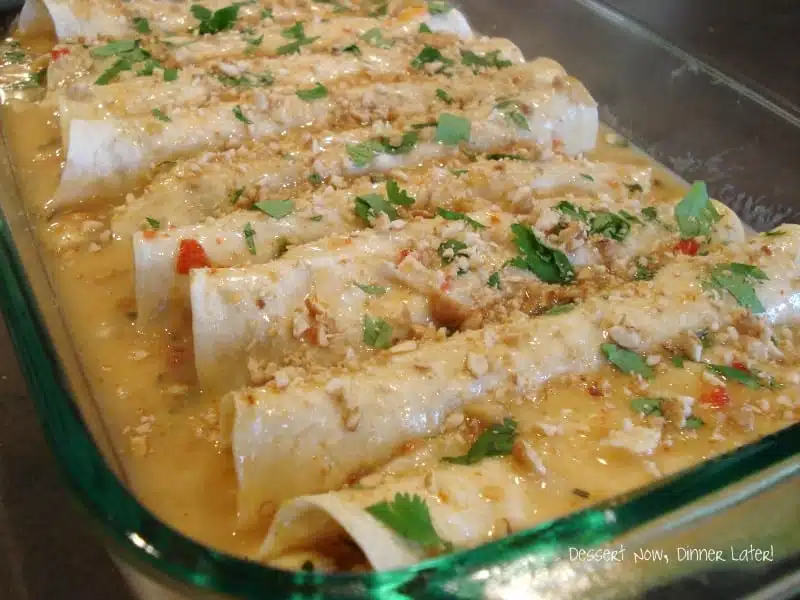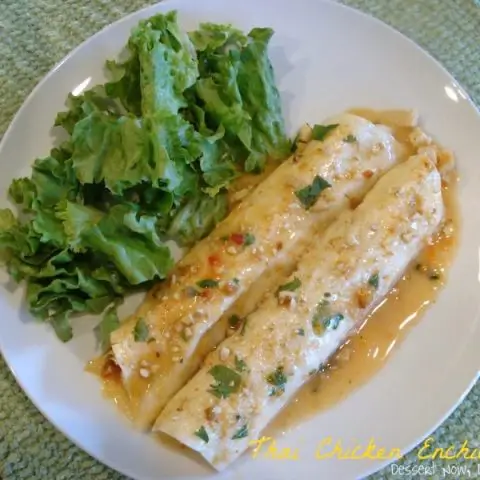 Thai Chicken Enchiladas
Ingredients
8 flour tortillas
2 boneless skinless chicken breasts, cooked & shredded
1 Tbsp canola oil
1/2 sweet onion, chopped
1/3 cup shredded carrots
1/2 cup finely shredded cabbage
4 garlic cloves, minced
1/2 tsp salt
1/2 tsp pepper
4 green onions, sliced
1/3 cup chopped/crushed peanuts + more for garnish
1/4 cup chopped fresh cilantro + more for garnish
1 can light coconut milk
1/3 cup + 1/2 cup sweet chili sauce
Instructions
Preheat oven to 350*F.
Heat a large skillet over medium heat & add canola oil. Throw in onions, carrots, cabbage, garlic & ¼ tsp salt, stirring to mix. Let cook until vegetables are soft, about 6-8 minutes, stirring occasionally. Add in chicken, green onions, peanuts, cilantro, remaining salt & pepper, tossing to coat, & let cook for 1-2 minutes. Add in ⅓ of the can of coconut milk & ⅓ cup sweet chili sauce mixing thoroughly to combine. Turn off heat.
Spray a 9x13" baking dish with nonstick spray. Whisk together remaining coconut milk & ½ cup sweet chili sauce. Pour enough of mixture to coat the bottom of your baking dish. Slightly warm tortillas, if desired, to make them more pliable. Place a few spoonfuls of chicken mixture in each tortilla, rolling up tightly & placing in the dish. Cover with remaining coconut milk & chili sauce mix.
Bake for 20 minutes or until bubbling. Remove from oven; with a spoon, gather sauce from the bottom of the pan & spread sauce over the tops of the cooked enchiladas. Top with additional peanuts & cilantro. The sauce thickens slightly as it cools, so you may want to wait 5-10 minutes before dishing up your plate. *You may re-sauce the enchiladas half-way through baking rather than at the end if you so desire.
Recipe very slightly adapted from How Sweet It Is