Make Ahead Freezer Meals
This post may contain affiliate links, meaning that I may receive a commission at no cost to you if you use a link provided. All opinions shared are my own. You can review my full disclosure policy here.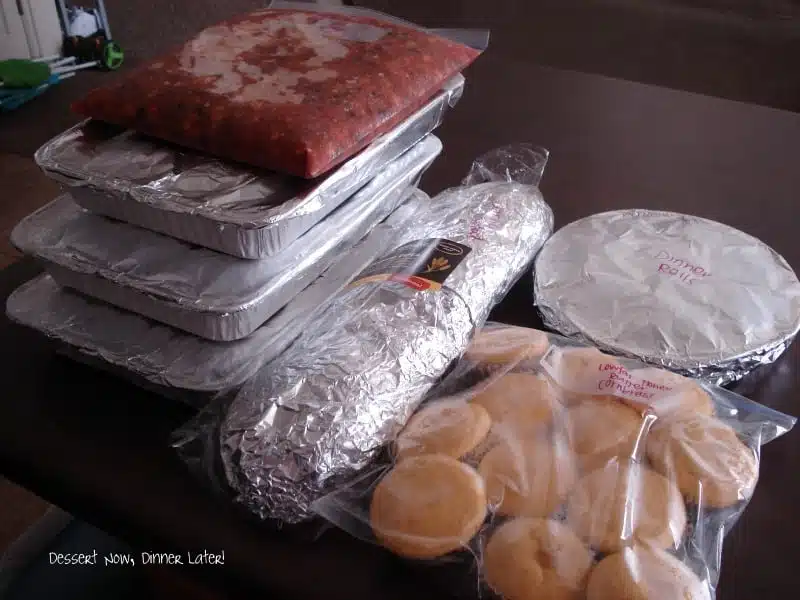 There are a lot of situations in life that it's nice to be prepared ahead of time. Sometimes you have a really busy work week, sometimes you are about to have a baby & won't have energy, time or motivation to cook, sometimes you just want a lazy day dinner, or sometimes you are helping out a friend by bringing them a meal they can have later on for whatever their circumstance might be.
When I was in a married student ward several years ago, I was the compassionate service leader. Since our ward was so young, we mostly only ever needed to provide meals for new mothers. I would call people on a list I had previously handed out for volunteers to provide hot or freezer meals for the families. Most of the time when I would mention the awful word, "freezer meal" the gal on the other end, would panic:
"Uh, I don't know how to make any freezer meals."
"What kind of foods can you make into a freezer meal?"
"Um, sure…"(puzzled & confused)
I don't know what scares people about freezer meals, but they are so easy, & make your life simple on the days when you need something quick. And freezer meals don't just mean lasagna! *Gasp!
To give you some ideas:
Any soup, stew or chili can be made in bulk & frozen in a gallon freezer bag.
You can double any casserole recipe, buy some tin foil pans from the dollar store, & make an extra to freeze with foil over the top.
Pastas, rice, & potatoes all freeze relatively well.
Crockpot meals are your friend: raw meat, sauce, vegetables, put in a ziplock bag, freeze, done!
Breakfast burritos, english muffin breakfast sandwiches, pancakes/waffles, muffins, etc all freeze well too. Freezer meals are not just dinners!
If you are planning on preparing meals ahead of time, pick a day where you can devote to cutting vegetables & preparing dinners to freeze. Crockpot meals are the fastest to put together because they require the least amount of preparation & don't need the meat to be cooked. Get the work done, & enjoy the freedom of a made ahead freezer meal.
Check out Once a Month Mom for a TON of great recipes to freeze.
As for me, I had fun putting together four of my favorite meals for one of my husband's co-workers who is due really soon with her fourth baby, so of course she will have her hands full, but she'll be fed well for several days after the baby gets here!
These meals were simple because I did two at a time. The first two I browned up my hamburger for both at the same time. The second two, I got a store-bought already cooked rotisserie chicken & split it in half for those recipes. EASY!




Another thing to think about when preparing meals to give for families is any bread or sides to go with the dish. It's always nice to have something extra than just one thing on your plate. I like to do homemade garlic bread with store bought french bread, wrap it in foil & return it to the bag you bought it in, or bake up some cornbread muffins in cupcake liners & freeze in a ziplock bag, or you can also make your own "Rhodes Rolls" freeze them separately on a lightly floured cookie sheet (see here for some tasty recipes) or you can place them close together in a tin foil round cake pan, let them rise slightly, cover with foil & freeze.

It's important when giving freezer meals away, to prepare a label that tells them how to cook the freezer meal & or sides.
Example Label/Instructions:
*ALL MEALS SHOULD BE THAWED IN THE REFRIGERATOR OVERNIGHT. DEPENDING ON THE SETTING OF YOUR FREEZER, IT MIGHT TAKE UP TO 2 DAYS TO THAW COMPLETELY. ALSO, IT MIGHT BE A GOOD IDEA TO PLACE THE MEAL ON A LARGE COOKIE SHEET WHILE BAKING BECAUSE SOME OF THEM ARE FULL & MAY SPILL OVER.
Tator Tot Casserole
Bake at 350*F for 45 minutes or until bubbling & heated through. Remove foil last 10 minutes to brown the cheese.
Chicken Alfredo Roll-ups & Garlic Bread
Remove foil. Bake roll-ups at 350*F for 45 minutes or until bubbling & heated through. Bake Garlic Bread frozen @ 400*F for 9min+ or thawed @ 350*F for 15min+ (Remove foil, separate halves, & place on a cookie sheet before baking.)
Chicken Divan & Dinner Rolls
Remove foil. Place casserole onto a large baking sheet. Bake at 350*F for 45 minutes or until bubbling & heated through. For the Rolls: Replace foil with saran wrap lightly covering rolls. Let rise in refrigerator overnight. If they need additional proofing, allow them to rest at room temperature until well raised. Remove saran wrap & bake rolls at 375* for 10-15 minutes or until tops are browned. Optional: Brush tops with butter after finished baking.
Taco Soup & Cornbread
Pour contents of pouch into a slow cooker. Cook on low for 3-4 hours or place in a large pot on top of the stove & simmer until heated through stirring occasionally. For the cornbread: Thaw at room temperature; may heat in the microwave right before eating with soup.
Generally, casseroles take 30-45 minutes if they are thawed completely. If they are frozen expect them to take 60-75 minutes in the oven.
Make sure you label everything well. If you know it's going to get eaten quickly, you don't have to put the date you made it, but if you are holding it in your own freezer for a later date, label it clearly with the date & use it within 3 months.
Well, that is a start to preparing freezer meals. I hope this helps some of you out! Don't be afraid of freezer meals. They really can be almost anything!