Tin Can Taco Soup
This post may contain affiliate links, meaning that I may receive a commission at no cost to you if you use a link provided. All opinions shared are my own. You can review my full disclosure policy here.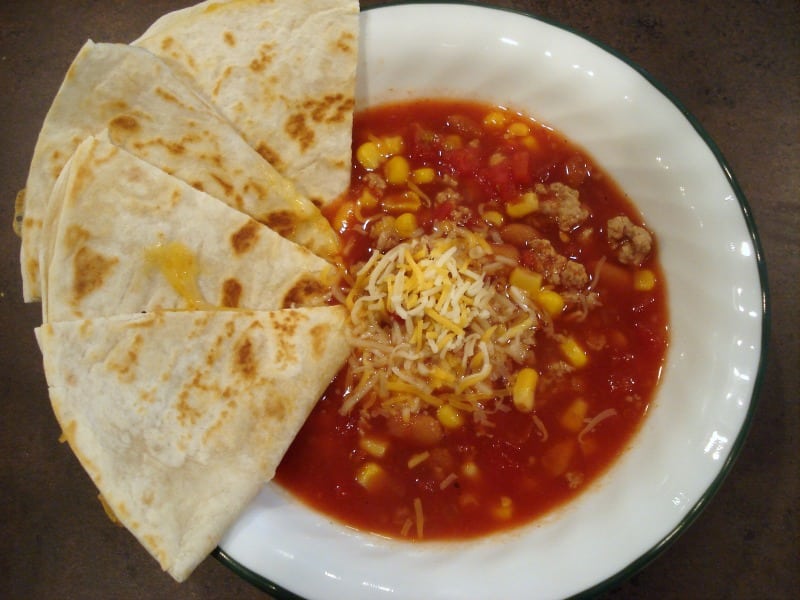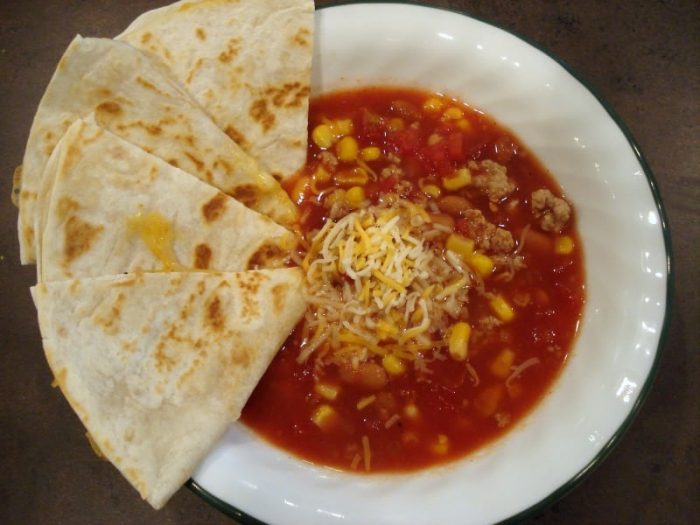 This is a pretty familiar recipe for most people who do taco soup. I just made some recently & it is just so easy & delicious that I thought I would post it just in case someone hasn't heard of the recipe yet. I hadn't been introduced to this soup until like a year or so ago.
I got the recipe from Macey's Grocery Store who apparently got it from Kraftfoods. The original recipe had a lot of beans, so I cut it down & I use ground turkey instead of ground beef so a portion of this soup is like 160 calories for 1 cup.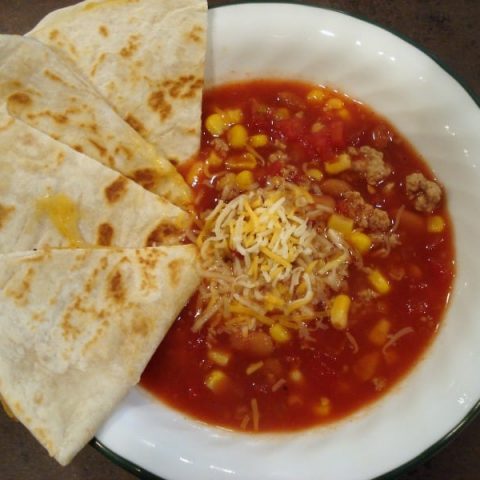 Tin Can Taco Soup
Ingredients
1 (15.5oz) can beans (can be any kind; I like pinto, red, or black)
1 (14.25oz) can corn
1 (14.5oz) can petite diced tomatoes
1 (8oz) can tomato sauce
1 (1.25oz) packet taco seasoning
1/2 lb ground turkey
1 Tbsp minced dried onion
Cheese, Sour Cream, & other favorite fixings
Instructions
Brown turkey in a skillet with dried onion.
Pour all cans WITH LIQUID (do NOT drain cans!) into a crock pot. Add cooked turkey & taco seasoning.
Cook on low for 3 hours or high for 1 hour.
Top with cheese, sour cream, cilantro, tortilla strips, or make a cheese quesadilla to dip in it. Enjoy!
Notes
*IMPORTANT: Do NOT drain any liquid from your cans. You need it for the liquid part of the soup. The only exception is if you use black beans, you will need to rinse them & then add water to replace the liquid. You are literally dumping cans into a pot. That is why it is called tin can taco soup.