Tres Leches Cake
This post may contain affiliate links, meaning that I may receive a commission at no cost to you if you use a link provided. All opinions shared are my own. You can review my full disclosure policy here.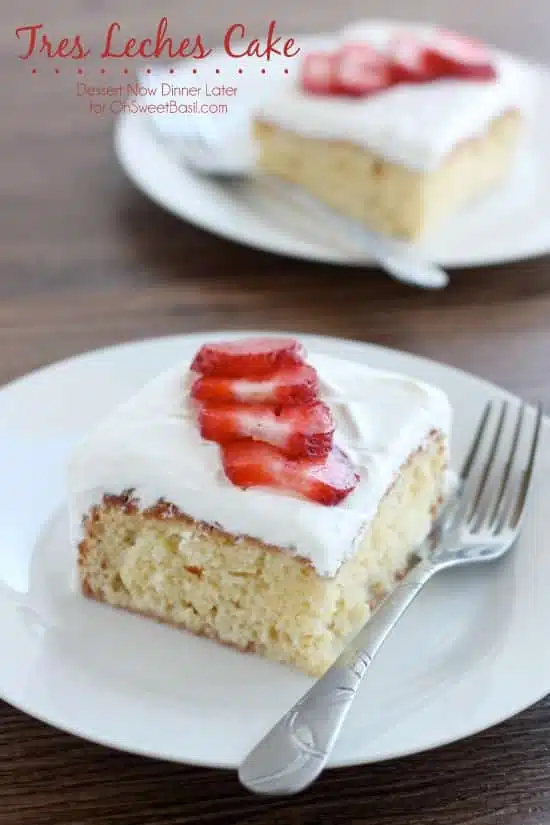 Cinco de Mayo is coming up really soon (only 11 days away) and so I used that as the perfect excuse to make and share this Tres Leches Cake with you. Tres Leches Cake is a chiffon (light and spongy) cake that is soaked with three milks (evaporated milk, sweetened condensed milk, and a little heavy cream.) It's incredibly moist! Like dripping-ly moist and delicious!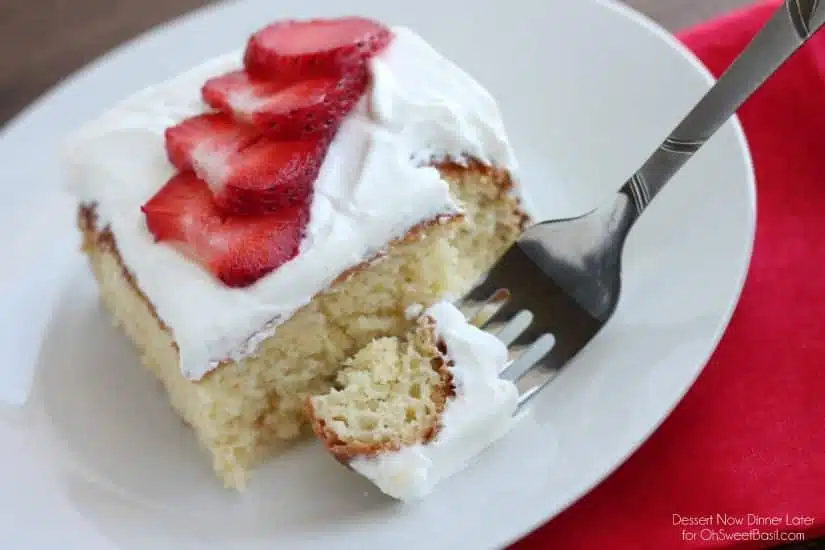 I have a strong opinion about chiffon cakes by themselves. If you asked me, I would straight up tell you I hate them. The cake itself can be so dry. When I was working in a certain bakery, my boss only wanted me to make chiffon cakes for the wedding cakes we sold. Well, more often than not, there would be complaints after the weddings about it being dry, no matter how much simple syrup I put between the layers. I kept telling him, people want moist, chewy cakes like they get from a box mix. I doctor up my box mixes when I do wedding cakes out of my home, but people LOVE them. He refused to believe that people liked a box mix more than his chiffon cake recipe. Anyway, this chiffon cake is perfectly fine because it soaks in all that milk. Problem solved! We loved and devoured this cake!
If this milky cake wasn't enough, just check out the whipped cream and fresh fruit on top; HEAVENLY! I hope you enjoy it!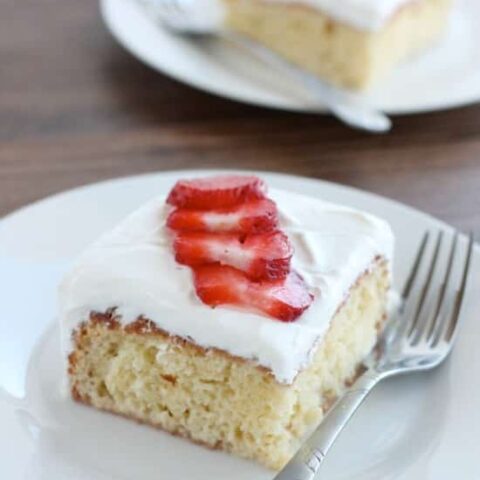 Tres Leches Cake
Ingredients
1 cup all-purpose flour
1 1/2 tsp baking powder
1/4 tsp salt
5 eggs, separated
1 cup sugar, divided
1/3 cup milk
1 tsp vanilla
1 can evaporated milk
1 can sweetened condensed milk
1/4 cup heavy cream*
1 3/4 cup heavy cream*
3 Tbsp sugar
1/2 lb sliced strawberries
Instructions
Preheat the oven to 350 degrees Fahrenheit. Spray a 9x13-inch pan liberally until coated.
Combine flour, baking powder, and salt in a large bowl.
Separate eggs. Beat egg yolks with ¾ cup sugar on high speed until yolks are pale yellow. Stir in milk and vanilla. Pour egg yolk mixture over the flour mixture and fold very gently until combined.
Beat egg whites on high speed until soft peaks form. With the mixer on, pour in the remaining ¼ cup sugar and beat until egg whites are stiff, but not dry.
Fold egg white mixture into the batter very gently, until just combined (no more white streaks). Pour into prepared pan and spread batter evenly.
Bake for 35 to 45 minutes or until a toothpick comes out clean. Turn cake out onto a rimmed platter or baking sheet and allow to cool.
Combine evaporated milk, condensed milk and ¼ cup heavy cream in a small pitcher. When cake is cool, pierce the surface with a fork several times. Slowly drizzle all but 1 cup of the milk mixture taking care to get as much around the edges of the cake as you can. (Discard extra cup of milk, or give it to your kids as a "special drink.")
Allow the cake to absorb the milk mixture for 30 minutes in the refrigerator.
Whip 1¾ cups heavy cream with 3 Tbsp sugar until thick and spreadable. Spread over the top and sides of the cake. Cut into squares, top with sliced strawberries and serve.
Notes
*The heavy cream needed for this recipe is equivalent to 1 pint or 2 cups for the cake and icing.
Recipe lightly altered from
The Pioneer Woman
Nutrition Information:
Yield: 12
Amount Per Serving:
Unsaturated Fat: 0g
*Recipe added 9/10/15. Also seen on Oh Sweet Basil.