Instant Pot Chimichangas + Video
This post may contain affiliate links, meaning that I may receive a commission at no cost to you if you use a link provided. All opinions shared are my own. You can review my full disclosure policy here.
Instant Pot Chimichangas are a favorite family dinner with tender shredded beef, seasoned to perfection, and wrapped in tortillas to fry or bake.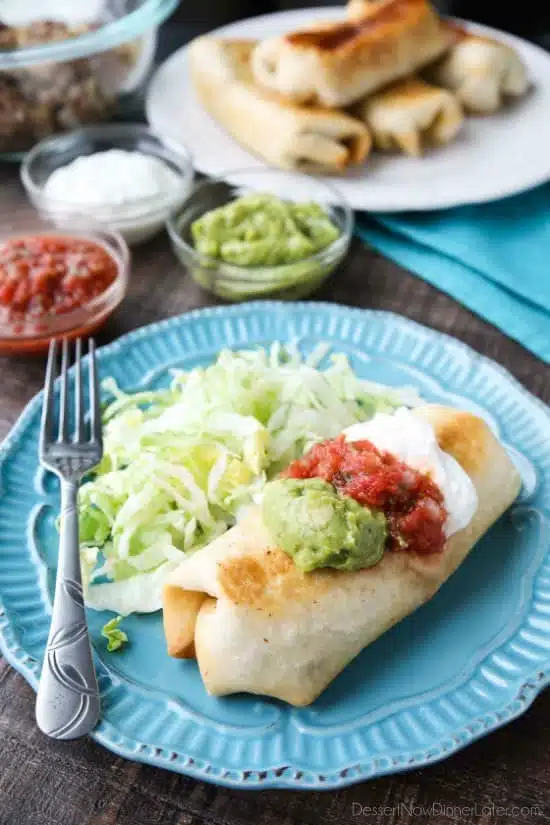 If you don't own an instant pot, you should get one, as soon as possible. I can't believe how much faster you can make things, especially meats. I had to try an old family favorite recipe (chimichangas) in the instant pot to see if it would cook faster, and it cut the time in half!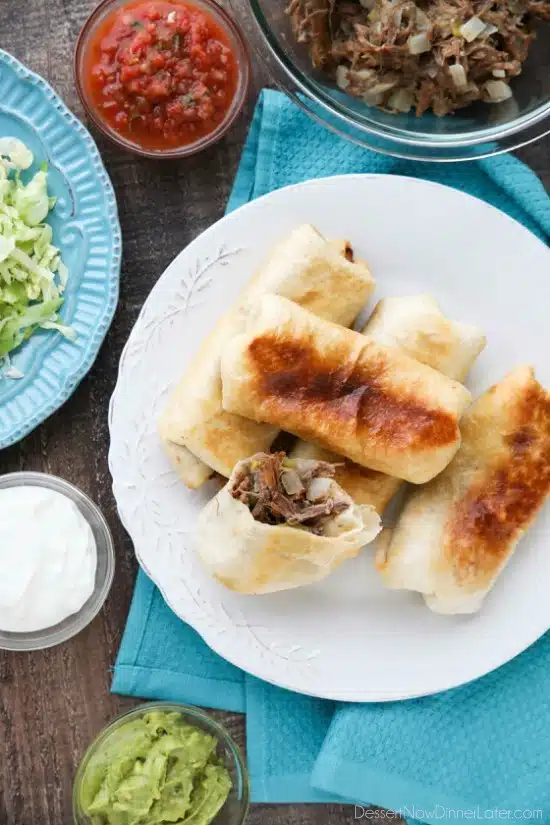 I originally posted this recipe back in 2013. So if you don't have an electric pressure cooker, be sure to check out that post for the information on making it in the oven. Either way, you'll want this recipe for Cinco de Mayo!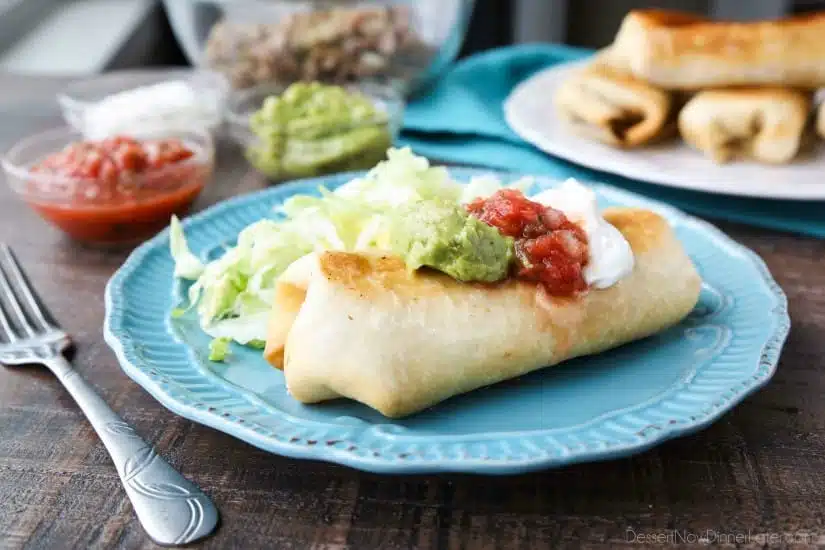 My mom would only ever make these chimichangas for us once a year because the meat takes 4 hours in the oven or like 10 hours in the crockpot. Five pounds of chuck roast really does take that long to get tender because it's a tough cut of meat, but it makes a lot! My sister would usually request these chimichangas for her birthday dinner, so we all looked forward to that day each year.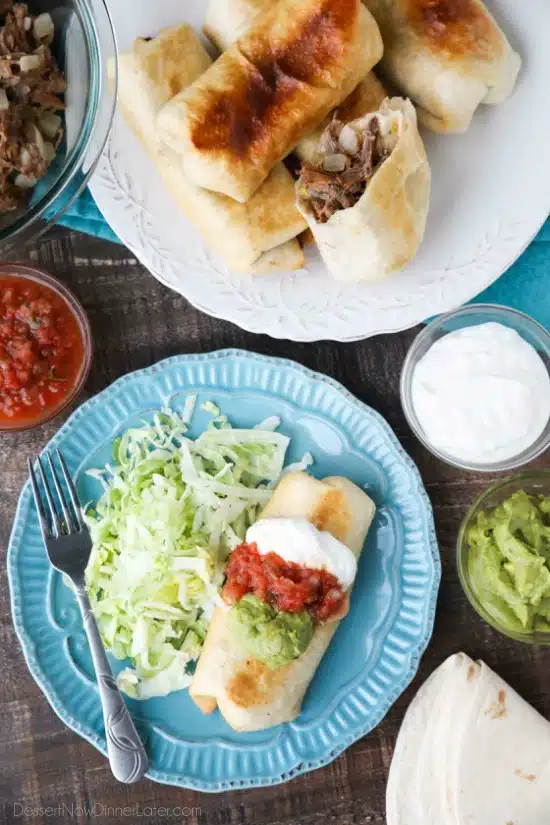 I cooked the meat for 2 hours in the instant pot because there are two roasts. If you want to cut the recipe in half (for only one 2-3lb roast), you can cut the time in half as well. You want fall-apart tender beef. And that's exactly what I got!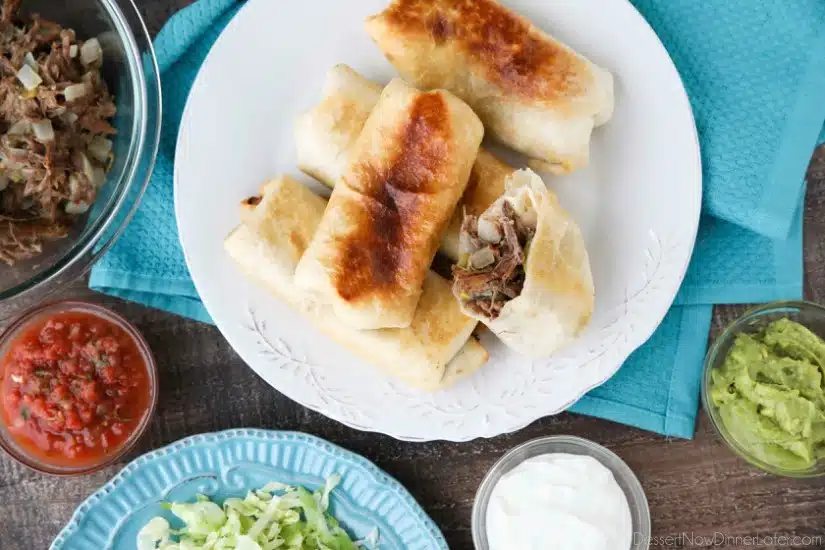 The flavors of these instant pot chimichangas are so simple, and completely delicious! You can deep fry, pan cook, or bake them after the meat is done. Because this recipe makes so much meat, we freeze half of it for a whole other meal. I hope you love it as much as we do!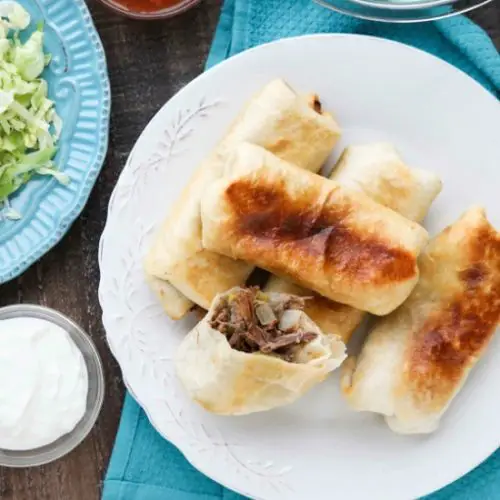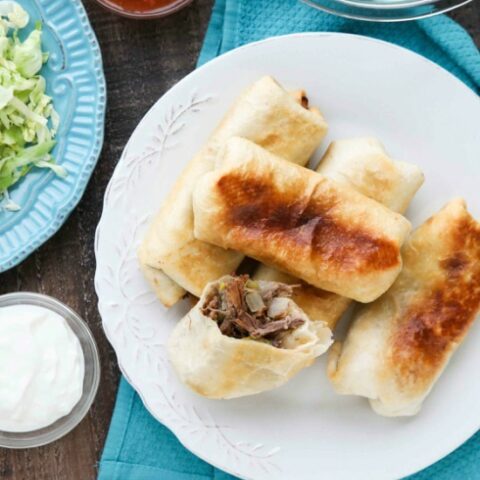 Instant Pot Chimichangas
Prep Time: 20 minutes
Cook Time: 2 hours 10 minutes
Total Time: 2 hours 30 minutes
Yield: 18 to 20 chimichangas (9 cups of meat)
Ingredients
5 lbs beef chuck roast (the flat kind -- I had to buy 2 roasts to get 5 lbs)
salt and pepper (coarse texture preferred)
1-2 Tbsp oil (canola/vegetable)
1 cup low-sodium beef broth
3 Tbsp shortening or coconut oil
3 medium onions, chopped
1/4 cup all-purpose flour
1 (4 oz) can diced green chiles
14-16 oz green chili salsa (I used Herdez Salsa Verde)
1 tsp garlic powder
2 tsp salt
1 tsp cumin
20 taco size flour tortillas
2 cups + oil (canola/vegetable), for frying
Instructions
Heavily season both sides of the roast(s) with salt and pepper. Heat Instant Pot with "Sauté" button. Add 1 Tbsp of oil. Sear both sides of one roast. Set aside. Repeat with second roast. Remove from Instant Pot and set aside.
Add beef broth to Instant Pot to de-glaze the bottom of the pot. Return roasts to pot. Cancel the "Sauté" button and cook on "Meat/Stew" or "Manual" (high pressure) for 120 minutes.
Let cook. Once finished, turn the vent/quick release valve to the open position until you no longer hear or see steam, and the float valve is down.
Open lid. Scoop the meat out of the instant pot and shred with two forks, discarding any pieces of fat. Drain the broth with a fine mesh sieve. Skim the fat off the top and add 1 cup (+) of the juices back into the shredded beef. (Just enough for it to seem moist.)
Heat Instant Pot with "Sauté" button and melt the shortening/coconut oil. Add diced onions and cook for 5 minutes or until soft and translucent.
Add flour and stir with the onions for 1 minute. Add the green chiles, salsa verde, garlic powder, salt, and cumin. Cook until thick. Add meat mixture into the onion mixture and heat thoroughly.
Fill tortillas with 1/3 to 1/2 cup meat each and fold burrito style.
Heat 2 cups of oil in a large pot. Place chimichangas carefully seam side down into the oil and fry both sides until golden brown (approximately 45 seconds each side.) Allow to drain on a paper towel lined plate.
Serve with sour cream, salsa, guacamole, cheese or other desired toppings.
Notes
TO FREEZE: You can freeze half of the meat in an airtight zip-top freezer bag. To use, thaw meat in the refrigerator overnight, re-heat thoroughly on the stove-top/microwave (add beef broth/water if needed), fill tortillas, and fry/cook/bake.
PAN COOK: Preheat a griddle to 350˚F or use a large frying pan set to med-high heat on stovetop. Spray a generous amount of cooking spray to your griddle/pan. Wait till it's nice and hot, then add your chimichangas. Cook 3-6 min per side until brown and crisp. The timing will depend on how hot your pan is. 
OVEN BAKE: Lay chimichangas seam side down on a sprayed baking dish/cookie sheet. Spray tops of tortillas with cooking spray. Bake at 350˚F for 15 minutes.
NO INSTANT POT: Try the oven method.
TO CUT THE RECIPE IN HALF: Use a 2-3 pound roast and cook meat for 60-80 minutes. Follow other instructions as written.
Nutrition Information:
Yield: 18
Amount Per Serving:
Unsaturated Fat: 0g