Chili Verde Beef Chimichangas
This post may contain affiliate links, meaning that I may receive a commission at no cost to you if you use a link provided. All opinions shared are my own. You can review my full disclosure policy here.
Growing up, this was one of my favorite meals. My mom didn't make it very often because it is kind of a time intensive recipe, but when she did, my siblings & I ate our fair share. My sister, in particular, would ask for this every year on her birthday & I know we had it for her high school graduation too. Three of the four of us kids have birthdays in July & I am the last birthday in July so when my sister asked for this on her birthday (at the beginning of the month) I could have this tasty meal earlier in the month & another one of my favorites on my own birthday.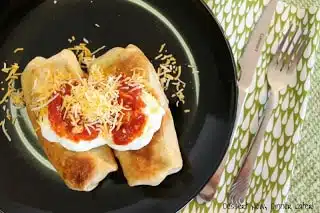 The meat for this is so tender, juicy & full of flavor from the green salsa & chiles. This is my first time making it on my own. It wasn't hard, just grueling waiting for the meat to be ready because it smells so good! It does take some time to shred & prepare the rest of the meat mixture, but it makes a TON of meat. We can split this into thirds for our little family of four & freeze the other two-thirds for two other meals later on.
I just cannot say enough about how good this meat is. So tender, so moist & robust. You have got to try it. Absolutely, hands down, the best chimichanga meat! It truly is a treat & is perfect to make even just once a year for Cinco De Mayo! Try it!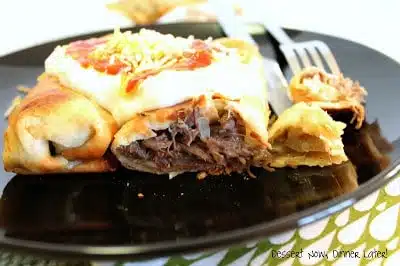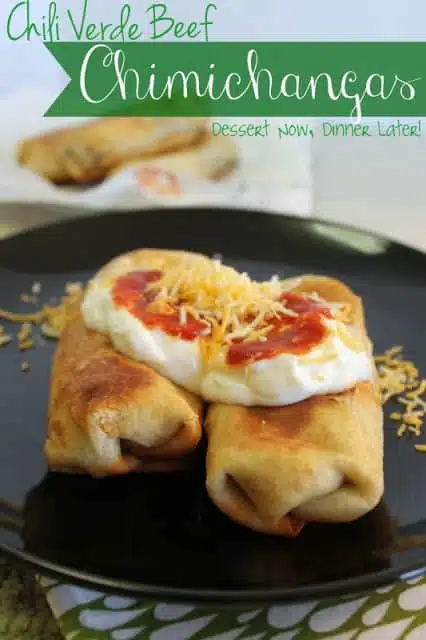 Chili Verde Beef Chimichangas
Prep Time: 20 minutes
Cook Time: 4 hours 10 minutes
Total Time: 4 hours 30 minutes
Yield: 18 chimichangas or about 9 cups of meat
Ingredients
5 lbs beef chuck roast (the flat kind -- I had to buy 2 roasts to get 5 lbs)
salt and pepper, to taste
3 Tbsp shortening or coconut oil
3 medium onions, chopped
1/4 cup all-purpose flour
1 (4oz) can diced green chiles
14-16 oz green chili salsa (I used Herdez Salsa Verde)
1 tsp garlic powder
2 tsp salt
1 tsp cumin
2 (10-count) packs taco size flour tortillas
2 cups+ oil (canola/vegetable), for frying
Instructions
Heavily season both sides of the roast(s) with salt and pepper. Sear both sides and all ends of the roast(s) in a hot pan. Place roast(s) into a large baking dish. (13x9-inch pan)
Cook roast(s) in the pan covered with foil at 300˚F for 4 hours. (Do NOT add water to pan, the roast(s) will release their own juices.)
Once meat is tender, drain and reserve juices, and shred the meat. Skim the fat off the top of the juices. Add juices back into the shredded meat and set aside.
In a LARGE sauté pan, melt shortening/coconut oil and add the onions. Cook for 5 minutes or until soft and translucent. Add flour and stir with onions for 1 minute. Mix in green chiles, salsa verde, garlic powder, salt, and cumin. Cook until thick. Add meat mixture into the onion mixture and heat thoroughly.
Fill tortillas with about ⅓ to ½ cup meat each and fold burrito style.
Heat oil in a large pot. Place chimichangas carefully seam side down into the oil and fry both sides until golden brown (approximately 45 seconds each side.) Allow to drain on a paper towel lined plate. Serve with sour cream, cheese, and hot sauce as desired.
Notes
TO FREEZE: You can freeze half of the meat in an airtight zip-top freezer bag. To use, thaw meat in the refrigerator overnight, re-heat thoroughly on the stove-top/microwave (add beef broth/water if needed), fill tortillas, and fry/cook/bake.
SLOW COOKER: Cook meat on low for 10-12 hours. Follow other instructions as written.
Nutrition Information:
Yield: 18
Serving Size: 1 chimichanga
Amount Per Serving:
Unsaturated Fat: 0g