Sneak Peak into my Disneyland Vacation
This post may contain affiliate links, meaning that I may receive a commission at no cost to you if you use a link provided. All opinions shared are my own. You can review my full disclosure policy here.
I thought it would be fun to share a few pictures from my family vacation to Disneyland. We sure had a lot of fun… 4 days at both Disneyland Parks & 1 day at the beach. Vacations are always nice, but it's always nice to be back home & in our own beds, getting back to the regular routine.
A couple family photos…(the jogger stroller was easy to maneuver & reclined so the kids could nap when they got tired.)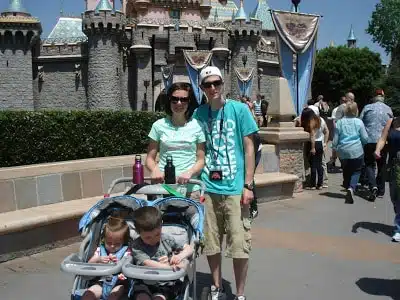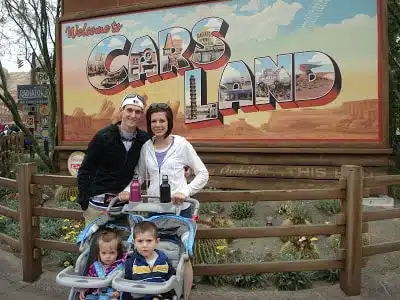 If you ever eat at Disneyland, I recommend the Jolly Holiday Bakery Café. They have scrumptious desserts & tasty sandwiches.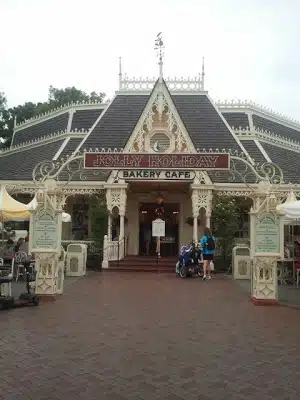 Check out this cupcake ($4.99)…
Moist Chocolate Cake
Raspberry Creme Filling
Chocolate MOUSSE Frosting
Chocolate Ganache on top
Fancy Glitter, Shaved Chocolate, & Decorations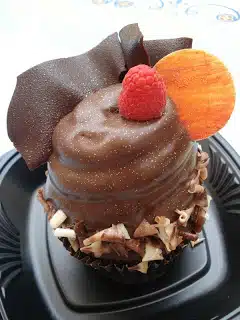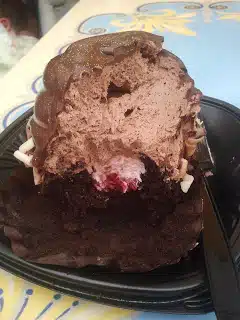 I. WAS. IN. HEAVEN!!!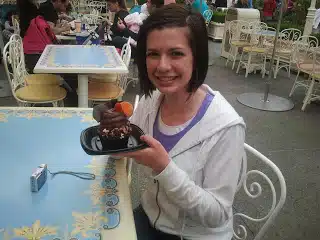 This Roast Beef Sandwich (just under $10) with saucy cheese, caramelized onions, & horseradish spread on a toasted onion roll was fabulous & also came from the Jolly Holiday Bakery Café. Side note: I think it's really cute that they put it on parchment that looked like newspaper print.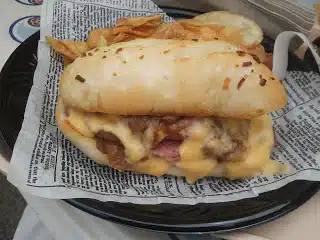 Here are a couple more pics of my cute kids…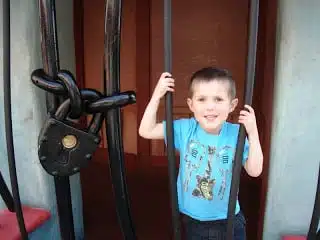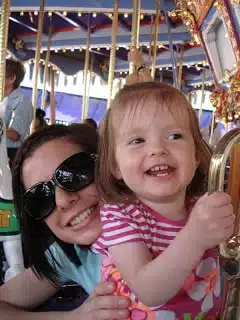 Another must try at Disneyland is the Dole Pineapple Whips or Floats from the Tiki Juice Bar. I like both, but I think I liked the float a little bit more. It's just pineapple soft serve ice cream with pineapple juice, but it is to die for!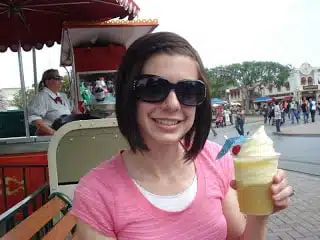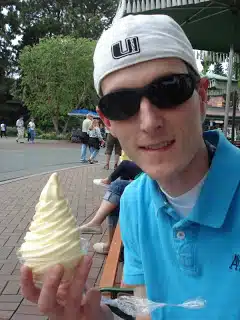 Looks like Disneyland cheaped out on us…look at that hole in the middle! When you pay $3-ish for the whip & $5-ish for the float, they need to fill that sucker up!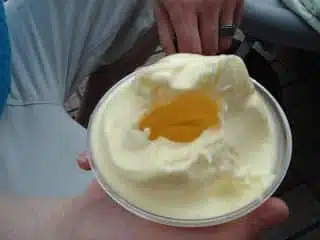 Another favorite was the corn dogs from Corn Dog Castle in California Adventure…sorry I am talking all about food, this is a food blog after all.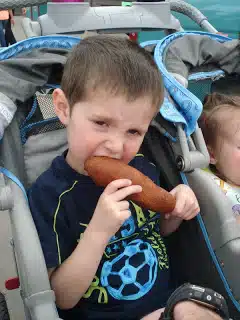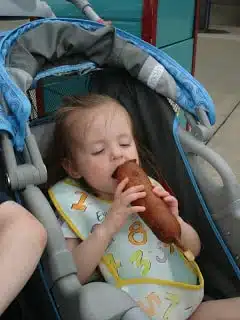 Just look at the size of those things! They are $6-ish dollars per corn dog (that comes with a bag of chips or sliced apples) but the corn batter is thick & flavorful. My kids ate one every day we were there! They loved them!
A couple more places we loved that I don't have pictures for:
Cocina Cucamonga Mexican Grill (California Adventure)- my husband got the Fire Grilled Citrus Chicken (comes with a couple of tortillas, refried beans & seasoned rice) & I got an amazing Mexican Chicken Caesar Salad. My husband's chicken was so moist & my salad was crisp & full of flavor. Delicious! This place is a little more pricey though about $12-$15 an entree.
Boardwalk Pizza & Pasta (California Adventure)- Again this one is a little more money about the $15 & under range. But the pasta servings are large & saucy.
Redd Rockett's Pizza Port (Disneyland)- The pizza slices are huge, the pasta is saucy with a decent sized serving, & the salads are fresh & delicious.
I have also heard good things about:
DO NOT EAT HERE:
Village Haus Restaurant (Disneyland)- this one has very average burgers, fries, & pizzas. Everything was cold & not good at all! Do NOT waste your money.
If you are looking to save money, the lunch prices are cheaper than dinners. We would buy lunch & bring sandwiches in a lunch box for dinner. It still felt like we had an enjoyable time, & got to try a lot of things even though we were on a budget.
I hope you enjoyed this little snippet into my personal life. I don't post things like this very often, but I thought it would be fun to share some of our favorite finds.