Challah Bread
This post may contain affiliate links, meaning that I may receive a commission at no cost to you if you use a link provided. All opinions shared are my own. You can review my full disclosure policy here.
Today is my last guest post while I am away. Do you remember my friends The REAL Housewives of Riverton? I met them at the My Recipe Magic Launch Party & got to hang with them at the Build Your Blog Conference as well. Yep, those funny ladies! Well, Paula is guest posting for me today! So, enjoy this Challah Bread (prounounced khah-luh)! I have fond memories of Challah Bread from Culinary School. We would pronounce it, "Holla!" & giggle the whole class the day we made it. Challah is a beautiful braided bread & super good as french toast! Anyway, enjoy the recipe, Paula is awesome! Love her!

Hi, I'm Paula from The REAL Housewives of Riverton!
Our blog consists of us four Housewives, Jenn, myself, Lisa and Gena. Our blog was born 3 years ago on a crazy girls trip and well, the rest is history. 🙂 We love to post about crafts, food, sewing, family and pretty much everything else too. We'd love for you to come visit our blog and follow us on Facebook.
We are so grateful to get to guest post on Amber's awesome blog! We love Amber and her recipes so we jumped at the chance to get to blog with her! Today we are sharing with you a recipe for Challah Bread.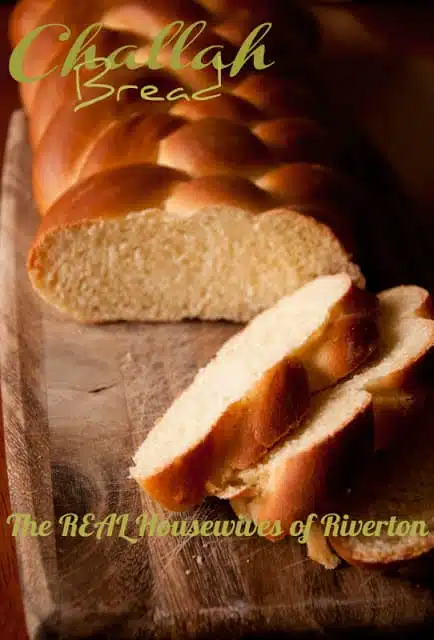 My grandparents had food booths at local fairs and festivals while Jenn and I were younger. Our family still does our favorite fair every summer and one of the other food booths sells the most delicious french toast made with Challah Bread. Ever since the first time I ate it, I wanted to learn how to make Challah bread. I always assumed it was so hard, but when I found this recipe from The Kitchn, I knew I had to give it a try.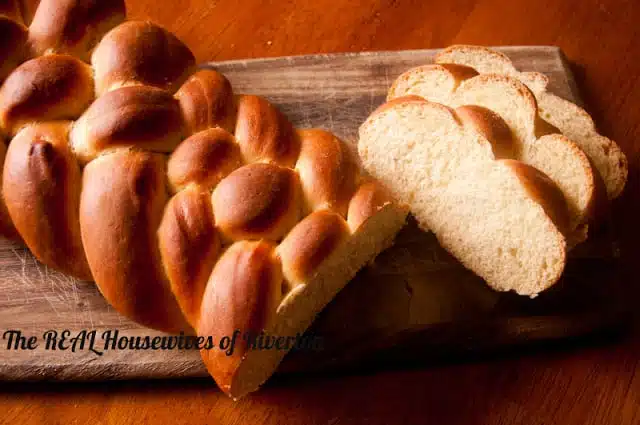 We ate this with dinner and luckily had enough left over to make some delicious french toast the next morning!
Thanks Amber for letting us share your blog!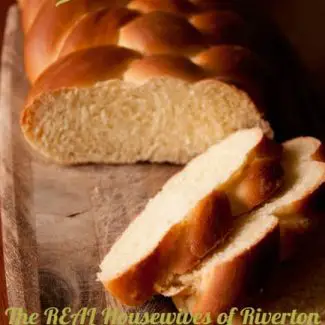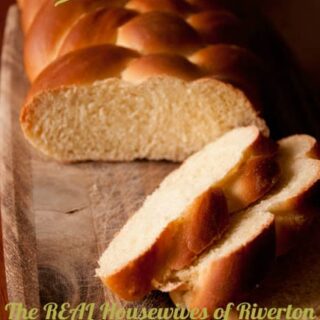 Challah Bread
Ingredients
2 teaspoons instant yeast
1 cup warm water
4 1/4 cup all purpose flour
1/4 cup sugar + 1/4 teaspoon sugar
1 1/2 teaspoons salt
2 large eggs + 1 large egg yolk (reserve egg white for egg wash)
1/4 oil, can use melted butter also
Instructions
Dissolve your yeast into your warm water, add ¼ teaspoon sugar. Stir and let set until a frothy layer is on top of the yeast mixture.
Whisk together your flour, remaining sugar and salt in a medium bowl. Make a well in the middle of your dry ingredients, add your eggs + egg yolk and oil. Whisk together, creating a slurry, pulling a little of the flour mixture from the sides. (Do not mix it with ALL the flour mixture yet.) Pour the yeast mixture over the egg slurry and mix to form a rough dough ball. I found that using a wooden spoon worked best for this.
Turn your dough out on to a floured surface and using your remaining ¼ cup of flour, knead for about 8-10 minutes. Your dough should be smooth and slightly tacky.
Form into a ball and place in a greased bowl, cover with plastic wrap and let rise until double in size (about 1½ to 2 hours).
Cut your dough into 3 equal if doing a traditional braid or 6 equal sections for a braid like I did. (The Kitchn has a perfect, photographic step by step on how to do a 6 rope braid.) Roll each section out into a rope about 16 inches long. Squeeze the top of the sections together and braid together. When finished squeeze the ends together and tuck under.
Drape with a dish cloth and let rise for about an hour.
About 20 minutes before baking, preheat your oven to 350°F and add 1 tablespoon of water to your remaining egg white to create an egg wash. Using a pastry brush, lightly brush the egg white on the bread taking care to get in all the creases.
Bake for 15 minutes, rotate the pan, then bake another 15 minutes. Remove from the oven and let cool. Slice, serve and enjoy!
Nutrition Information:
Yield: 1 loaf
Amount Per Serving:
Unsaturated Fat: 0g
Lightly Adapted from The Kitchn