Easy Carrot Cake Recipe
This post may contain affiliate links, meaning that I may receive a commission at no cost to you if you use a link provided. All opinions shared are my own. You can review my full disclosure policy here.
This easy carrot cake recipe is moist, perfectly-spiced, and topped with the BEST cream cheese frosting. Customize it with your favorite fillers or enjoy it simply as-is.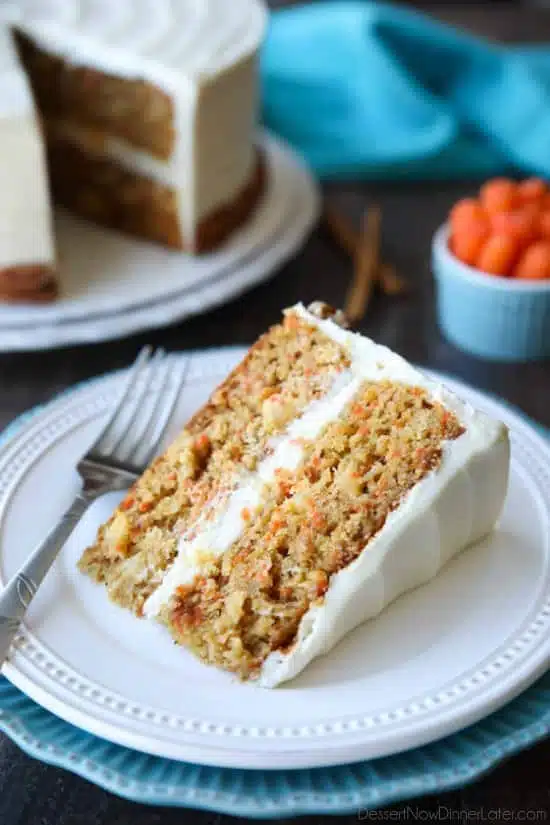 I know Easter came and went but this cake was so good that I had to share! Carrot Cake is definitely one of those classic spring desserts that everyone seems to have a recipe for. Luckily, it's one of those cakes that can be made in its simplest form — just carrots and spices. Or turned into a "kitchen sink" dessert with fruits and nuts added in.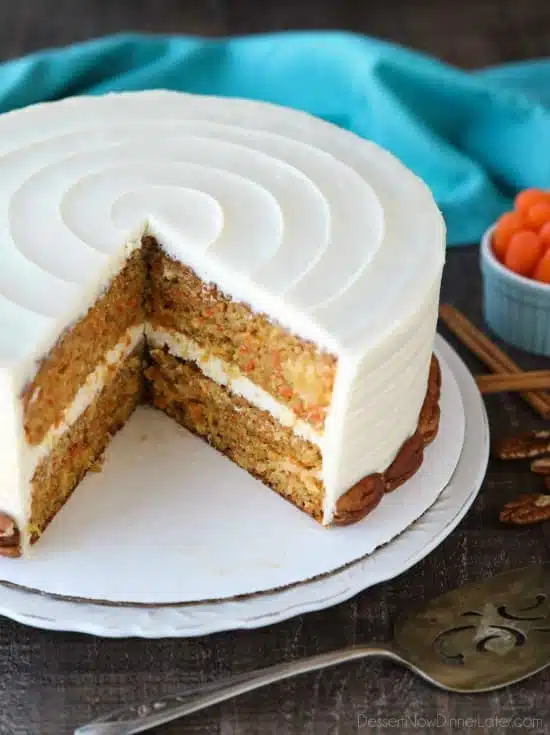 This version is almost purely carrots and spices. I did swap crushed pineapple for part of the oil, but you can do all oil, or applesauce instead of pineapple if you want to keep it classic.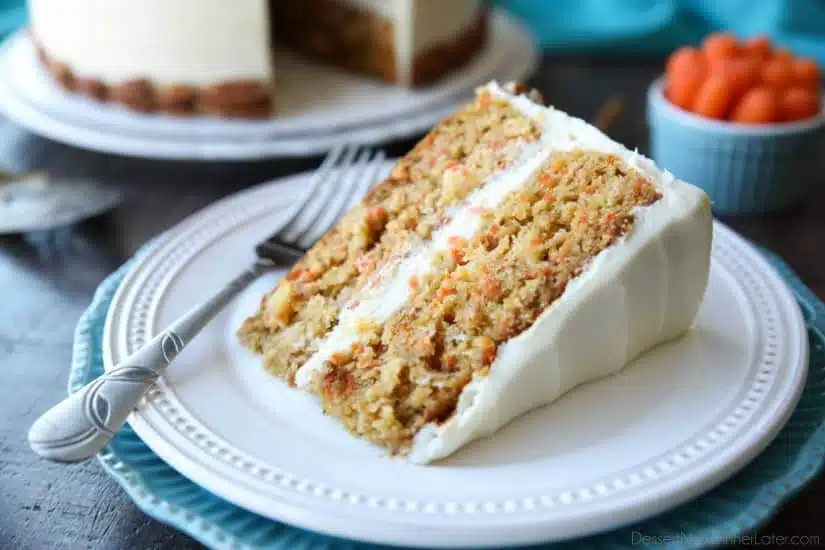 No carrot cake recipe is the same, but that's what makes it such an iconic dessert. Grandma may have put walnuts and raisins in hers, but you may like it with pineapple and coconut. It's literally a dessert that can be transformed to what you want it to be.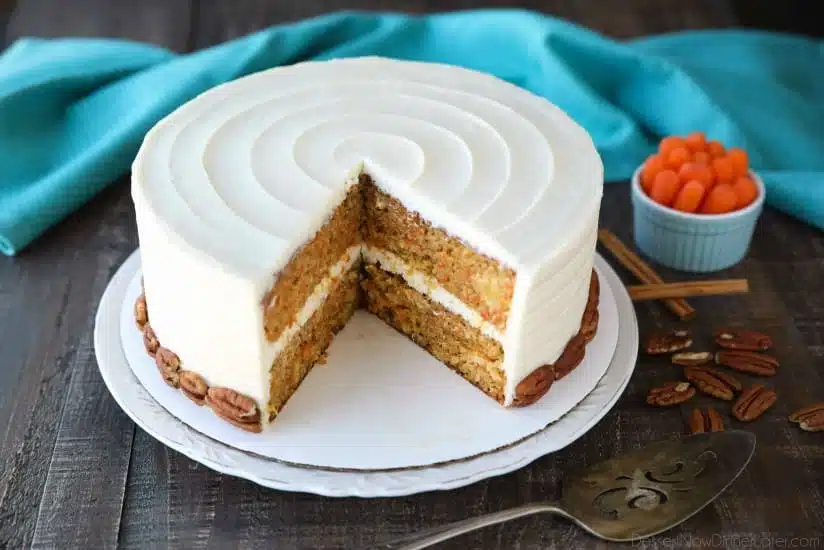 Carrot cake is my actually husband's favorite! Sadly, this is probably the first time I've made it for him outside of these Coconut Carrot Cupcakes, Carrot Cake Whoopie Pies, and Cream Cheese Marbled Carrot Bars.
I actually haven't made a layered cake since my daughter's first birthday, so almost 6 years ago. I decorated cakes in a bakery for several years though. It was fun to whip up this carrot cake with a simple, yet elegant swirl on top and scalloped edges with the help of a cake decorating comb.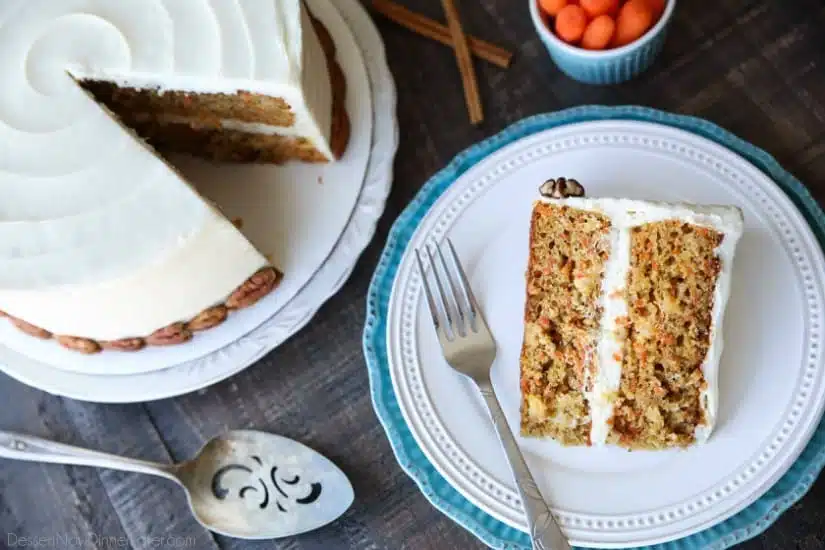 I also have to say with confidence that this carrot cake recipe is frosted with the BEST cream cheese frosting. It's my favorite of all time! Not too sweet, and it spreads and pipes beautifully. That makes this easy carrot cake a winner!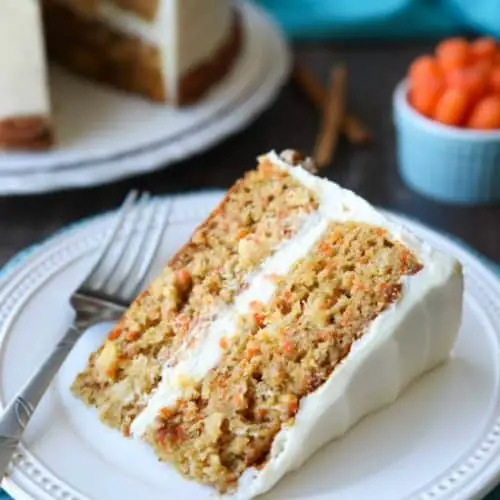 Easy Carrot Cake
Prep Time: 20 minutes
Cook Time: 40 minutes
Total Time: 1 hour
Yield: 12 - 15 servings
Ingredients
Cake:
2 1/2 cups all-purpose flour
1 1/4 tsp baking powder
1 tsp baking soda
1 1/4 tsp ground cinnamon
1/2 tsp ground nutmeg
1/8 tsp ground cloves
1/2 tsp salt
1 lb carrots, shredded (about 3 cups, or slightly less)
1 1/2 cups granulated sugar
1/2 cup brown sugar, packed
4 large eggs
1 cup oil (vegetable/canola)
1 (8oz) can crushed pineapple, with juices (do NOT drain)
The BEST Cream Cheese Frosting:
16 oz cream cheese (2 pkgs), cold
1 cup unsalted butter (2 sticks), room temperature
2 cups powdered sugar
2 tsp vanilla extract
Instructions
Preheat oven to 350 degrees Fahrenheit. Grease and flour two 9-inch round baking pans. Set aside.
In a medium bowl, whisk together the flour, baking powder, baking soda, cinnamon, nutmeg, cloves, and salt. Set aside.
Peel carrots, if desired. Trim the ends of the carrots. Grate or shred carrots with a food processor or by hand.
In the bowl of a stand mixer fitted with the paddle attachment, beat the granulated sugar, brown sugar, and eggs on medium-high speed until thoroughly combined.
Reduce speed to medium and add oil in a slow, steady stream while mixer is running. Increase speed and mix until pale in color.
Add the crushed pineapple and shredded carrots. Mix until incorporated.
Fold in dry ingredients by hand, just until there are no more streaks of flour, being careful not to over-mix.
Pour batter evenly into the prepared pans and bake until a toothpick inserted into the center of the cake comes out clean. Start checking after 30 minutes, but may take up to 45.
Allow cakes to cool for about 10 minutes in the pan, and then invert them onto a cooling rack. Cool completely. (Optional: Double wrap cakes in plastic wrap and freeze for several hours. Makes it easier to frost without crumbs.)
MAKE CREAM CHEESE FROSTING: Place cream cheese in a large bowl. Using a hand mixer, beat until smooth.
Gradually add the butter 2 Tablespoons at a time, and continue beating until smooth and well-blended.
Add powdered sugar and vanilla all at once. Blend until combined and smooth. (Don't beat too long or the frosting will be too soft. If this happens, place the frosting in the refrigerator or freezer until it firms back up.)
Frost cake as desired. Store cake covered in the refrigerator. (I have a cake container, which is really nice, but plastic wrap works too; just keep it loose around the cake.)
Notes
- Can be made in a 9x13-inch pan. Bake time may increase 5-10 minutes. Keep cake in pan, cool completely, and half the frosting recipe.
- NO PINEAPPLE -- substitute an equal amount (8oz or 1/2 cup) of oil or applesauce.
Nutrition Information:
Yield: 12
Amount Per Serving:
Unsaturated Fat: 0g