Cream Cheese Marbled Carrot Bars
This post may contain affiliate links, meaning that I may receive a commission at no cost to you if you use a link provided. All opinions shared are my own. You can review my full disclosure policy here.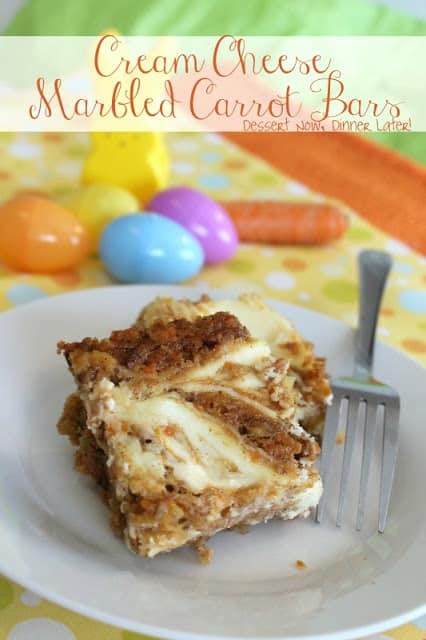 I remember my husband telling me one time when we were first dating that his favorite cake was carrot cake. And being the good wife that I am I have made it….NEVER, until now! Haha. My poor husband. He has had to wait so long for his favorite cake. Well, this cake is super moist & fruity. My husband was a little bummed that I didn't make cream cheese frosting, but I loved the swirl of cream cheese with the cake. So frosting lovers might want to make a traditional cake with frosting. Those who like cheesecake & can go without frosting, will love this! So easy & serves a LOT of people.
And if you have a WinCo nearby (love them!), it is perfect to pick up all the 1 cups of this & that without having to buy whole packages. Then you only spend money on what you are using. Anyway, this cake is perfect for an Easter dessert or any potluck. It justs shouts, "Spring!" to me & I cannot wait for Spring to get here & kick Winter out until the end of the year.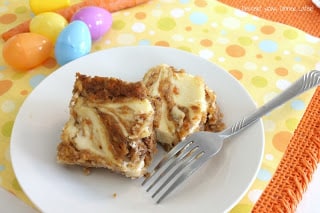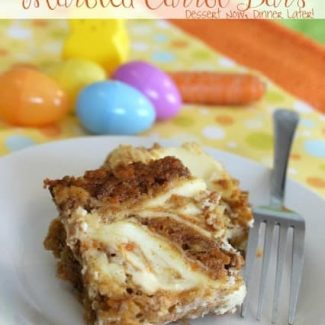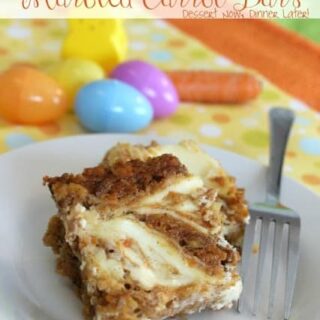 Cream Cheese Marbled Carrot Bars
Ingredients
Carrot Cake:
2 cups all-purpose flour
1 1/2 cups sugar
1/4 cup brown sugar
1 1/2 tsp baking soda
1 tsp baking powder
1 tsp salt
4 tsp cinnamon
1/4 tsp nutmeg
1/4 tsp ginger
1/8 tsp cloves
2 cups finely grated, PEELED carrots, packed
1 Tbsp orange zest
1 (20oz) can crushed pineapple, drained (reserve 1 Tbsp juice)
1 cup golden raisins
1 cup sweetened coconut flakes
1 cup pecan pieces, chopped
1 cup canola oil
2 tsp vanilla extract
1 Tbsp orange zest
3 large eggs
Cheesecake:
2 (8oz) packages cream cheese (Neufchatel or regular is fine)
1/2 cup sugar
1/2 tsp vanilla
2 large eggs
Instructions
Preheat oven to 350*F.
Grease & flour a half sheet pan/jelly roll pan (13"x18"x1").
In a large bowl whisk together well the flour, sugar, brown sugar, baking soda, baking powder, salt & spices. Set aside.
Peel & grate carrots to yield 2 cups packed. Make sure pieces are not any bigger than ¼" (I used my food processor until finely chopped, but not mush.) If you don't peel your carrots, your cake might have green specks after it is baked. At least that was a consistent problem we had in a bakery I used to work in. It's still fine to eat, but just leave the tough skin off.
Using a hand mixer, prepare the cheesecake filling by beating the cream cheese with the sugar & vanilla until no lumps appear. Add eggs one at a time & blend until smooth. Set aside.
In a stand mixer, add carrots, orange zest, drained pineapple, golden raisins, coconut, & pecans. Mix well using the paddle attachment. Then add oil, vanilla extract, eggs one at a time mixing well after each addition. Lastly add the 1 Tbsp of reserved pineapple juice. Mix well. Scrape down bowl often.
Slowly add the dry ingredients & mix for 1 minute or until just combined. Do not over mix.
Pour batter into prepared jelly roll pan & spoon dollops of cheesecake filling on top. Swirl with a knife to create a marbled look. *The pan will be pretty full.
Bake for 35-40 minutes or until a toothpick comes clean out of the center. Allow cake to cool before serving. Store in the refrigerator. Best served chilled.
Nutrition Information:
Yield: 35
Amount Per Serving:
Unsaturated Fat: 0g