Oatmeal Chocolate Chip Cookies + Video
This post may contain affiliate links, meaning that I may receive a commission at no cost to you if you use a link provided. All opinions shared are my own. You can review my full disclosure policy here.
These Oatmeal Chocolate Chip Cookies are thick, soft, and chewy, with plenty of hearty old fashioned oats and creamy chocolate chips. An easy classic recipe.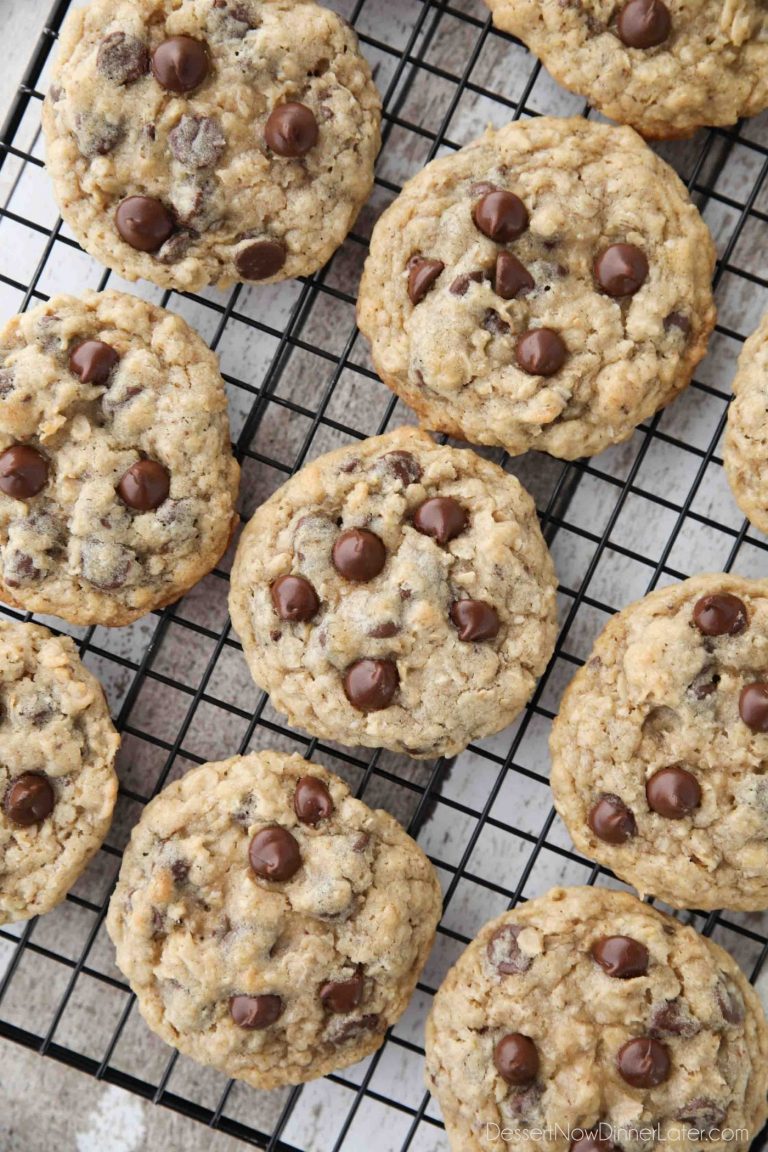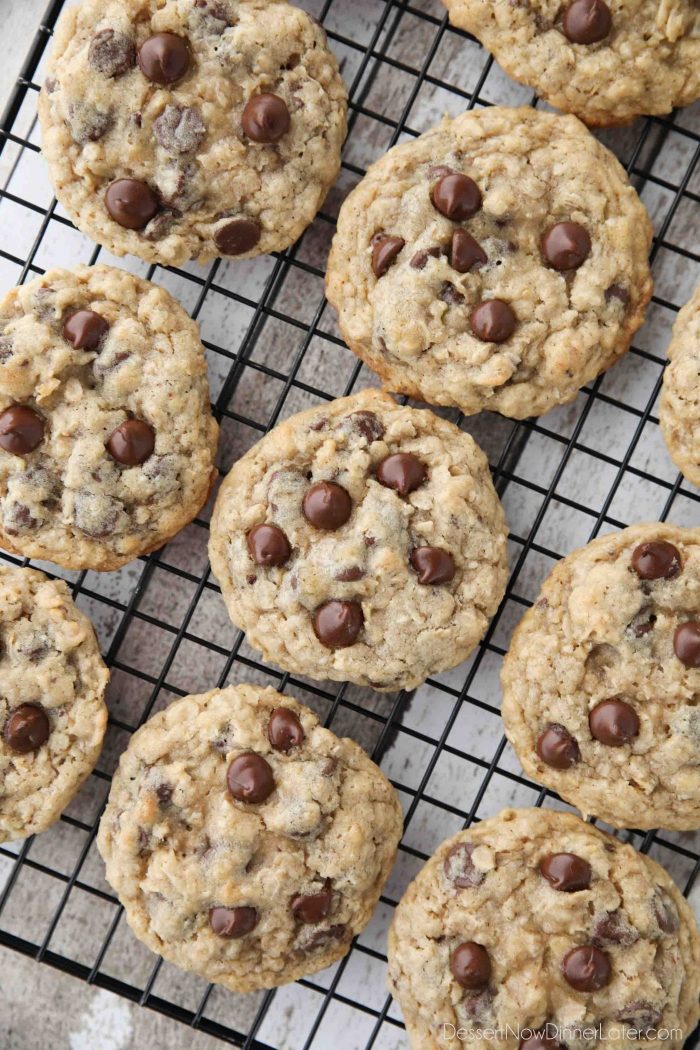 Back to the basics with today's recipe for Oatmeal Chocolate Chip Cookies. I knew I would have a classic recipe for it in my trusty old recipe box. When I looked I found a recipe card that I had typed in my youth with my old-school typewriter, labeled "Mrs. Fields Oatmeal Cookies."
The original recipe had raisins and nuts in it, but I wanted to go with chocolate chips, because not everyone loves Oatmeal Raisin Cookies.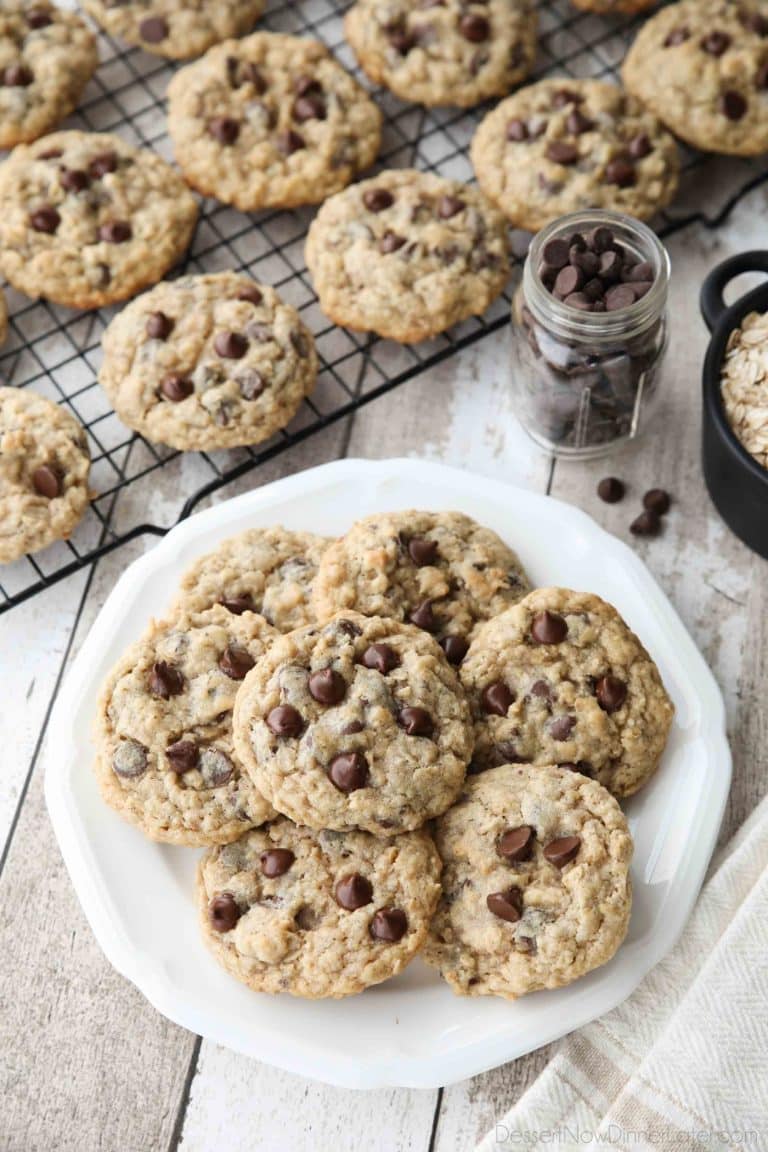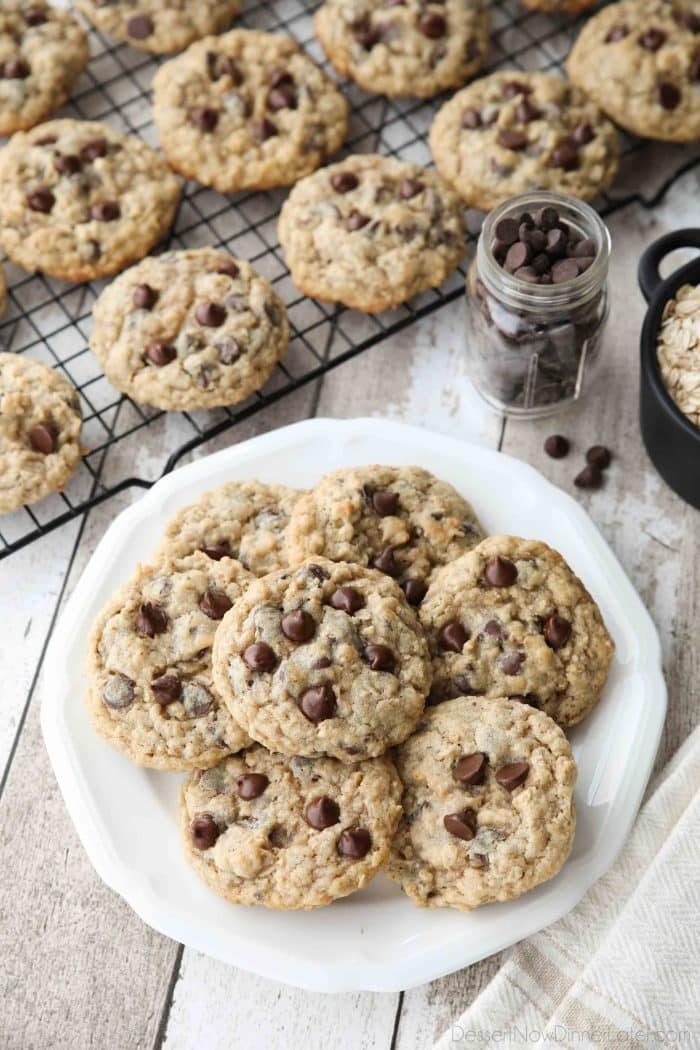 Old Fashioned vs. Quick Oats
Old fashioned oats (also called rolled oats) are flat, flakey, and add extra fiber and a heartier texture because the oats are larger. Quick oats have been cut 2 to 3 times prior to steaming and rolling. Because of this, they tend to add a slightly thinner texture than old fashioned oats.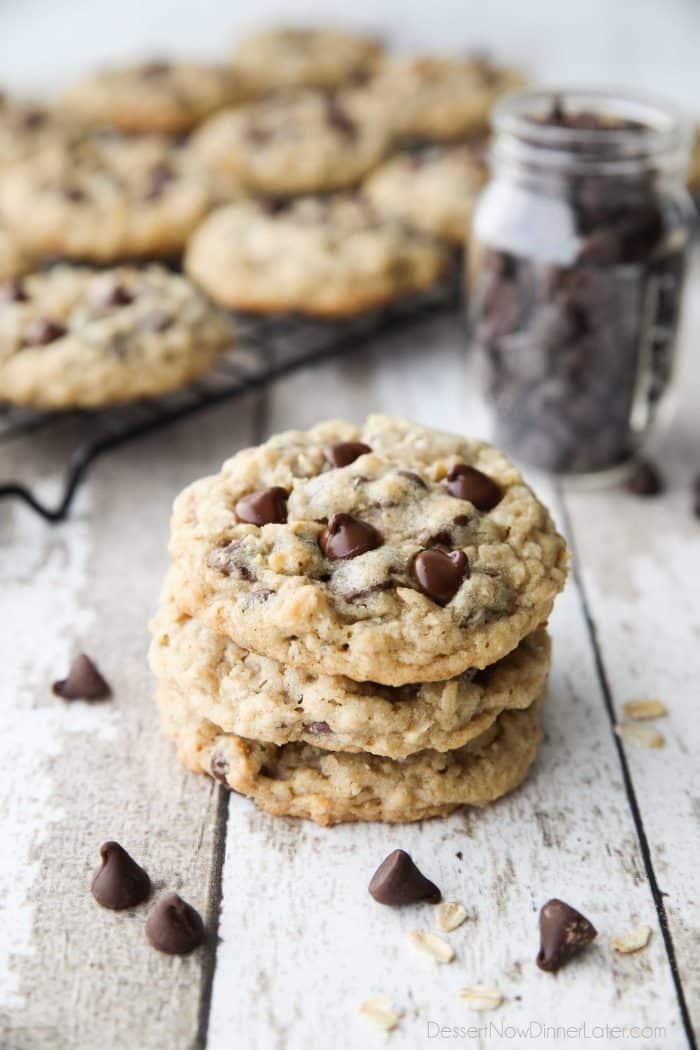 Old fashioned oats and quick oats work interchangeably in baking. The biggest difference in these cookies will be the texture. For a more hearty, chewy texture, choose old fashioned oats. For a smoother, slightly less chewy cookie use quick oats.
*NOTE: Quick oats may also make the cookies more puffy and dense. (I used quick oats in these Chewy Milk Chocolate Butterscotch Cookies, if you want to see the visible difference.)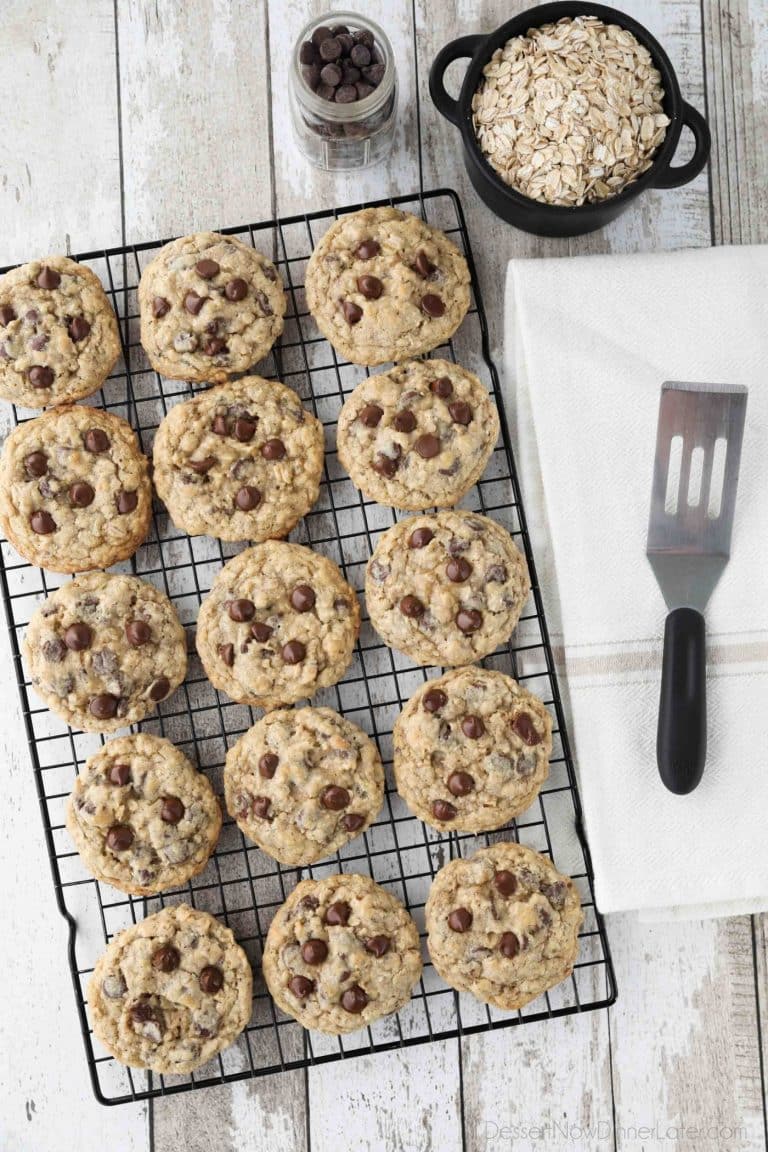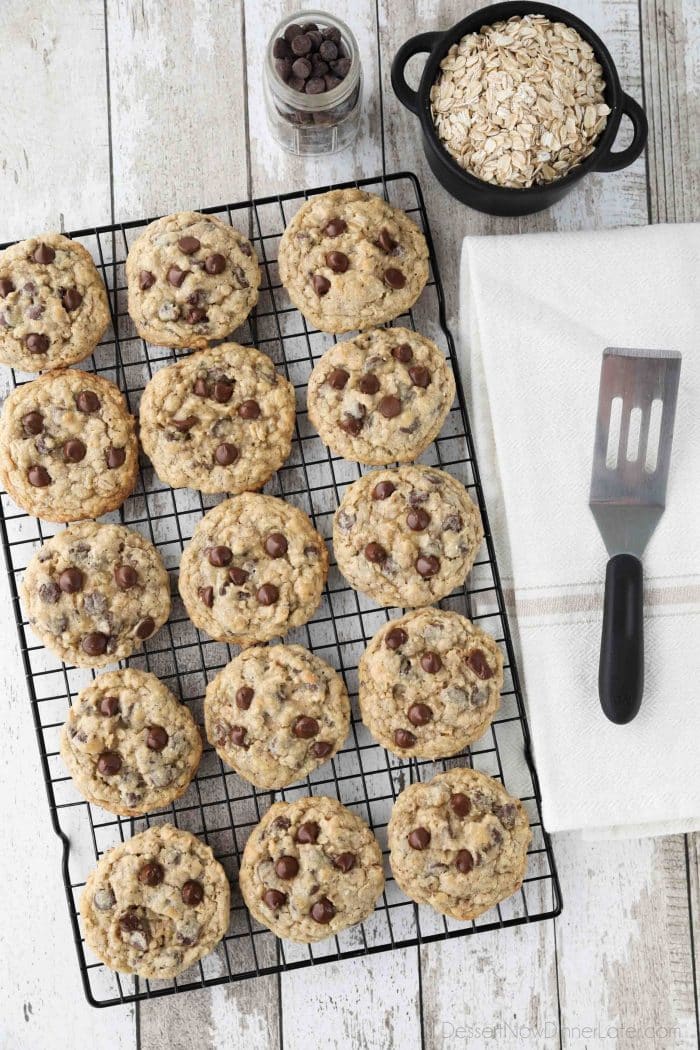 Oatmeal Chocolate Chip Cookies
These oatmeal chocolate chip cookies are classic. No spices, no nuts, and obviously, no raisins. (Duh!) Think of it like a chocolate chip cookie with chewy oats. Simple and classic.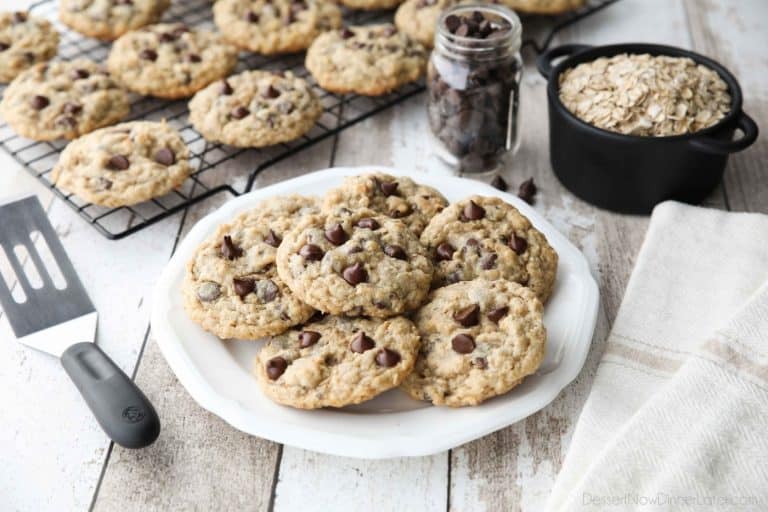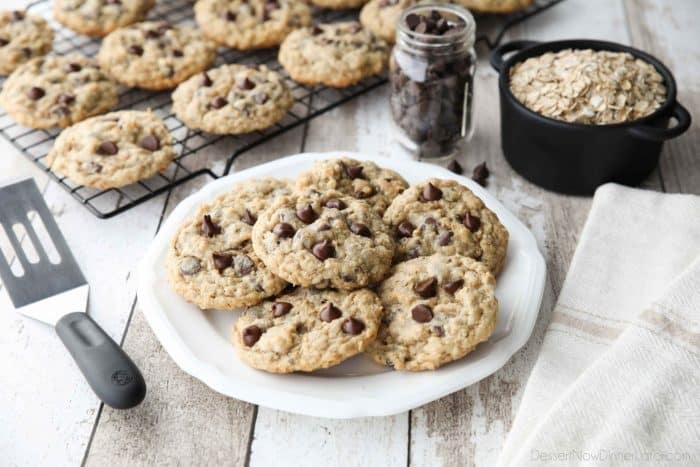 These oatmeal chocolate chip cookies are hearty and delicious like a granola bar. So much so, that they almost feel appropriate for breakfast. Almost. Either way you will enjoy this perfectly simple recipe.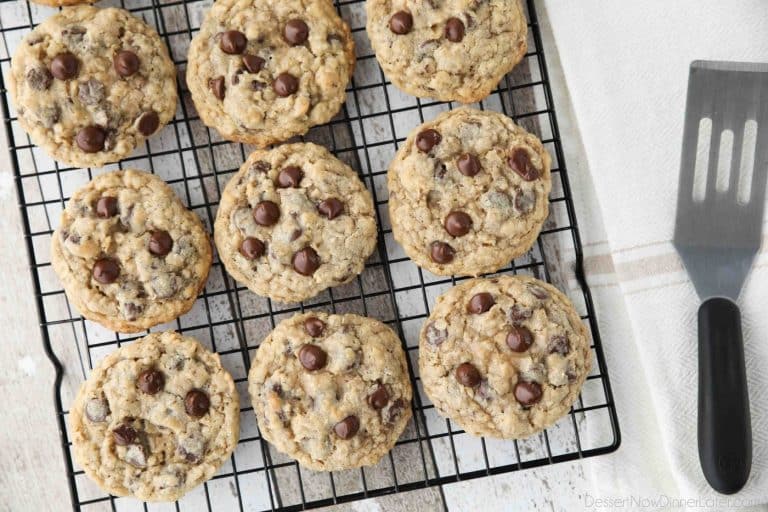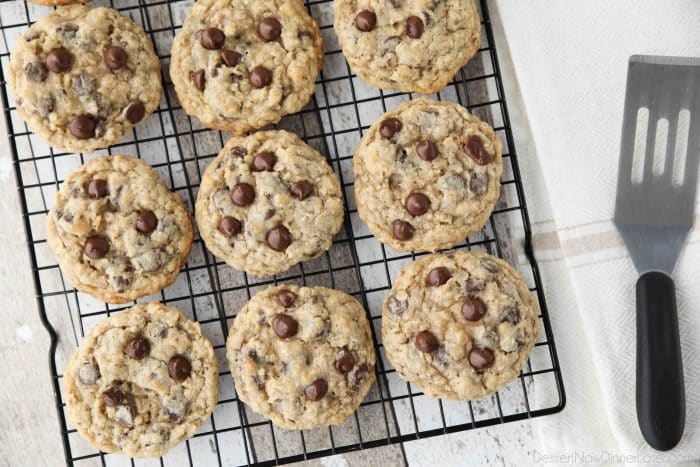 Tips for Soft and Chewy Oatmeal Cookies
First and foremost, if you want soft and chewy cookies, make sure not to over-bake them! The edges should be lightly browned and the centers should look slightly shiny and unset. Keep in mind there is carry-over cooking that occurs after you take them out of the oven. Leave the cookies on the tray for a few minutes to firm up before moving them to a cooling rack.
Try baking the cookies at 375ºF for 7-8 minutes. This will brown the outsides quicker, while keeping the inside soft and under-baked.
Choose your oats: Old fashioned oats will make the cookies spread slightly more, and result in a chewier texture. Quick oats will make the cookies soft and thick, but slightly more dense.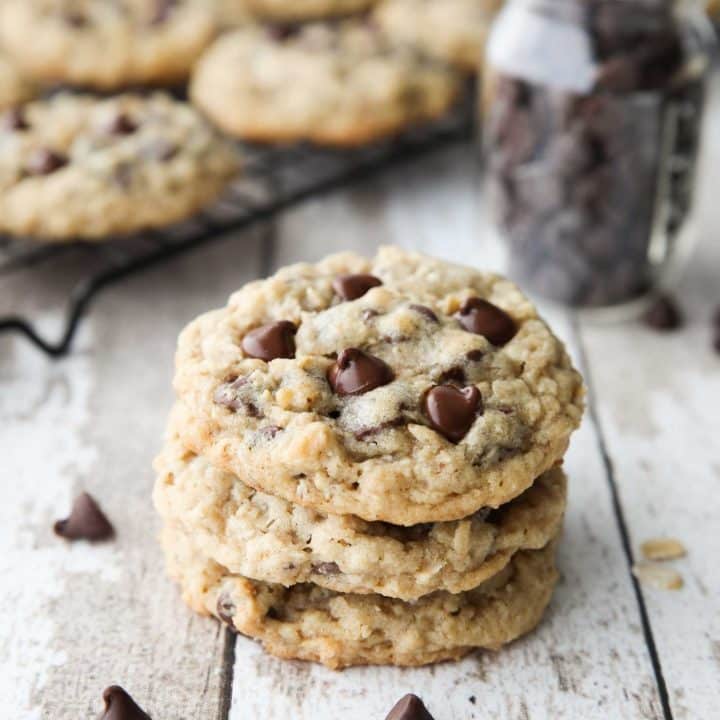 Oatmeal Chocolate Chip Cookies
Prep Time: 10 minutes
Cook Time: 10 minutes
Total Time: 20 minutes
Yield: 2 1/2 dozen (approx.)
These Oatmeal Chocolate Chip Cookies are thick, soft, and chewy, with plenty of hearty old fashioned oats and creamy chocolate chips. An easy classic recipe.
Ingredients
1 cup (2 sticks) butter, room temperature
3/4 cup brown sugar, packed
3/4 cup granulated sugar
2 large eggs
1 tsp vanilla extract
2 cups all-purpose flour (stir, spoon, and level)
2 1/2 cups old fashioned oats*
1 tsp baking soda
1/2 tsp salt
2 cups semi-sweet chocolate chips (one 12oz bag)
Instructions
Preheat oven to 350 degrees Fahrenheit. Line cookie sheets with parchment paper or silicone baking mats.
In a stand mixer with the paddle attachment, cream the butter and sugars together. Add the eggs, and vanilla. Mix until incorporated. Scrape bowl.
In a separate bowl combine the flour, oats, baking soda, and salt. Slowly add to wet ingredients and mix until just incorporated. Fold in the chocolate chips. (If dough seems really sticky. Add 2 Tbsp more flour.)
Scoop cookie dough balls (with a #30 scoop; about 2 Tbsp) onto parchment or silicone lined baking sheets, spaced a couple inches apart.
Bake at 350˚F for 9-11 minutes, until edges are lightly browned and centers are just underdone (for soft cookies). Rest on tray 2-3 minutes before transferring to a cooling rack. Store cookies in an airtight container up to one week.
Notes
*Quick oats can be used in place of old fashioned oats, but may produce a thicker, more dense cookie. To combat this, use less. About 1 3/4 - 2 cups total.
Nutrition Information:
Yield: 30
Serving Size: 1 cookie
Amount Per Serving:
Calories: 154
Total Fat: 4g
Saturated Fat: 2g
Trans Fat: 0g
Unsaturated Fat: 2g
Cholesterol: 12mg
Sodium: 89mg
Carbohydrates: 28g
Fiber: 2g
Sugar: 16g
Protein: 3g
This data was provided and calculated by Nutritionix, and is an estimation only.