Pumpkin Gingersnap Cookies
This post may contain affiliate links, meaning that I may receive a commission at no cost to you if you use a link provided. All opinions shared are my own. You can review my full disclosure policy here.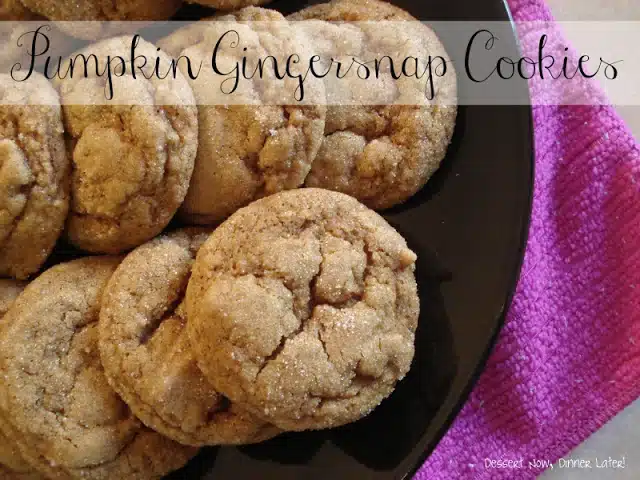 Apparently I am on a pumpkin gingersnap kick because any recipe I see with those two words has me making it the next day! I am still counting down the days until I make my Gingersnap Pumpkin Cheesecake again for Thanksgiving, but in the meantime, these cookies are keeping me cozy.
These cookies are so soft & moist it's hard to eat just one! Plus they leave your house smelling like the holidays! I might bake them again soon just for the aroma they waft in my house. Enjoy!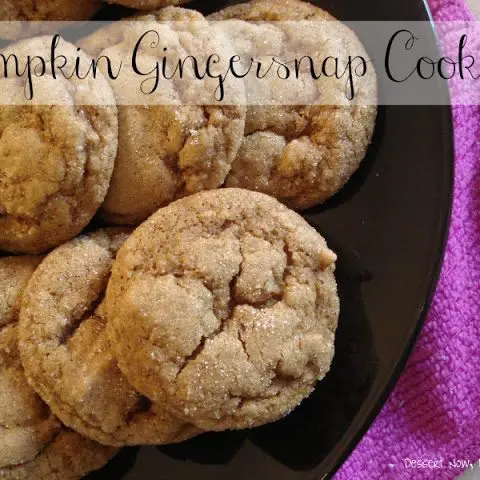 Pumpkin Gingersnap Cookies
Ingredients
1/2 cup butter, room temperature
1 cup granulated sugar (plus more for rolling the cookies)
1/2 cup pure pumpkin puree
1/4 cup molasses
1 large egg
1 tsp vanilla
2 1/3 cups all-purpose flour
2 tsp baking soda
2 tsp cinnamon
1 1/2 tsp ground ginger
1 tsp ground cloves
1/2 tsp salt
Instructions
In the bowl of a stand mixer, beat the butter & sugar together until creamy & smooth. Add the pumpkin, molasses, egg, & vanilla, mix until well combined.
In a medium bowl, whisk together flour, baking soda, spices, & salt. Add dry ingredients to wet ingredients & mix until combined. REFRIGERATE the cookie dough for at least 1 hour. The dough can be chilled for 2-3 days.
When you are ready to bake, preheat oven to 350*F. Line a baking sheet with a Silpat or parchment paper. Place sugar in a small bowl. Roll tablespoon-sized balls of dough in the sugar until well coated & place on prepared baking sheet, about 2 inches apart.
Bake for 10-12 minutes, or until cookies look cracked & set at the edges. The cookies will still be soft. Let the cookies cool on the baking sheet for 2-3 minutes after removing them from the oven, then transfer to a wire rack to cool completely.