Pumpkin Crinkle Cookies
This post may contain affiliate links, meaning that I may receive a commission at no cost to you if you use a link provided. All opinions shared are my own. You can review my full disclosure policy here.
Pumpkin Crinkle Cookies are light, soft, and cake-like with warm, flavorful pumpkin spices. You'll love this easy fall cookie coated in powdered sugar that cracks as it bakes.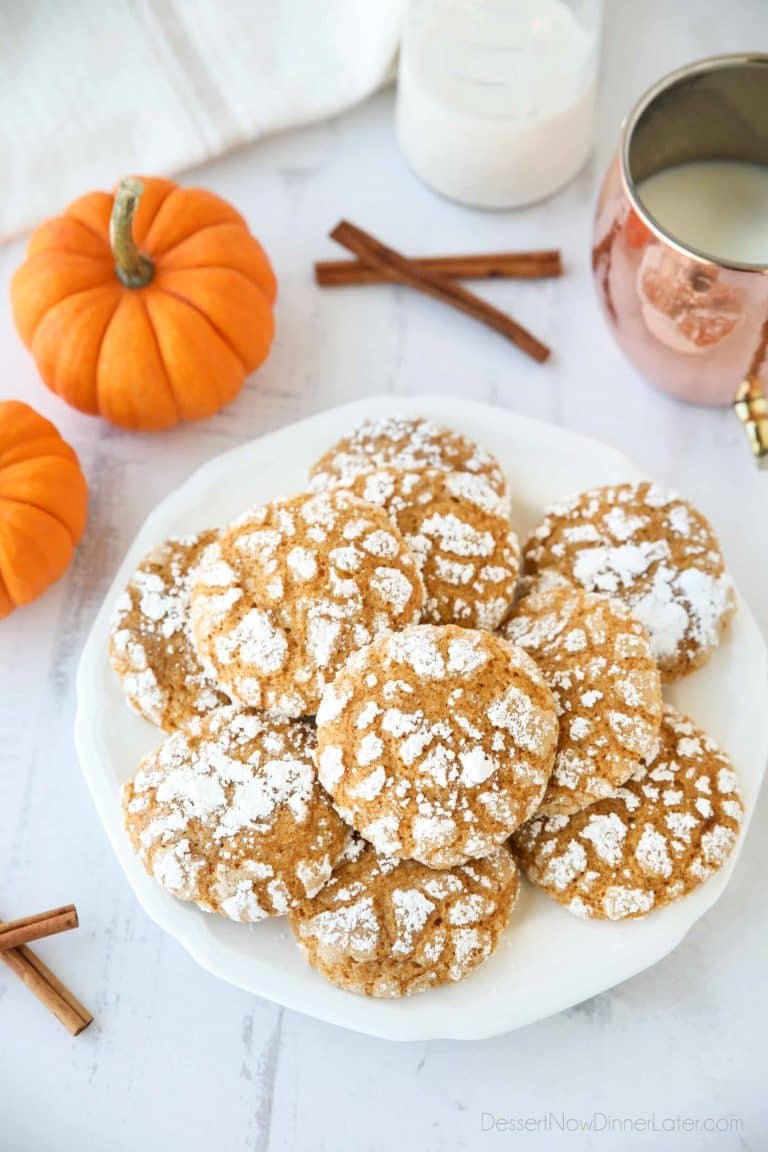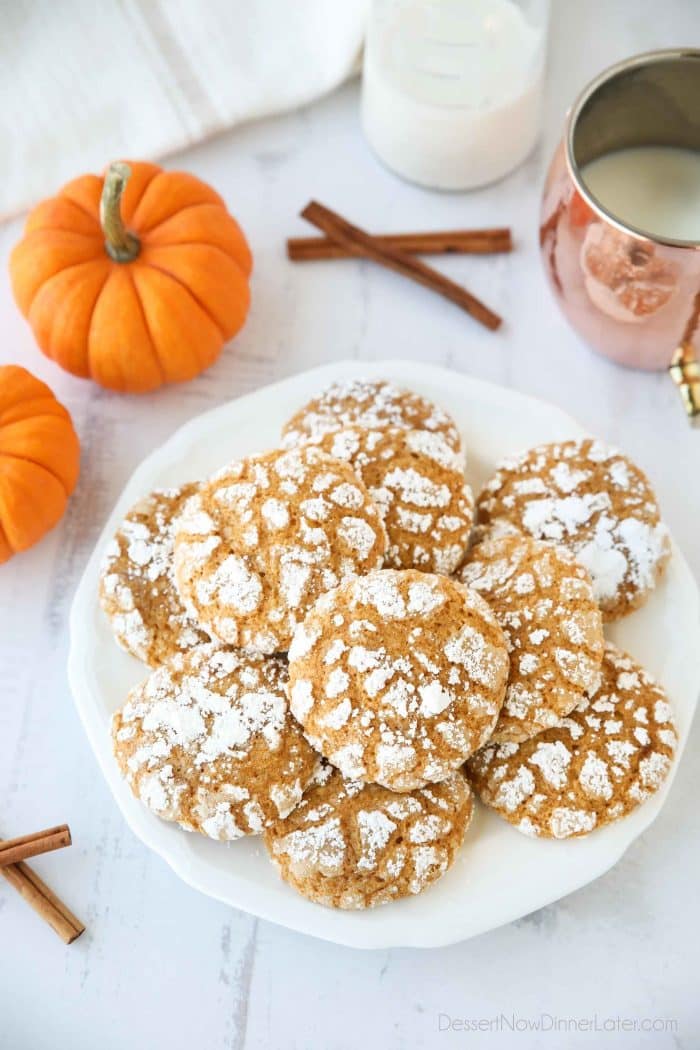 If you're a fan of powdered sugar covered donuts or other crinkle cookies, and are a fan of pumpkin (of course), then you'll love these Pumpkin Crinkle Cookies.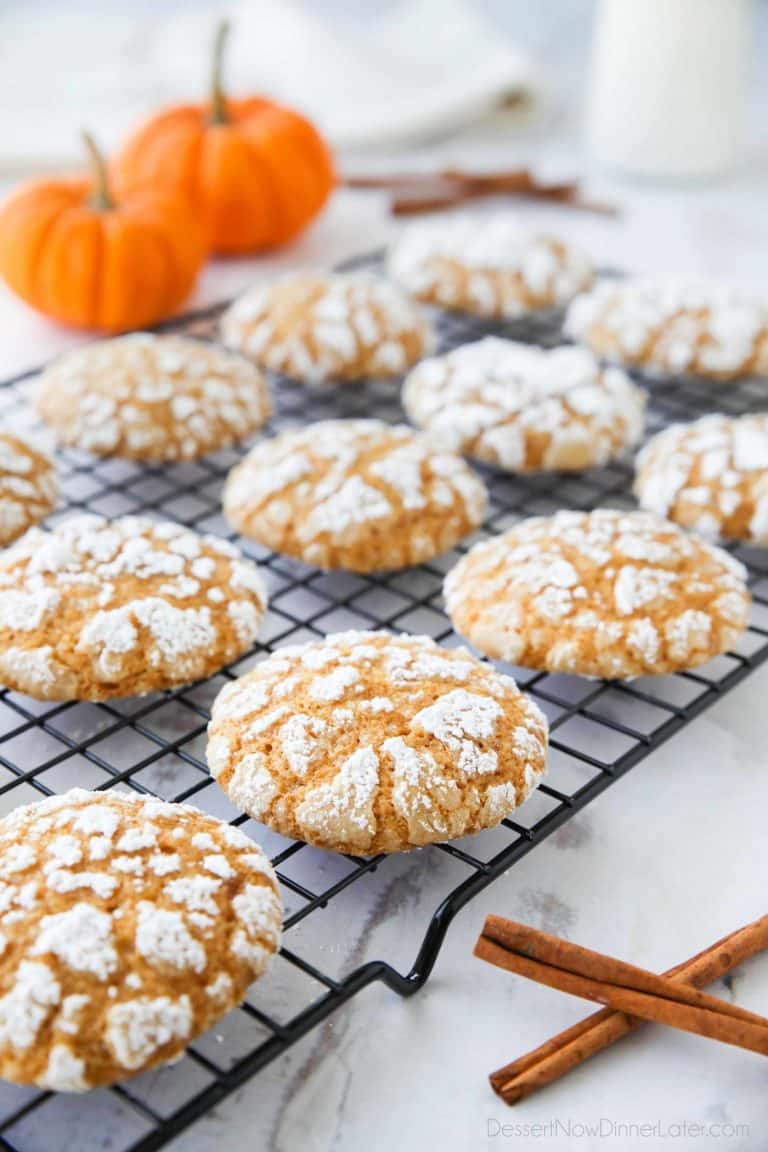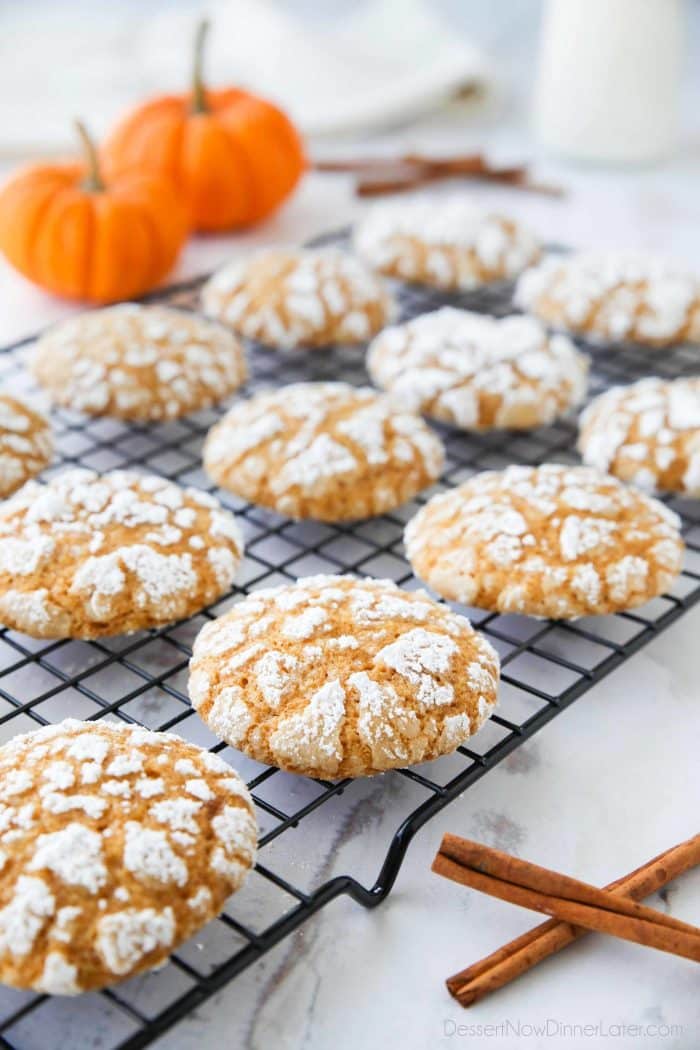 I typically pair pumpkin with chocolate. In cookies, cake, brownies, or bread. But sometimes pumpkin needs to shine on its own, with those warm pumpkin spices.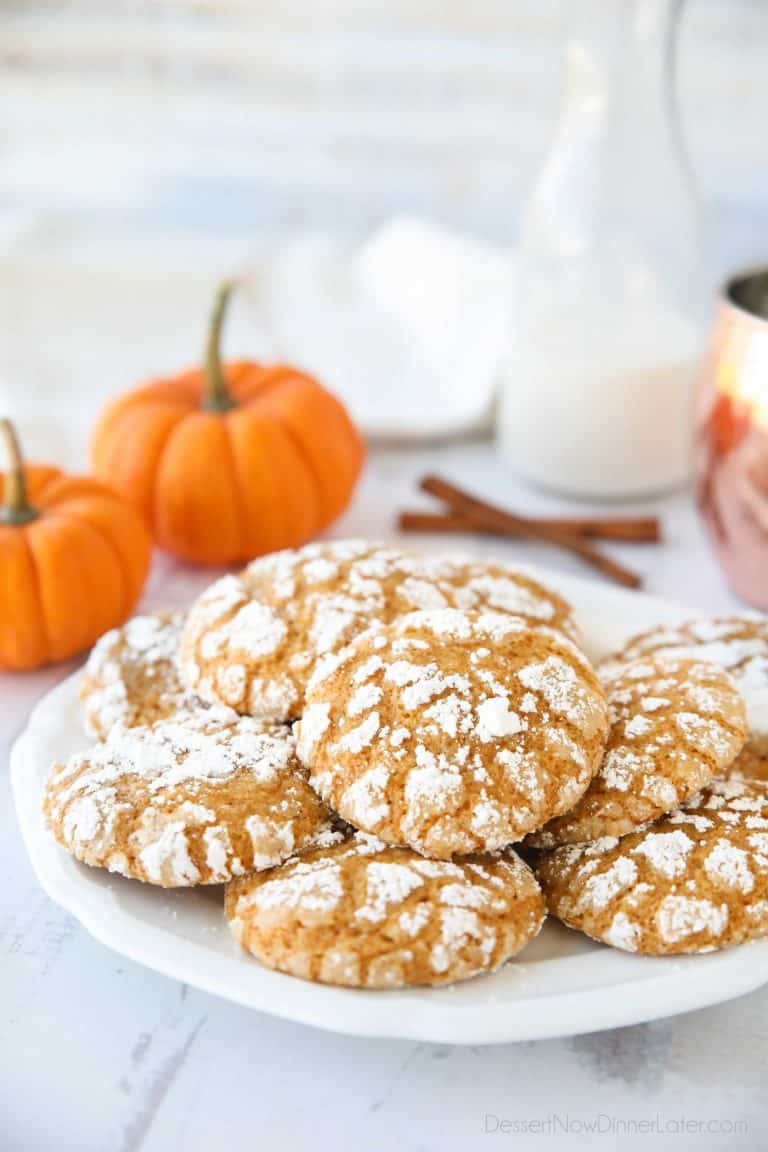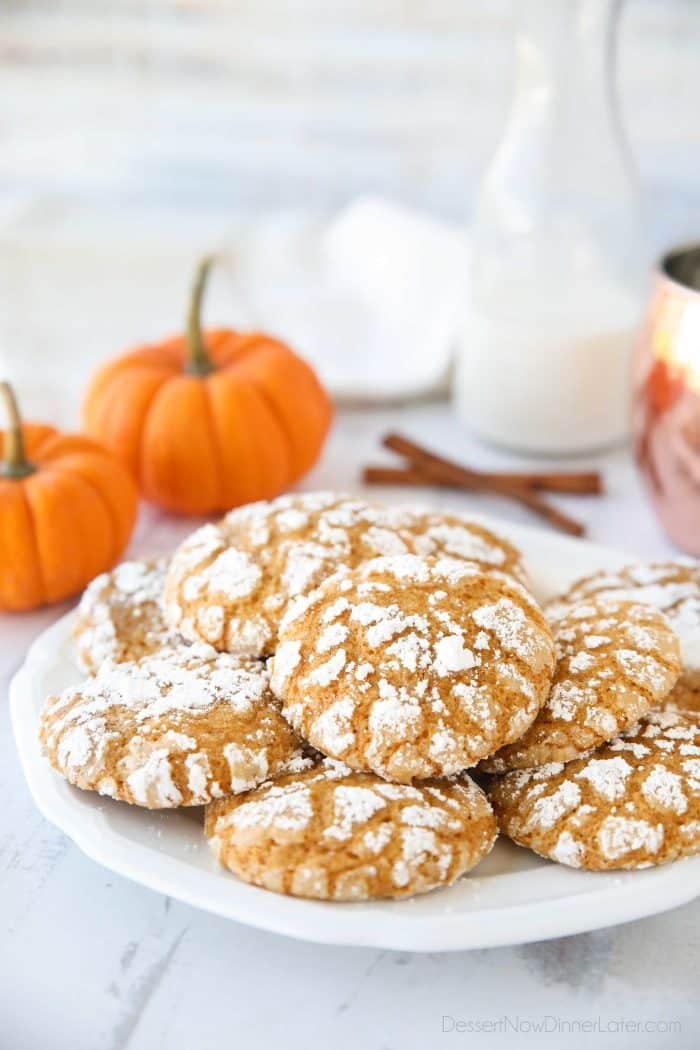 Pumpkin Crinkle Cookies
Pumpkin crinkle cookies are made from a soft and sticky pumpkin spice batter rolled in a layer of granulated sugar to hold its shape and give it a slightly crisp exterior. It's then rolled in a layer of powdered sugar to create a beautiful contrast in colors when the cookie cracks during baking.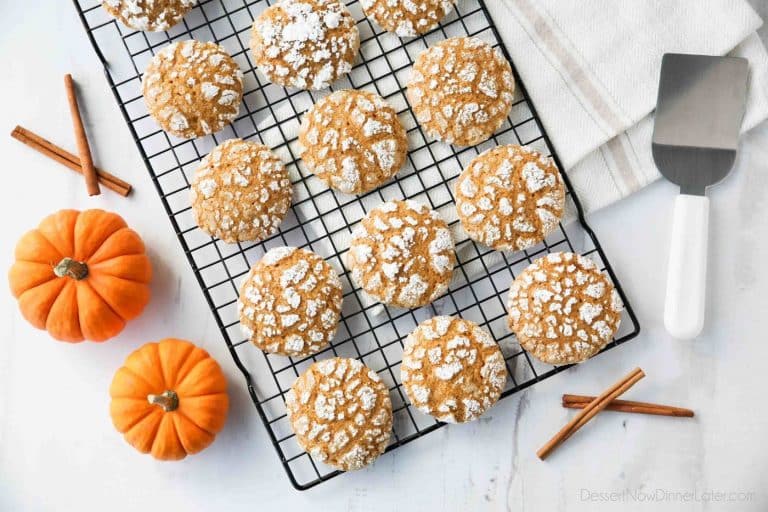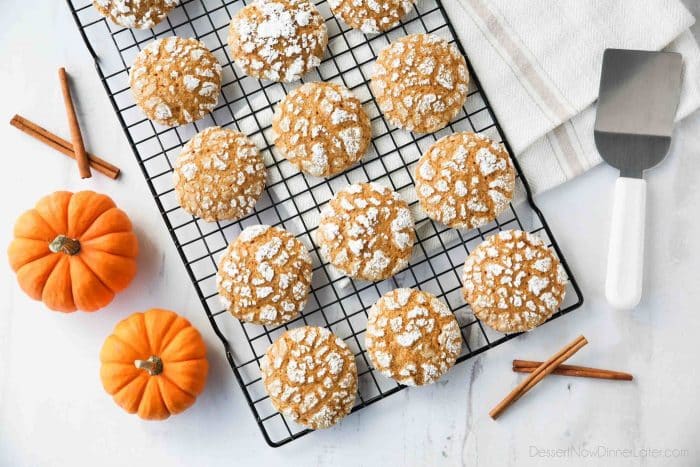 These cookies are soft and cake-like. Light and airy. Moist and flavorful. The powdered sugar on the outside creates an added measure of sweetness and a fun design. My kids especially went crazy for them! A beautiful fall cookie to try!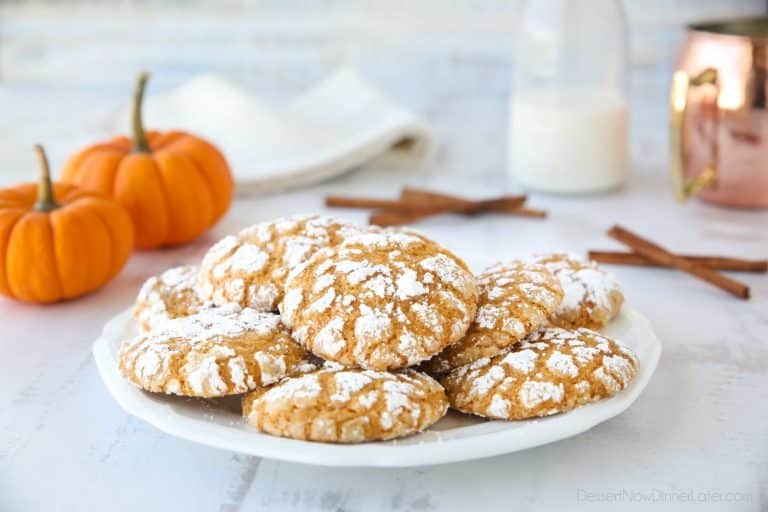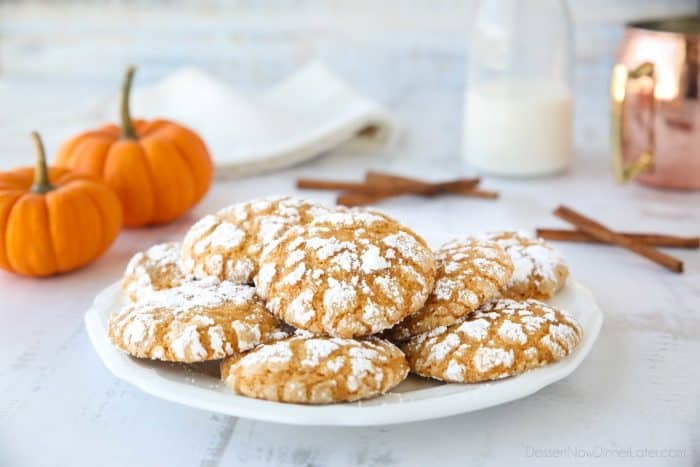 Tips for Success
FYI: This cookie dough is soft, thick, and wet. This is ok. The soft batter will spread and crackle nicely.
Use a small cookie scoop. I used a #50 scoop. (Note: The higher the number the smaller the scoop. A #60 would also work great. I would NOT use a #40 or #30 for these.) The small size keeps the cookies puffy instead of flat.
Coating in two different kinds of sugars. First you will coat the cookie dough in granulated sugar. Shake off any excess. This sugar helps with sticking and to hold the shape of the dough. (This cookie dough will not be completely round, and may spread/flatten some.) The granulated sugar also gives it a slightly crunchy exterior. Then you will coat the cookie dough in powdered sugar. Let this be coated on THICK. (Do NOT shake off excess.) You may even want to squeeze the cookie dough gently to pack the powdered sugar onto the cookie — because some powdered sugar will dissolve into the cookie itself.
Use a silicone baking mat. I can only see these cookies coming off of a silicone baking mat or parchment paper with success. They do try and stick because of all the sugar.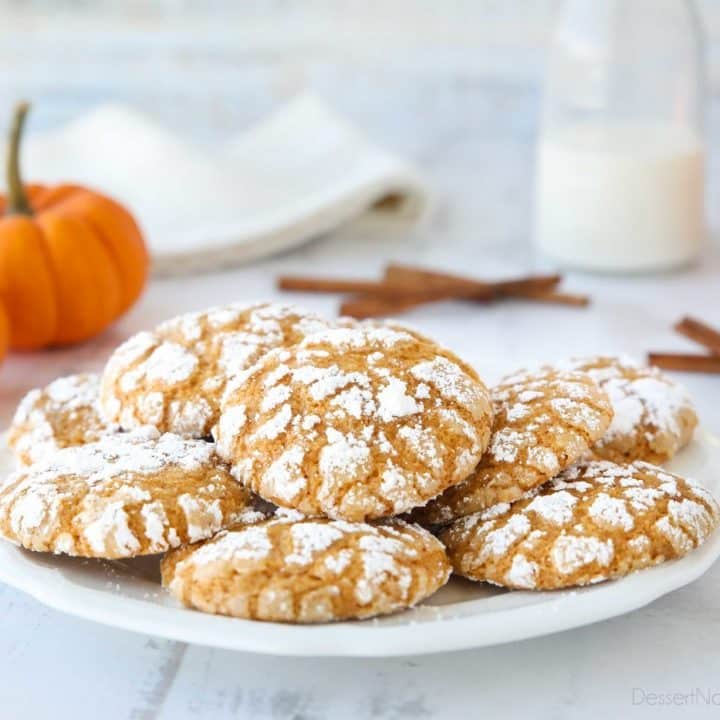 Pumpkin Crinkle Cookies
Prep Time: 20 minutes
Cook Time: 10 minutes
Total Time: 30 minutes
Yield: 40 cookies (approx.)
Pumpkin Crinkle Cookies are light, soft, and cake-like with warm, flavorful pumpkin spices.
Ingredients
For Cookies:
2 cups all-purpose flour (stir, spoon, & level)
1 Tbsp pumpkin pie spice
2 tsp baking powder
1 tsp baking soda
1/2 tsp salt
1/2 cup oil (canola/vegetable)
1/2 cup brown sugar, packed
1/2 cup granulated sugar
1 large egg
1 cup pumpkin puree (not pie filling)
1 tsp vanilla extract
For Rolling:
1/2 cup granulated sugar
1 cup powdered sugar
Instructions
Preheat oven to 350 degrees Fahrenheit. Line baking sheets with a silicone baking mat or parchment paper.
In a medium bowl, whisk together the flour, pumpkin pie spice, baking powder, baking soda, and salt. Set aside.
In a large bowl, whisk together the oil, brown sugar, granulated sugar, egg, pumpkin, and vanilla. Fold in dry ingredients until just combined. Dough will be thick, soft, wet and sticky.
Place sugars for rolling in two separate bowls. Use a #50 scoop (a heaping Tablespoon) and drop batter directly into the bowl of granulated sugar. Swirl bowl or use a spoon to coat the dough in sugar. Shake off excess. Roll dough in hands to smooth edges. Then coat the dough in powdered sugar. Do NOT shake off excess. Squeeze the powdered sugar gently around the dough and place it on the prepared baking sheet 2-inches apart. (Dough may spread/flatten some before baking. It is quite soft. This is ok.) Repeat process quickly to fit 12 cookies on the pan. Bake immediately. (Prepare cookies just before placing in oven. If the dough sits too long it will absorb the powdered sugar.)
Bake at 350˚F for 9-10 minutes, until puffy and cracked. The cookies should be soft and matte (not wet/shiny) where the cracks are. Do not over-bake. Cool slightly, then transfer to a wire rack to cool completely. Store in an airtight container at room temperature.
Notes
*Dough is soft and doesn't hold its shape like other cookie dough. Do your best to work with it gently.
*Powdered sugar will continue to absorb into the cookies the more days they are stored. They look the best the day they are baked.