Dutch Apple Pie
This post may contain affiliate links, meaning that I may receive a commission at no cost to you if you use a link provided. All opinions shared are my own. You can review my full disclosure policy here.
Dutch Apple Pie is made in a traditional pie crust, that's loaded with fresh cinnamon glazed apples, and topped with a sweet, buttery crumb streusel. It's like a combination of classic apple pie and apple crisp. A delicious holiday dessert.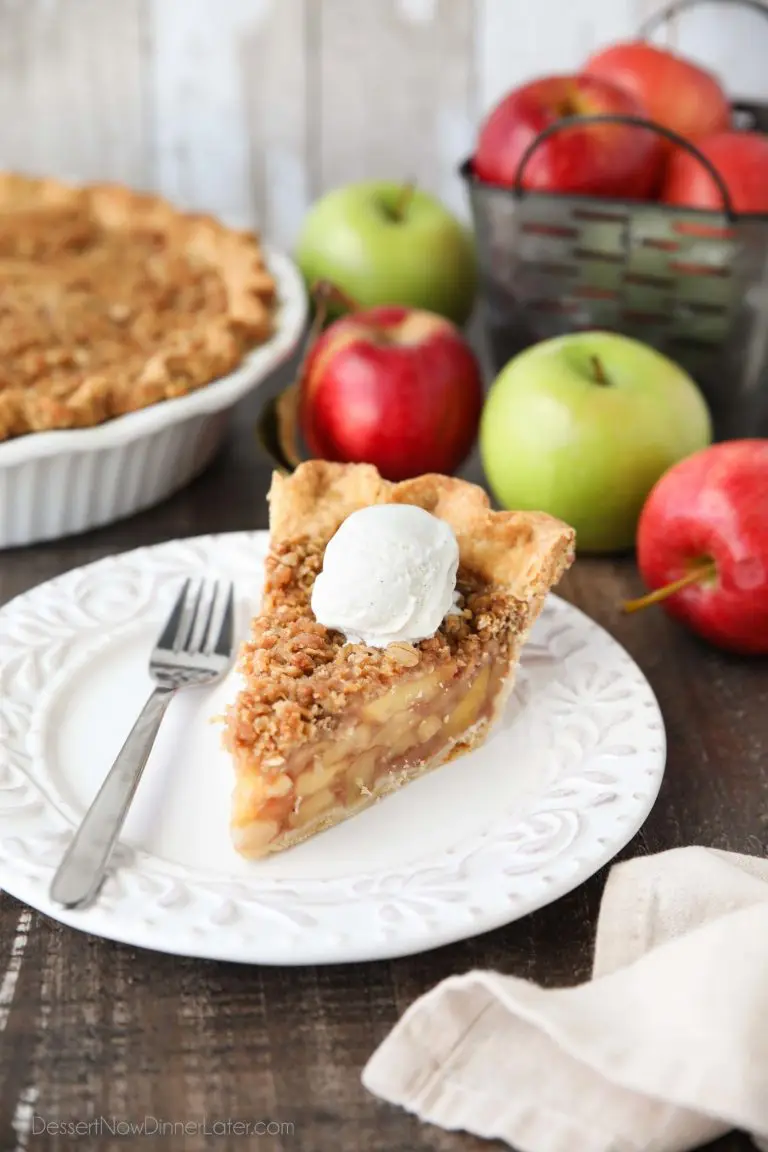 Classic Apple Pie has a special place in my heart because it's what got me interested in baking and ultimately led me to graduate in Culinary Arts. My mom would let me help make the holiday pies with her in my youth, and that's where my love for baking began.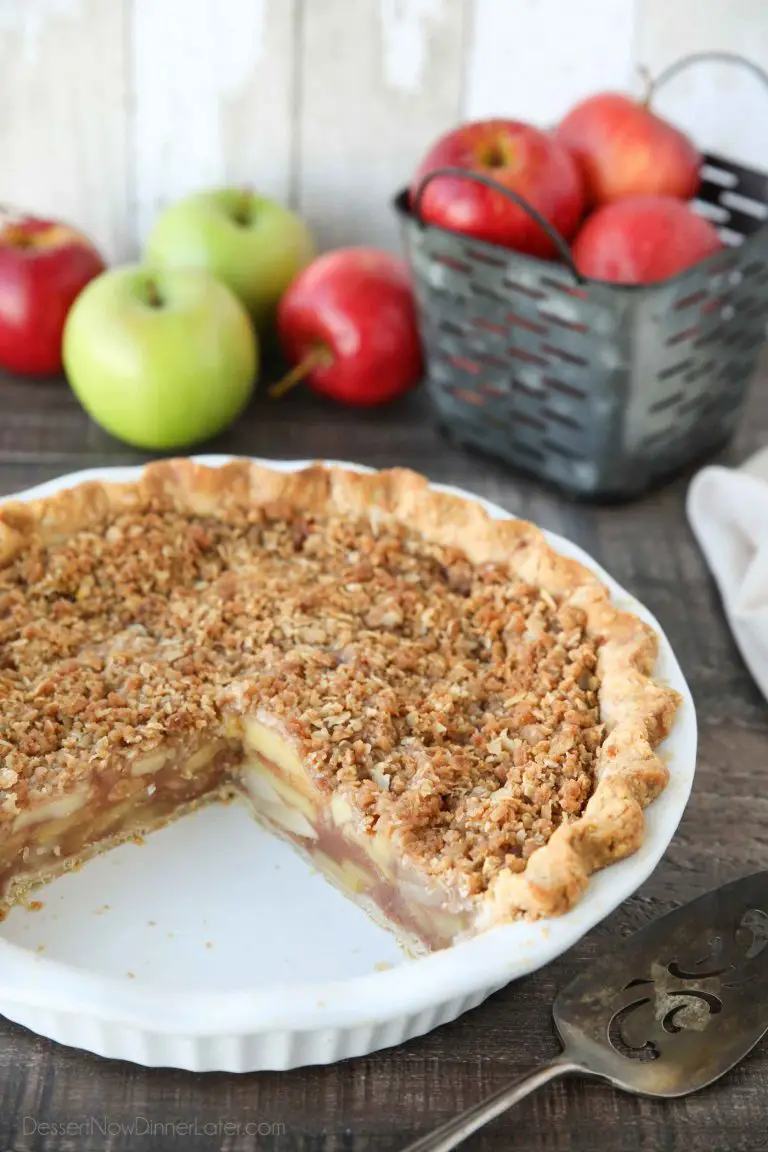 Although traditional apple pie with a top and bottom layer of pie crust is classic, and for good reason, sometimes it's nice to switch things up a bit. And streusel is a great topper for apple pie.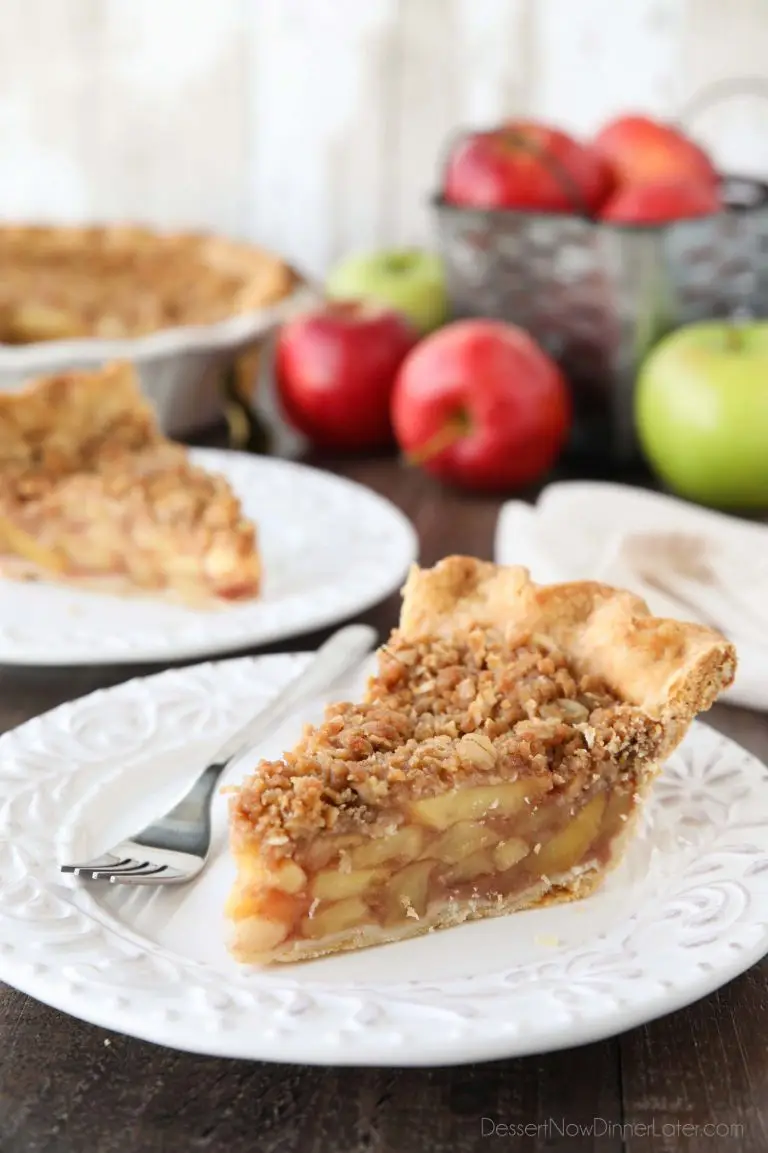 Dutch Apple Pie
I like to think of Dutch Apple Pie as a combination of classic apple pie and apple crisp. You're not sacrificing that flaky buttery crust altogether, but merely switching out the top crust with a crumb streusel on top of your apple pie filling.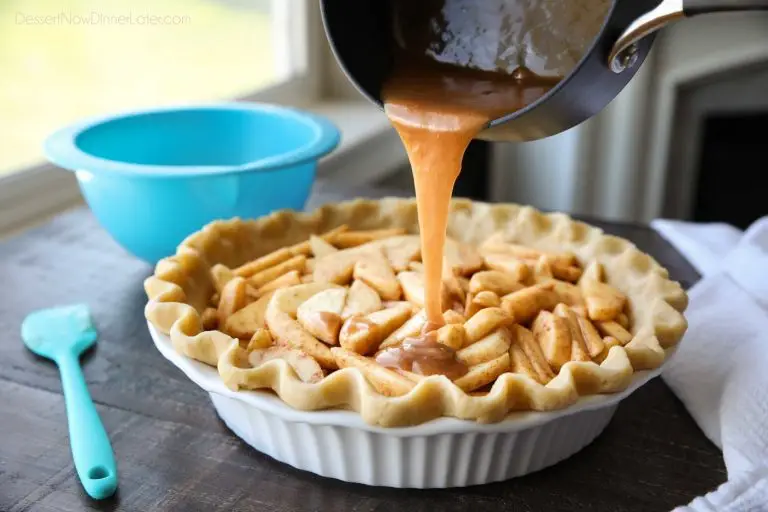 The filling recipe for this pie is actually one I got from my baking instructor in culinary school. You use fresh apples, and create a caramel sauce to pour over the apples, and then finish baking the pie in the oven. Pre-cooking the sauce helps it to not be wet and runny.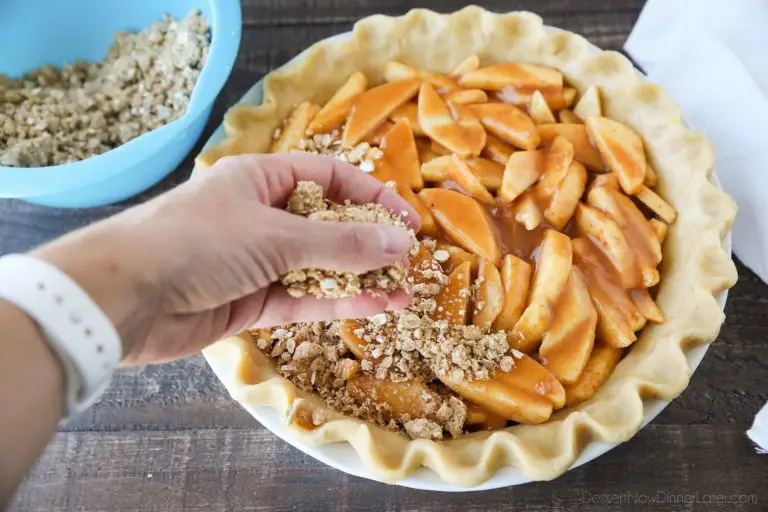 The Crumb Topping
The streusel for Dutch apple pie varies depending on the baker. It can be a simple blonde streusel made with granulated sugar, flour, and butter; or it can be made with brown sugar and cinnamon producing a darker color and richer flavor. The crumb topping may even include oats or nuts.
I prefer the hearty texture of oats, and the rich flavors of brown sugar and cinnamon, which is what I use in my streusel topping for this pie.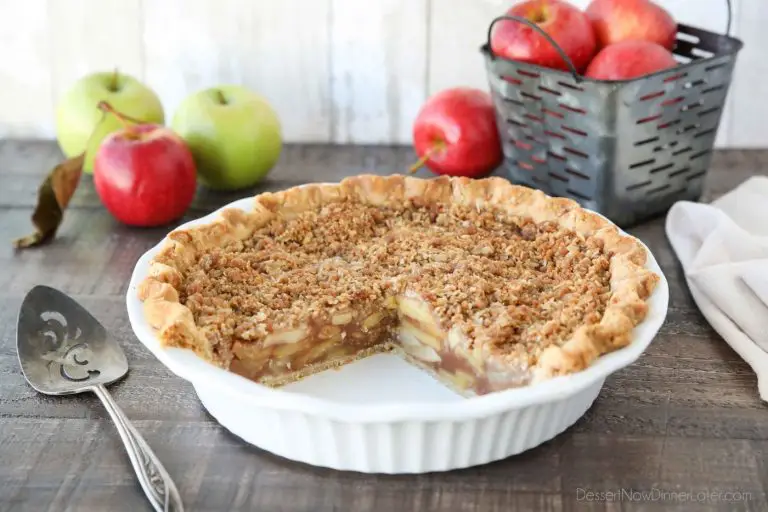 I've actually made a variation of this pie before on my blog. When I worked in a bakery we would put a layer of cream cheese on the bottom to make Dutch Apple Cream Pie. Which is also really delicious.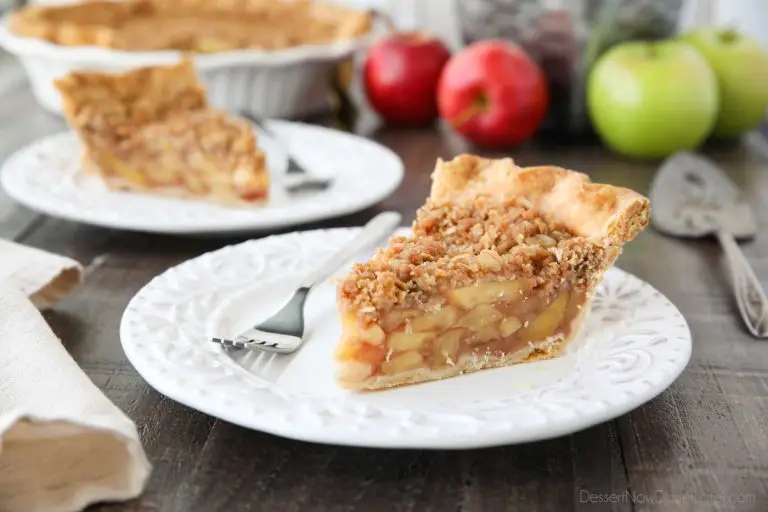 We love to eat this Dutch Apple Pie warm with a scoop of vanilla bean ice cream on top, but it's also delicious as-is. Definitely a family-favorite dessert, and a holiday must-have.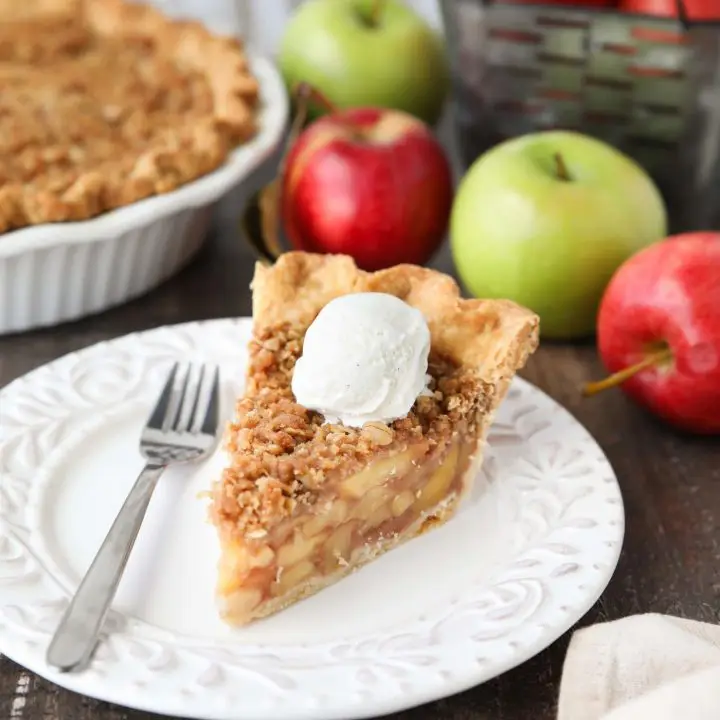 Dutch Apple Pie
Prep Time: 20 minutes
Cook Time: 1 hour
Additional Time: 30 minutes
Total Time: 1 hour 50 minutes
Yield: 8 servings
Dutch Apple Pie is made in a traditional pie crust, that's loaded with fresh cinnamon glazed apples, and topped with a sweet, buttery crumb streusel.
Ingredients
Pie Crust:
1 1/2 cups all-purpose flour (stir, spoon, & level)
1/2 tsp salt
1/2 cup butter flavored shortening
1/2 large egg*
1/2 Tbsp white vinegear
2 1/2 + Tbsp COLD (ice) water
Apple Filling:
8 cups apples, peeled, cored, and sliced thinly
1 Tbsp lemon juice
1/4 cup brown sugar, packed
1/4 cup granulated sugar
1/4 cup cornstarch
1 1/2 tsp ground cinnamon
1/4 tsp ground nutmeg
1/4 tsp salt
2 Tbsp butter
Streusel Topping:
1/4 cup all-purpose flour
1/2 cup brown sugar, packed
1/2 cup oats (old fashioned or quick)
1/2 tsp ground cinnamon
4 Tbsp butter, cold
Instructions
Pie Crust: Stir flour and salt together in a large bowl. Cut in the shortening with a pastry blender or fork until small crumbs form. *Whisk egg and add half of it to the dough. Add the vinegar and water. Stir until dough starts to come together, adding more ice cold water by the Tablespoon if needed. Empty dough onto clean surface and use hands to shape dough into a flat disc. Wrap in plastic wrap and place in the refrigerator.
Apple Filling: Combine sliced apples, lemon juice, both sugars, cornstarch, cinnamon, nutmeg and salt in a large bowl. Stir well. Let macerate (release juices) at room temperature for 30 minutes.
Streusel Topping: Combine all streusel ingredients in a bowl. Cut butter with a pastry blender or fork until crumbly. May use hands to incorporate butter better. Refrigerate until ready to use.
Remove pie crust from refrigerator. Sprinkle work surface with flour and roll pie crust from the center outwards, rotating pie crust and adding more flour as needed to keep from sticking to the counter. Roll dough into a large circle about 1/4-inch thin. Gently fold in half. Lift crust and place it in a DEEP 9-inch pie dish. Unfold crust and use hands to fit the crust to the shape of the pan. Cut off or tuck excess crust underneath and crimp the edges.
Preheat oven to 350 degrees Fahrenheit.
Pour apples into a strainer and capture the liquid, about 1/2 cup. In a saucepan, combine the liquid and 2 Tbsp butter. Stir constantly over medium heat until mixture thickens. Cool slightly. Add apples to the prepared pie crust, and pour sauce over the apples.
Sprinkle the top of the apples evenly with the prepared streusel. May pat flat with hand to solidify layer, if desired.
Bake at 350˚F for 60-75 minutes until crust is brown and filling bubbles in the center. Cover with foil if crust browns before filling bubbles in the center. *TIP: Place a baking sheet on the rack below the pie to catch any syrup that may bubble over if the pie shell is particularly full.
Notes
*May use a thawed store-bought pie crust in place of homemade.
**If you don't want half an egg left over, double the pie crust recipe, and freeze the other half.