Apple Crisp Recipe (aka Apple Crumble)
This post may contain affiliate links, meaning that I may receive a commission at no cost to you if you use a link provided. All opinions shared are my own. You can review my full disclosure policy here.
This is the best Apple Crisp recipe! It's full of fresh sliced apples, creates a fruity cinnamon-sugar sauce while it bakes (like apple pie filling), and is topped with a crunchy crumb topping. An easy, old fashioned fall dessert.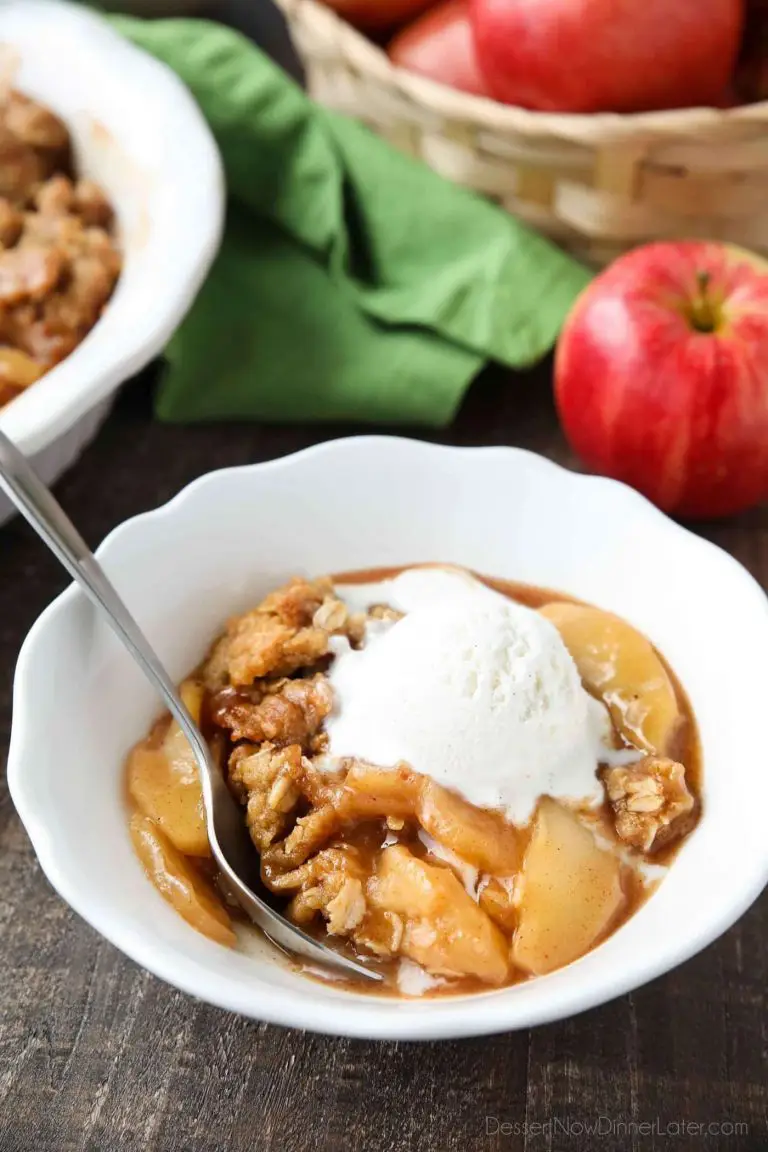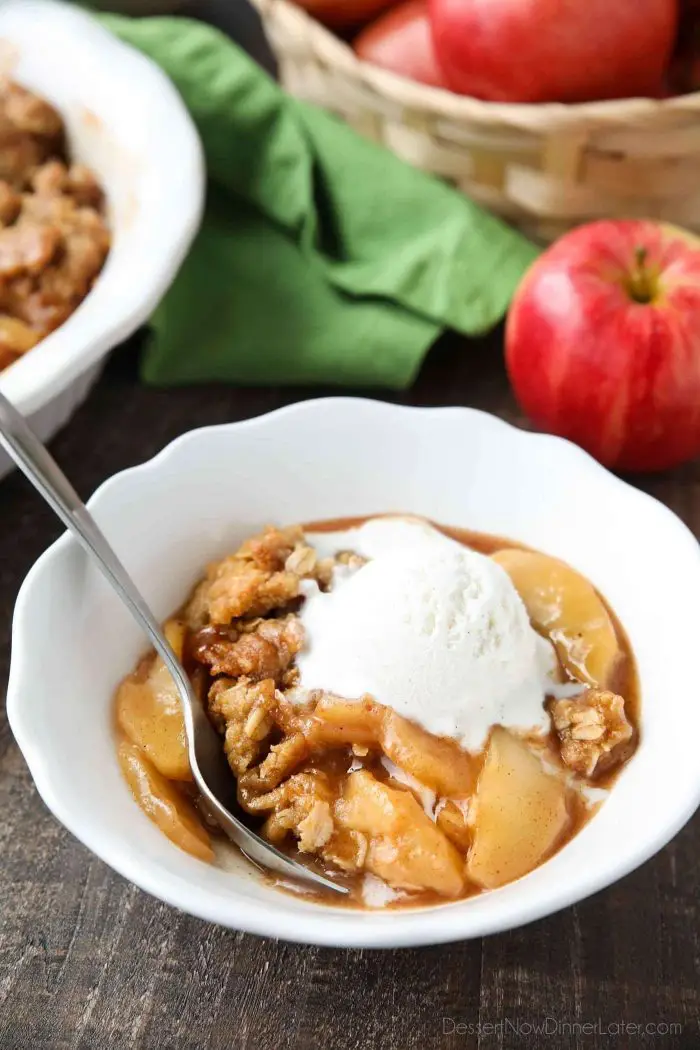 What is the difference between apple crisp and apple crumble?
According to Wikipedia, in the UK, Australia, and New Zealand the term 'crumble' refers to both desserts. And in the US and Canada the two are distinguished. There are very small differences.
Apple crisp is a baked dessert made using fresh sliced apples that are topped with a hearty streusel topping. Using brown sugar instead of white (granulated), with the addition of spices, oats, or nuts. Apple Crisp can also be made completely gluten-free.
An apple crumble is a dessert of baked chopped apples topped with a classic streusel crust. A crumble topping rarely includes oats or nuts, and is usually more of a traditional streusel-like combination of flour, sugar, and butter.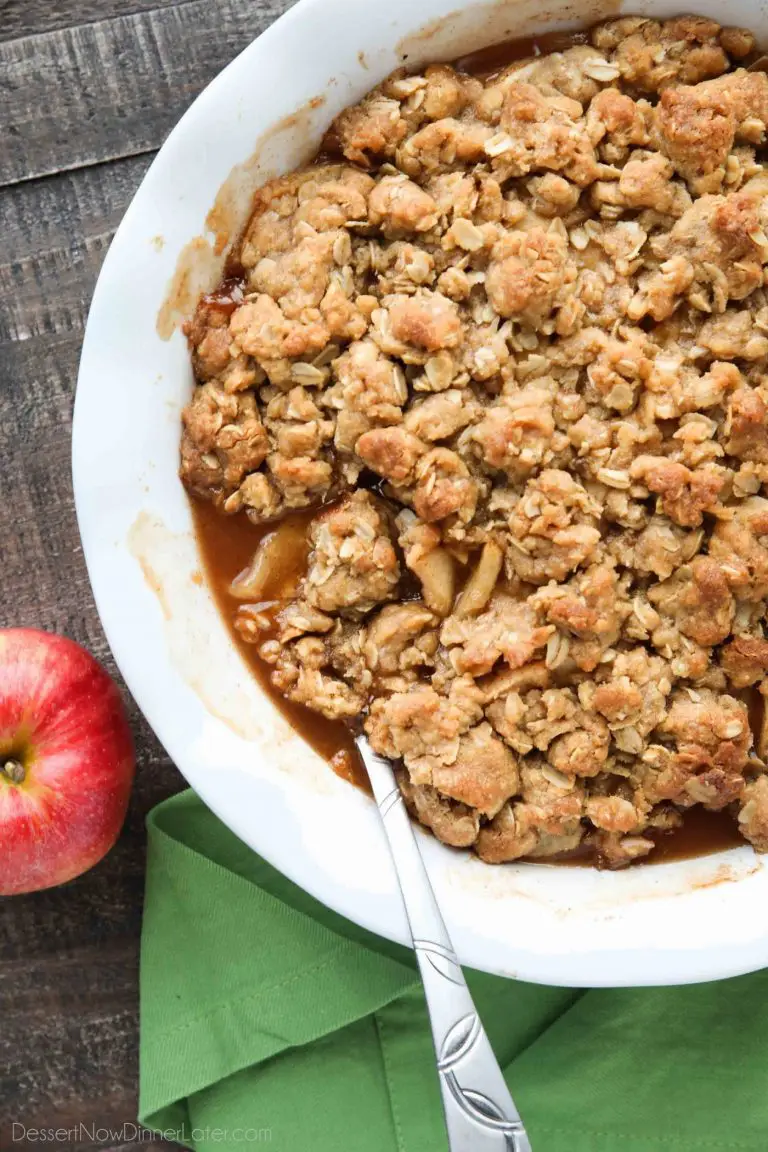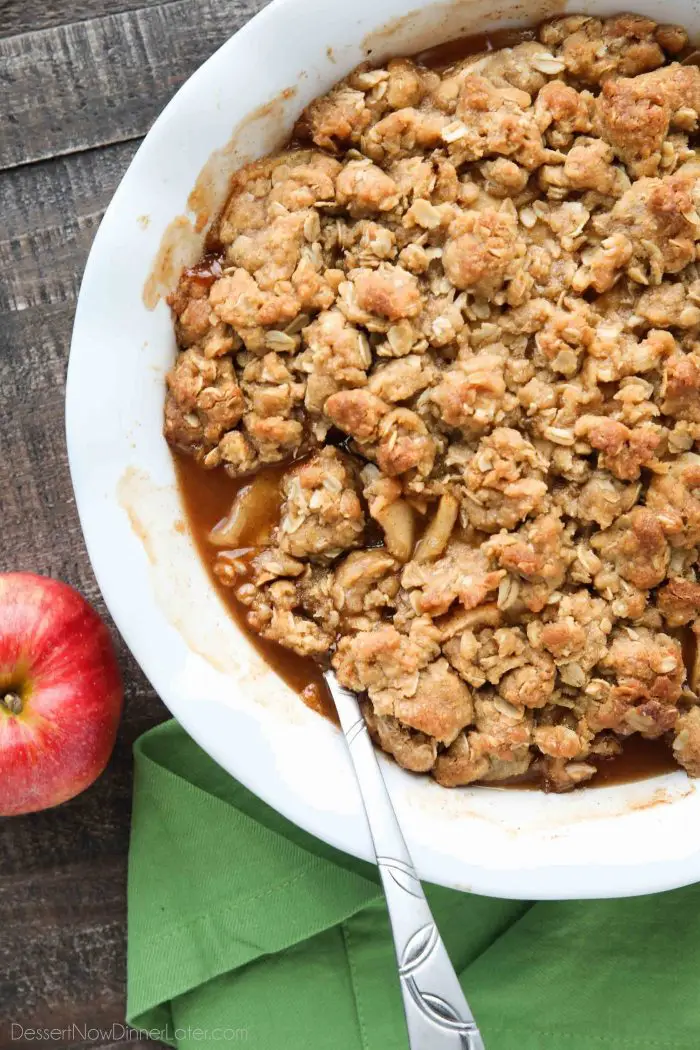 Which apples are best to use?
In all honesty, you can use almost any variety of apple for this crisp. Depending on how tart or sweet the apple is will determine the amount of additional sugar desired. How crisp the apple is will also alter the baking time.
In general, you want a tart, crisp apple like Granny Smith or Honeycrisp. Fuji, Gala, or Pink Lady apples are some of my go-to's based on taste and texture.
I'd avoid Red Delicious apples like the plague. They are quite soft and have a very mild, almost flavorless taste. Not-so-delicious after all.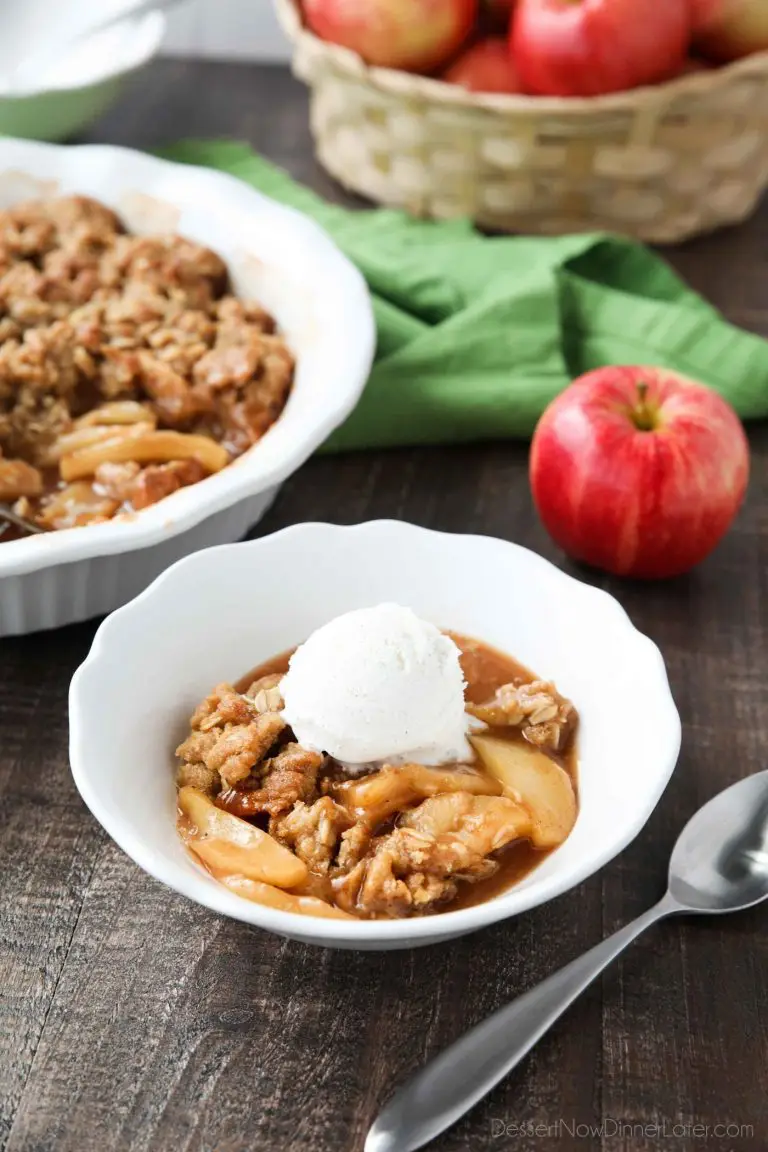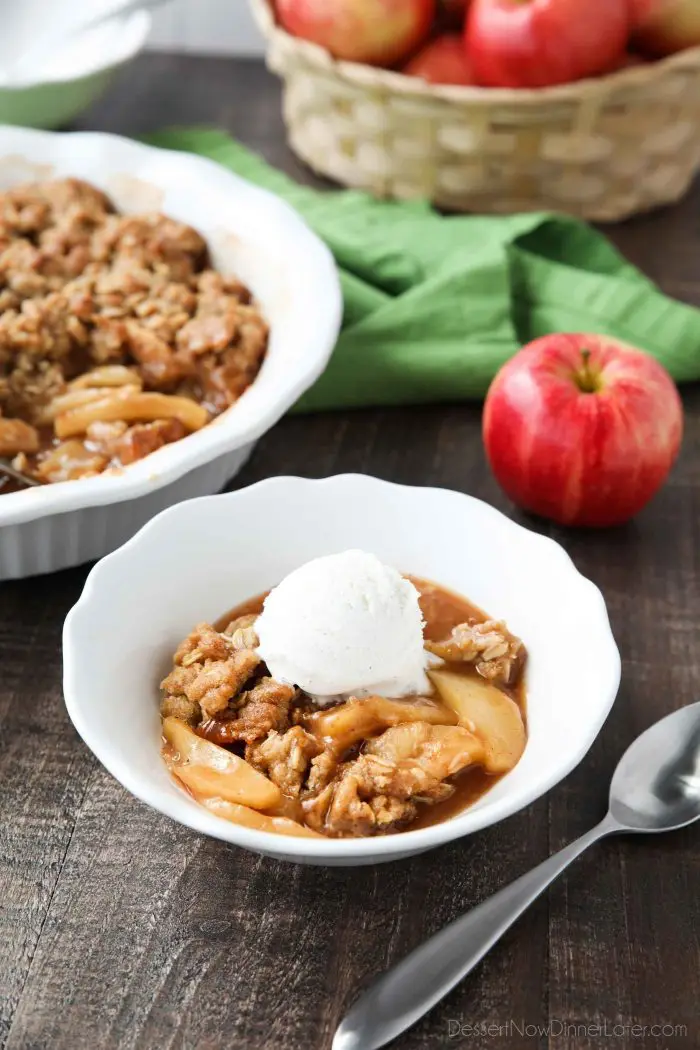 Tips and Storage
Apple crisp can be made with thinly sliced apples, or diced chunks of apples. You can even leave the skin on if you want. Just keep in mind the thicker and crisper the apple, the longer the bake time.
TIP: Cover the crisp with foil if it starts to brown faster than the apples cook.
Apple crisp can be made and stored at room temperature for several days or in the refrigerator up to one week. Think of it like apple pie, without the crust.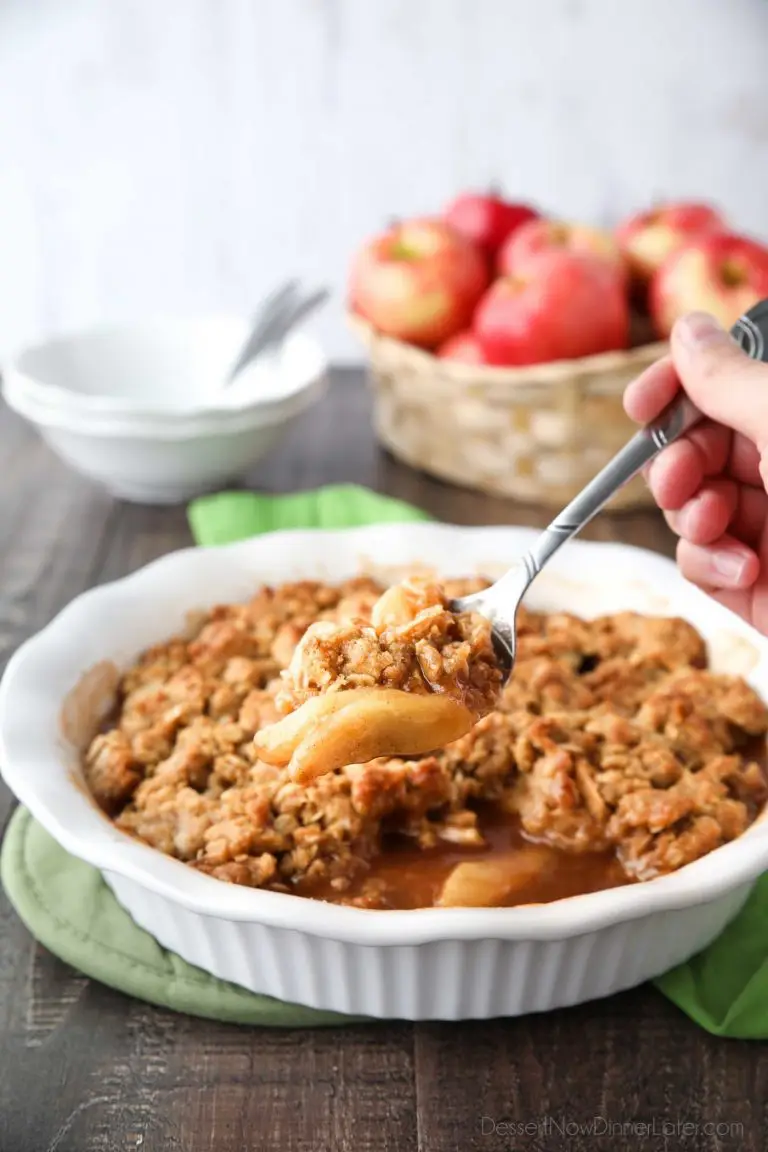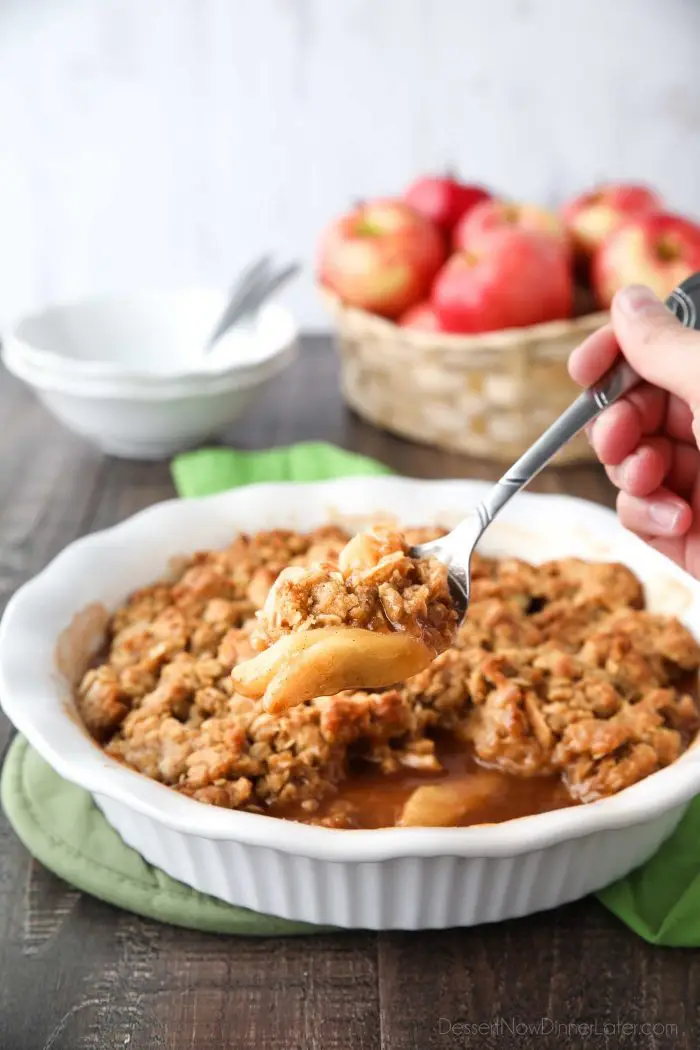 Why is this the best apple crisp?
If you like a saucy apple pie filling, you will LOVE this apple crisp. It's moist and fruity, with a thick crunchy topping.
Speaking of topping, this recipe uses my favorite ratio of butter to flour, oats, and brown sugar for the crisp. I've used it in this Strawberry Crisp as well. You can sprinkle it on top in small crumbs, or squeeze it a little bit for thick, cookie-like chunks (which is how I like it).
Apples are a great pairing for many fruit crisps. Our favorites combinations are apples and strawberries (half of each) or apples and cranberries.
Living alone or in college? Try my Apple Crisp for One. You can make it in the microwave or oven.
Want to freeze this apple crisp? I suggest freezing this Homemade Apple Pie Filling and making the topping just before baking.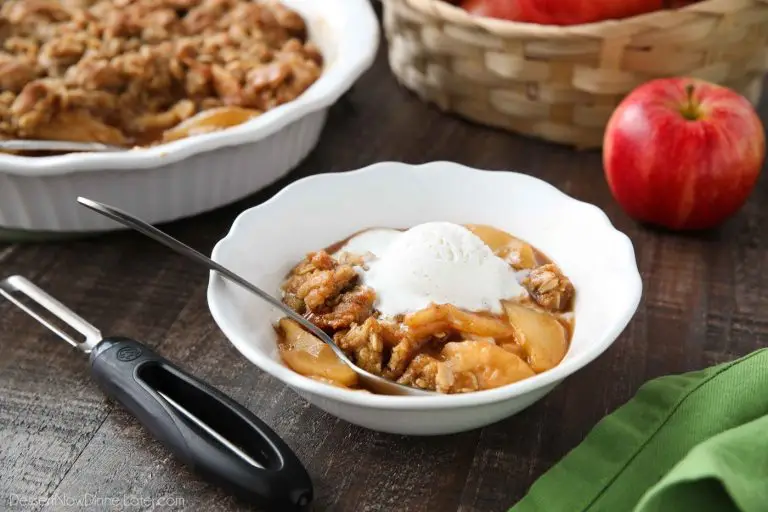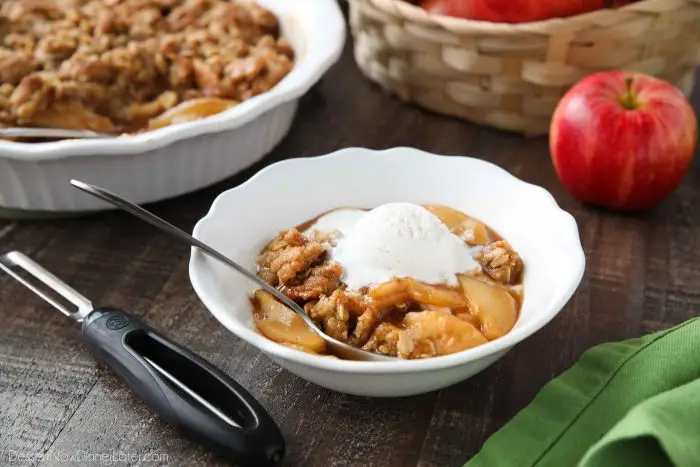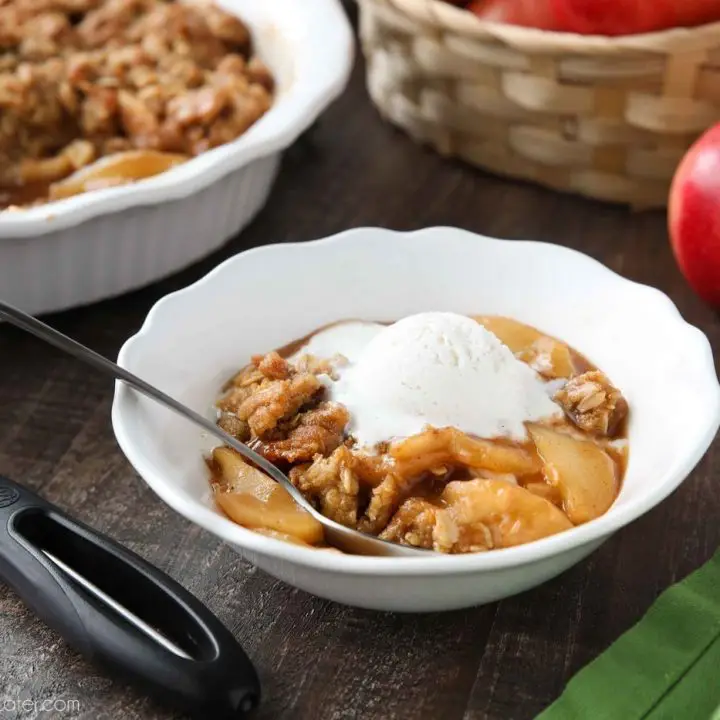 Apple Crisp
Prep Time: 10 minutes
Cook Time: 35 minutes
Total Time: 45 minutes
Yield: 8 servings
This is the best Apple Crisp recipe! It's full of fresh sliced apples, creates a fruity cinnamon-sugar sauce while it bakes (like apple pie filling), and is topped with a crunchy crumb topping.
Ingredients
Apples:
6 cups apples (Fuji, Gala, or other), peeled, cored, and thinly sliced
1/2 cup brown sugar, packed
1 1/2 Tbsp cornstarch
1 tsp cinnamon
1/4 tsp nutmeg
1 Tbsp lemon juice
2 Tbsp cold water
Crisp Topping:
2/3 cup old fashioned oats
2/3 cup all-purpose flour
1/2 cup brown sugar, packed
1/2 tsp salt
1/2 tsp ground cinnamon
1/2 cup (1 stick) unsalted butter, cold
Instructions
Preheat oven to 350 degrees Fahrenheit. Grease a 9x9-inch square baking dish or deep 9-inch pie dish with cooking spray.
APPLES: Peel, core, and thinly slice apples. Place in a large bowl. Toss with brown sugar, cornstarch, cinnamon, nutmeg, lemon juice, and water. Set aside to macerate (release juices).
CRISP TOPPING: In a separate bowl, combine the oats, flour, brown sugar, salt, and cinnamon. Stir together. Cut in the butter with a fork or pastry blender. Use hands to help the crumble mix together. (I like to clump it into chunks.)
Pour apples and any juices into the prepared baking dish. Sprinkle/clump topping over apples.
Bake at 350˚F for 35-45 minutes until the apples are tender, the crisp has browned, and the filling bubbles in the center. NOTE: Cover the pan with foil if the crisp browns faster than the filling bubbles in the center (not just bubbling around the edges). Check around the 25-30 minute mark.
Allow apple crisp to cool slightly before serving. Sauce will continue to thicken as it cools. Serve with a scoop of vanilla ice cream, if desired. Store leftovers covered at room temperature for a few days or up to a week in the refrigerator.
Notes
*Bake time will depend on the type of apple used (how crisp or soft it is) and how thick or thin you sliced it. Time will also depend on how thick or thin the apples are spread in the size of pan used. Start checking doneness around 30 minutes.
Nutrition Information:
Yield: 8
Serving Size: 1
Amount Per Serving:
Calories: 210
Total Fat: 1g
Saturated Fat: 1g
Trans Fat: 0g
Unsaturated Fat: 1g
Cholesterol: 2mg
Sodium: 160mg
Carbohydrates: 49g
Fiber: 3g
Sugar: 31g
Protein: 2g
This data was provided and calculated by Nutritionix, and is an estimation only.