Samoa Apple Salad
This post may contain affiliate links, meaning that I may receive a commission at no cost to you if you use a link provided. All opinions shared are my own. You can review my full disclosure policy here.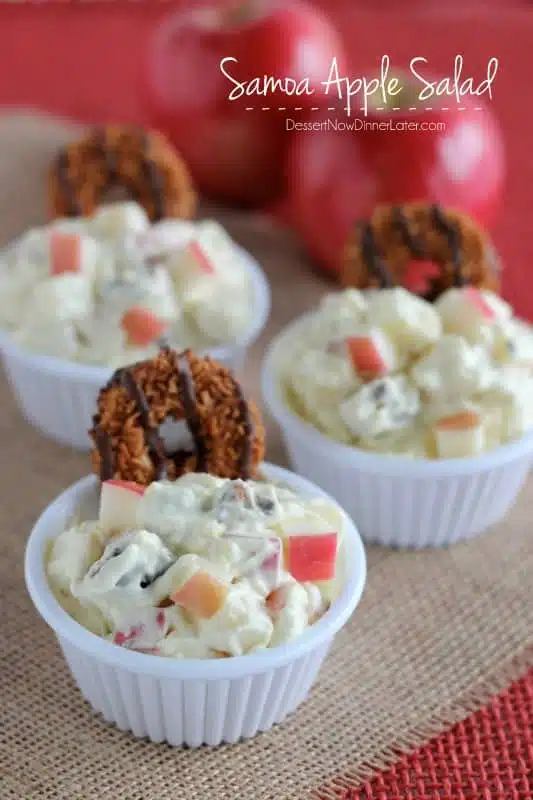 Girl scout season is right around the corner. Actually, you probably already had a cute little girl knock on your door and sell you one too many boxes of delicious cookies, right? Okay, so mine should be coming this weekend or early next week. Now, I know most people are stingy with their cookies, which is fine, I probably wouldn't use my precious girl scout cookies in a recipe either except did you know that Keebler makes a copycat Samoa cookie called Coconut Dreams? Yep! And they are perfect for this recipe!
This Samoa Apple Salad is seriously epic! If you are a coconut fan, you will love this combo. It's almost like a Snicker's Apple Salad, but with coconut pudding, cool whip and crunchy Samoas/Coconut Dreams. I am pretty sure this recipe will be frequented this summer for potlucks, bbq's and family reunions. One thing I would add to this recipe would be caramel! Oh my gosh, I didn't think of it until after I snapped my photos. Well, actually my husband thought of adding caramel, and it adds just the right touch! So, I will put that in the recipe for you all as an option, but even without it, this is a delightful dish!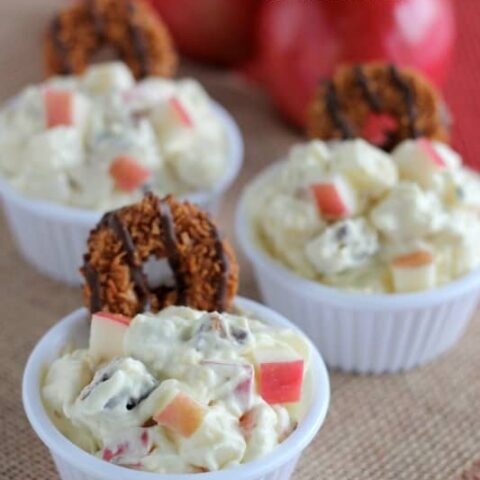 Samoa Apple Salad
Ingredients
1 (3.4oz) box coconut pudding (or vanilla if you prefer that instead, but I highly recommend the coconut)
1 1/4 cup COLD 2% milk
1/2 tub light cool whip (about 1 1/2 cups if using fresh sweetened whipped cream)
3 to 4 medium apples, diced (I love Pink Lady apples! Use 3 apples if you want slightly more pudding than filling.)
1 package (18 cookies) Keebler Coconut Dreams or Girl Scout Samoas
Instructions
Whisk pudding mix and COLD milk in a large bowl. Allow to rest for 5 minutes until firm. Fold in cool whip.
Dice apples and fold them into the pudding mixture.
Cut cookies into eighths or small chunks and add them to the apple salad. Fold until incorporated. Serve immediately for crunchy cookie chunks or refrigerate for later if you want soft cookie bits.
*OPTIONAL: Drizzle the top of the salad with caramel right before serving for added deliciousness!
Nutrition Information:
Yield: 8
Amount Per Serving:
Unsaturated Fat: 0g