Triple Berry Frozen Yogurt
This post may contain affiliate links, meaning that I may receive a commission at no cost to you if you use a link provided. All opinions shared are my own. You can review my full disclosure policy here.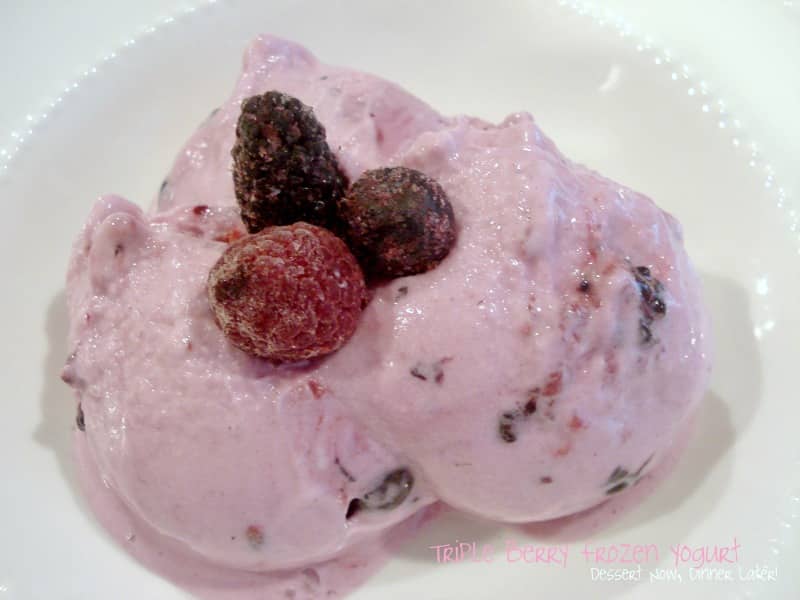 I have been tinkering with making a healthier version of ice cream that is still creamy, but doesn't use heavy cream. Basically the things I have tried are all delicious fresh from the ice cream maker, but don't freeze well. I guess that is something you forfeit when you go "healthy."
This is my favorite creation thus far, with my experiments & is only 150 calories when split into thirds. It's definitely creamy just like soft serve ice cream. This recipe makes 3-4 generous servings, so for a small family it's perfect to have a fresh, creamy, frozen dessert.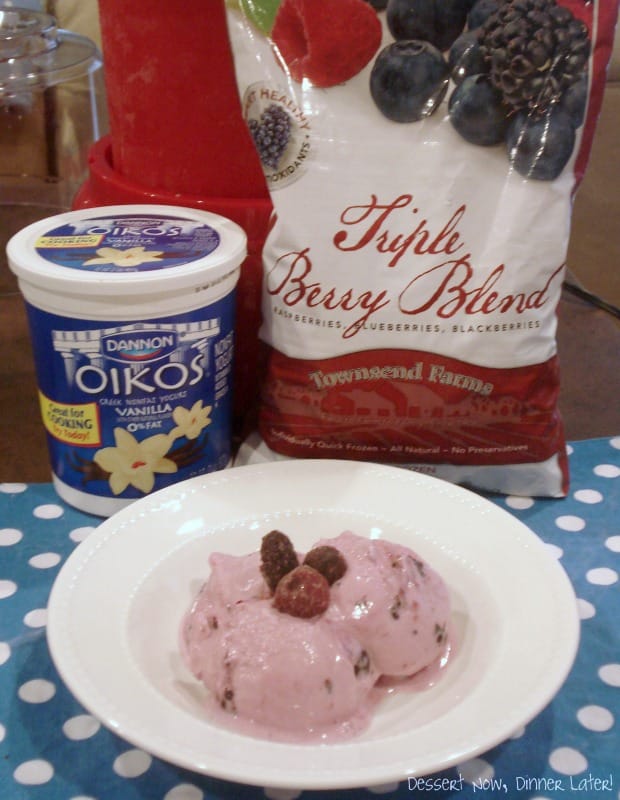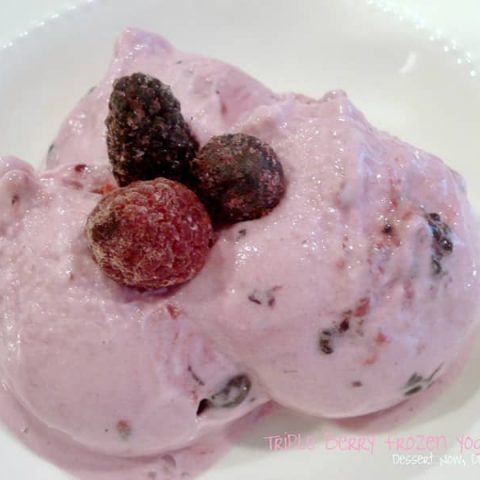 Triple Berry Frozen Yogurt
Ingredients
1 cup Dannon Oikos Vanilla Greek Yogurt
1 cup skim milk
1 cup frozen berry blend (blueberries, raspberries, blackberries)
2 Tbsp sugar
Instructions
Freeze the bowl to your ice cream maker ahead of time. (I keep mine in the freezer for whenever I want a frozen treat.)
In a bowl, stir greek yogurt, milk & sugar together.
Start your ice cream maker, & pour in yogurt mixture.
In a separate bowl, microwave frozen berries 30 seconds at a time until they are thawed enough to either puree or break up in the ice cream maker. (I did 30 seconds twice.) Then either puree the berries & add them to yogurt, or add them whole (they will still be pretty chunky, so if you don't like fruit chunks, puree them with a little milk or plain in a food processor/blender.)
Let mixture work in the ice cream maker for 10-15 minutes or until it balls up & is frozen. Scoop & serve immediately. Does not freeze well. (If you do freeze leftovers you'll want to gradually soften the mixture in the microwave 15 seconds at a time until you can mash up the mixture with your spoon.)