No Churn Oreo Fudge Ice Cream
This post may contain affiliate links, meaning that I may receive a commission at no cost to you if you use a link provided. All opinions shared are my own. You can review my full disclosure policy here.
This No Churn Oreo Fudge Ice Cream starts with a 2 ingredient ice cream base; add Oreos and fudge for a decadent, easy, no machine ice cream!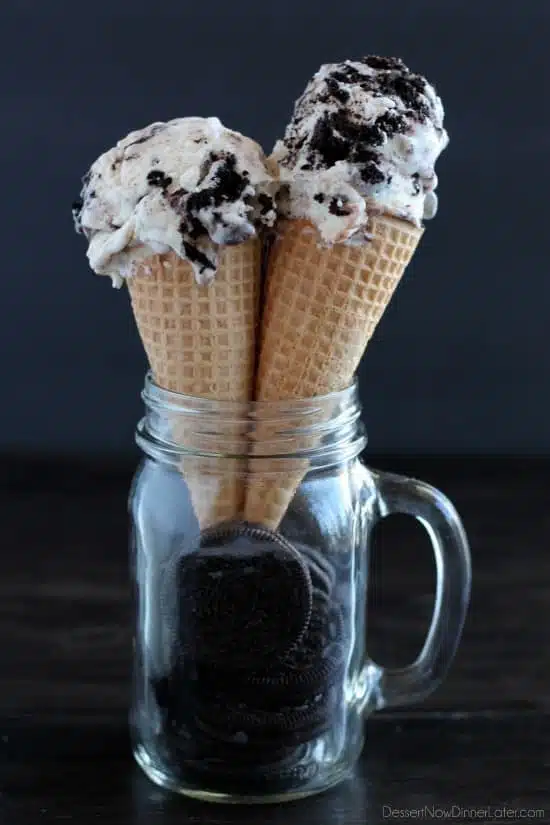 This is the 3rd no churn ice cream I have on my blog, next to Cake Batter and Chocolate Peanut Butter Cup, but it's my absolute favorite! I think I ate most of this flavor all by myself, sorry kids! (Hehe!)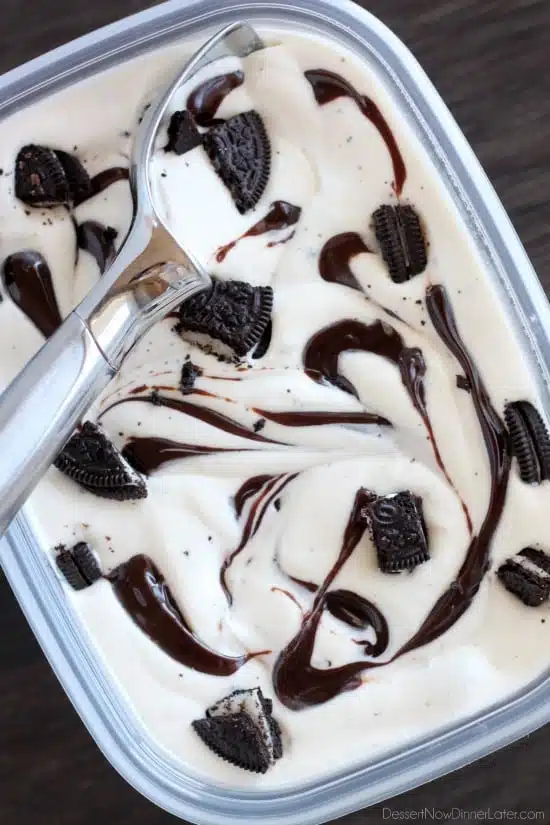 NOTHING compares to my love of cookies and cream ice cream, and this No Churn Oreo Fudge Ice Cream, hit the spot BIG TIME! My favorite part are the soft, BIG chunks of Oreo cookies! Homemade ice cream is the best because you can put as much of the toppings in as you want. No skimping like a grocery store carton of ice cream!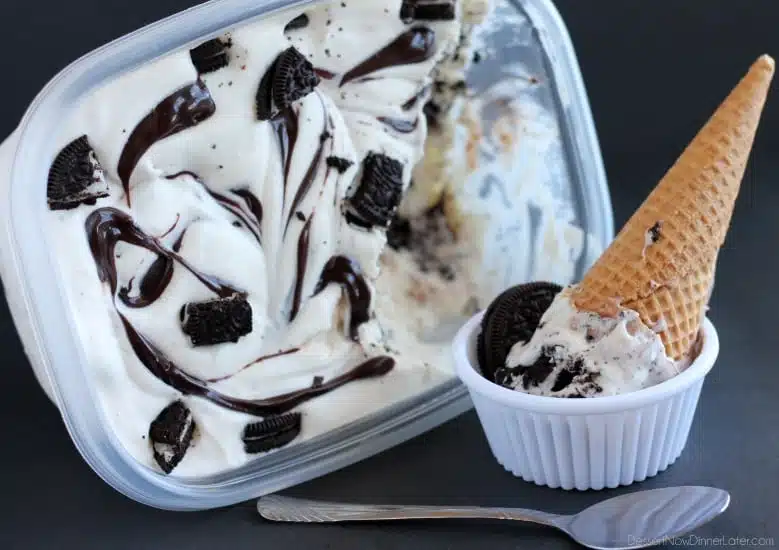 If you make any ice cream from my blog, and you are an Oreo lover, (because let's face it, who's not?) then you HAVE to make this! Oh, and the fudge doesn't freeze completely either, so it's smooth and chocolatey! Delicious! Enjoy my friends!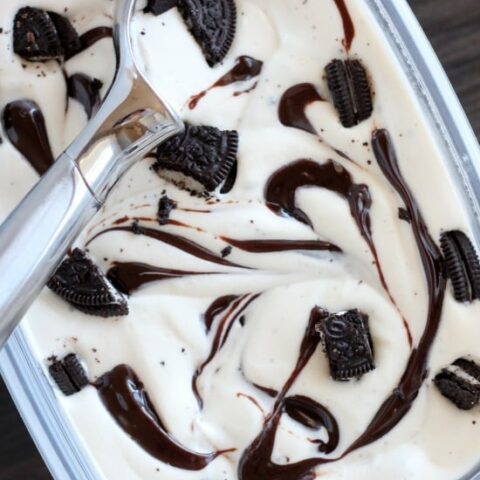 No Churn Oreo Fudge Ice Cream
Ingredients
2 cups (1 pint) heavy cream
1 (14oz) can sweetened condensed milk (I used fat free)
14 Oreos, crushed or cut into fourths or sixths depending on the size of chunks you want
1/2 (11.75oz) jar Smucker's Hot Fudge, warmed for 30 to 45 seconds in the microwave; allow to cool slightly (approximately 9 Tbsp hot fudge)
Instructions
In the bowl of a stand mixer with the whisk attachment, whip the heavy cream until stiff peaks, about 3½ minutes on high speed.
Fold in the sweetened condensed milk until well blended.
Gently fold in most of the Oreo pieces, saving a few for the top, for looks.
Using a 2 quart container, pour ⅓ of the ice cream mixture. Drizzle with the hot fudge. Pour another ⅓ of the ice cream mixture; drizzle with hot fudge. Pour the last ⅓ of the ice cream mixture. Drizzle with hot fudge, and swirl with a knife. Top with remaining Oreo pieces.
Freeze 6 hours or until firm; freezing overnight is good. Store in the freezer.
Nutrition Information:
Yield: 16
Amount Per Serving:
Unsaturated Fat: 0g