Double Chocolate Chip Pizookies
This post may contain affiliate links, meaning that I may receive a commission at no cost to you if you use a link provided. All opinions shared are my own. You can review my full disclosure policy here.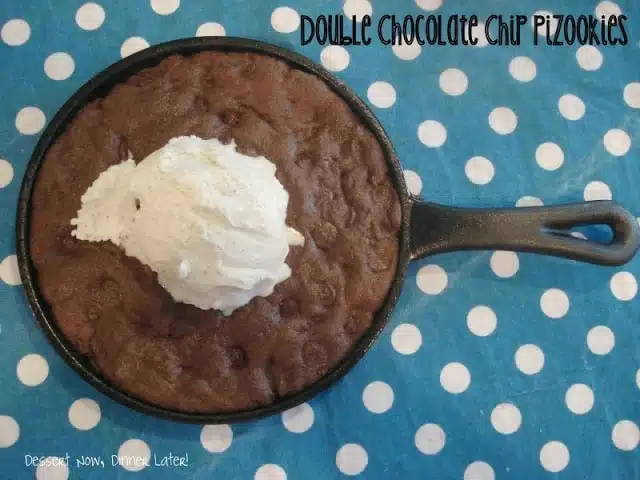 Sometimes, I like to keep cookie dough in the refrigerator & make one of these for a warm dessert ready in 5 or so minutes. It is one of those sweets that really hit the spot when I am having a rough day or just need my chocolate fix in a bad way.
Really, you can use any cookie recipe & any ice cream combination, but I am a chocoholic, so the more the better. Probably could have even had chocolate ice cream on top too!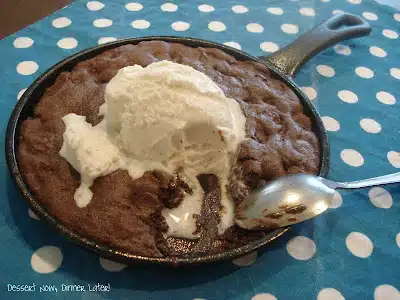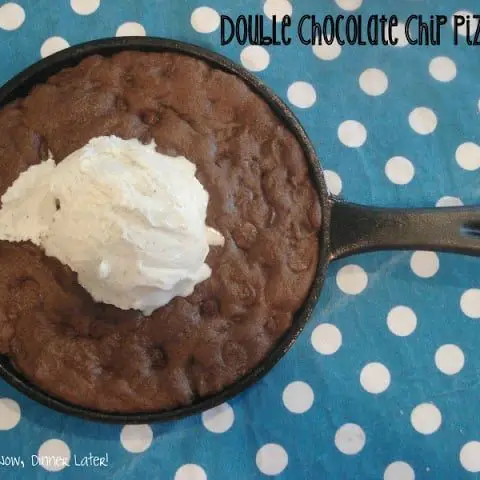 Double Chocolate Chip Pizookies
Ingredients
1/2 cup butter
1/3 cup sugar
1/3 cup brown sugar
1/2 tsp vanilla
1 egg
1 cup all-purpose flour
1/4 cup plus 2 Tbsp baking cocoa
1/2 tsp baking soda
1/4 tsp salt
3/4 cup chocolate chips
Instructions
Cream butter with sugars. Add vanilla & egg. Combine well. Scrape bowl.
Sift dry ingredients together: flour, cocoa, baking soda, salt. Gradually add to wet mixture.
Add chocolate chips at the end until just incorporated.
Lightly spray a small cast iron skillet or Skookie pan with cooking spray & pat down a layer of cookie dough. Just enough to cover the bottom. If you over-fill the pan it will spill over the sides.
Bake at 350*F for 5-7 minutes. You want it cooked just enough so that it is warm & gooey, not hard & crispy. Top with ice cream & chocolate/caramel sauce if desired.
Store extra cookie dough in a closed container in the fridge up to 1 week.
*You may also bake these on a cookie sheet for the same amount of time. Sometimes I will make everyone their own small one & put them fresh from the oven in a bowl with ice cream...it's more kid friendly so they don't burn themselves on the hot pan.