Spicy Peach Salsa
This post may contain affiliate links, meaning that I may receive a commission at no cost to you if you use a link provided. All opinions shared are my own. You can review my full disclosure policy here.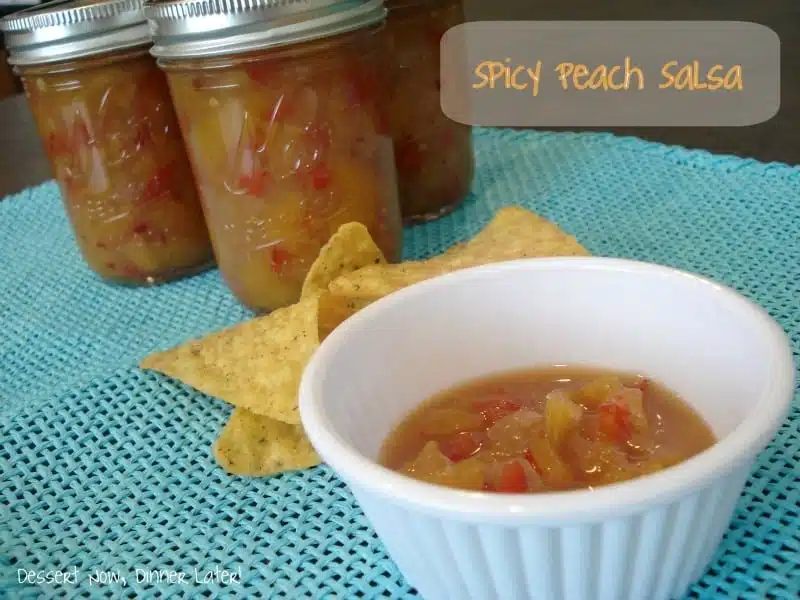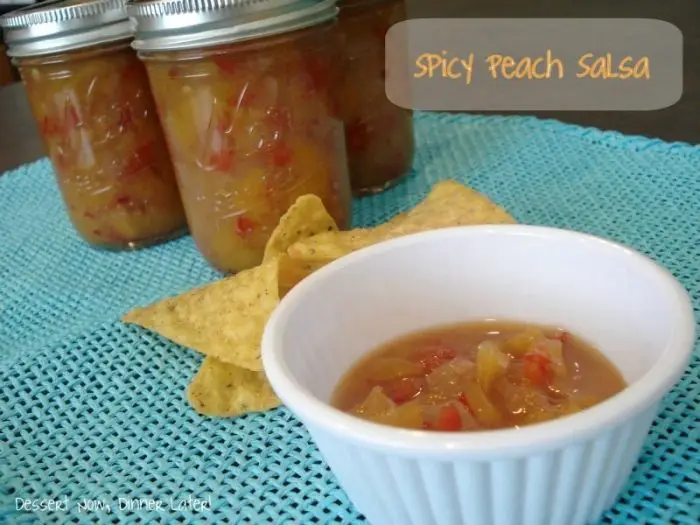 I am pretty comfortable in the kitchen, but when it comes to canning, I get nervous. Growing up, my mom always canned. She did jellies, vegetables, & relishes. I watched her slave in the kitchen all day & I don't think I helped her very much, at least I don't remember helping. I never thought I would be interested in canning things because it just looked like so much work. I guess I changed my mind & now I am kicking myself for not helping my mom out when I was a kid.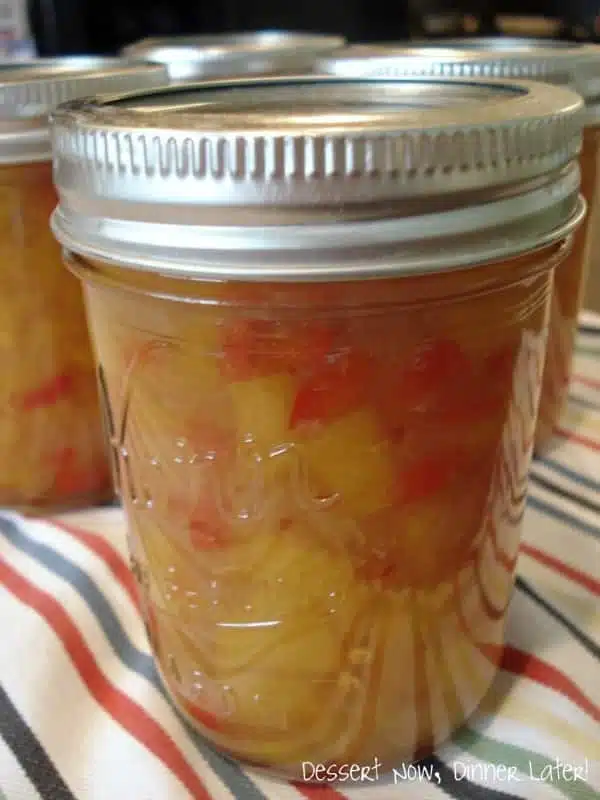 I actually made this recipe for my first ever canning experience last summer. We liked it so much that I bought a bunch of peaches from a local produce stand & made it again this year. Sometimes there is just a pride & joy knowing you made something that took a lot of work, yes, but tastes amazing & actually processed correctly, making it so you can store it to enjoy again later. Nothing is better than hearing the little pop sound of your jars sealing properly, after all your hard work becomes a success!
If you want to dapple into canning, I suggest buying the Ball Home Canning Discovery Kit. You can fit the basket in most large stock pots that you may already own & you can try a very small batch of something before you go on to bigger things.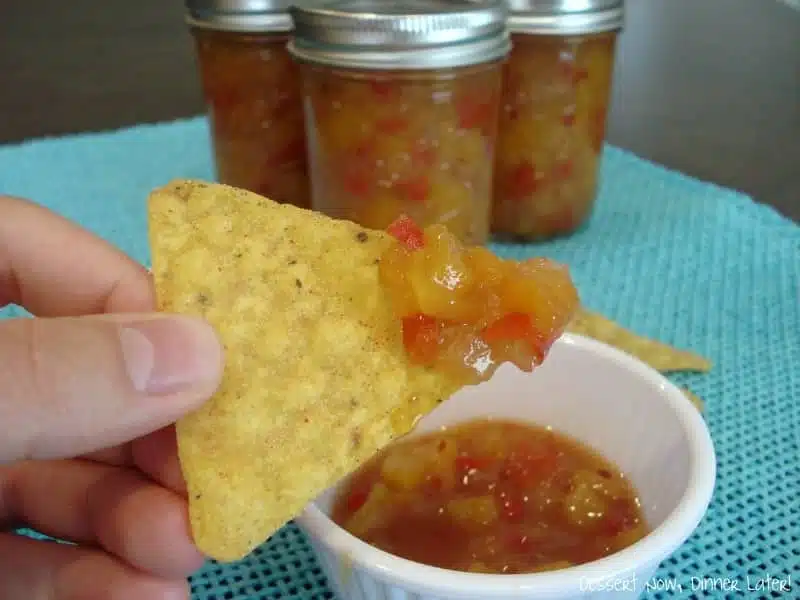 This recipe is nice because it can make anywhere from 3-6 (or 8) half pints. (Click on the link below the recipe title for the full & half recipe measurements.) I did the recipe that says it would make 8 half pints & I only got 6 jars, even with a tad extra peaches, peppers & onions. Anyway, last year I did the half recipe & got two regular sized pint jars plus a little extra. I did move 60 or so miles south, so maybe the different elevation had something to do with it.
Anyway, this recipe is supposed to be a Spicy Peach BBQ Sauce, but to me it tasted more like a salsa or chutney, so we actually like it best with chips rather than spreading it over grilled chicken or burgers.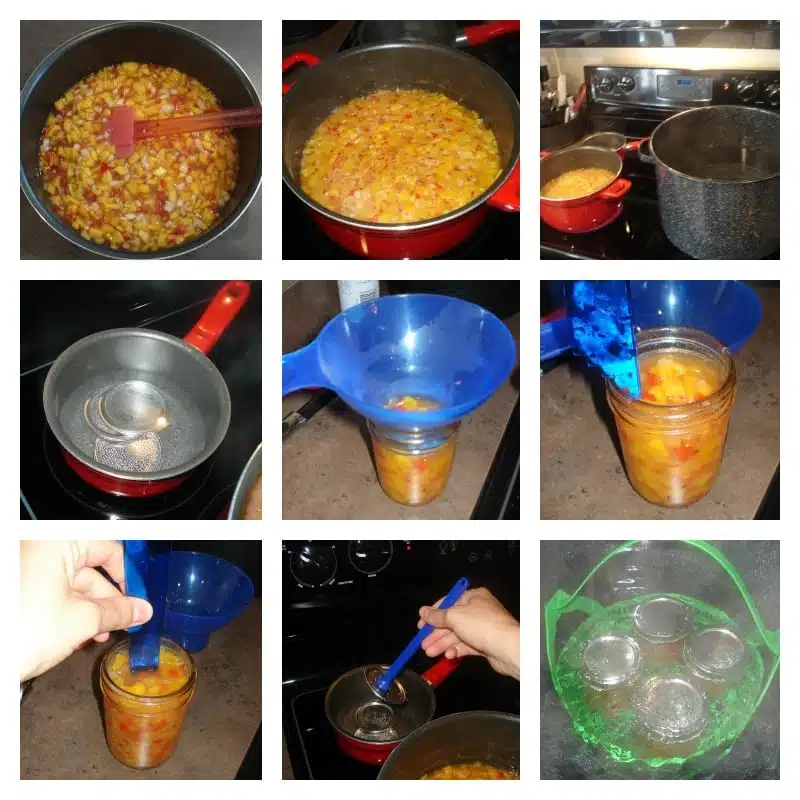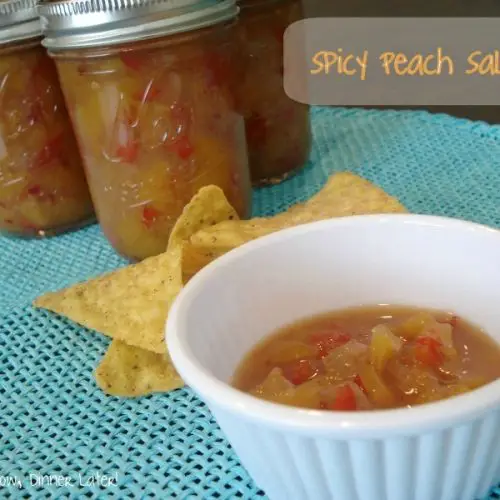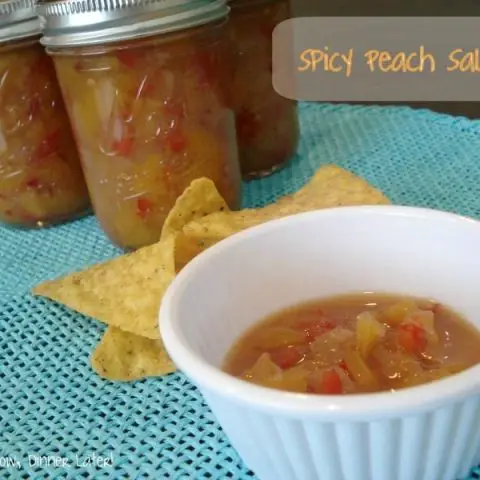 Spicy Peach Salsa
*Recipe as written is for altitudes 0-1000 ft above sea level. Increase processing time for amount given for each altitude: For 1,001-3,000 ft: add 5 minutes. 3,001-6,000: add 10 minutes. 6,001-8,000: add 15 minutes. 8,001-10,000: add 20 minutes.
Ingredients
6 cups finely chopped pitted peeled peaches (about 3 lb or 9 medium; mine took 12 medium peaches to get just over 6 cups)
1 cup finely chopped seeded red bell pepper (about 1 large; I got about 1 1/2 cups from my pepper)
1 cup finely chopped onion (about 1 large; again, I got about 1 1/2 cups from my onion)
3 Tbsp finely chopped garlic (about 14 cloves)
1-1/4 cups honey
3/4 cup cider vinegar
1 Tbsp Worcestershire sauce
2 tsp hot pepper flakes
2 tsp dry mustard
2 tsp salt
8 (8 oz) half pint glass preserving jars with lids and bands
Instructions
*Everything says, "finely chopped." If you want BBQ Sauce like the original recipe then finely chop the ingredients. If you want a chunky salsa, chop ingredients to a small/medium dice.
PREPARE boiling water canner (as in, fill up your big pot with water & start your burner.) Heat jars and lids in simmering water until ready for use. Do not boil. (I fill my jars ½ - ¾ full of water, put 4 [or however many you have space for in your canner] in the microwave & heat on high for 15-20 minutes. Stop the time if water starts to make a loud pop. Then they are hot enough. Leave the door shut until ready to fill them.) Set bands aside. (I just put my lids in a small saucepan on a small burner on the stove.)
COMBINE all ingredients in a large saucepan. Bring to a boil. Reduce heat and simmer, stirring frequently, until mixture thickens to the consistency of a thin commercial barbeque sauce, about 25 minutes. (It boils down about ⅓ - ½ of the original mixture & gets a little darker & syrupy.)
LADLE hot sauce into hot jars leaving ½ inch headspace. Remove air bubbles. Wipe rim. Center hot lid on jar. Apply band and adjust until fit is fingertip tight.
PROCESS in a boiling water canner for 15 minutes, adjusting for altitude. Remove jars and cool. Check lids for seal after 24 hours. Lid should not flex up and down when center is pressed.
Recipe from Ball