Roasted Peppers & Sausage on Quinoa Pilaf
This post may contain affiliate links, meaning that I may receive a commission at no cost to you if you use a link provided. All opinions shared are my own. You can review my full disclosure policy here.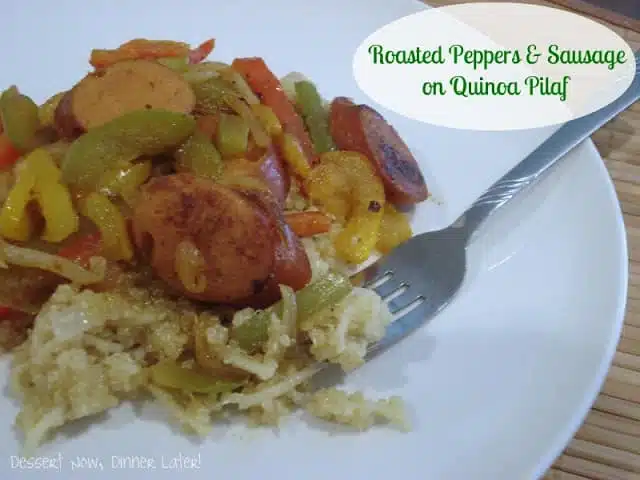 I have seen so many recipes around using quinoa & I have been interested in trying it. I decided on this recipe & I think it turned out quite nice. The quinoa pilaf had a nice savory flavor, & provided a fluffy texture to the dish. The peppers & sausage were out of this world flavorful! That was my favorite part of the dish.
I will be trying quinoa again. It is different than anything I have ever had, so I need to experiment more to see how I like it best. Overall, a really nice healthy & filling dish. I kept looking at my husband saying, "I am so full!" I didn't even eat a huge portion & I was stuffed. Must have been all the protein from the quinoa.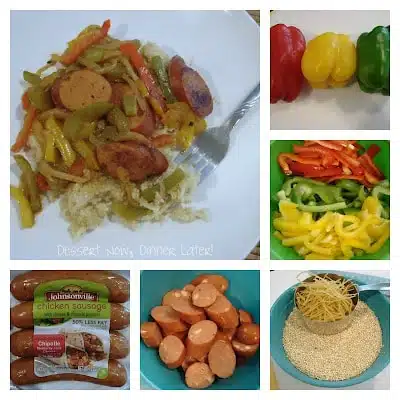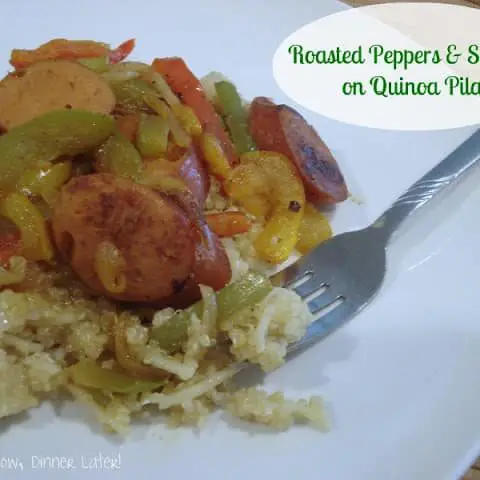 Roasted Peppers & Sausage on Quinoa Pilaf
Ingredients
1 1/2 Tbsp butter
1/2 cup broken vermicelli
1/4 medium onion, diced
3 cups chicken broth
1 1/2 cups quinoa, *rinsed (check your label as to whether or not your quinoa has been pre-rinsed of not)
1 Tbsp olive oil
3/4 medium onion, julienned
2 cloves garlic, minced
1 tsp paprika
1/2 tsp cumin
3 bell peppers julienned: 1 red, 1 yellow, 1 green
1/2 cup chicken broth
1-4 pk package Johnsonville Chicken Sausage Chipotle Monterey Jack cheese (cut into 3/4-inch pieces sliced on a bias)
Salt & Pepper to taste
Instructions
Make the quinoa by heating a medium sauce pot over moderate heat & melting butter. Add vermicelli & cook, stirring often, until pasta has turned golden brown. Add onion & season with salt. Continue cooking a few more minutes until onion is soft & begins to turn golden.
Add 3 cups chicken stock & bring to a boil; add quinoa. Return to a boil, then reduce to a simmer & cook, covered 20-30 minutes or until the grains are soft in the center.
Meanwhile, heat olive oil in a large sauce pot over medium heat. Add sausage slices; cook until browned. Add julienned onions & garlic & saute an additional 3 to 5 minutes or until edges of onions begin to turn golden color.
Add paprika & cumin & cook 1 minute. Add julienned peppers, & ½ cup chicken broth & cook 10-15 minutes or until mixture thickens. Adjust with salt & pepper.
To serve: Make a bed of pilaf & top with pepper & sausage mixture.