Breakfast Bake
This post may contain affiliate links, meaning that I may receive a commission at no cost to you if you use a link provided. All opinions shared are my own. You can review my full disclosure policy here.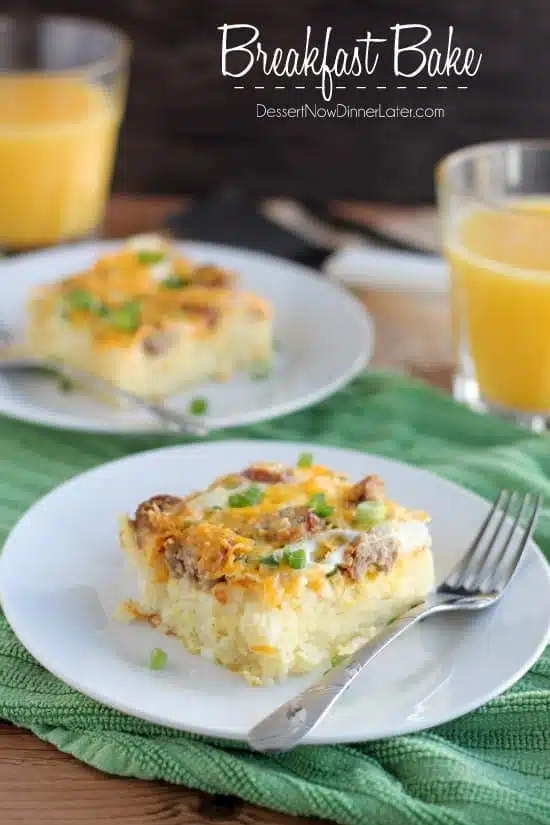 Once or twice a month we like to have breakfast for dinner. We typically have pancakes, eggs and bacon. The kids love to drench their pancakes with syrup, I'm a great mom I know! I even got a waffle iron for Christmas and so now we alternate waffles with pancakes each time we have breakfast for dinner. Although pancakes and waffles are a favorite of ours, my husband requested something with hashbrowns recently and so this Breakfast Bake was created.
We like this meal a lot because it's filling and it has all the breakfast components in one dish! This Breakfast Bake was so simple to put together. If you use brown and serve sausage you will really only dirty one dish besides the one you are baking it in.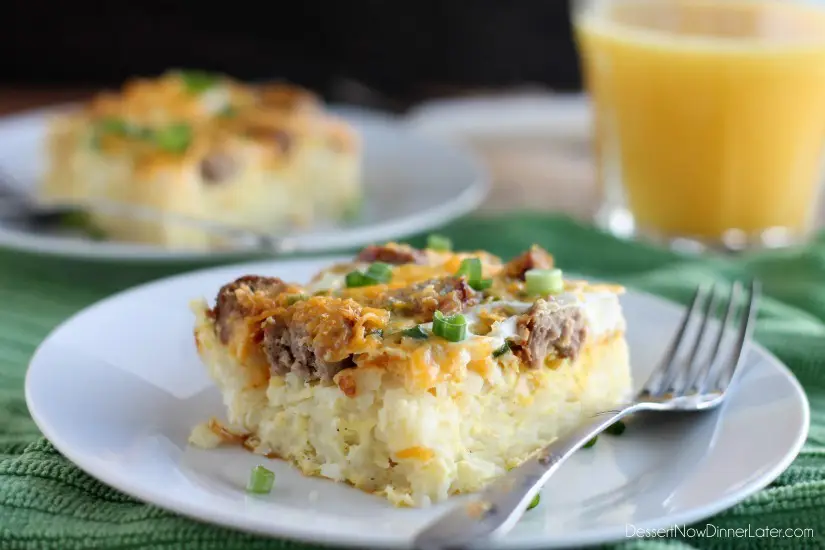 We used turkey sausage, so I had to cook that first, but I try to be healthy where I can without adding too much extra work or compromising flavor. I am not saying this dish is healthy by any means, but swapping fatty sausage links with lean turkey sausage links is one swap in the right direction. I need to tell you all about my weight loss story, but I will save that for another day.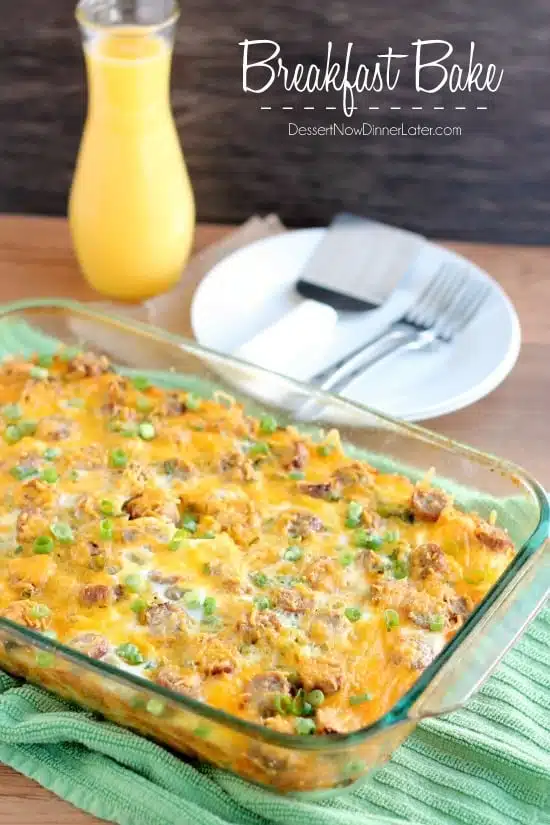 If you ever have Breakfast for dinner you need to add this to the list for flavor and simplicity. It takes a long time to bake, so you can probably put it together in the morning and then throw it in the oven an hour before you need to eat OR you can even try cooking it in the crockpot. I don't see why it wouldn't work in there.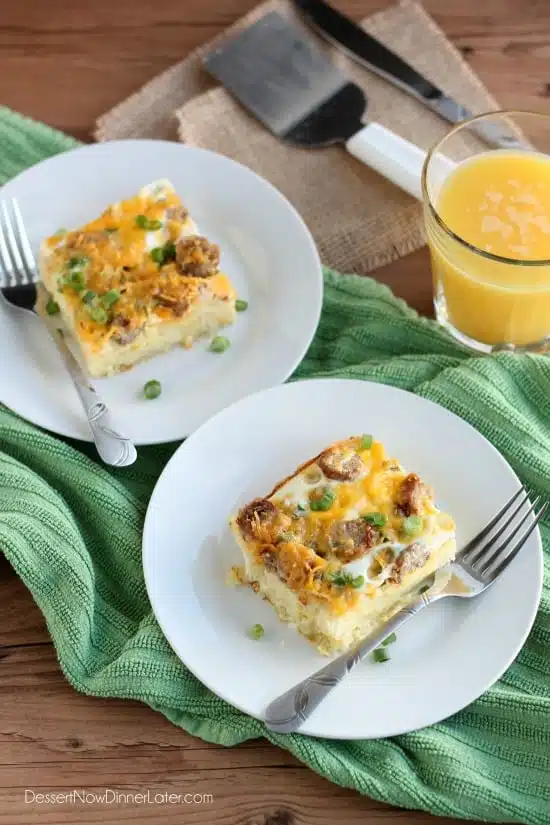 Make breakfast for dinner a new tradition in your house if you haven't already! Enjoy!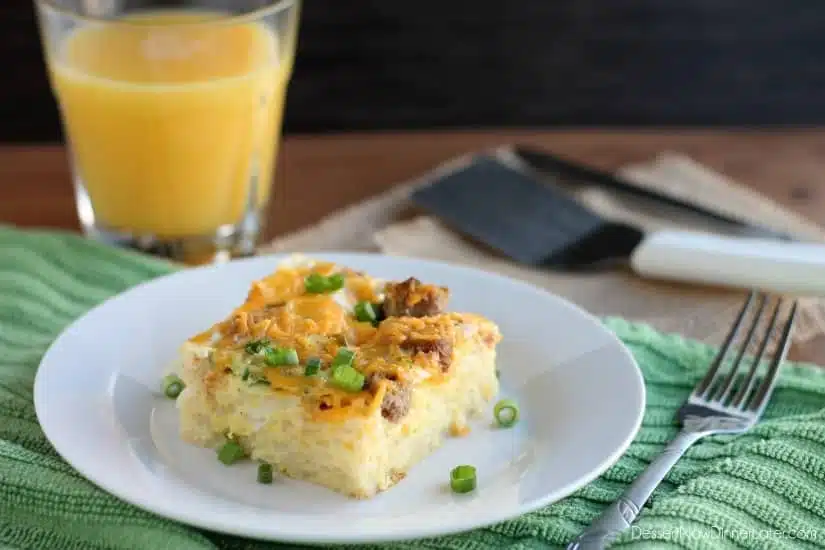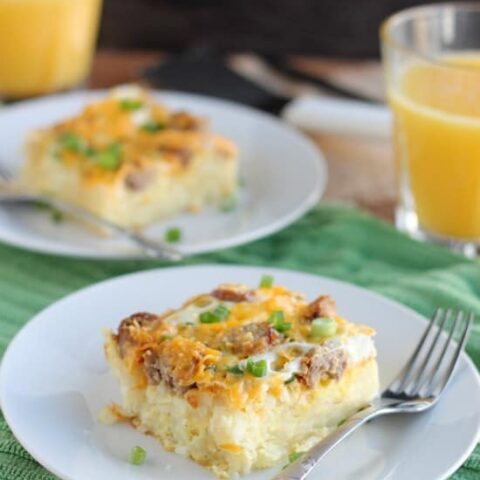 Breakfast Bake
Ingredients
1 (24oz) bag frozen hashbrowns
12 cooked sausage links
1 1/2 cups shredded cheddar cheese, divided
10 large eggs
1 cup 2% milk
1 bunch green onions, thinly sliced
Salt & Pepper to taste
Instructions
Cook sausages if needed, and cut into 1-inch pieces.
Grease a 9x13-inch baking dish with pan spray. Spread frozen hashbrowns in the bottom of the dish. Season heavily with salt and pepper.
Top the hashbrowns with cut up sausage links and 1 cup of shredded cheddar cheese.
Whisk eggs with milk, season with salt and pepper. Pour the egg mixture over the whole casserole. Sprinkle with most of the green onions and remaining ½ cup shredded cheddar cheese.
Bake at 350 degrees Fahrenheit for 50-60 minutes or until eggs are baked through covering the casserole with foil the last 20 minutes. Test doneness in the center of the casserole when the pan is jiggled or a knife is inserted. Sprinkle with extra green onions. Enjoy with ketchup or salsa.
Nutrition Information:
Yield: 12
Amount Per Serving:
Unsaturated Fat: 0g