Cheesy Garlic Spiral Rolls
This post may contain affiliate links, meaning that I may receive a commission at no cost to you if you use a link provided. All opinions shared are my own. You can review my full disclosure policy here.
Cheesy Garlic Spiral Rolls – These soft dinner rolls are stuffed full of melty cheese and lots of garlic flavor. They're the perfect side-kick to a hot bowl of soup!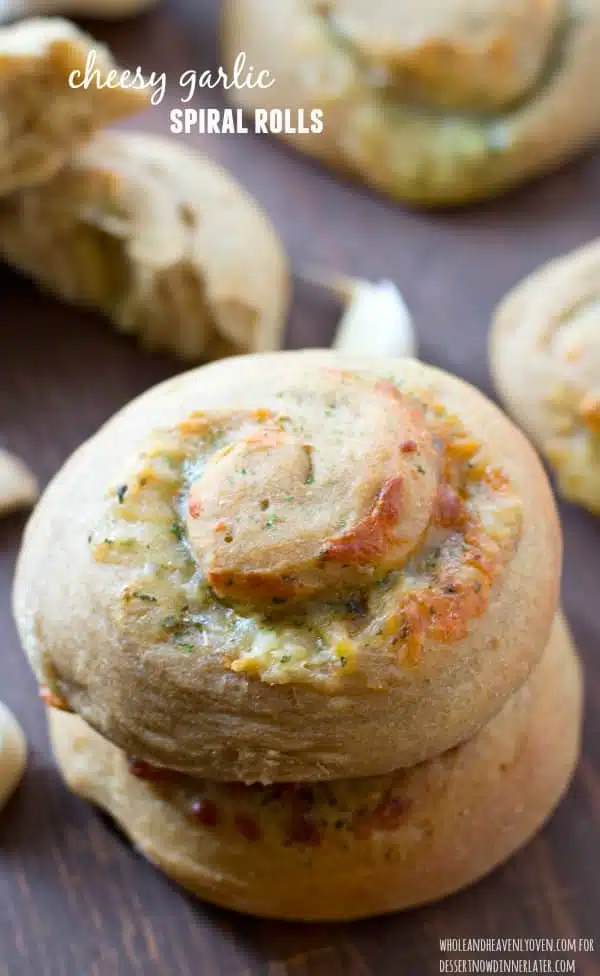 Hey there, guys! Sarah here again from Whole and Heavenly Oven. Happiest of weekends to 'ya!

So am I the only who's a little bit in denial here? I really can't even believe that December is more than half over! We're almost done with 2014 for pity's sake! Crazy-ness. This year has just flown by!
I figured you guys may have had it up to here (picture me touching the top hair on my head) with Christmas cookies, desserts, and whatnot, so for that reason we're going SAVORY today.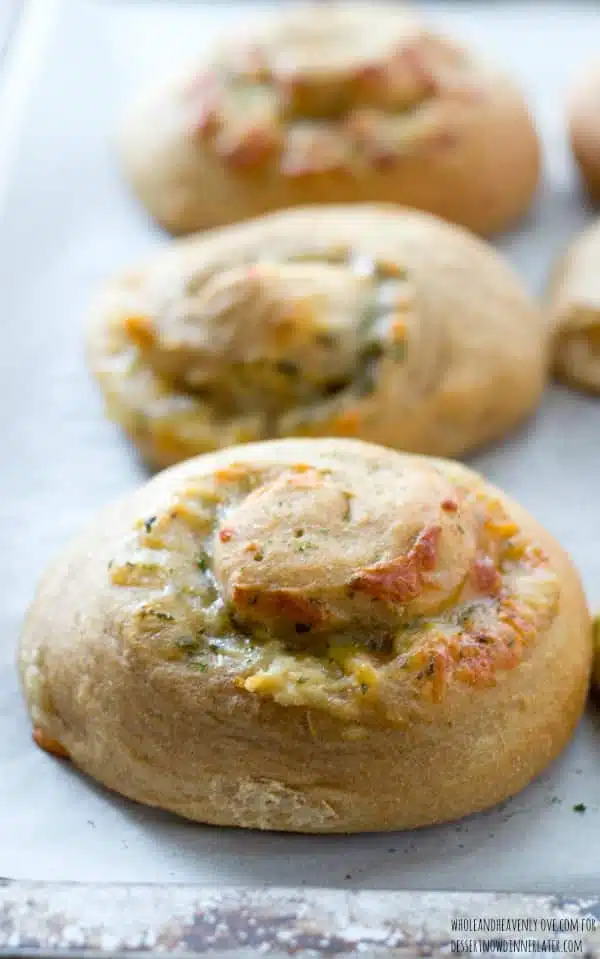 In the yeast-y, cheesy, carb-filled direction. Uh-huh, you're gonna want to keep reading.
So how do you guys feel about a huge garlicky cheese spiral in your dinner rolls? Are you game? I thought so. Trust me, it is even better than it sounds.
Completely stuff-your-face-like-you-just-don't-care kinda awesome. 😀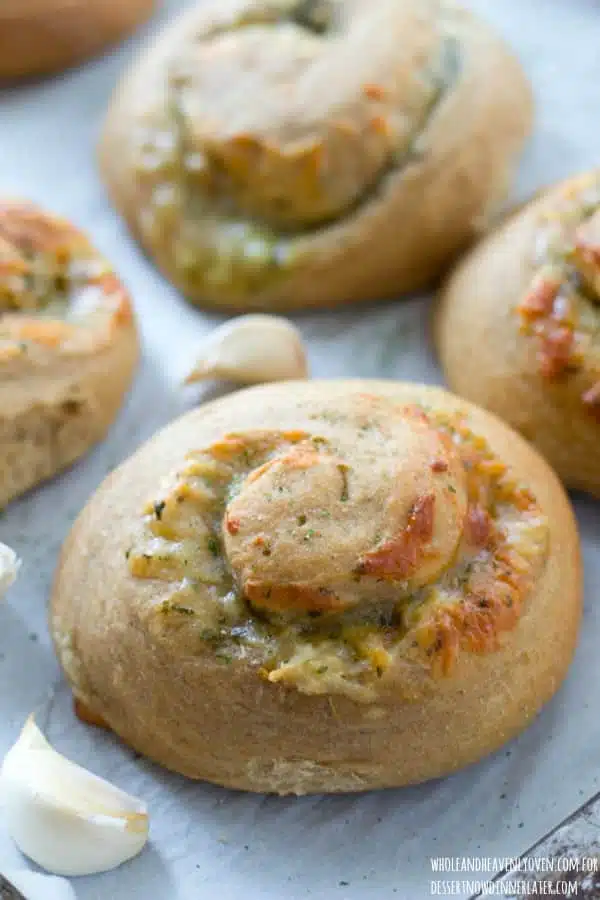 We're gonna start with the dough from my overnight dinner rolls recipe—if you guys are looking for the perfect dinner roll this recipe is definitely a keeper! The dough is so easy to work with and perfect for the beginning yeast bread-baker!
How do you make the awesome spiral in these rolls? It's a lot simpler than you may think: Do you know how to make the swirl in a cinnamon roll? Perfect! It's the same deal with these savory rolls. Except instead of filling these with cinnamon-sugar, we're stuffing the dough with butter, garlic and ALL the cheese.
And cheese. Oh, yeah I already said that.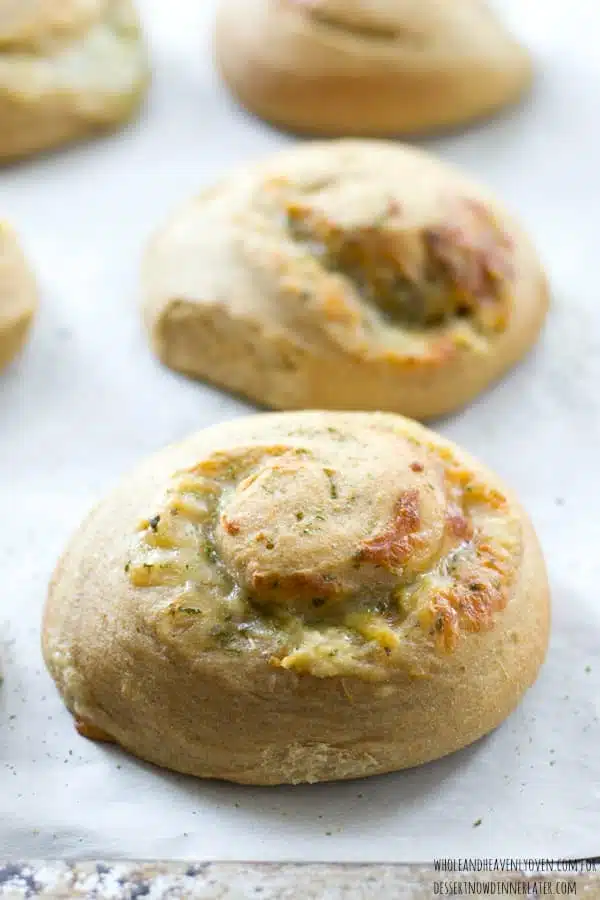 Sorry I don't have any step-by-step photos for you today, but hopefully my explanation will be enough. You're just going to roll the dough out into a 9×15-inch rectangle. Spread on the softened butter. Sprinkle with fresh minced garlic and a little minced parsley. Pile the shredded cheese on top of it all (I used jack cheese) and finally roll 'er up as tightly as possible. Pinch the edges and then you're going to cut the dough-log into 1-inch rolls and place each roll spiral-side up on parchment paper-lined baking sheets.
Let 'em rise about 30 minutes or until perfectly puffy. Bake 'em until perfectly golden and melty-cheesy.
They're seriously so SO pretty, guys and unbelievable all soft and warm straight outta the oven. The garlicky cheese-stuffed spiral!!! I can't get over it…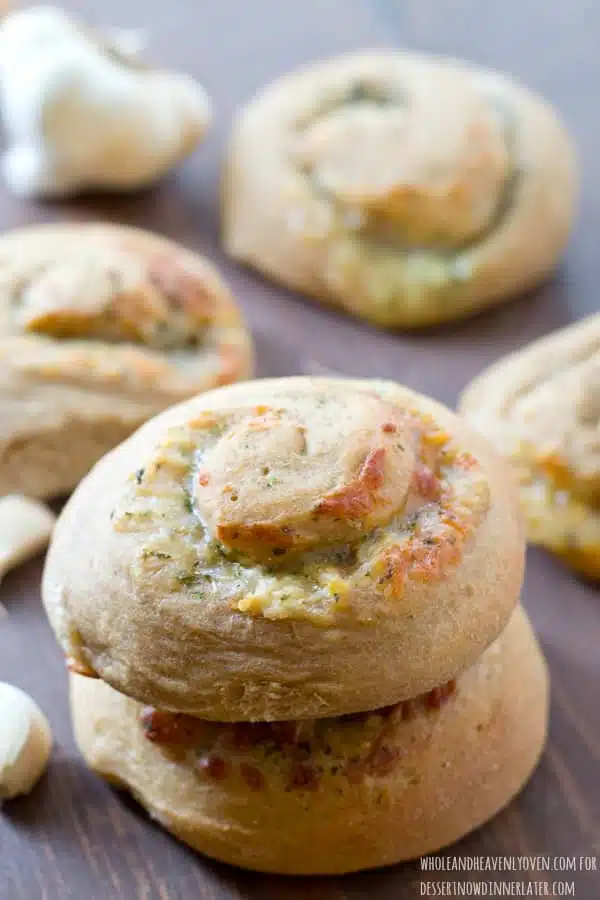 You definitely won't be able to stop eating these. I know, because sadly, I speak from experience.
Right, that's sad. Ha-ha. 😀
Seriously though, these little guys are almost too pretty to eat.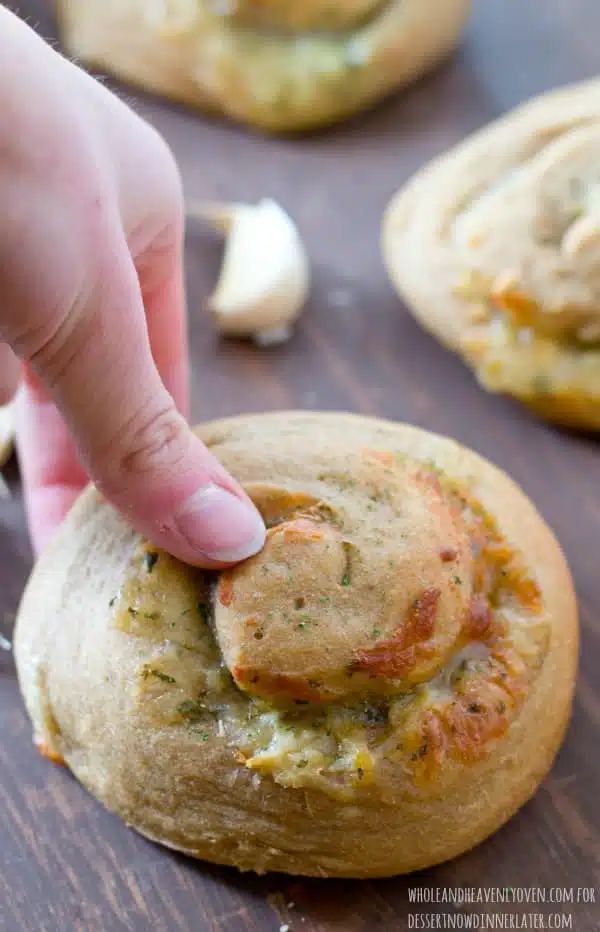 P.S. The key word there is ALMOST.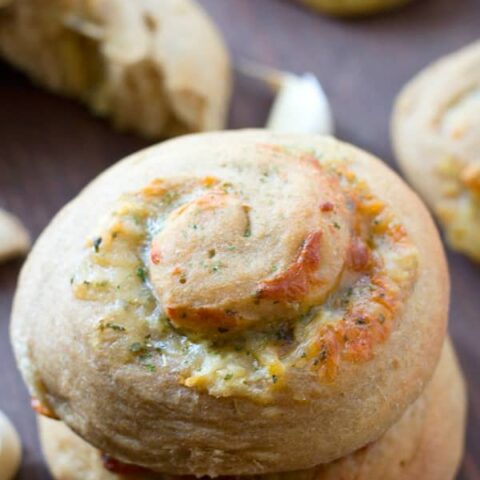 Cheesy Garlic Spiral Rolls
These soft dinner rolls are stuffed full of melty cheese and lots of garlic flavor. They're the perfect side-kick to a hot bowl of soup!
Ingredients
1 pkg active dry yeast (2 1/4 teaspoons)
1 1/4 cups warm water (110 degrees Fahrenheit)
1/3 cup sugar
1/3 cup vegetable oil
1 large egg, lightly beaten
1 3/4 teaspoons salt
4 to 4 1/2 cups white whole wheat flour
2 Tablespoons butter, softened
6 garlic cloves, minced
1 Tablespoon minced fresh parsley
2 cups shredded jack cheese (or mozzarella)
Instructions
In a large stand mixer fitted with a dough hook, dissolve yeast in warm water. Let stand 5 minutes, then mix in xylitol (or sugar) oil, egg, and salt.
With mixer running on low, add 4 cups flour. Increase speed to medium and keep mixing until dough pulls away from sides of bowl. If dough seems too sticky, add 1 Tablespoon of flour at a time until dough pulls away from sides.
Turn dough onto a floured surface and knead until smooth and elastic. Place dough in a large greased bowl, turning once to grease top. Cover bowl with plastic wrap and let dough rise in a warm place 1½ to 2 hours or until doubled in size.
Punch risen dough down and turn onto a floured surface. Roll into a 9x15-inch rectangle. Spread softened butter to within 1-inch of the edges. Sprinkle with garlic, parsley and shredded cheese.
Roll up rectangle tightly along the length side. Pinch edges to seal. Cut into 1-inch rolls and place rolls swirl side-up on parchment paper-lined baking sheets. Allow rolls to rise in a warm place 30 minutes or until doubled.
Bake rolls at 375 degrees Fahrenheit 20 to 25 minutes or until rolls are golden brown. Cool rolls slightly on a wire cooling rack. Serve warm.
Notes
Rolls are best served warm from the oven. Rolls may be stored at room temperature up to 2 days and may also be frozen up to 1 month.
Recipe by Sarah at
Whole and Heavenly Oven
Nutrition Information:
Yield: 1
Amount Per Serving:
Unsaturated Fat: 0g
Be sure to check out my original dinner roll recipe!