Lemon Poppy Seed Bread
This post may contain affiliate links, meaning that I may receive a commission at no cost to you if you use a link provided. All opinions shared are my own. You can review my full disclosure policy here.
Lemon Poppy Seed Bread has a sweet lemon glaze that is brushed on top while warm, soaking up all of the tangy lemon flavor. An easy quick bread that's moist, velvety, and melt-in-your mouth good.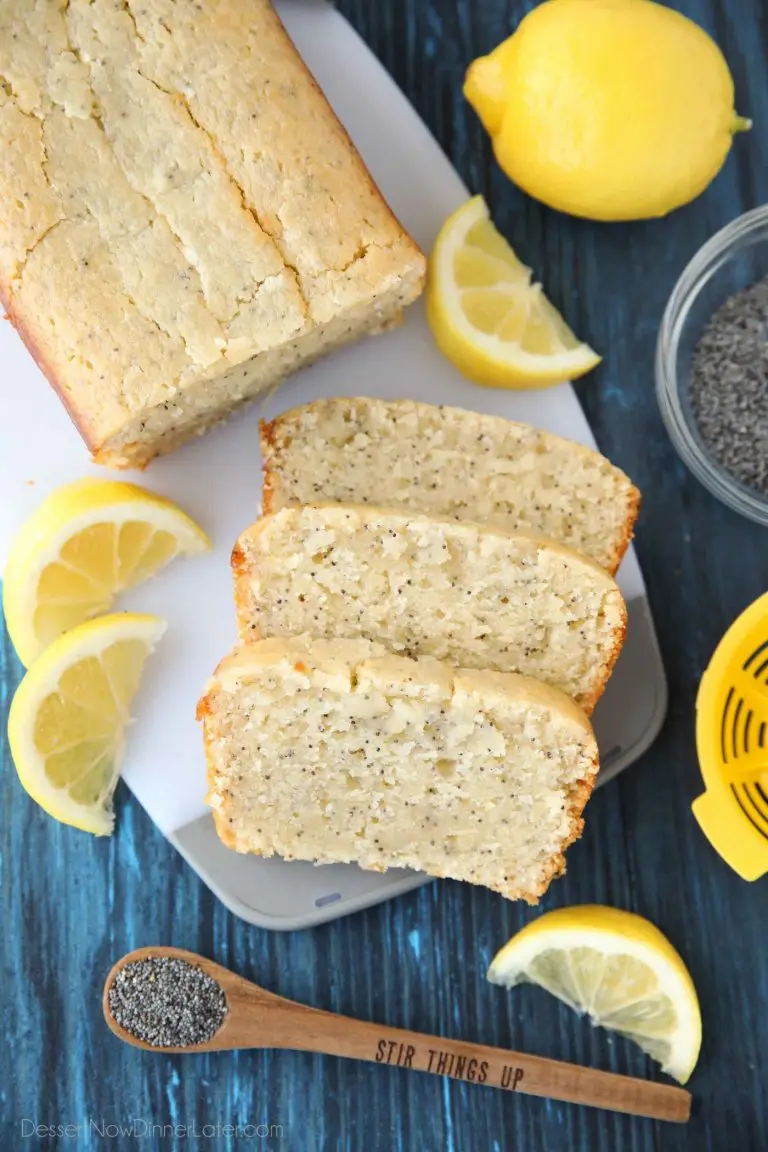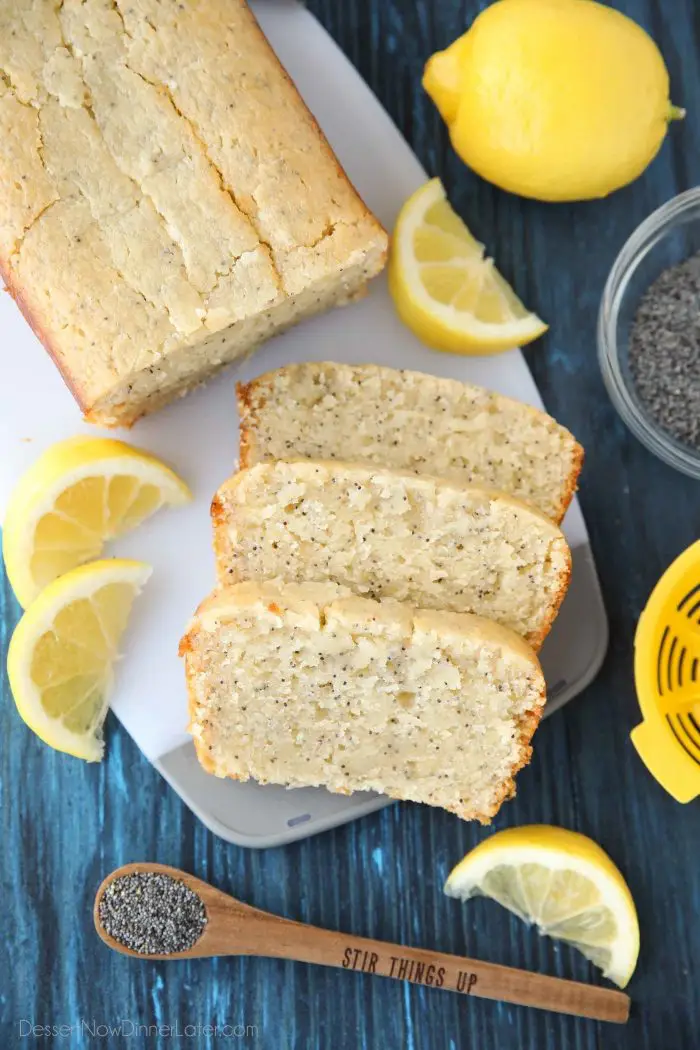 I first published this recipe in 2012. I've been craving it again, so I decided to update this post.
I *LOVE* lemon desserts!!! Anything like lemon bars, soft-baked lemon cookies, lemon crumb bars, lemon pie, lemonade, etc. If it's a lemon dessert, it has my name on it!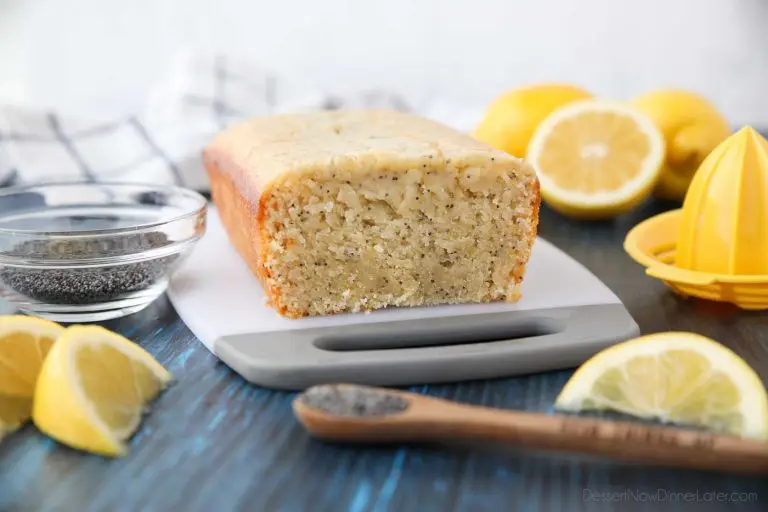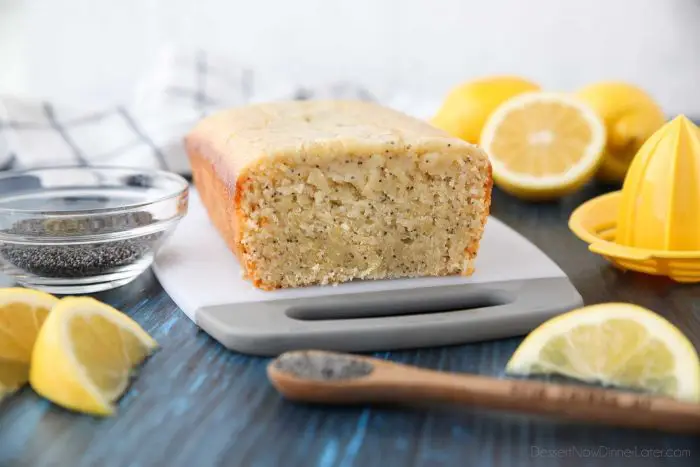 Truly Tangy Lemon Poppy Seed Bread
When I have a lemon dessert, I want it to have that distinct tart lemon flavor. This Lemon Poppy Seed Bread is soaked in a tangy lemon glaze, ensuring a moist loaf cake that's full of bright lemon flavor.
Even though the crumb is moist, it's still light, tender, and velvety. Literally creating a melt-in-your-mouth feeling. (As long as you don't over-bake it!)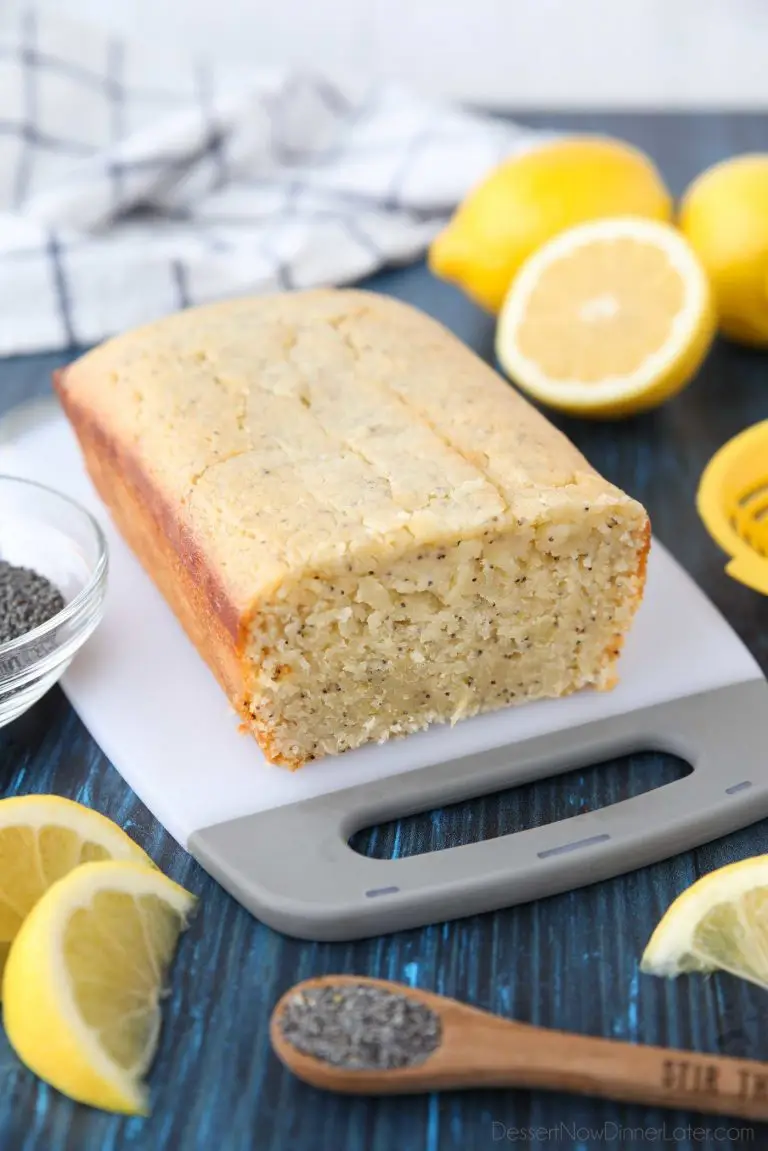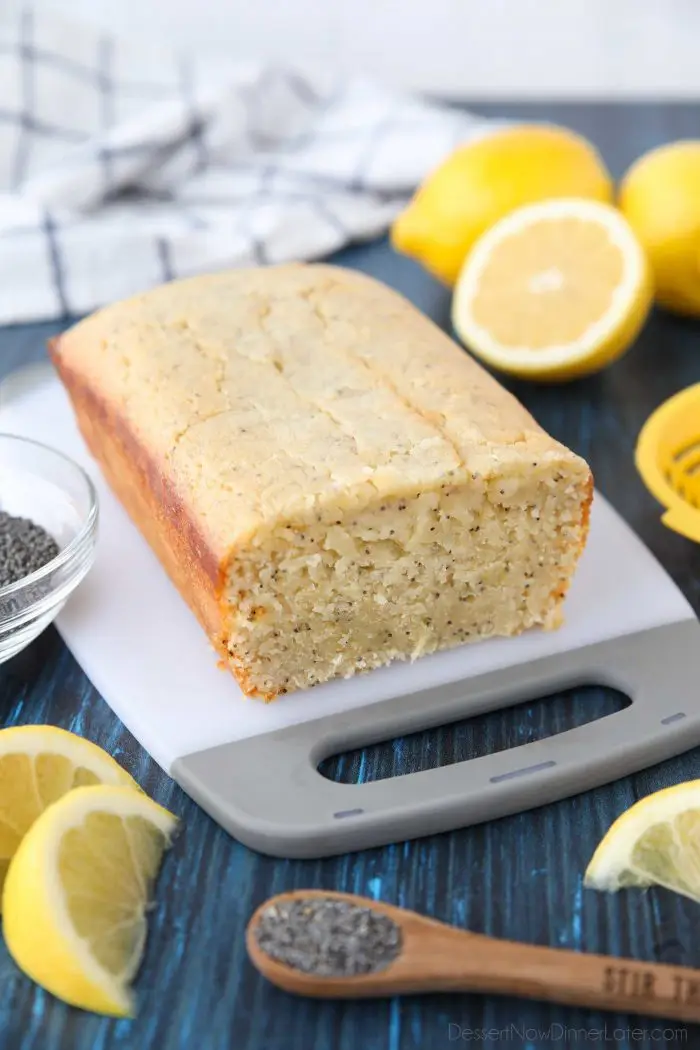 How to Make Lemon Poppy Seed Bread From Scratch
This quick bread is as simple as mixing the dry ingredients and wet ingredients separately, and then combining them together.
Flour, salt, baking powder, and poppy seeds are mixed together for the dry ingredients.
You can leave the poppy seeds out if you don't have them, don't want them, or find them too expensive. They do add a nice flavor and slight crunch though.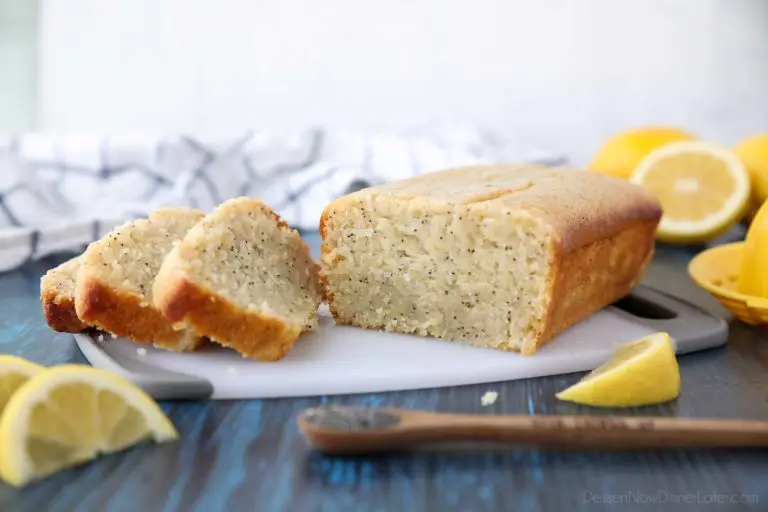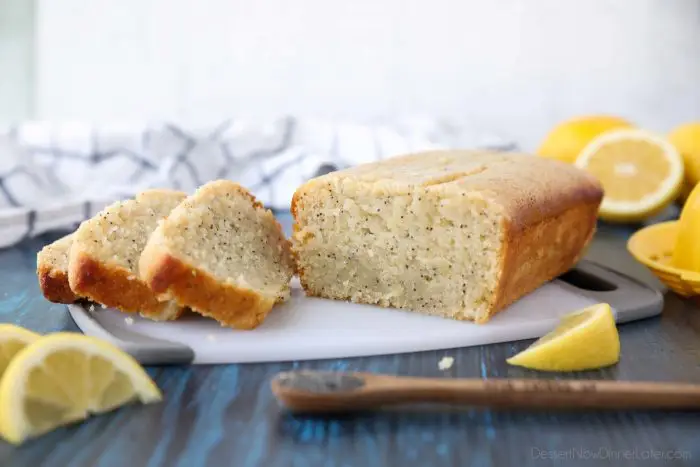 Sugar, oil, milk, an egg, vanilla extract, lemon extract, lemon juice, and lemon zest (optional) are mixed separately until the sugar dissolves.
This wet mixture is combined with the dry ingredients, and then placed in a bread pan to bake for about an hour.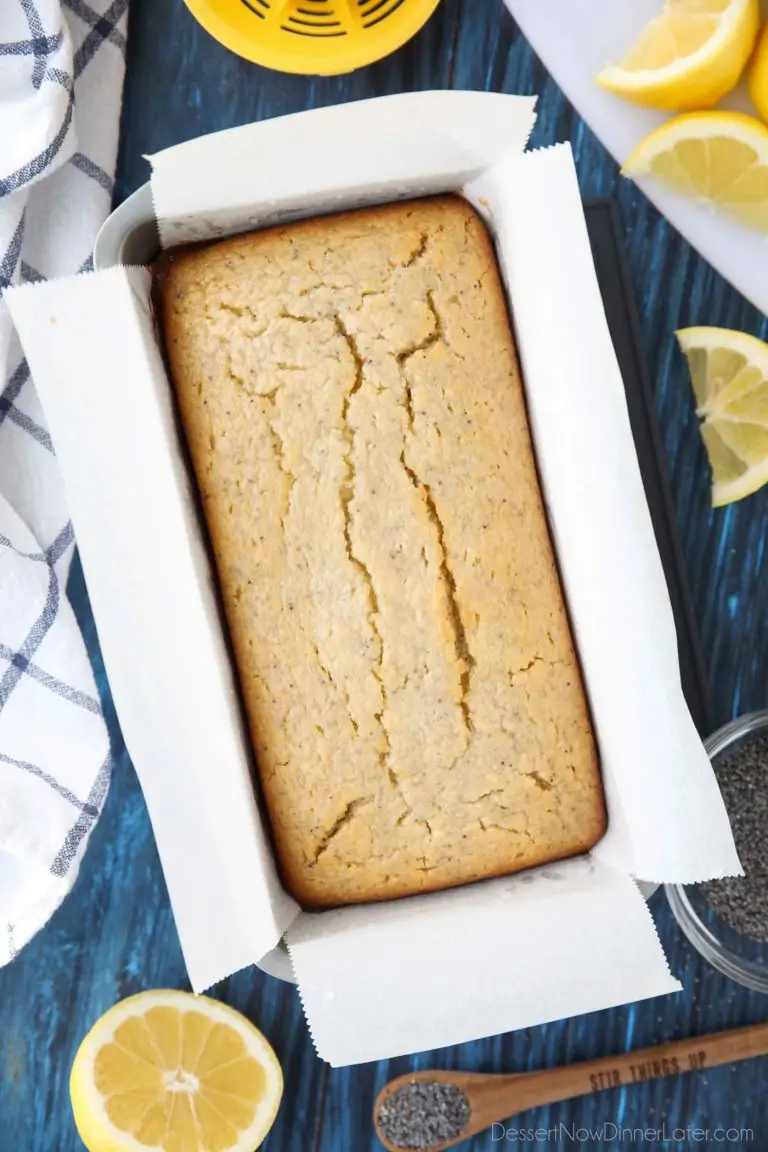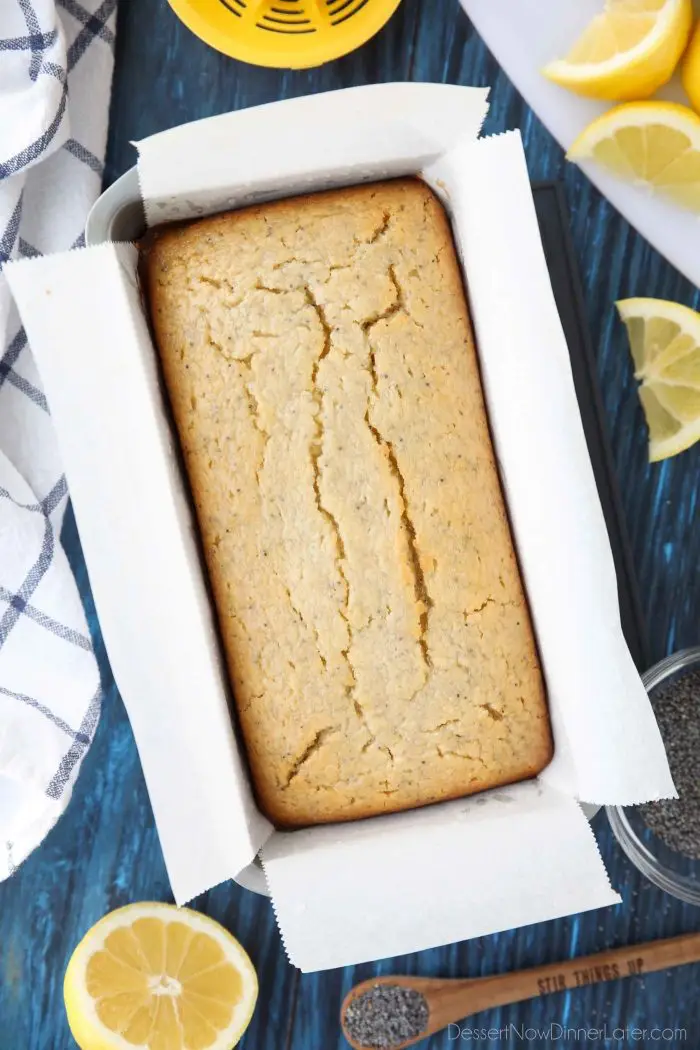 To help your loaf come out of the pan in one piece, you can grease (shortening) and flour your loaf pan or use baking spray that contains flour (like Baker's Joy).
You can also line the loaf pan with two layers of parchment paper that overhangs on each side.
I found the parchment paper was nice for even baking (prevented over-browning) and easy lifting out of the pan afterwards.
This lemon poppy seed bread makes a great afternoon snack or breakfast treat.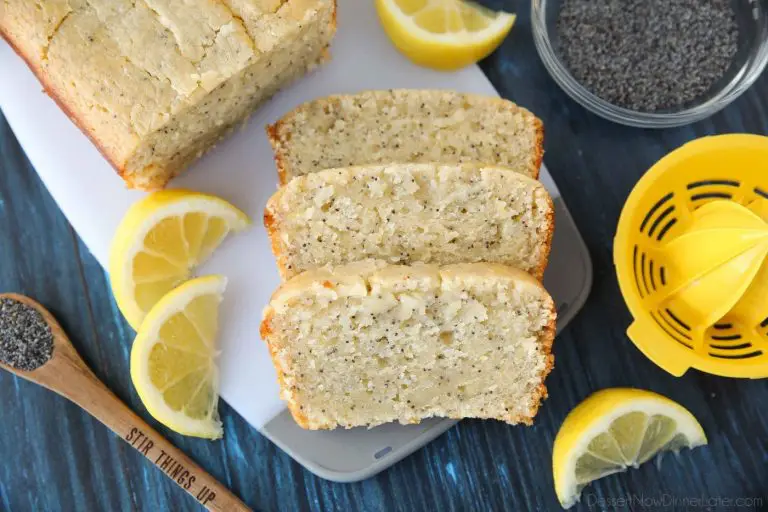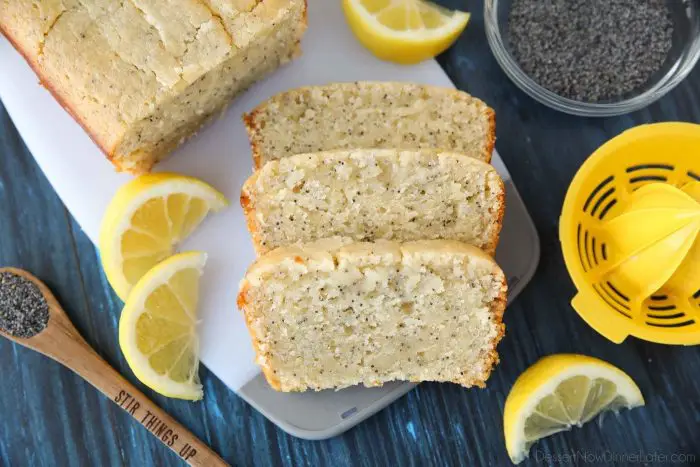 Other Lemon Poppy Seed Recipes: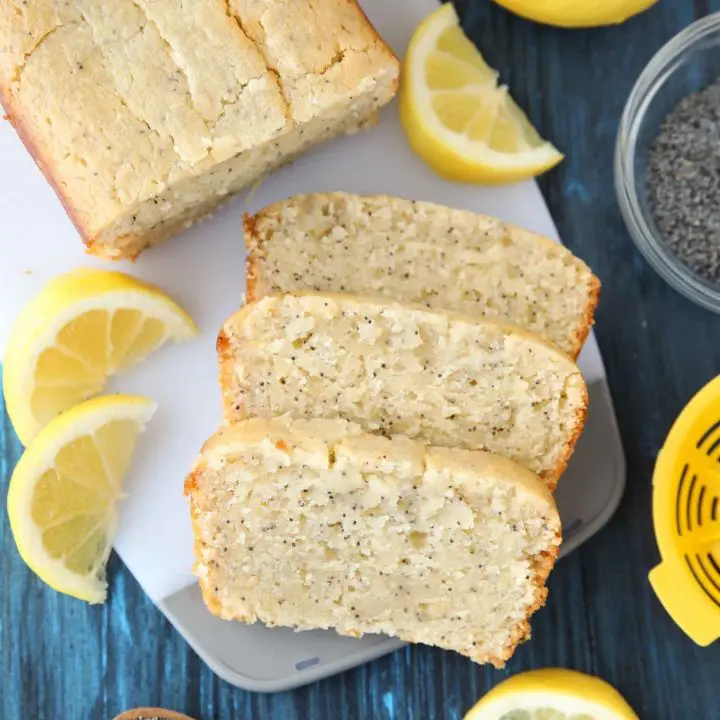 Lemon Poppy Seed Bread
Prep Time: 10 minutes
Cook Time: 1 hour 10 minutes
Total Time: 1 hour 20 minutes
Yield: 1 loaf; approx. 12 slices
Ingredients
1 1/2 cups all-purpose flour
1/2 tsp salt
1/2 tsp baking powder
2 tsp poppy seeds
1 cup granulated sugar
3/4 cup oil (canola/vegetable)
3/4 cup milk
1 large egg
1 tsp vanilla extract
1 tsp lemon extract
1/4 cup lemon juice (fresh or from concentrate)
zest of 1 lemon, optional
Glaze:
1/4 cup powdered sugar
1 Tbsp lemon juice (fresh or from concentrate)
Instructions
Preheat oven to 350 degrees Fahrenheit. Grease and flour or line an 8x4-inch loaf pan with parchment paper overhanging on each side. (See image in post.)
In a small mixing bowl, stir together the dry ingredients: flour, salt, baking powder, and poppy seeds.
In a large bowl, whisk together the sugar and oil. Add the milk, egg, vanilla and lemon extracts, lemon juice, and zest (if desired). Mix until smooth, about 1 minute. Add dry ingredients and mix until just combined. (Batter will be runny.) Pour batter into prepared pan.
Bake at 350˚F for 60-70 minutes, until a toothpick inserted into the center of the loaf comes out clean.
Whisk 1/4 cup powdered sugar with 1 Tbsp lemon juice and brush it over the top of the HOT loaf while still in the pan. Cool bread in the pan for 10 minutes before removing and transferring to a wire rack.
Once completely cool, cut bread into slices and enjoy. Store leftovers in an airtight container at room temperature.
Recommended Products
As an Amazon Associate and member of other affiliate programs, I earn from qualifying purchases.
Originally Published 1/3/12