Honey Almond Muffins
This post may contain affiliate links, meaning that I may receive a commission at no cost to you if you use a link provided. All opinions shared are my own. You can review my full disclosure policy here.
Almond extract and C&H® Honey Granules flavor these easy and lightly sweet breakfast muffins.
**Thank you C&H® Honey Granules for sponsoring this post. Visit your local retailer to pick up your own package and start sprinkling sweetness today!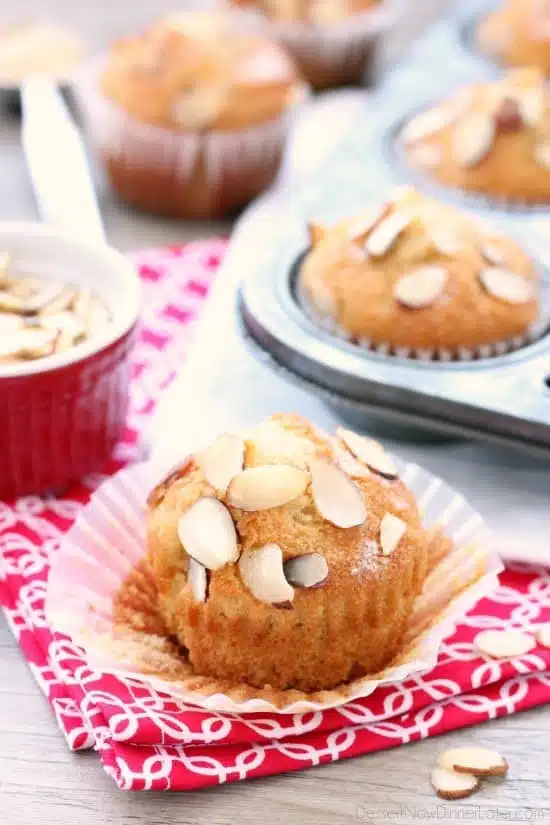 One thing I love about springtime is when we occasionally drive out of the valley, through the beautiful mountain canyon, to visit my side of the family. We usually go on a Saturday, so brunch is a must, and since we live about an hour away from my folks, I like to bring muffins to share because they are easy to prepare, easy to travel with, and tasty to eat.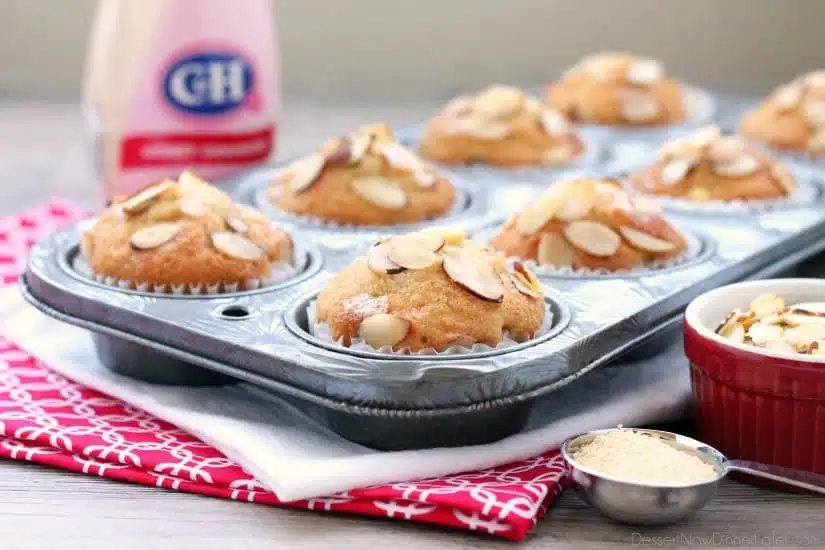 When I worked in a bakery, I always had friends ask me about the muffins. "How do you make all of those muffins?" they would ask. Well, believe it or not, at the grocery store bakery I worked at, we used cake mix for the muffins and just mixed in different "add-ins" or flavors. They weren't the healthiest of muffins.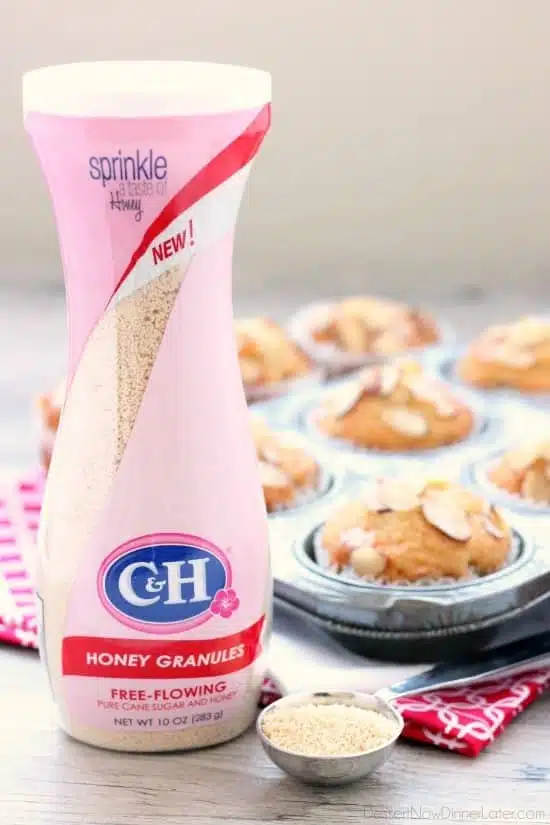 In my mind, if you're eating muffins for breakfast, they should be lightly sweet with a fluffy texture, and these muffins are both of those things. The "sweet stuff" I used was C&H® Honey Granules. I wanted a taste of honey without the sticky mess, and since C&H® Honey Granules is a free-flowing mix of pure cane sugar and honey, you can substitute it for some or all of the granulated sugar called for in recipes.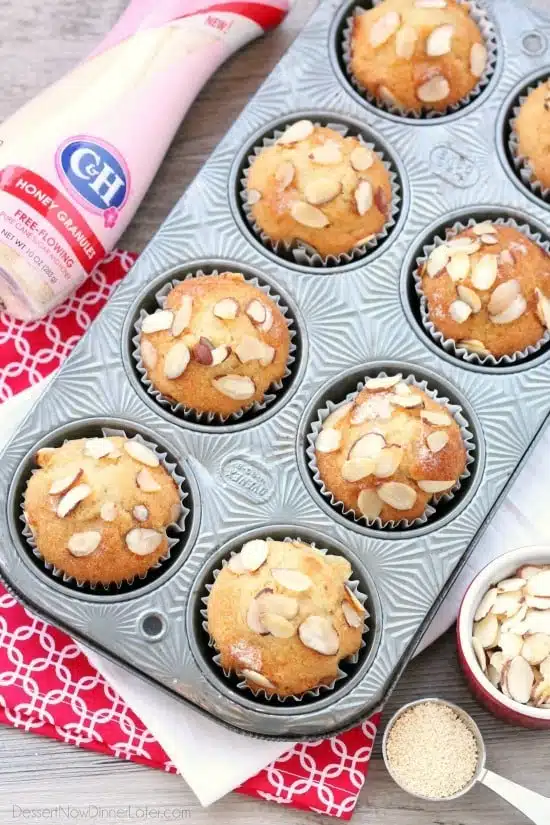 We enjoyed these muffins by slicing them open, spreading some butter inside and sprinkling a little extra C&H® Honey Granules on top with the easy pour canister. Delicious! C&H® Honey Granules go great in tea and oatmeal too.
In case you are nervous about converting C&H® Honey Granules in place of honey, the sweetness of C&H® Honey Granules is equal to 1 ½ x that of honey. So 1 ½ tsp of Honey Granules = Sweetness of 1 tsp Honey. If you want to substitute it for fluid honey: 1 cup liquid honey = 1 cup C&H® Honey Granules + ¼ cup additional recipe liquid.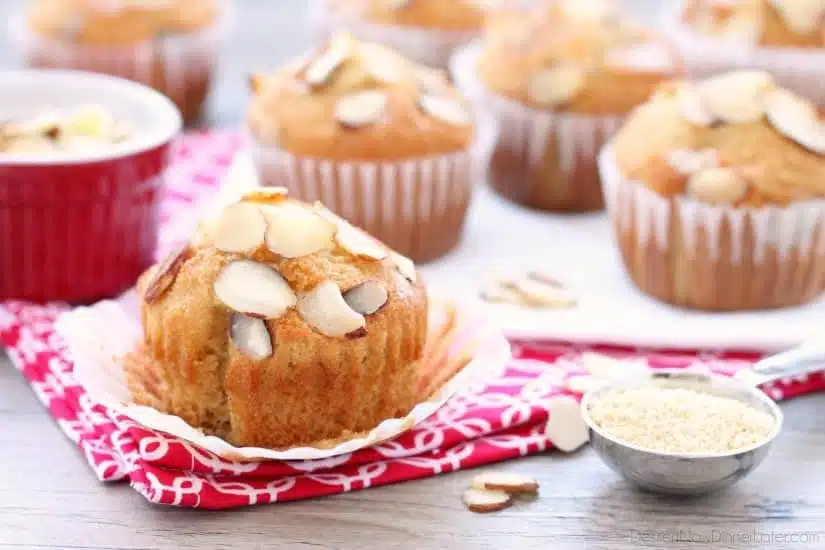 C&H® Honey Granules is sold where I live, but if they don't sell it in your area, look for Domino® Honey Granules, the sister brand of C&H®.
I liked using the C&H® Honey Granules dry, like I would have used sugar for these muffins, and the honey flavor pairs so well with the almond. My kids fought over these muffins, so I am definitely bringing them to Saturday brunch. I'm sure my family will gobble them up just the same.
**I was selected for this opportunity as a member of Clever Girls and the content and opinions expressed here are all my own.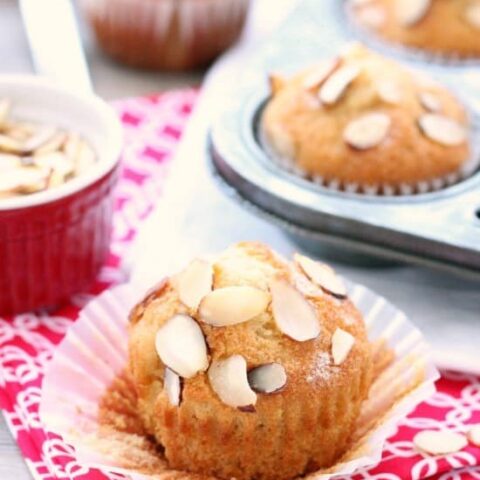 Honey Almond Muffins
Almond extract and C&H® Honey Granules flavor these easy and lightly sweet breakfast muffins.
Ingredients
1/2 cup C&H® Honey Granules
1 large egg
3/4 cup milk
1/3 cup oil (canola/vegetable)
1 tsp almond extract
1 3/4 cup all-purpose flour
1 1/2 tsp baking soda
1/2 tsp salt
Sliced Almonds + Extra C&H® Honey Granules for sprinkling on top
Instructions
Prepare a muffin tin with paper cups. Set aside.
In a large bowl, whisk together the Honey Granules, egg, milk, oil, and almond extract.
In a separate bowl, stir together the flour, baking soda, and salt. Add the dry ingredients to the wet ingredients, and mix until just incorporated.
Divide the batter amongst 12 muffin cups (about ½ full). Sprinkle the tops with extra C&H® Honey Granules and sliced almonds.
Bake at 400 degrees Fahrenheit for 14 to 16 minutes or until a toothpick comes out clean from the center.
Enjoy within two days. Store leftovers in an airtight container.
Nutrition Information:
Yield: 12
Amount Per Serving:
Unsaturated Fat: 0g