Honey Whole Wheat Pizza Crust
This post may contain affiliate links, meaning that I may receive a commission at no cost to you if you use a link provided. All opinions shared are my own. You can review my full disclosure policy here.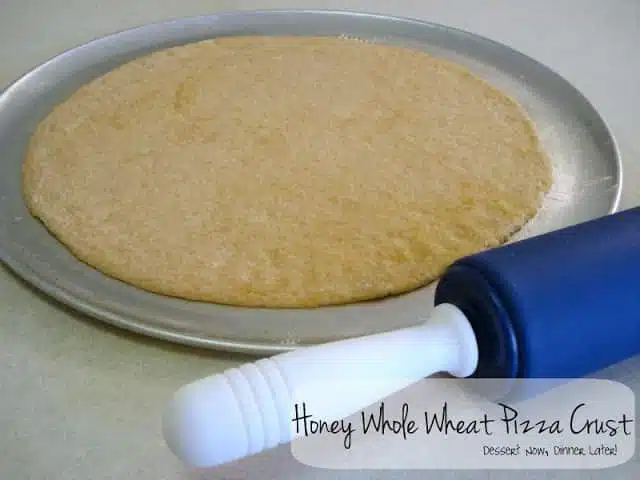 So I recently discovered WinCo, & more specifically the bulk foods section. Don't laugh at me…I love that store! Why had I never shopped there before? Well, besides the fact that we just moved near one 4 months ago. The first time my family went, we spent like 1 1/2 hours shopping, mostly browsing the bulk foods. I have a confession, I have never used wheat flour in my recipes at home & I thought now would be a great opportunity to get a little bit from the bulk foods, & try it out using my favorite easy pizza crust recipe, but tweaking it to a healthier whole wheat version. My husband hates wheat bread. I only buy wheat bread, so he's forced to eat it, but I have never baked anything whole wheat until now, & guess what? He LOVED this pizza crust, & so did I! It is really flavorful & that hint of honey just takes it over the top.
I am so happy about our homemade pizza, that I am even going to share a little secret to how I make my special pizza sauce: 2 parts tomato sauce to 1 part BBQ sauce. Think it sounds gross? I dare you to try it! We love the Bullseye Kansas City BBQ Sauce. The BBQ adds some sweetness to the sauce & it is just lovely on pepperoni pizza. Anyway, now that you know all my secrets to homemade crust & my favorite sauce, you need to try it asap! Let me know what you think!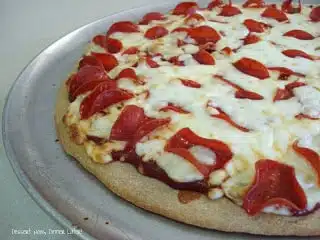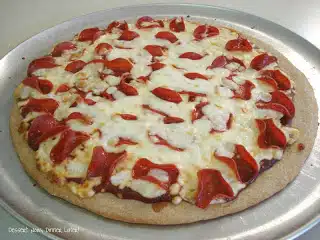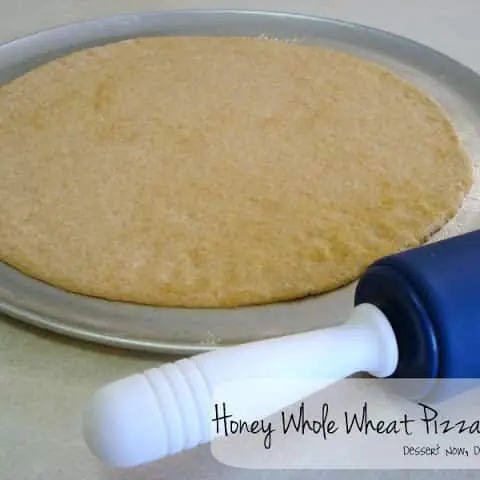 Honey Whole Wheat Pizza Crust
Ingredients
3/4 cup warm water
1/2 Tbsp yeast
1 Tbsp honey
1/2 Tbsp extra virgin olive oil
1/2 tsp salt
1 1/2 cups whole wheat bread flour
Instructions
In a bowl, dissolve the yeast & honey in the warm water. Allow mixture to rest 5 minutes until it bubbles up.
Add extra virgin olive oil, salt & whole wheat bread flour. Mix with a spoon giving it about 50 good stirs until it balls up & does not stick to the bowl, sprinkling dough with extra whole wheat bread flour as necessary. Take dough out of bowl. Spray the inside with pan-coating & put dough back inside the bowl. Cover with a towel & let the dough rise for 30 minutes.
Spray pizza pan with pan-coating & turn dough out of bowl onto the greased pan. Sprinkle the top with more whole wheat bread flour & roll into a 12-14" circle about ¼" thin.
Pre-bake crust at 425*F for 3 minutes to puff up the crust. Remove from oven & spread sauce over crust, then sprinkle with cheese & toppings. Return to oven & bake for 11-12 minutes.