Paleo Chicken Stir-Fry
This post may contain affiliate links, meaning that I may receive a commission at no cost to you if you use a link provided. All opinions shared are my own. You can review my full disclosure policy here.
*Today I am pleased to have my friend Lisa share this healthy paleo dish with you guys! Sounds amazing! Thanks Lisa! ~Amber
Hello! My name is Lisa, and I blog over at Cooking with Curls…..Having all-natural fun in the kitchen! I am so excited to be a part of Amber's "Healthy Food, Healthy You" month! Even though I eliminated most processed foods from my diet over 9 years ago, there is always room for improvement. This year I am focusing on eating more vegetables, and eliminating the remainder of those processed foods. My quest for low-carb, unprocessed foods led me to several paleo websites. The concept is actually quite intriguing, so I decided to give it a try and share this delicious Paleo Chicken Stir-Fry with you. Don't run away just yet, you can very easily make this stir-fry non-paleo as well.
The Paleo diet in a nutshell, is food in it's purest form…..like a caveman would have eaten. No processed oils, grains, soy products, or starchy vegetables. I simply substituted coconut aminos for soy sauce, tapioca flour for the cornstarch, and safflower oil for the canola oil. See, that wasn't so painful. The results were actually better than I expected. Coconut aminos are not as salty as soy sauce, so the overall taste of this dish is lighter and the vegetables are allowed to shine. Serve it with Cauliflower Rice, and you have the perfect low-carb, healthy meal without sacrificing any of the flavors that you love. Enjoy!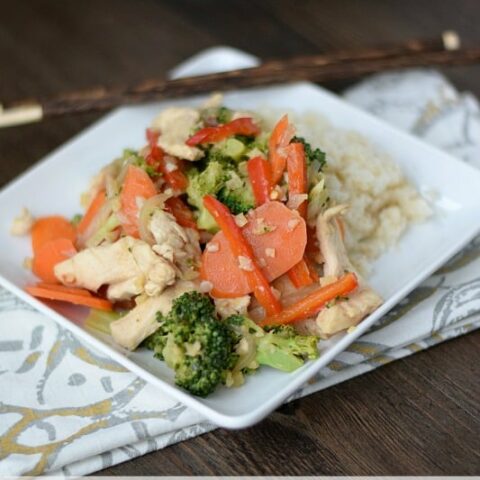 Paleo Chicken Stir-Fry
Ingredients
1/2 cup organic chicken stock
4 Tablespoons coconut aminos (can substitute soy sauce)
1/4 teaspoon crushed red pepper flakes
1 teaspoon sea salt
1/4 teaspoon freshly ground black pepper
2 teaspoons tapioca flour (can substitute cornstarch)
2 Tablespoons safflower oil
6 large cloves fresh garlic, smashed and finely minced
3" piece of fresh ginger root, peeled and finely minced
1 small yellow onion, sliced into very thin strips
1 red bell pepper, cleaned, seeded, and cut into thin strips
1 large head of broccoli florets cut into bite sized pieces and lightly cooked*
3 large carrots, sliced and lightly cooked*
1 pound organic chicken breasts, cut into thin 2" long strips
1 Tablespoon toasted sesame oil (garnish)
2 Tablespoons toasted sesame seeds (garnish)
Instructions
In a small bowl, whisk together chicken stock, coconut aminos, salt, pepper, pepper flakes, and tapioca starch. Set aside.
Heat oil in a large skillet or wok over medium-high heat. Add the ginger and garlic and heat for one minute.
Add the onions and cook for 3 minutes, stirring occasionally.
Add the bell pepper and cook for an additional 2 minutes.
Push vegetables to the side of the pan, and add the chicken strips. Cook stirring occasionally until cooked through and no longer pink.
Add the broccoli and carrots to the pan, stir to combine.
Pour in the sauce mixture and stir to combine. Bring sauce to a boil, and removed from heat.
Serve with rice, and sprinkle with sesame oil and seeds.
Note:
*Place broccoli florets and carrots in a microwave safe bowl. Add 1 Tablespoon of water, cover bowl, and microwave on HIGH for 3 minutes. Drain and set aside.
If you decide to use soy sauce, eliminate the teaspoon of salt.
Nutrition Information:
Yield: 4
Amount Per Serving:
Unsaturated Fat: 0g