Sour Cream Pound Cake with Strawberries & Cream
This post may contain affiliate links, meaning that I may receive a commission at no cost to you if you use a link provided. All opinions shared are my own. You can review my full disclosure policy here.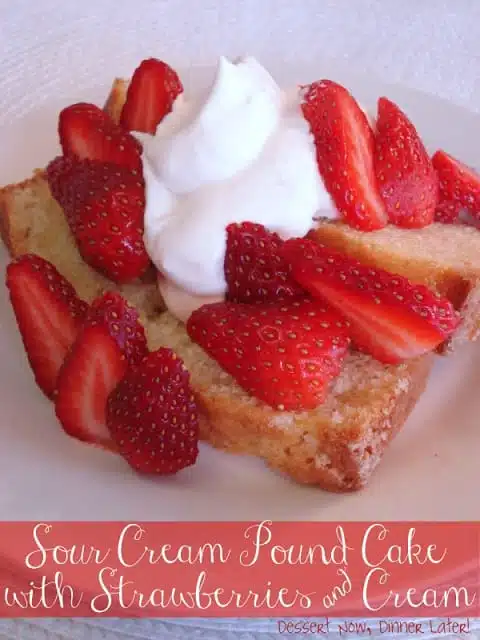 I am so ready for spring & summer to come that I try & trick myself into thinking it's here by making something summery to eat. This is one of those dishes. It's so easy & the pound cake is so versatile. It's just a great dessert. Lovely combination of fruit, cream & sweetness.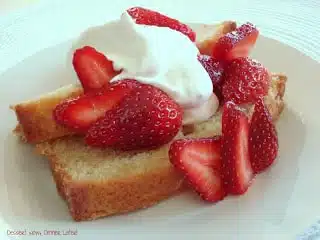 Oh & if you are wondering why it is called pound cake, here is a fun fact for you: Pound cake, which originated in Europe in the first half of the 18th century, initially weighed four pounds. That's because it called for a pound of each of four ingredients — flour, butter, eggs, and sugar — hence the name. Lucky for you guys, this cake uses WAY less butter, even compared to many of the recipes I researched & the sour cream gives it some extra moistness.
This would also be a perfect Valentine's Day dessert to make ahead of time & plate when you are ready for it. So easy & we really loved it. Especially my 3 year old boy. He kept asking for more bread! We had to tell him it was cake that was shaped like bread. Haha. Enjoy!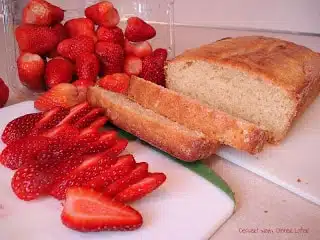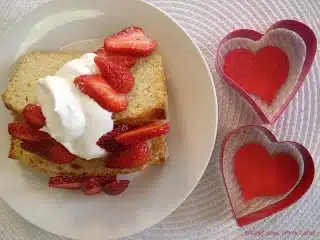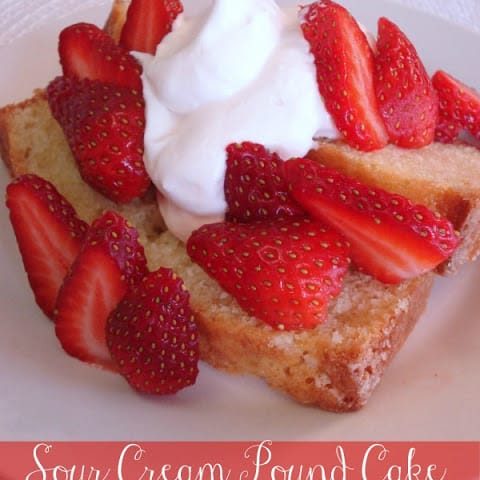 Sour Cream Pound Cake with Strawberries & Cream
Ingredients
1 1/2 cups flour
1/2 tsp baking soda
1/4 tsp salt
1/2 cup butter, softened
1 cup sugar
3 large eggs, room temperature
2 tsp vanilla
1/2 cup sour cream
1 lb strawberries (rinsed, hulled, & sliced)
1 cup heavy whipping cream
1/2 cup powdered sugar
1 tsp vanilla
Instructions
Preheat oven to 350*F.
In a small bowl, combine the flour, baking soda & salt. Set aside.
Beat the butter & sugar until light & fluffy; about 1 minute. Continue beating & add eggs, one at a time. Scrape the bowl. Add the 2 tsp vanilla & sour cream; incorporate.
Slowly add the flour mixture while beating, & beat just until combined.
Pour batter into a greased 8" or 9" loaf pan (I grease & flour the sides & lay a cut-out strip of parchment paper on the bottom; makes it real easy to get out.)
Bake for 45-60 minutes or until a skewer comes out clean. Cool for 10 minutes & remove from pan; transfer to a cooling rack.
Prepare whipped cream: Pour cream into a bowl & beat with an electric mixer for about 1 minute. Slowly add powdered sugar & 1 tsp vanilla. Continue beating until stiff peaks form.
Once cake is cooled, use a serrated knife to cut slices & then top with fresh strawberries & prepared whipped cream. Enjoy!