Cranberry Salsa
This post may contain affiliate links, meaning that I may receive a commission at no cost to you if you use a link provided. All opinions shared are my own. You can review my full disclosure policy here.
Cranberry Salsa is spicy, sweet, and served over a bed of cream cheese. Smother it on some crackers for a delicious holiday appetizer for Christmas or New Year's Eve.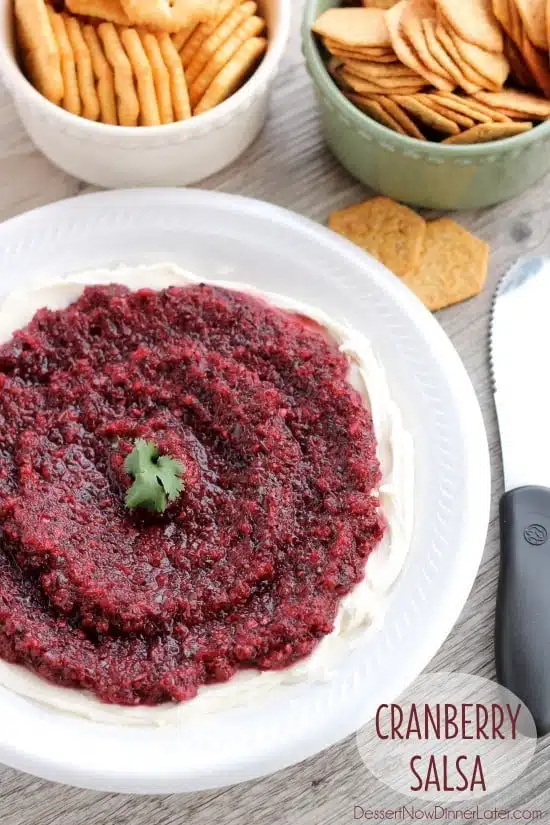 If there is one new, unique recipe that you MUST try this holiday season, this Cranberry Salsa is it! It took me forever to get around to trying it and I cannot believe how delicious it turned out! I brought it to a party and a few people stopped in their tracks and were like, "Who made this? And what is it? It's AMAZING!" Now that's saying something!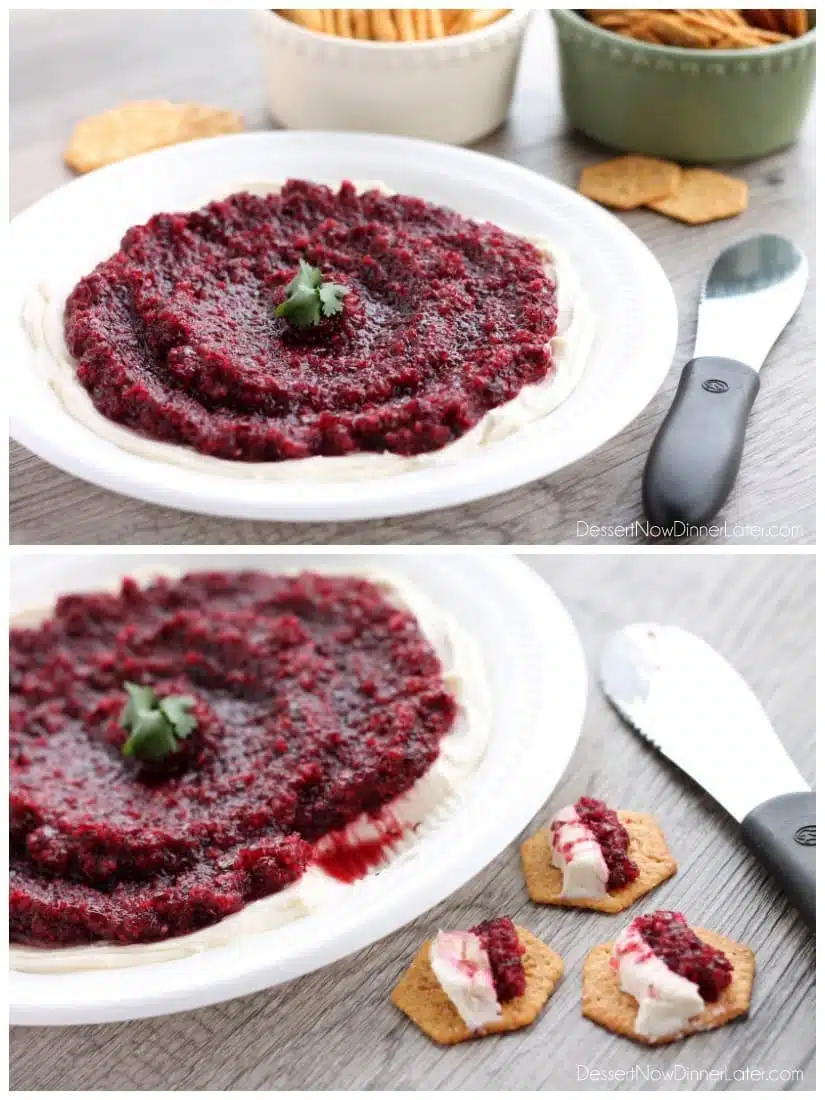 This Cranberry Salsa is the PERFECT blend of sweet and heat! It's best served over a layer of cream cheese and spread on crackers. I am ready for more right now, but will have to wait until Christmas or NYE before I make it again. That's going to be a long wait, haha!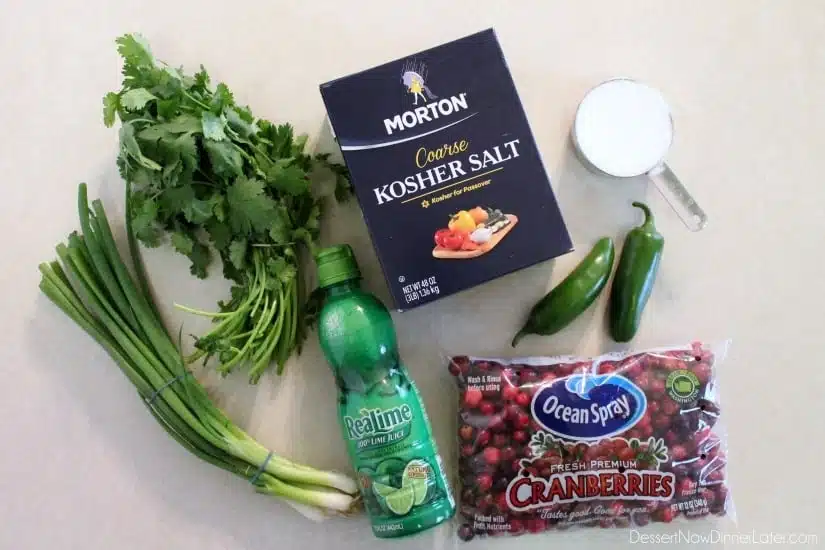 The ingredients are simple: cranberries, jalapeños, green onions, cilantro, sugar, lime juice, and salt. Pull out your food processor or blender and voila! Delicious spicy-sweet Cranberry Salsa!
I thought this Cranberry Salsa had a good heat to it with the two jalapeños, but my spicy lovin' husband wanted more jalapeños, so consider your heat tolerance when adding the jalapeños. I put the whole pepper, seeds and all, besides the stem in it.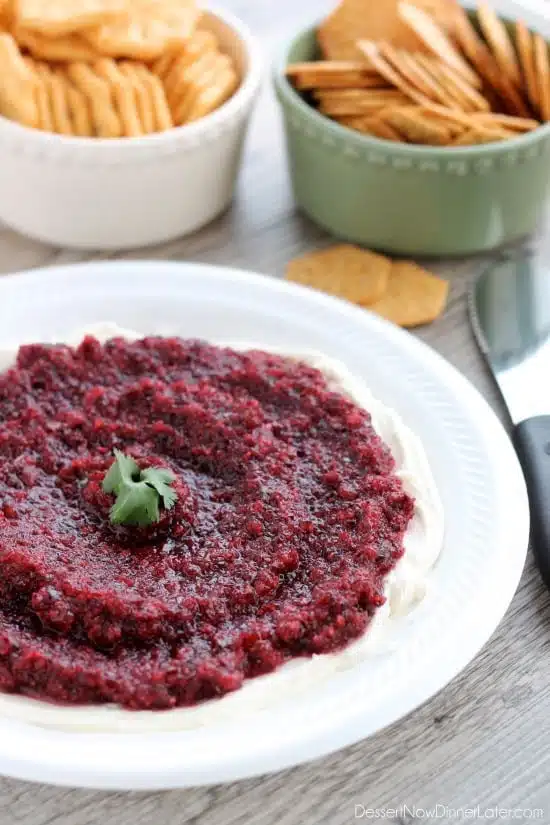 I split our salsa in half onto two plates of cream cheese to have an equal ratio of spicy-sweet salsa to cooling cream cheese. I also have another recipe coming up on Sunday using this salsa in another wonderful holiday appetizer, so stay tuned!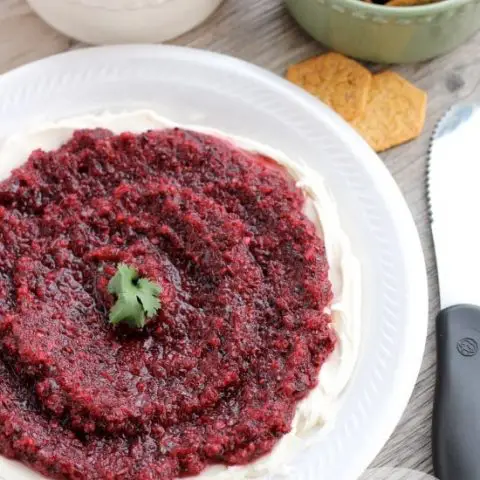 Cranberry Salsa
Ingredients
Cranberry Salsa:
1 (12oz) bag fresh cranberries, washed
2 jalapeños, stems removed and roughly sliced (keep the seeds in the peppers)
1 small bunch of green onions, roughly sliced (about 2/3 cup)
1/4 cup cilantro, roughly chopped
1/2 Tbsp lime juice, fresh or bottled
1/4 tsp kosher salt
1/2 cup sugar, more to taste if desired
Serve with:
2 (8oz) packages cream cheese or neufchatel cheese, at room temperature
Wheat Thins and Ritz Crackers
Instructions
Place cranberries, jalapeños, green onions, and cilantro in a food processor. Blend until fine. Transfer mixture to a bowl and stir in the lime juice, salt, and sugar to taste. Allow to macerate, chill, and marry the flavors in the fridge for 2 hours or more.
To serve: spread cream cheese evenly onto two plates. Divide the salsa on top of both plates of cream cheese. Serve with crackers (Wheat Thins and Ritz Crackers are our favorite.)
Nutrition Information:
Amount Per Serving:
Unsaturated Fat: 0g
Recipe from Our Best Bites and re-written in my own words.