Apple French Toast Casserole
This post may contain affiliate links, meaning that I may receive a commission at no cost to you if you use a link provided. All opinions shared are my own. You can review my full disclosure policy here.
This Apple French Toast Casserole has an oat and apple mixture on the bottom, that when inverted onto a plate, coats the top of the french toast!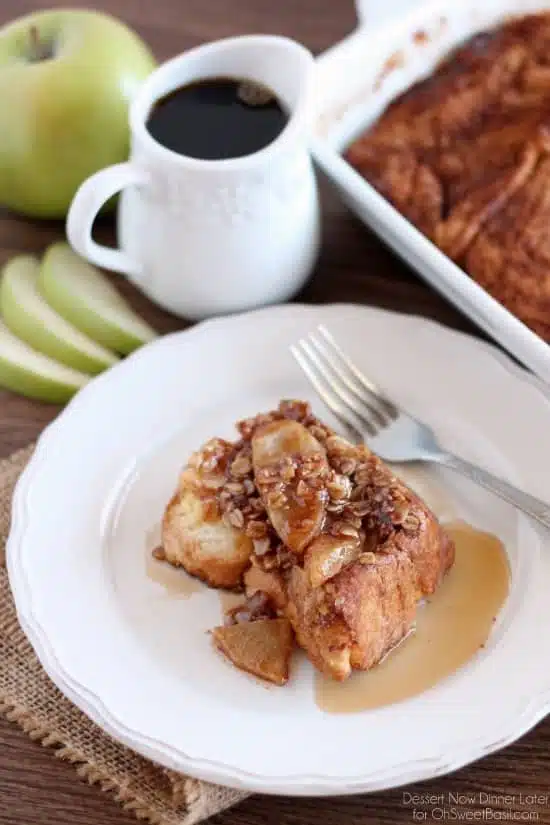 Apple is one of my favorite fall flavors! I know it's a little early to talk about fall, but it's been fairly cool this last month with a good amount of rain for our area this time of year, so naturally, the cool crisp morning air gets me excited for fall treats!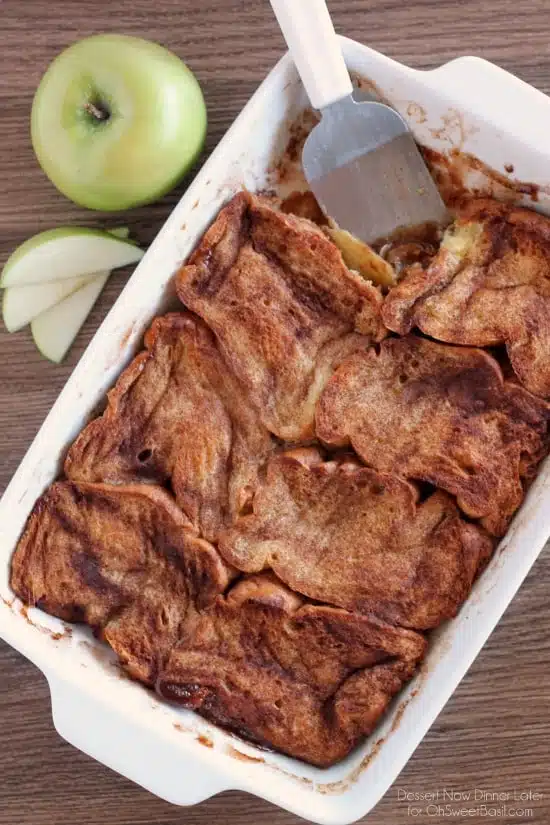 I guess this isn't really a treat, well I guess you could call it a breakfast treat! This Apple French Toast Casserole is like my Upside-Down Orange French Toast, because there's a fruity sauce on the bottom, so when you invert it onto a plate, the oozy apple mixture kind of coats the french toast. You don't really need syrup on this, but I added some anyway, because it's french toast!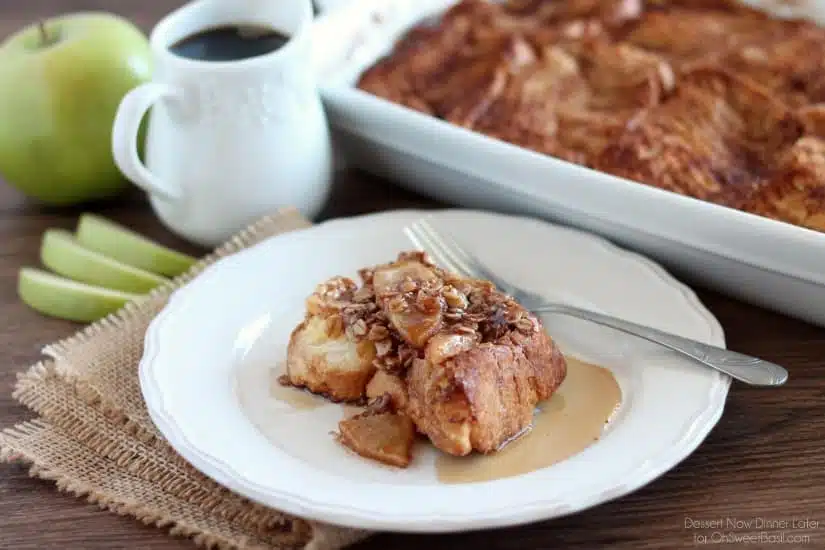 This Apple French Toast Casserole needs some time to soak up the egg mixture, so it's best to prep it the night before and then bake it in the morning. Great for weekend breakfasts, brunches, or holidays with family!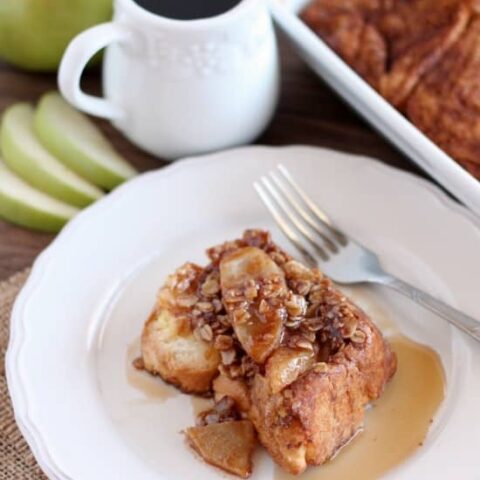 Apple French Toast Casserole
Ingredients
Apple and Oat Mixture:
1/2 cup butter, melted
1/2 cup sugar
2 tsp cinnamon
1/2 cup oats (old fashioned or quick cook)
2 large or 3 small granny smith apples, peeled, cored, and thinly sliced
French Bread:
8, 1- inch slices of French bread (about 3/4 of a loaf depending on how big it is)
1 cup heavy cream
5 eggs
1 tsp vanilla
1/4 tsp salt
2 Tbsp sugar
1/2 tsp cinnamon
Instructions
Place melted butter, sugar, cinnamon, and oats in the bottom of a 13x9-inch baking dish.
Layer apple slices on top of the oat mixture to fill the bottom of the pan.
Layer 8 slices of French bread on top of the apples.
Mix heavy cream, eggs, vanilla, and salt in a bowl. Pour evenly over the French bread.
Combine 2 Tbsp sugar with ½ tsp of cinnamon and sprinkle over the top of the soaked bread.
Cover with plastic wrap and let refrigerate several hours to overnight, until the bread has soaked up all the eggy liquid.
Bake at 350 degrees Fahrenheit for 45 to 50 minutes or until the bread in the center puffs up and is cooked through.
Scoop slices of French toast out, one and a time, and invert them onto a plate so the bottom becomes the top with the oat and streusel mixture facing up. Drizzle with syrup if desired. Enjoy hot.
Nutrition Information:
Yield: 8
Amount Per Serving:
Unsaturated Fat: 0g
Recipe added 8/26/15. Also seen on Oh Sweet Basil.