Blonde Butter Syrup + Video
This post may contain affiliate links, meaning that I may receive a commission at no cost to you if you use a link provided. All opinions shared are my own. You can review my full disclosure policy here.
Forget maple syrup! Blonde Butter Syrup is the BEST homemade syrup you will ever try! It's creamy, rich, buttery, and with only 3 ingredients, you can whip it up in no time! Perfect for lazy weekends and Christmas breakfast too!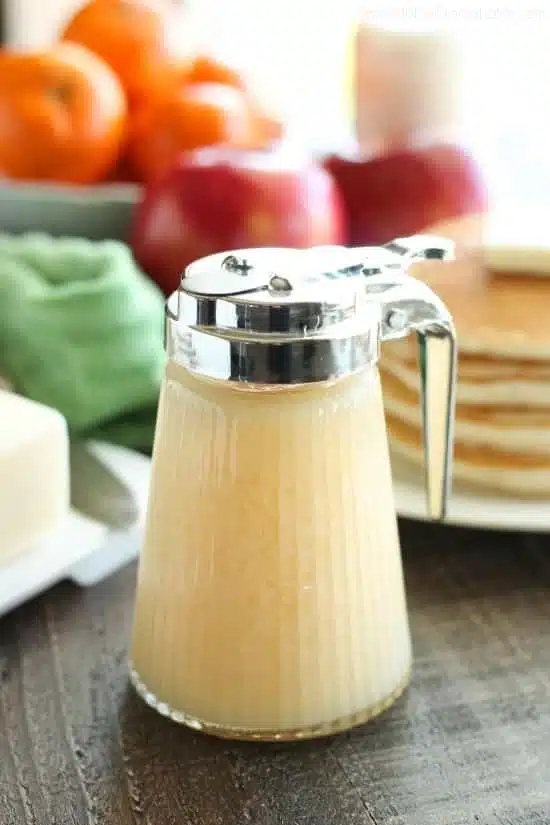 I was first introduced to this syrup when my husband and I were young newlyweds and we were attending a married student ward for our church. We would have a "Linger Longer" every now and then where we would stay after church was over and eat food. The food was anything from dinners, to desserts, to breakfasts. One of the ladies in our ward made the BEST butter syrup for one of our breakfast activities. I had never tried anything like it before. I was completely addicted and so glad she shared the recipe with us!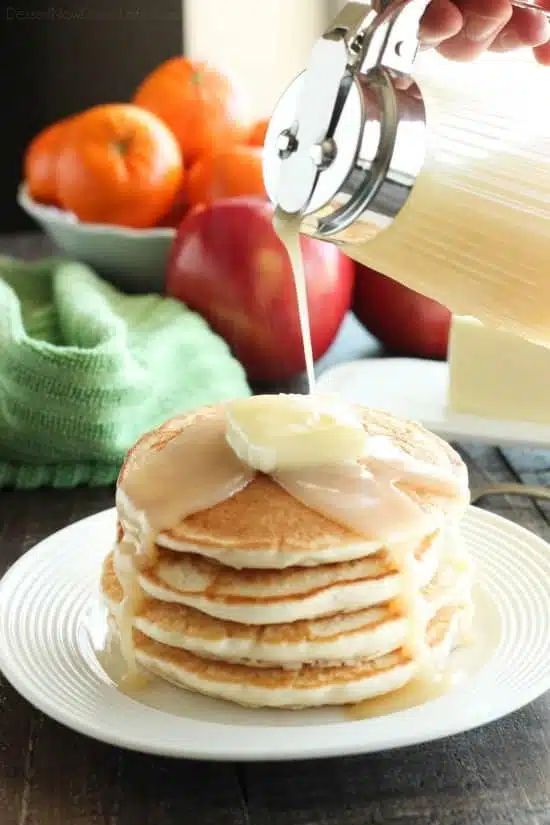 This syrup is smooth, rich, and buttery – just like you would expect from the name of it. So. Flipping. Delicious! It's thick and sweet. I'll even go as far as to say that I like it better than real maple syrup on my pancakes. It's THAT good!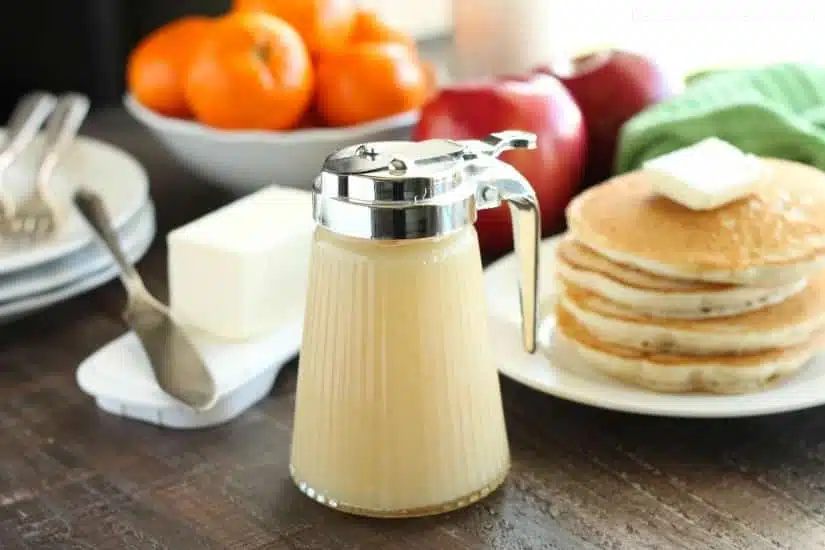 Another thing I love about this butter syrup is that it only takes 3 ingredients to make. I almost always have all the ingredients on hand to make it too, which is good, but dangerous at the same time, haha. We make this when we have breakfast for dinner. The kids can't get enough!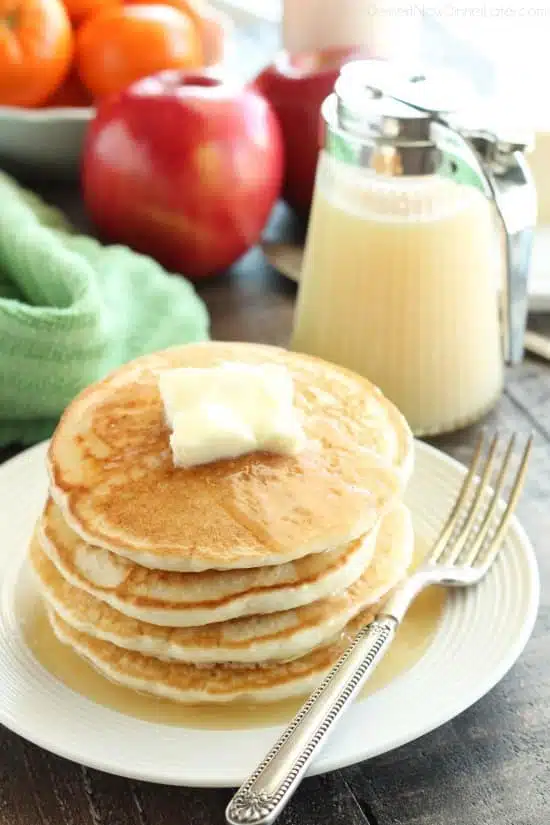 This butter syrup is definitely a crowd pleaser, so if you are having company over for the holidays, you should definitely make it! Be prepared to make a LOT though, because everyone will be adding more to their stack of pancakes after they taste their first bite! Enjoy!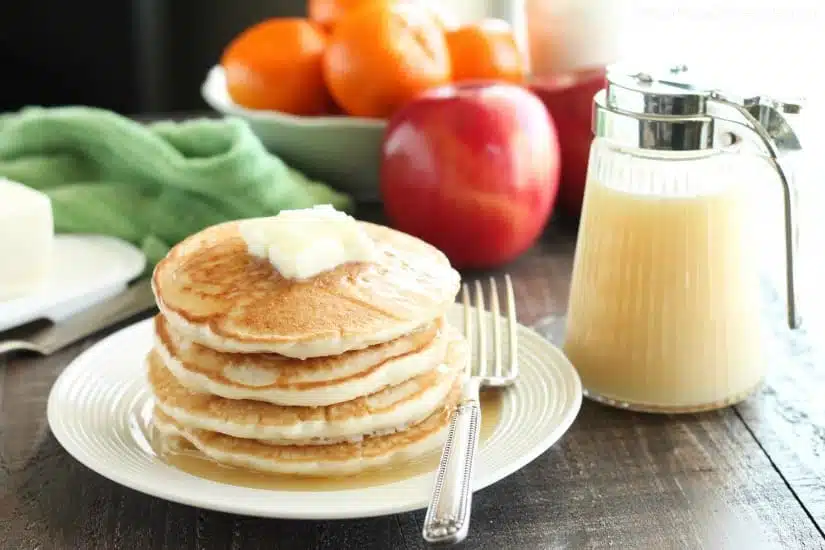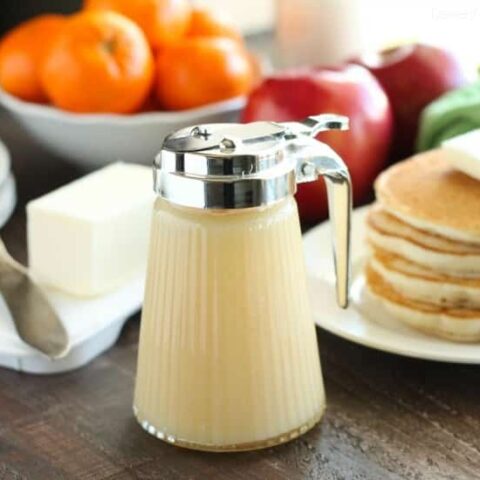 Blonde Butter Syrup
Prep Time: 5 minutes
Total Time: 5 minutes
Yield: 1 ½ + cups of syrup
Ingredients
1/2 cup (1 stick) butter
1 cup sugar
1/2 cup evaporated milk
Instructions
Melt butter in a small saucepan over the stovetop.
Place evaporated milk in a large microwaveable dish/glass measure cup. Microwave for 60 seconds or until boiling.
Add sugar to the evaporated milk immediately after removing from the microwave. (It will puff up when you first add the sugar to the milk, so that's why you want a big container to stir it in.)
Whisk sugar and milk for a minute until sugar is mostly dissolved. Add to melted butter on the stove and whisk continuously over medium-high heat. Continue whisking until the syrup boils and thickens up (happens when it reaches a boil.) Don't cook too long or it will caramelize the sugars and it won't be that blonde butter syrup you want.
*Refrigerate any leftovers up to 7-10 days. Reheat in the microwave 1 minute to melt any sugar crystals that may develop.
Nutrition Information:
Yield: 12
Serving Size: 1
Amount Per Serving:
Calories: 79
Total Fat: 1g
Saturated Fat: 0g
Trans Fat: 0g
Unsaturated Fat: 0g
Cholesterol: 3mg
Sodium: 11mg
Carbohydrates: 18g
Fiber: 0g
Sugar: 18g
Protein: 1g
This data was provided and calculated by Nutritionix, and is an estimation only.
Recipe from Sister Jewitt
Pictures updated & post re-published 11/6/16. Post originally published to my blog April 10, 2012.