Jelly Filled Mini Donuts
This post may contain affiliate links, meaning that I may receive a commission at no cost to you if you use a link provided. All opinions shared are my own. You can review my full disclosure policy here.
These Jelly Filled Mini Donuts make the perfect breakfast or dessert! Lemon glazed donuts are made easy with refrigerated biscuit dough, and are stuffed with a naturally sweetened blueberry lemon fruit spread.  
This is a sponsored post. Grab a jar of the Fruit & Honey Blueberry Lemon Fruit Spread and try these donuts asap! #FruitandHoney #WalMart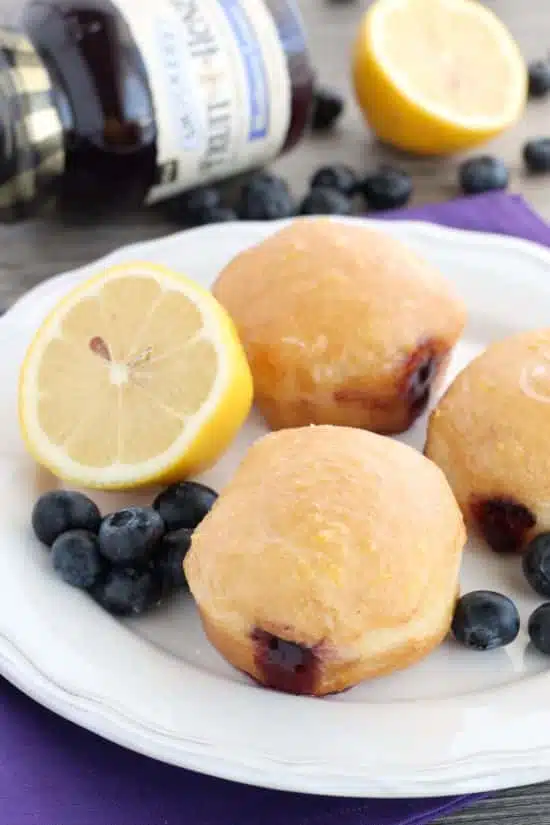 When I was in college, majoring in Culinary Arts, my first internship was in a grocery store bakery. One of my jobs was to frost the donuts. I would get to work at 4:00am and dip dozens and dozens of donuts in chocolate, maple, and vanilla frosting, and the guy who worked with me was in charge of frying and filling the donuts. Now it has taken me a several years to like donuts again, too much of a good thing can get old, but my favorite donuts were definitely the jelly filled ones!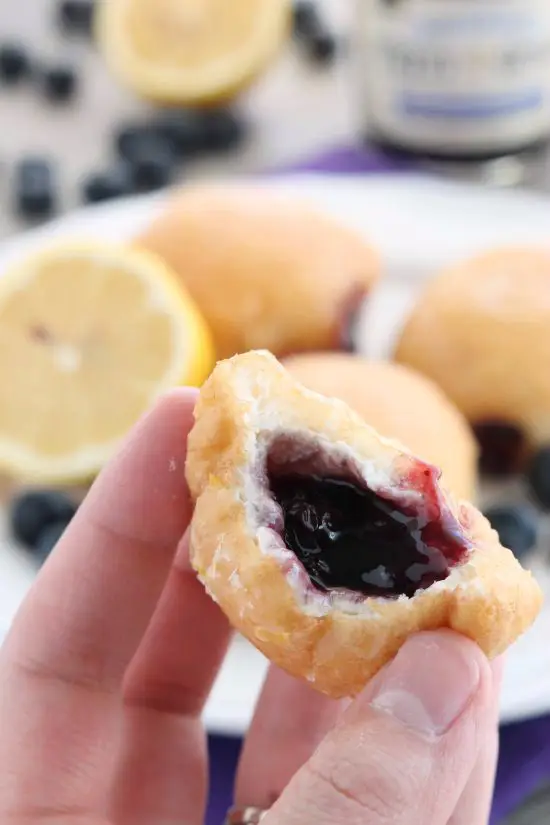 Every now and then, I get a hankering for donuts, and if you have seen any of my donut posts in the past, then you know that I love to use refrigerated biscuit dough to make them super quick and easy. The added bonus about these donuts is that, by making your own jelly filled donuts at home, you can stuff them as much as you want. So when The J.M. Smucker's Company asked me to blog about their Fruit & Honey fruit spreads, I knew that I had to make these donuts! There are four Fruit & Honey flavors to choose from: Blueberry Lemon, Strawberry, Triple Berry, and Tropical. The Blueberry Lemon was calling my name! It tastes very pure, and naturally sweetened. Like fruit and honey, no joke! There are even plump blueberries in the fruit spread itself!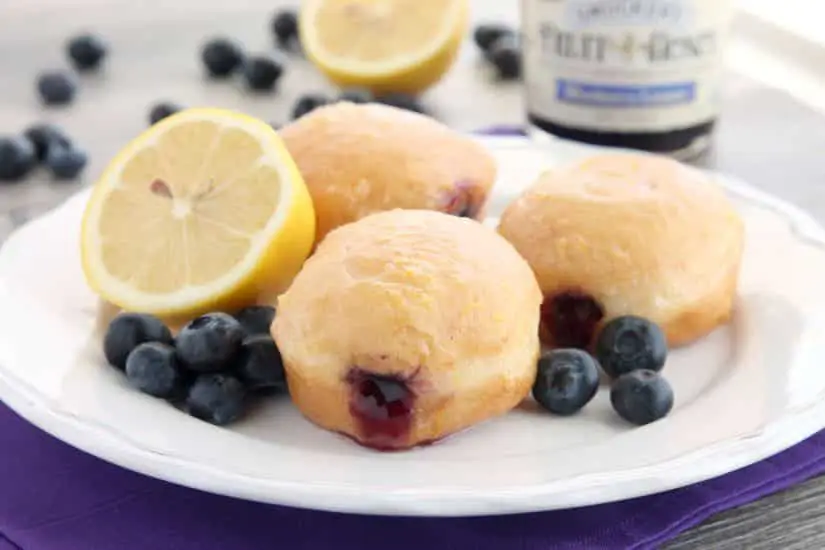 To embellish the flavor from the Fruit & Honey Blueberry Lemon Fruit Spread, I made up a lemon glaze to pour over the donuts. You can see a little bit of lemon zest on top if you look closely. It was the perfect addition to compliment the blueberry lemon fruit filling! My kids loved eating these mini donuts for breakfast! They make a fun little dessert too. Check out more recipe ideas on Smuckers.com.
If you want to pick up a jar of the Fruit & Honey fruit spreads, you can find them at Walmart, and you can even save $0.75 through Ibotta. If you don't have the Ibotta app, sign up here. You'll earn an extra dollar if you use it just once in the first two weeks after you sign up. All you do is watch short videos to earn REAL cash back on products you purchase at the store. No points. Real money! I just started using it 2 weeks ago and I've already earned $6.35.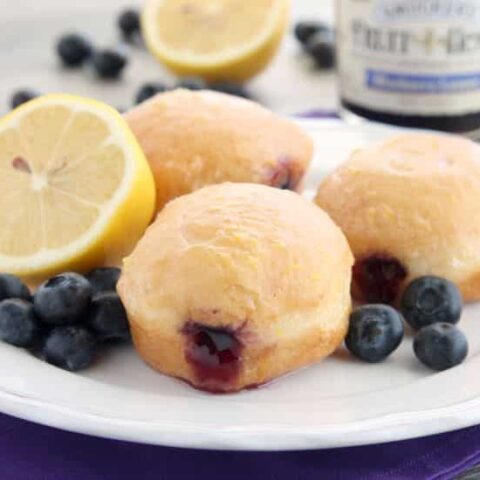 Jelly Filled Mini Donuts
Ingredients
1 (10 count) tube refrigerated buttermilk biscuits
1 (9oz) jar Smucker's Fruit & Honey Blueberry Lemon Fruit Spread
2 cups powdered sugar
zest of 1 lemon
juice of 2 lemons (6 Tbsp)
oil for frying (vegetable/canola)
Optional: 1 Tbsp water or milk to thin the glaze, if needed
Instructions
Pour oil into a deep stock pot at least 2-inches high from the bottom. Heat over medium heat (a #5 or #6 heat on a 10 level dial) until ready to fry. Open a tube of biscuits and fry 5 at a time, turning each piece of dough when golden brown, and removing the donuts when browned on each side. Place cooked donuts onto a cooling rack that has been placed inside a baking sheet to catch any oil drippings. I used a metal spatula to turn my donuts and remove them from the pot. Repeat with remaining biscuit dough.
Prepare glaze by whisking the powdered sugar, lemon zest, and lemon juice in a bowl.
Once the donuts are cool, cut two slits on the opposing ends of each donut.
Fit a pastry bag with a coupler and a Wilton #12 round tip. Fill the bag with Smucker's Fruit & Honey Blueberry Lemon Fruit Spread and twist the end of the bag shut. Using the tip, enter the slit on one side of a donut and squeeze the blueberry filling into the center while zig-zagging the tip back and forth from side to side, creating a pocket to fill the inside of the donut. Stop squeezing when it starts spilling out. Repeat on the opposite end of the donut, to fill the inside thoroughly. You want the donut to feel heavy for it's size, so you know it's filled well.
Place donuts back onto the cooling rack that is placed inside of a baking sheet. Pour the lemon glaze over each donut with a large spoon. The baking sheet will catch the extra drippings. Allow donuts to dry completely before eating. Store any leftovers in an airtight container in the refrigerator. Best eaten fresh.
Nutrition Information:
Yield: 10
Amount Per Serving:
Unsaturated Fat: 0g