Coffee Cake Muffins (Cinnamon Streusel Muffins)
This post may contain affiliate links, meaning that I may receive a commission at no cost to you if you use a link provided. All opinions shared are my own. You can review my full disclosure policy here.
These coffee cake muffins have a moist, buttery yellow cake, and are topped with lots of crunchy, sweet cinnamon streusel.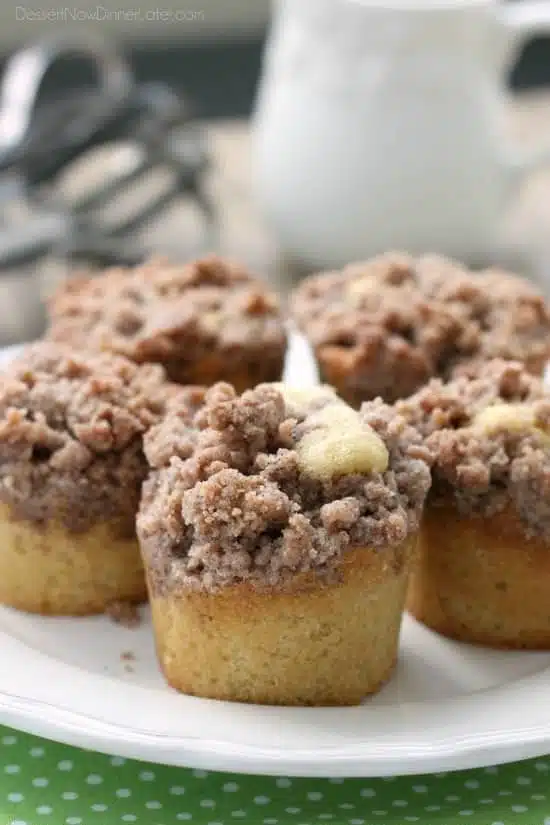 Today is National Coffee Cake Day, and although I don't drink coffee, I just love a cake that is piled high with streusel, so I made coffee cake muffins to celebrate! I will pretty much eat anything with streusel. The buttery, crispy, crunchy-sweet goodness is oh so addicting.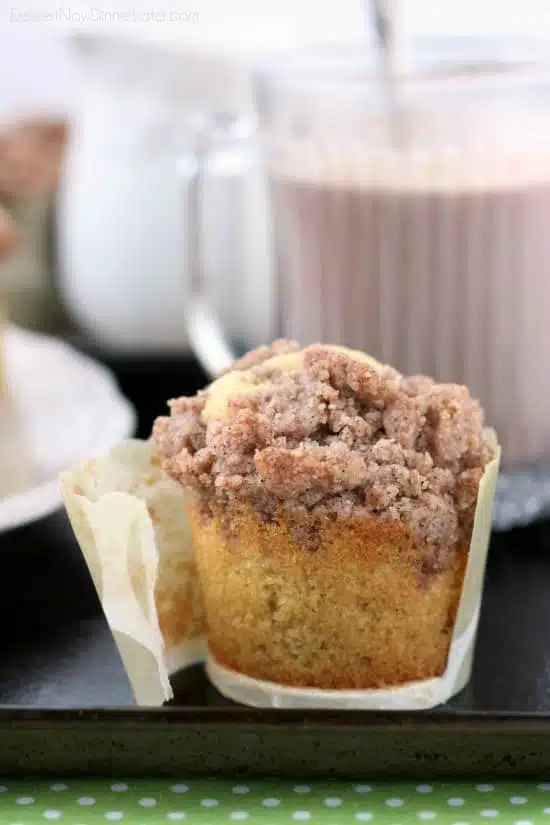 One of my favorite streusels is the one in this Cinnamon Pumpkin Crumble. It has pecans in it, which I thought I would hate, because I don't really love pecans, but it adds a totally new crunchy texture that is so worth trying.
The cinnamon streusel on top of these coffee cake muffins is super traditional. Butter, flour, cinnamon, sugar, and a little salt. Instead of cutting in the butter, I melted it, so I got these huge round clumps of buttery-sweet streusel pieces.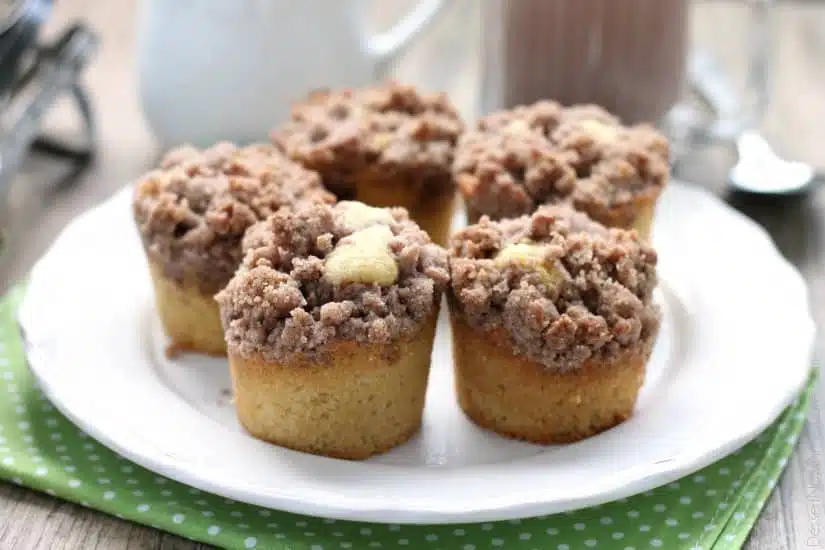 The batter rises quite a bit. You can see that some of the cinnamon streusel muffins have cake poking through the crumb topping. With the streusel on top, that's a lot of stuff to put into one muffin cup. So don't go overfilling those muffin cups, or it could be a potential disaster. I actually used those self-standing, hard muffin cups that you don't need a muffin pan for, and they worked great!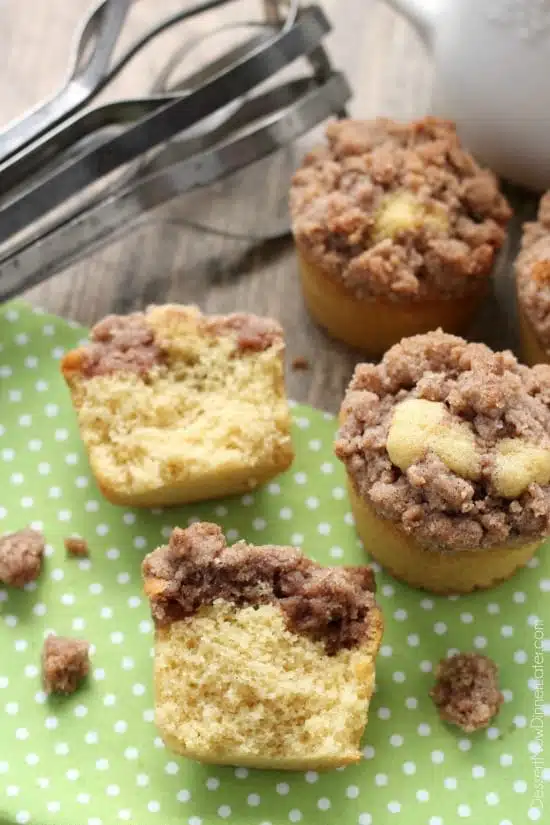 How about a little confession before I share the recipe? Okay! I tend to have a problem with desserts in my house. It's SO hard to just eat one, even when they are individually portioned, like cupcakes or muffins. Just know that these muffins were totally worth eating three in one sitting. (Yes, I totally did that.) Enjoy my friends!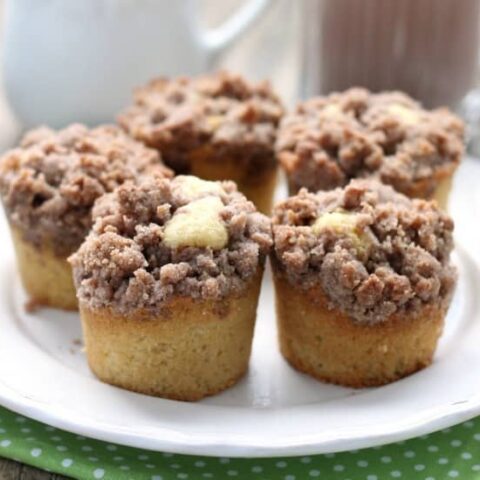 Coffee Cake Muffins
Ingredients
Muffins:
1 1/4 cup all-purpose flour
1/2 cup sugar
1/2 tsp baking soda
1/2 tsp salt
6 Tbsp butter, cut into Tablespoon pieces
1 whole egg + 1 egg yolk
1 tsp vanilla
1/3 cup buttermilk (or 1/3 cup milk + 1 tsp of lemon juice or white distilled vinegar)
1/4 cup oil (canola/vegetable)
Streusel:
1 1/4 cups all-purpose flour
2/3 cup sugar
1 Tbsp cinnamon
1/2 tsp salt
1/2 cup butter, melted
Instructions
Preheat oven to 375 degrees. Line muffin pan(s) with paper cups. Set aside.
In the bowl of a stand mixer, combine the flour, sugar, baking soda, and salt. Using the paddle attachment, cut in the butter, one Tablespoon at a time, until the mixture resembles fine crumbs.
In a separate bowl, whisk together the egg, egg yolk, vanilla, buttermilk, and oil. Add the wet ingredients to the dry ingredients and mix until incorporated.
Fill muffin cups ½ full. Do not overfill! About 13 to 14 muffins depending on the size of the cups. Set aside.
Prepare streusel by combining the flour, sugar, cinnamon, salt, and melted butter in a bowl until everything is wet and crumbly. Divide the streusel between all the muffin cups. It will seem like a lot, but use it all.
Bake at 375 degrees Fahrenheit for 15 to 20 minutes, until a toothpick comes out of the center clean. Allow to cool completely. Store any leftovers in an airtight container up to 3 days.
Nutrition Information:
Yield: 13
Amount Per Serving:
Unsaturated Fat: 0g