Butternut Squash and Leek Personal Quiches
This post may contain affiliate links, meaning that I may receive a commission at no cost to you if you use a link provided. All opinions shared are my own. You can review my full disclosure policy here.
Butternut Squash and Leek Personal Quiches – These super cheesy butternut squash and leek quiches are baked in a homemade pie crust. Impress your guests with their own personal quiche!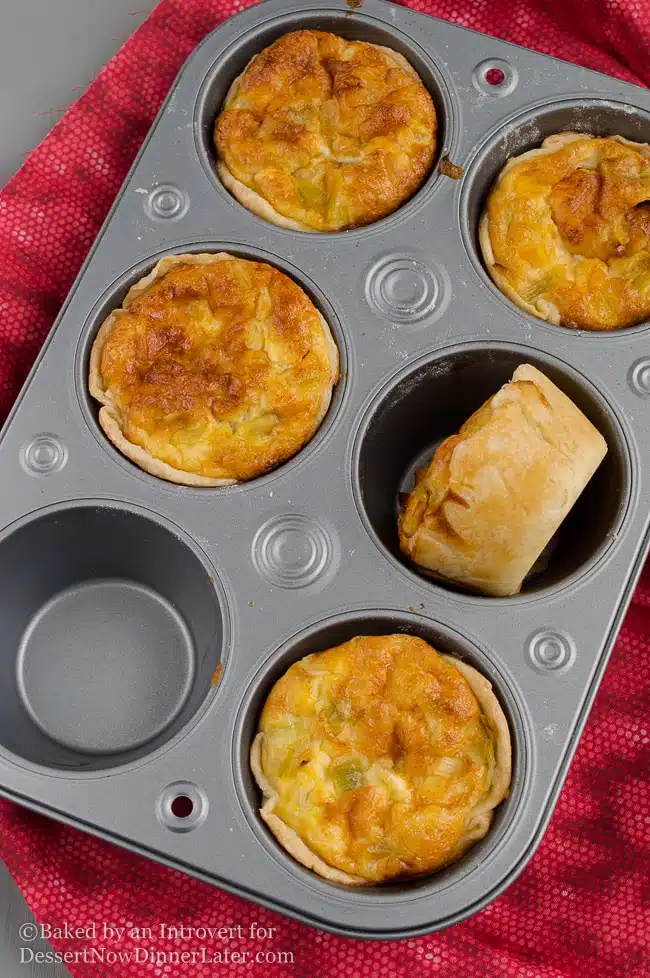 Hey guys! It's Jen from Baked by an Introvert once again. I'm bringing you my final recipe for the year and I thought that maybe it should be a savory one.
So far I've shared with you all sweet treats; like this spiced cider fudge, these maple bacon chocolate donuts, and let's not forget about these banana chocolate toffee cupcakes. Naturally I needed to balance all of that sugar with some butternut squash and leek personal quiches.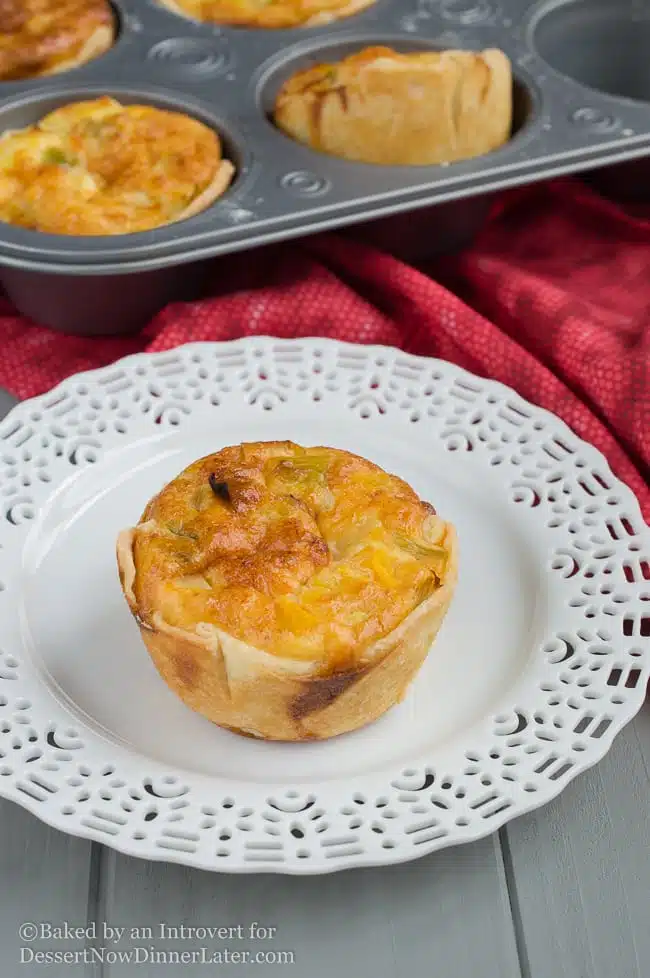 These single serve quiches are the perfect thing to carry along to your next brunch. They are baked in a homemade crust, filled with chunks of butternut squash, sautéed leeks, and creamy Gouda cheese.
For my quiches I like to use heavy cream instead of milk for an extra rich and creamy texture. The thick and creamy egg base will give the quiches the most gorgeous texture.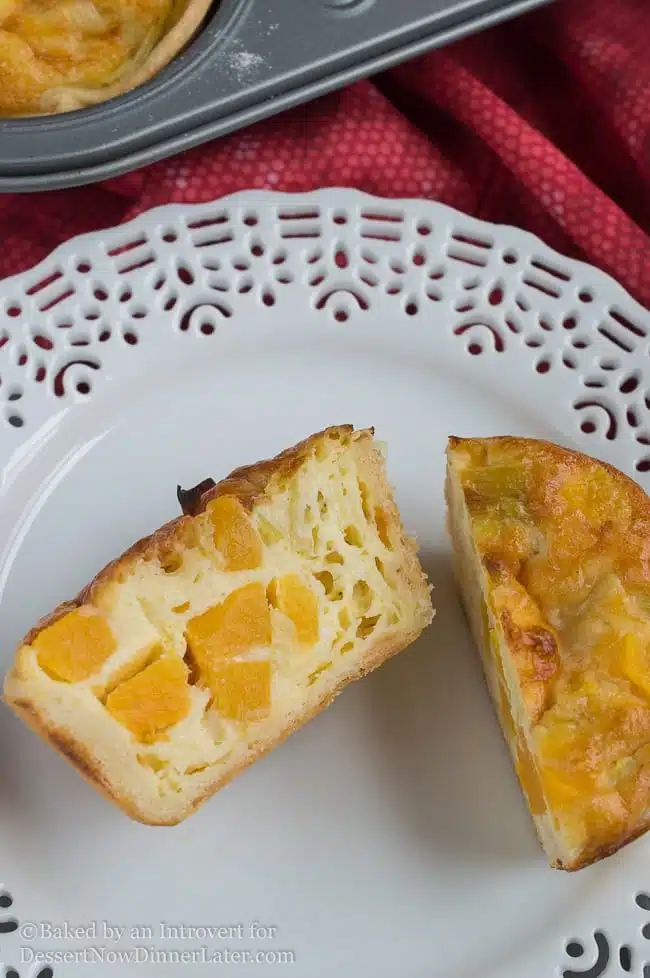 The quiches take about 45 minutes to bake. You want the cheese on top to be nicely browned. Trust me; it's so much better that way.
Let them cool for just a few minutes before removing them from the pan and you are ready to enter cheesy fall heaven.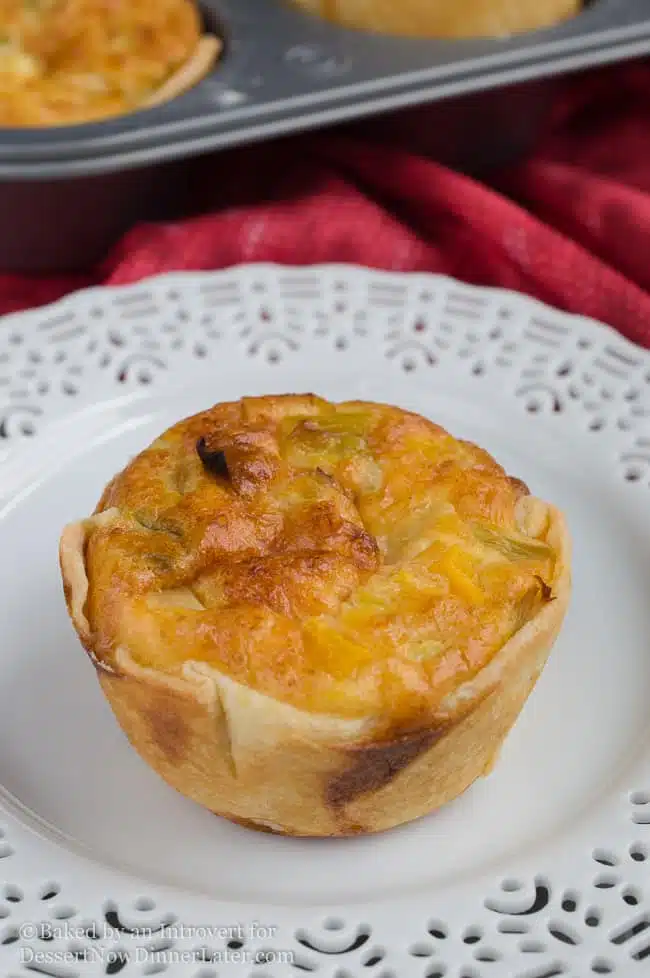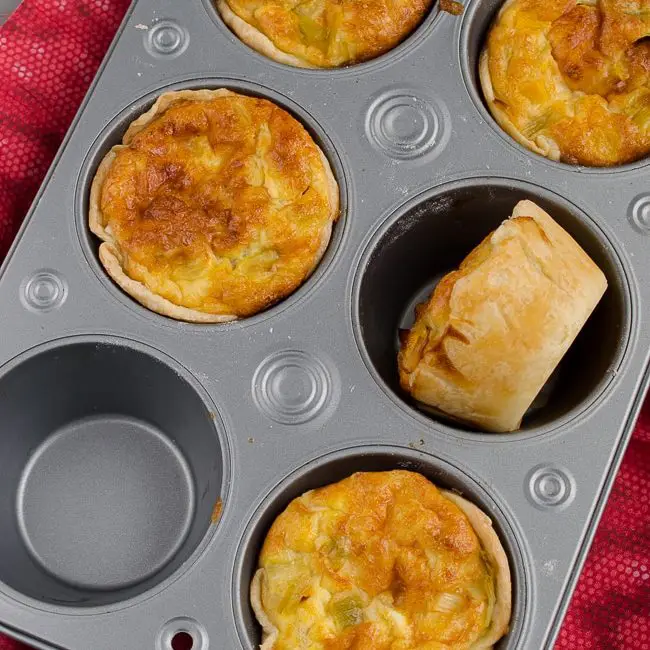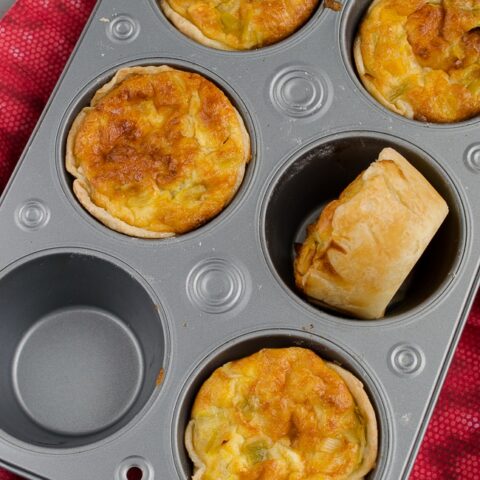 Butternut Squash and Leek Personal Quiches
Ingredients
For the crust:
1 1/4 cups flour
1/2 tsp salt
1/3 tsp cold unsalted butter, cut into pieces
3 to 5 Tbsp ice water
For the filling:
1 Tbsp unsalted butter
1 cup butternut squash, peeled, seeded, diced
1 cup leek, diced
1/2 tsp salt
6 large eggs
1 cup heavy cream
1 tsp salt
1/2 tsp ground white pepper
3 tsp Dijon mustard
2 cups shredded Gouda cheese
Instructions
Make the crust: In a large bowl, combine the flour and salt. Use a pastry blender to cut in the butter until the mixture becomes crumbly. Add water 1 Tbsp at a time, toss with a fork until mixture becomes moistened. Shape the mixture into a ball, cover, and chill for 1 hour.
Preheat the oven to 400 degrees Fahrenheit. Roll the crust out into a 10 inch circle. Use a 3 inch cookie/biscuit cutter to cut out 8 to 9 circles. Roll each circle out large enough to fit inside the cup of a large 6-cup muffin pan. Gently press dough circles into the cups of the muffin pan. Cover with plastic wrap and refrigerate until ready to use.
Melt the butter in a skillet over medium heat. Add the squash, leek, and salt. Cook until the leeks are soft and transparent, about 8 minutes.
Whisk together the eggs, cream, salt, white pepper, and Dijon mustard. Stir in the cheese. Pour ⅓ cup of the mixture over each crust. Divide squash mixture evenly over the filled crusts.
Bake for 40 to 45 minutes, until cheese is golden brown. Allow to cool for 10 minutes before serving.
Nutrition Information:
Yield: 8
Amount Per Serving:
Unsaturated Fat: 0g