Favorite Strawberry Cake
This post may contain affiliate links, meaning that I may receive a commission at no cost to you if you use a link provided. All opinions shared are my own. You can review my full disclosure policy here.
This strawberry cake uses fresh strawberries and flavored gelatin (Jello) for a super flavorful strawberry sheet cake that will feed a crowd. It's really easy, and incredibly moist too!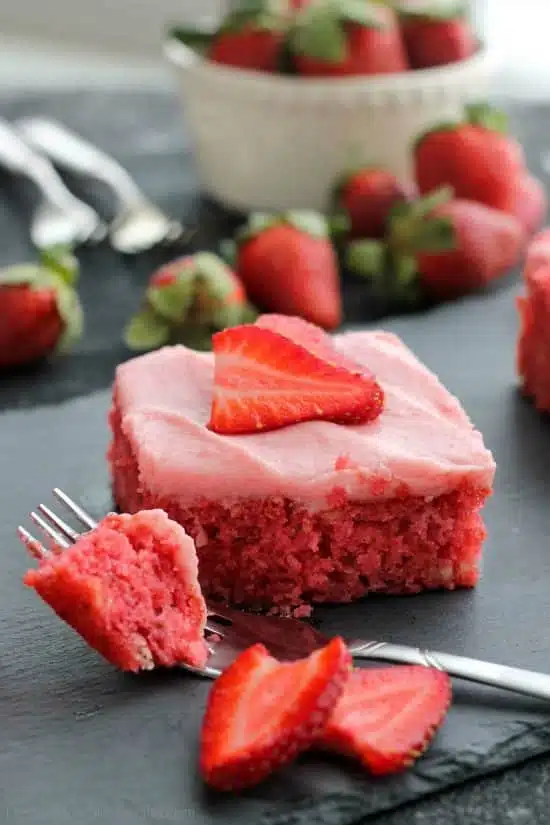 Growing up, my siblings and I called this, "Valentine's Day Cake" because my mom would always make this strawberry cake in heart shaped pans for Valentine's Day. It was something we looked forward to every year as kids, and I just can't help but make it for my own children now that I'm grown. It's our favorite strawberry cake recipe!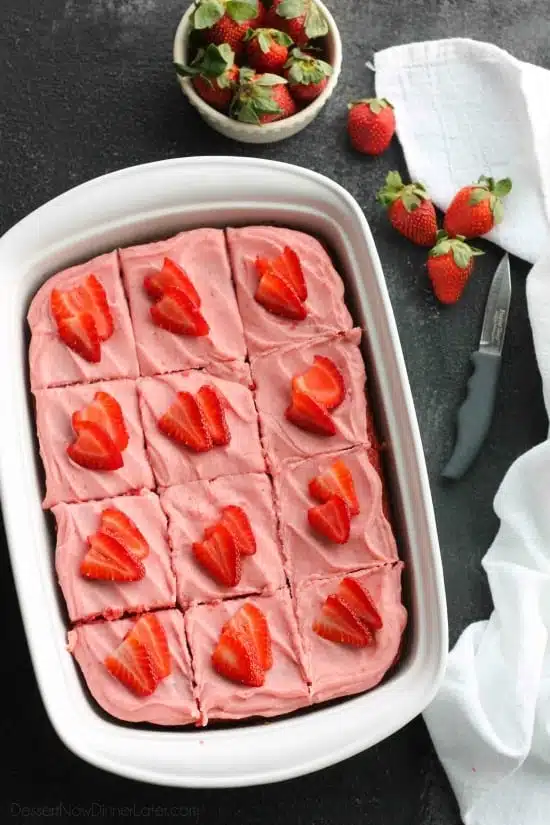 I have slightly adapted the recipe because the original recipe's frosting was SUPER runny. It is a bit tricky to make a fresh strawberry buttercream that is stiff enough that it doesn't run off the cake, but I've found a great solution: natural strawberry preserves!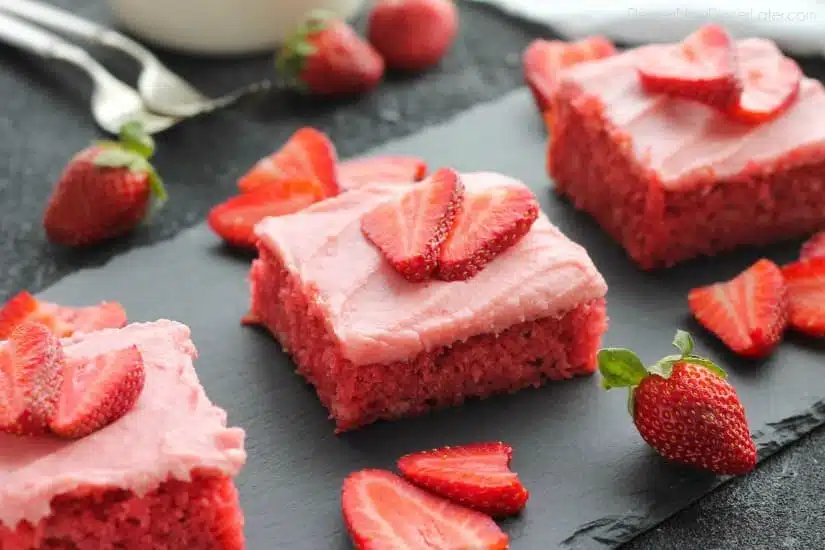 It gives the frosting that strawberry flavor, but since it is gelatinized from the pectin, it helps keep the frosting from running off the cake. It's the same concept as making a stabilized whipped cream with unflavored gelatin. I even saved some of the strawberry gelatin for the cake to use in the frosting as well.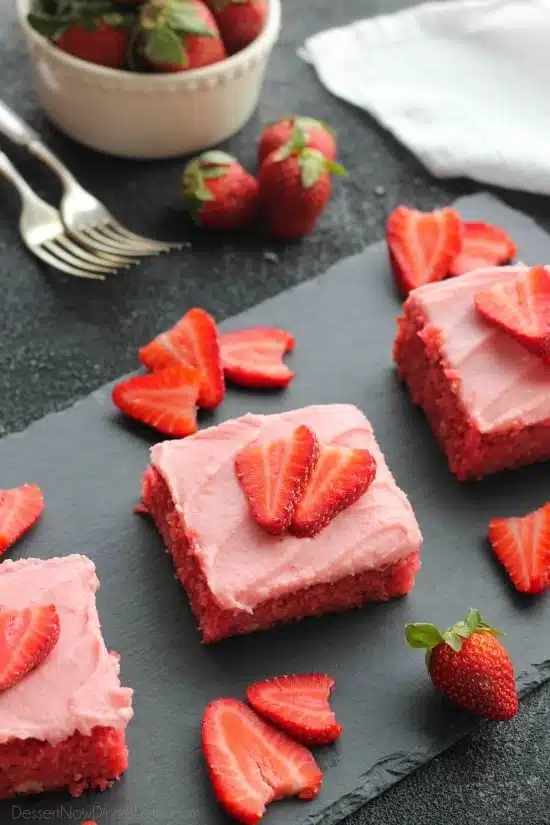 The original cake portion of the recipe used frozen strawberries in syrup, and I felt like that was unnecessary. As much as I loved sugar as a kid (and still do), using fresh strawberries is a great solution, and the cake is still plenty sweet.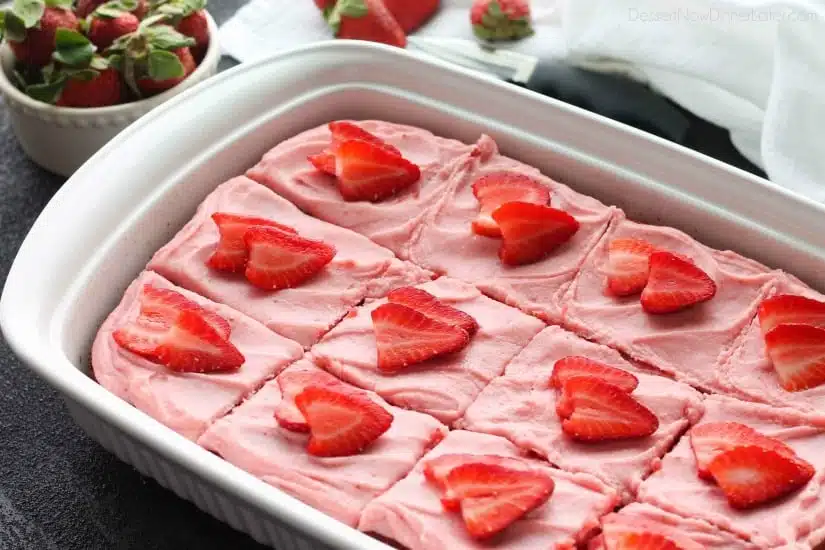 This is one of those recipes that a lot of people have and love. Similar recipes are all over the internet, but this is my variation and I hope you'll try it! It might even become a yearly tradition for your family each Valentine's Day.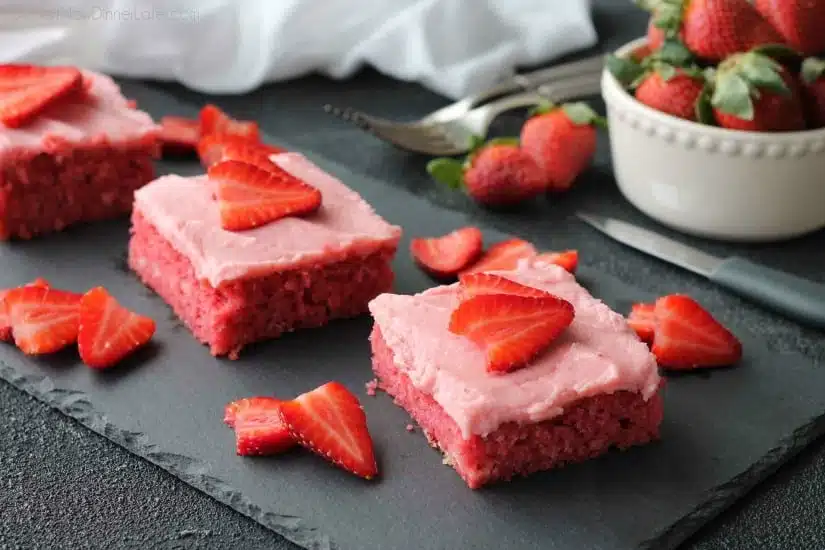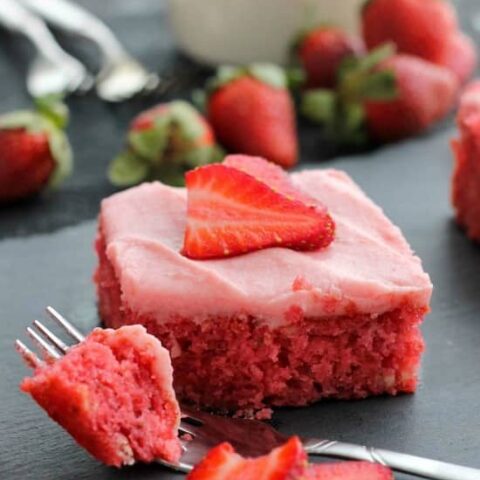 Favorite Strawberry Cake
Ingredients
For the Cake:
1 pint fresh strawberries (1 cup crushed/pureed - instructions below)
1 box white cake mix (can use vanilla or yellow cake mix too)
1 (3oz) small box of strawberry gelatin (dry) --> reserve 1 tsp for frosting, optional
4 large eggs
1 cup vegetable/canola oil
1/4 cup water
For the Frosting (Makes about 1 2/3 cups):
1/2 cup (1 stick) butter, room temperature
1/2 cup natural strawberry preserves
2 cups powdered sugar
Instructions
Preheat oven to 350 degrees Fahrenheit. Spray a 9x13-inch baking dish with nonstick cooking spray.
Rinse strawberries and dry with a paper towel. Remove stems. Place strawberries in a blender or food processor. Pulse until crushed or blended smooth (desired consistency). Reserve 1 cup. Set aside.
In a large bowl, whisk the cake mix with strawberry gelatin powder (reserving 1 tsp of the strawberry gelatin powder for the frosting, if desired).
Add the eggs, oil, water, and 1 cup of crushed/pureed strawberries. Mix well.
Pour batter into the prepared baking dish. Bake at 350 degrees Fahrenheit for 30 to 33 minutes or until toothpick comes out clean when placed in the center of the cake. Allow cake to cool completely.
MAKE THE FROSTING: In a large bowl with an electric hand mixer, beat the butter until smooth and creamy. Add the strawberry preserves and 1 cup of powdered sugar. Blend well. Add 1 more cup of powdered sugar and the reserved teaspoon of strawberry gelatin (optional). Blend well. Spread over cooled cake. Serve with additional sliced fresh strawberries if desired.
Notes
TIP: Add 1 tsp of milk to the frosting, if needed, for a more spreadable consistency.
- HIGH ALTITUDES add 3 Tbsp all-purpose flour to the cake mix.
- You may use FROZEN strawberries for this cake if you let them thaw, and then drain as much of the juice as possible.
*Recipe altered from
The Country Cook
and
Carmela Pop
Nutrition Information:
Yield: 12
Amount Per Serving:
Unsaturated Fat: 0g