Candy Corn Punch
This post may contain affiliate links, meaning that I may receive a commission at no cost to you if you use a link provided. All opinions shared are my own. You can review my full disclosure policy here.
Layered drinks can be so fun for parties, and this Candy Corn Punch is perfect for Halloween!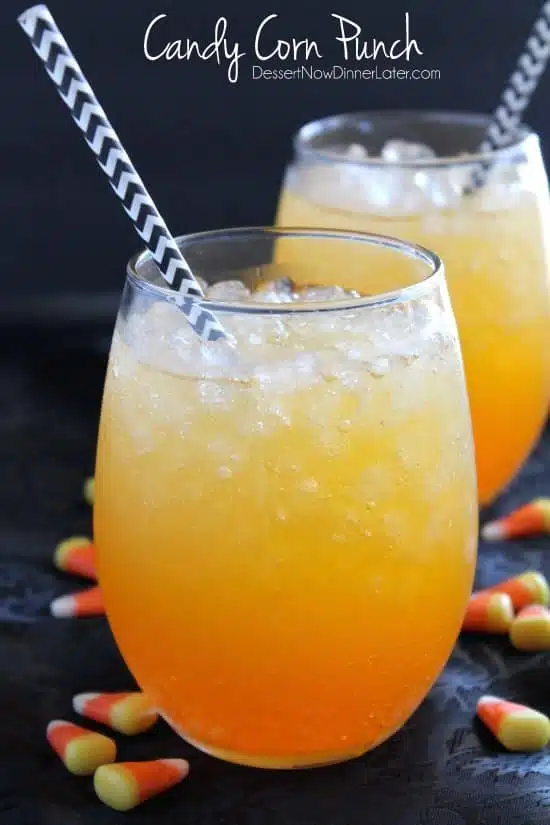 Halloween is only a month and a day away and can I confess something to you? I don't really like candy corn…the candy. Don't hate me okay?! I do LOVE the bright colors and it's a fun thing to play off of for Halloween treats, hence this Candy Corn Punch!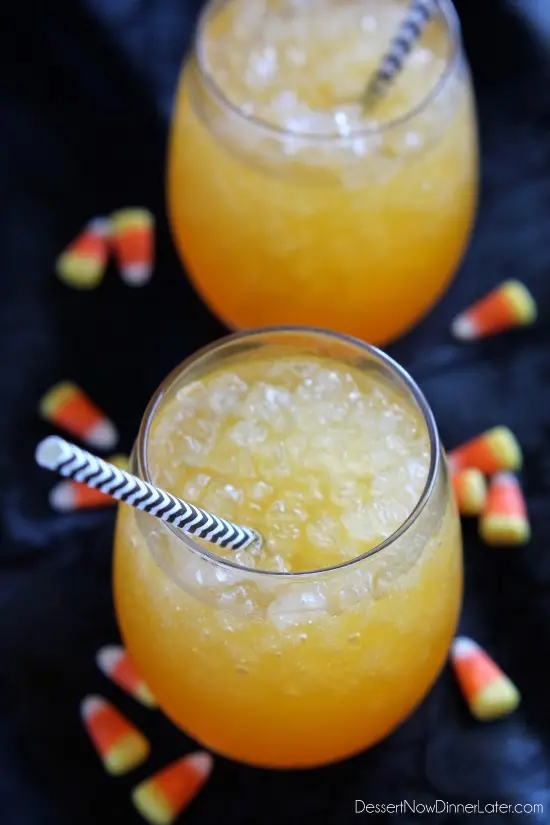 My sweet husband went to Sonic and got me some pebble ice just for this post and I am so glad because it makes the drink look really nice and kind of helps that white layer at the top (that is almost nonexistent with the drinks that I chose.)
So there is some science behind how these layered drinks "work." Basically you look at the labels and the drink with the highest sugar content per serving will be the heaviest (try to compare drinks that match the same serving sizes), the middle sugar content will hang in the middle, and the no sugar content will stay at the top. You typically want at least 10g sugar difference between each layer, but for some reason my 0g sugar Coconut Cascade Ice didn't really work. Maybe I poured it too fast? I don't know, but the pebble ice kind of gave it that white look on the top. Candy corn only has a teeny bit of white at the tip anyway, right?

The flavor in this drink was really citrus-y and tropical. Delicious! Check out my friend Sarah's post for this same candy corn punch to see the drinks that she chose, because hers actually split into 3 layers.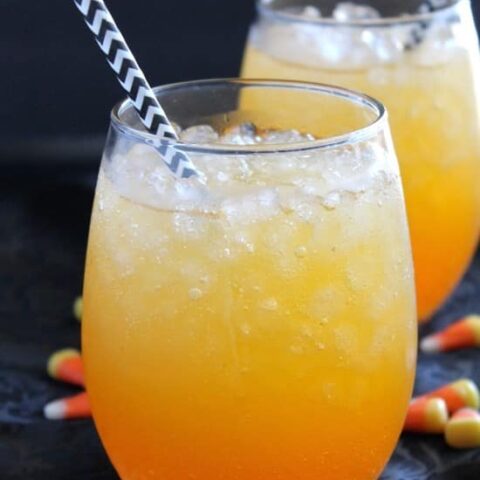 Candy Corn Punch
Ingredients
Ice - preferably pebble
1/3 part Crush orange soda
1/3 part tropical citrus energy Vitamin Water
1/3 part zero calorie Coconut Cascade Ice
Instructions
Fill cups to the top with ice.
Fill the bottom third of the cup with Crush orange soda.
Carefully pour the second third of the cup with they yellow Vitamin Water.
Carefully pour the third layer of white Coconut Cascade Ice.
Be careful to not stir drinks until ready to consume to keep the layers.
Nutrition Information:
Amount Per Serving:
Unsaturated Fat: 0g